Serbia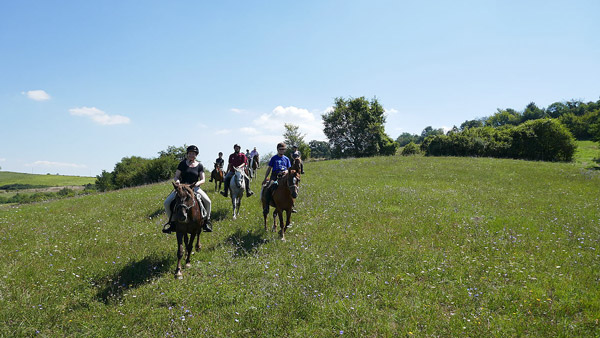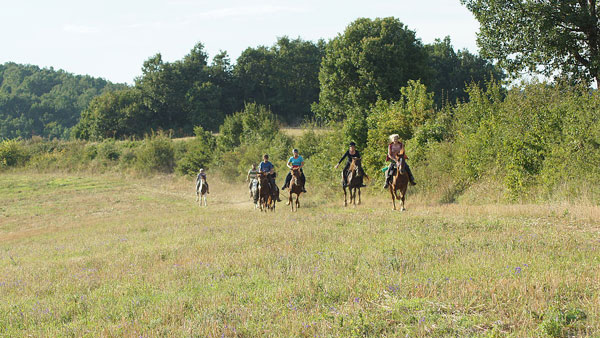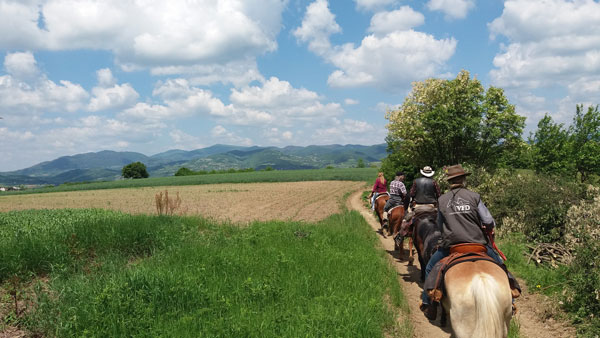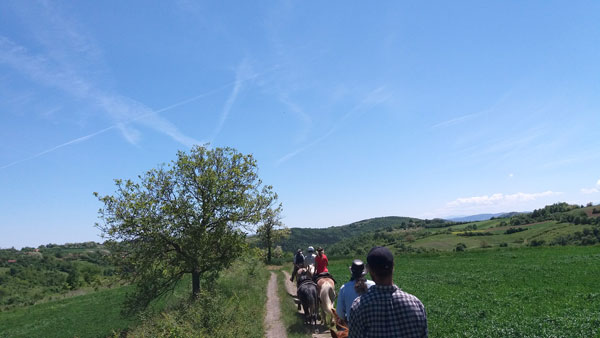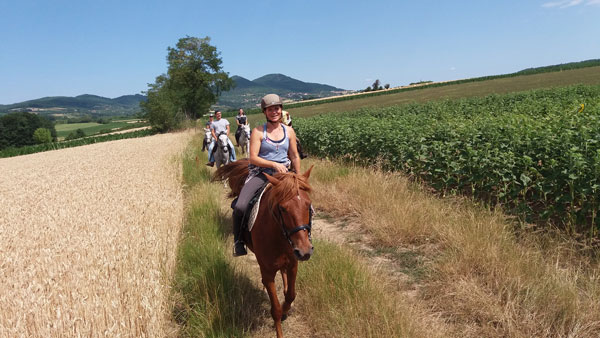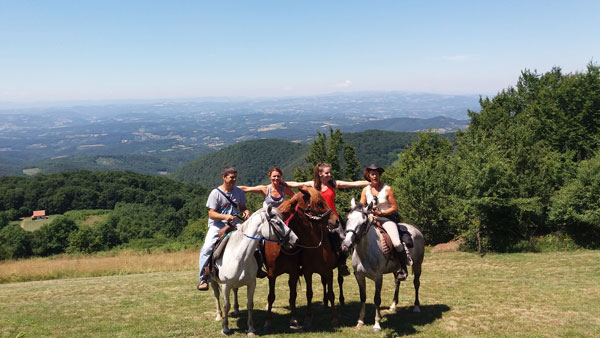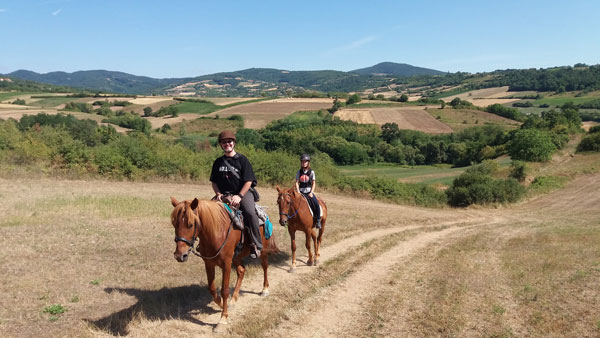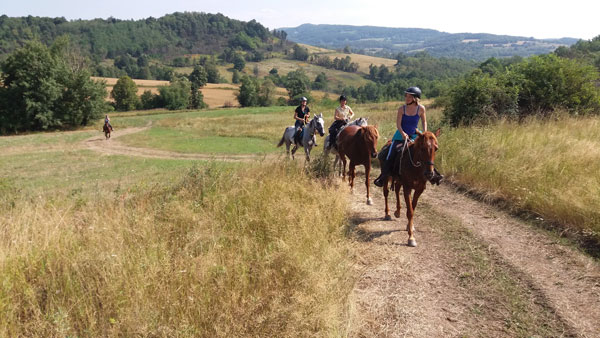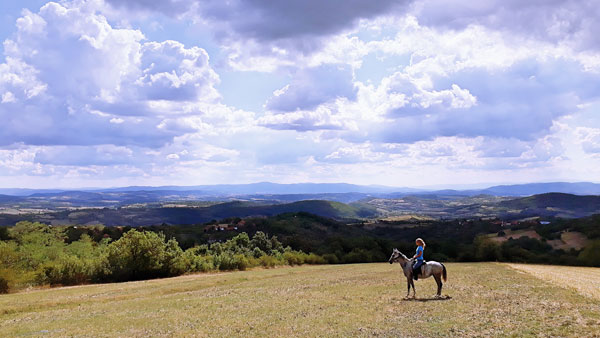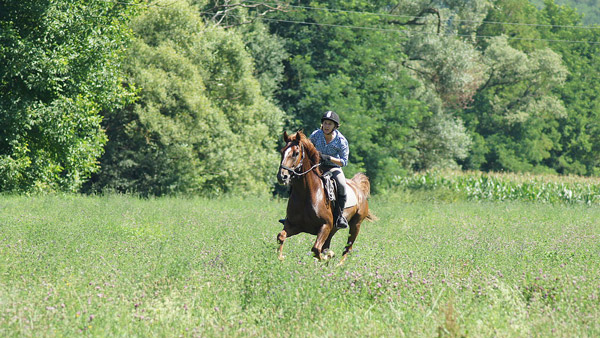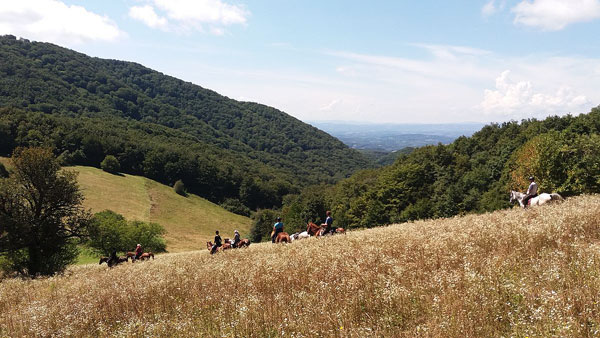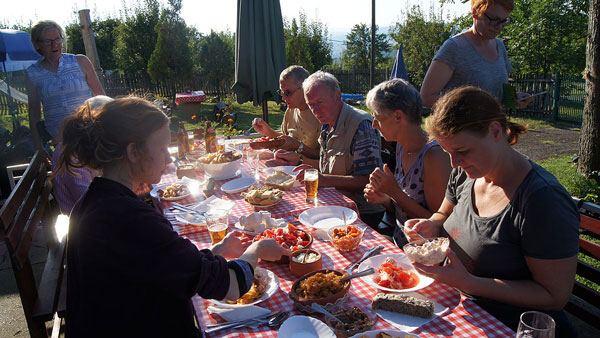 Serbia - untouched and beautiful. Delicious tasty food and great life spirit. This ride offers stunning views, and wherever you come, you will experience true hospitality in the beautiful countryside of Serbia.
Your host Igor lived 6 years in Austria where he met Swiss Nana. Together they decided to fulfill the dream of a horse farm in Serbia. Said and done. With great warmth and a lot of knowledge, you are guided on their energetic horses for a week.
The rides are in the area "sumadija", which means forest land. It's incredibly beautiful and you'll get to gallop over open fields, on soft forest trails, walk along mountain trails and enjoy amazing views.
The ride takes you through small villages where you are welcome as a guest in the town's farms and guest houses. Here you will be able to enjoy Serbian homemade specialties like wheat schnapps, cheese and good grilled dishes with a lot of vegetables.
You will ride among the hills that hide jewels of Serbian 14th century architecture with churches and monasteries that are home to priests and nuns who happily welcome all visitors.
Every day you meet new images and impressions. Igor will knowingly and comprehensively tell you about the country's history and culture. This riding holiday is both a beautiful and cultural experience that takes you back in time.
Accommodation & food
The accommodation is simple but comfortable in different hotel, farms and guest houses with friendly hosts. You will stay in twin- or triple rooms with bathrooms. Some nights with shared bathrooms. There are bedsheets, towles and hairdryer available. There is also Wifi available in all accommodations.
You will get to experience the incredible Serbian kitchen. You will get to enjoy a true culinary experience and taste wheat schnapps together with delicious grilled meat, fresh vegetables from the area and cheese, produced in a traditional way. With meals you will be served a glass of wine or beer.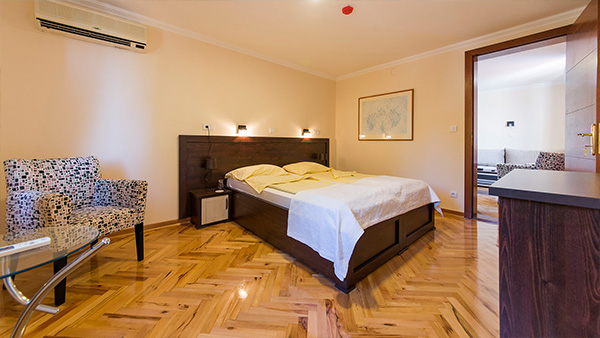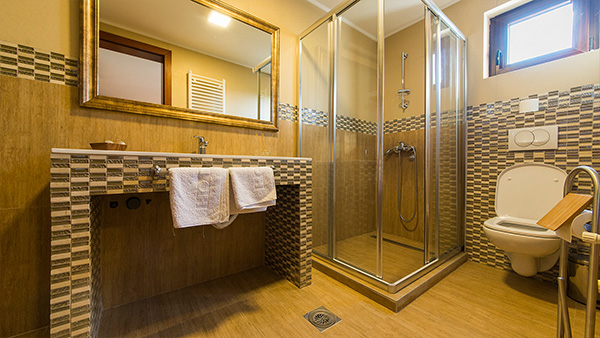 Example of room first night.
Horses
Igor has a number of safe and energetic horses of different breeds such as Lipizzaner, Haflinger, Akhal Teke and Baltic mountain horses, around140-160 cm high. They are all used to the terrain and in good condition. You will ride in English allround saddles but there are also two Western saddles available upon request. The horses are ridden with halter, but it is possible to ride with bridle if you prefer. There are saddlebags available. You luggage will be driven by car to the different accommodations. The pace is medium, 40% trot and canter and 60% walk. You will ride 4-6 hours per day. Maximum weight for riders is 95kg.
Program Sumidija trail ride
The ride is about 170 km and you ride 4-6 hours per day.
Preliminary day-to-day program
Day 1: Arrival to Belgrad no later than kl. 16.00. Transfer from the airport and after that you will be served a delicious welcome dinner at the hotel next to Gružansko lake .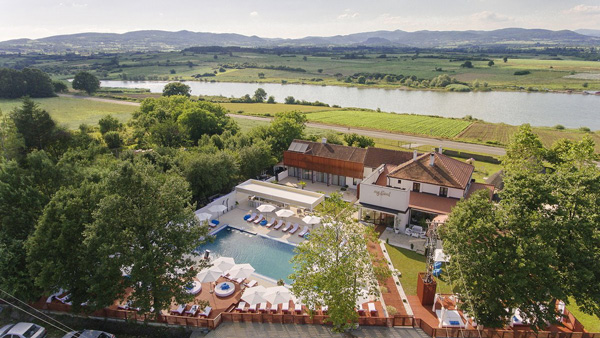 Day 2: Start -Borac-Belo Polje You will ride to Borac and continue on to Belo Polje where you will spend the night at a farm. In Borac you will visit an old fortress (ruin) from the Roman period and an old church from 1395. The church has been spared by the Ottomans, so you can still admire the original frescoes. Today you will mostly ride over fields and only a little forest.
Day 3: Belo Polje - Zdreban Zdreban is an open thermal bath, it was once a big complex but it was never finished. Many says that their headache disappears if they stay in Zdreban for a while. The ride goes through beautiful oak forrest and over plateaus where you can enjoy some nice galopps. Overnight in Zdreban in a private accommodation.
Day 4: Zdreban -Vujan (old monastery) - spa Gornja Trepca From Zdreban you will ride to a spa in Gornja Trepca where you can get a massage and termic bath (massage and bath supplement: massage around 15 EUR/ 45 min and Wather spa 20 EUR) The spa is especially good for reumatic and neurological diseases.
Day 5: Gornja Trepca thorugh Takovo to Klaticevo You will ride through quaint villages, forrest and open fields to Klaticevo. There you will spend the night at a nice guest house (Tri Hrasta = three oaks) with pool and sauna (sauna cost extra).
Day 6: Klaticevo-Ostrvica Again you will ride through small villages, over fields and in the end more forrest before you reach Zagradje. There is an old volcano called Ostrvica with a height of 758 meters above sea, you can climb up there and enjoy the beautiful views. Ostrvica is next to the mountain Rudnik. Accommodation at a farm.
Day 7: Ostrvica Today is the last riding day. From Ostrvica you will ride over the forrest covered mountain Rudnik (1132 m above sea level) through forrest and later on open fields. You will take a break in Gornja Crnuca and during the afternoon you will reach the hotel in Vracevsnica. If you want to and if there is time you can visit the monastery Vracevsnica from the 14th century which is located on the way back.
Day 8: Breakfast and transfer to Belgrad airport.
Travel information
Ability description:
Trail ride: Outdoor Riding level 3 >>
Included in the price: 7 nights, 6 days riding, fullboard incl. one glass of wine/beer with meals. Transfer at set times.
Not included: Flights to and from Belgrad.
Travel: Flight to Belgrad. Book flight/rental car >>
Transfer: Book in advance with HorseXplore and pay on spot.
From Belgrad airport about two hours with car.
Price: Included at times below
Meeting time: No later than 16.00 in the arrivals hall. It is possible to be picked up at a hotel if needed.
Departure is after breakfast so it is good to book a flight after 12.00.
Single room: Can be booked at an extra cost. For price click on "Book on request" under Dates & prices. If you are willing to share room, you do not have to pay single supplement if placed in a single room.
Number of riders: 2-12
Children discount: Children up 15 years old – 20% rabatt.
Currency: Serbian Dinar (RSD). In most places you can pay in EUR.
Credit card: Not accepted. There are ATMs in most of villages that you visit after riding.
Pool: At some of the places you stay during the ride there is a pool.
Other: Free Wifi is available
Climate