Mexico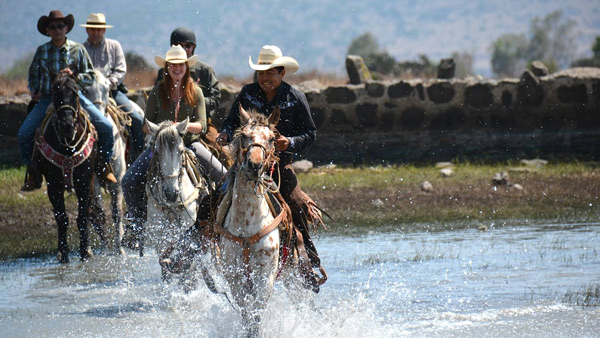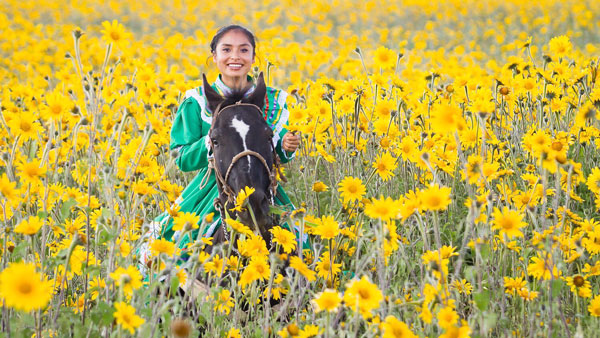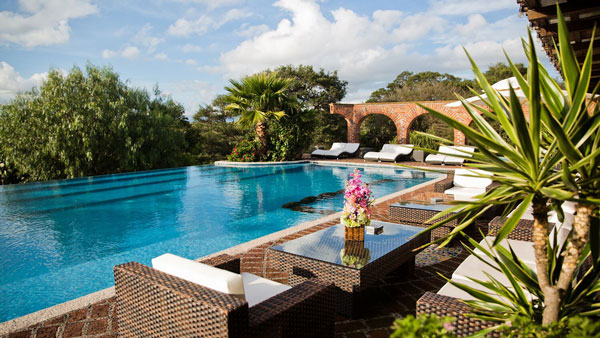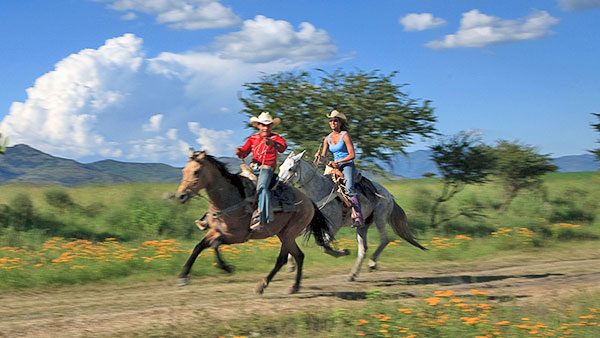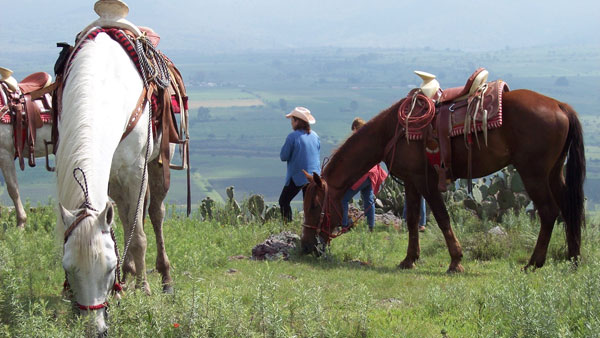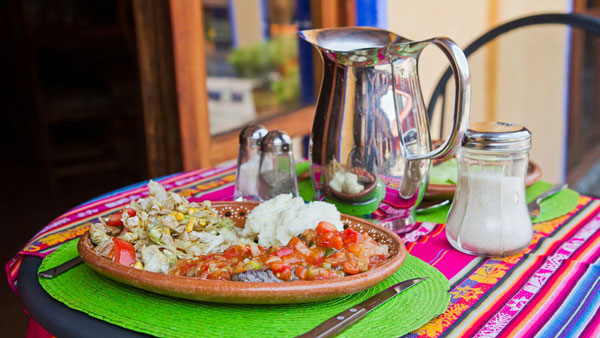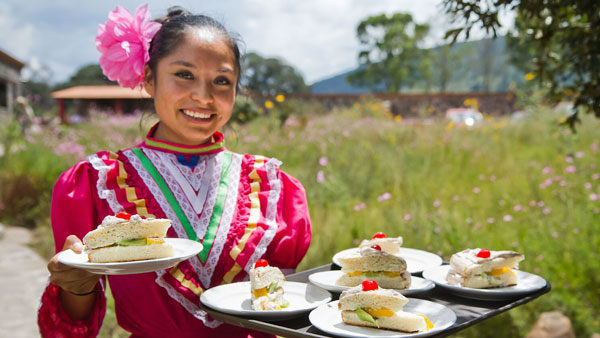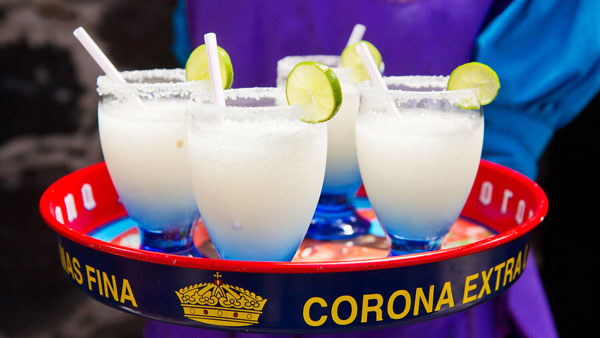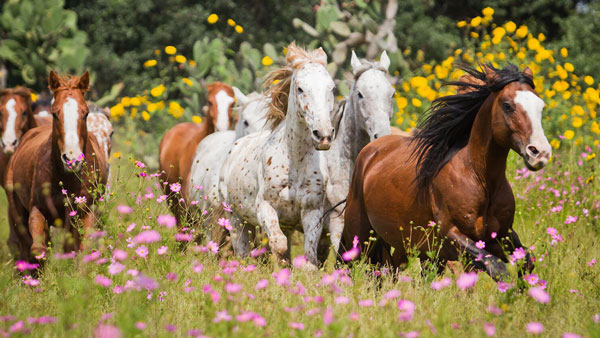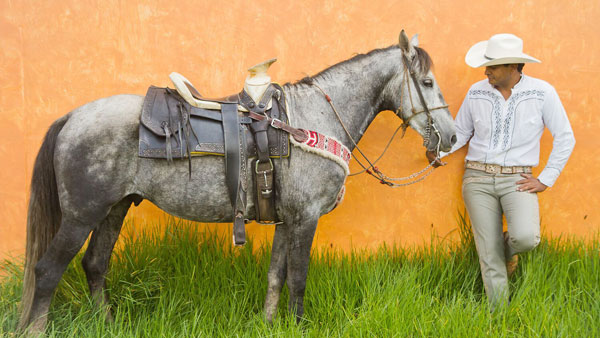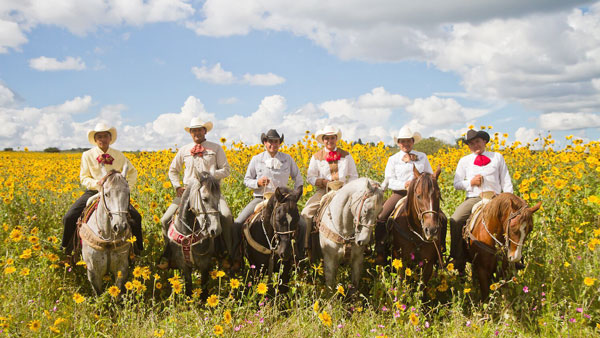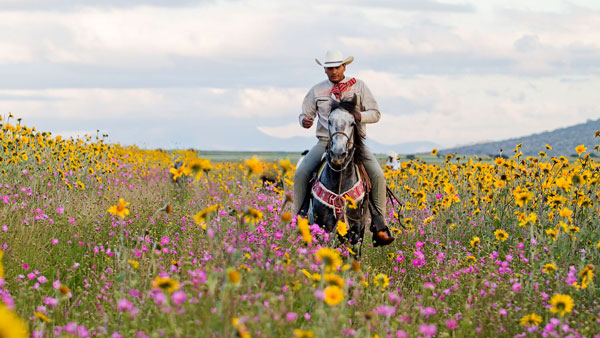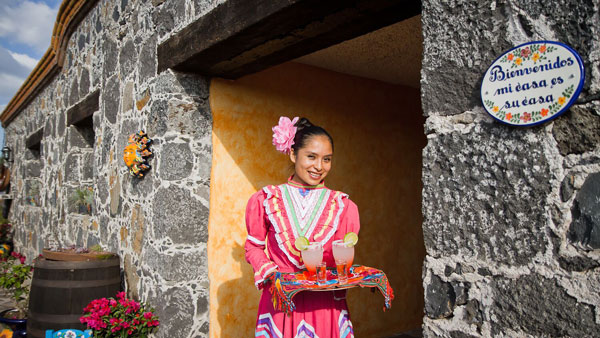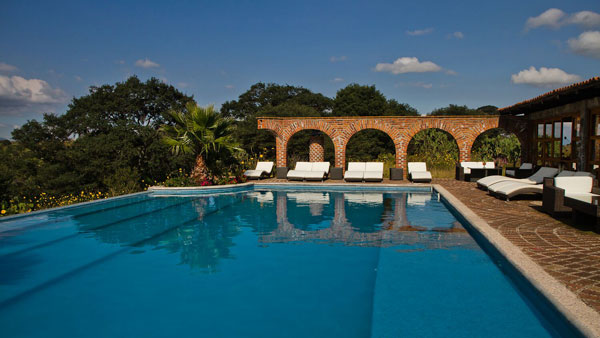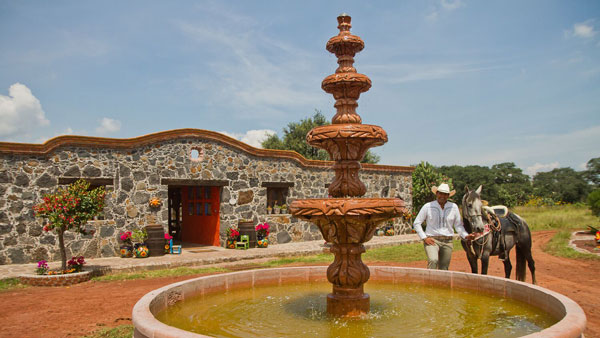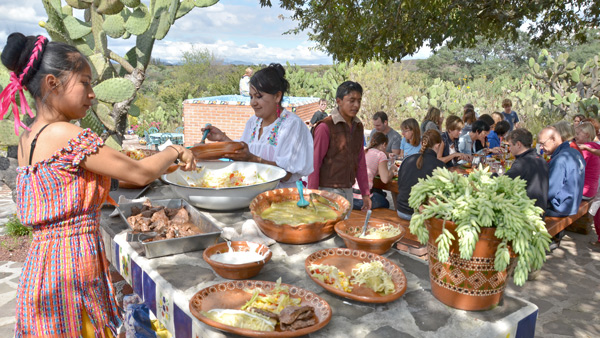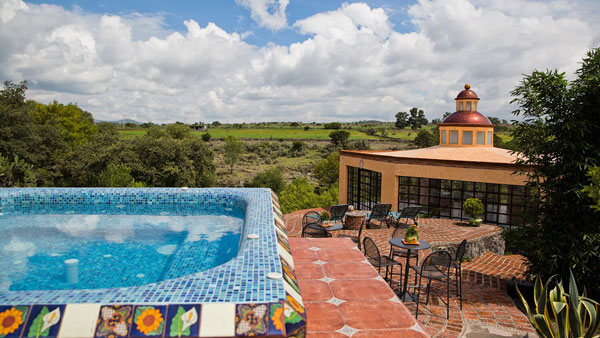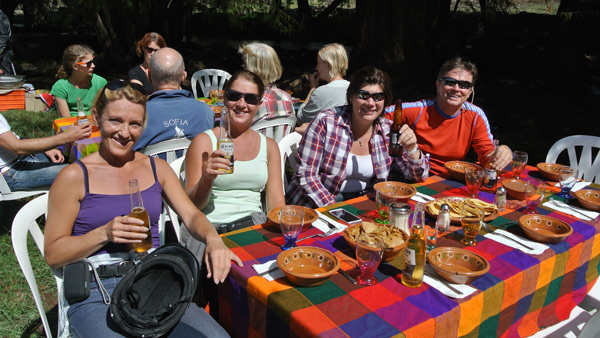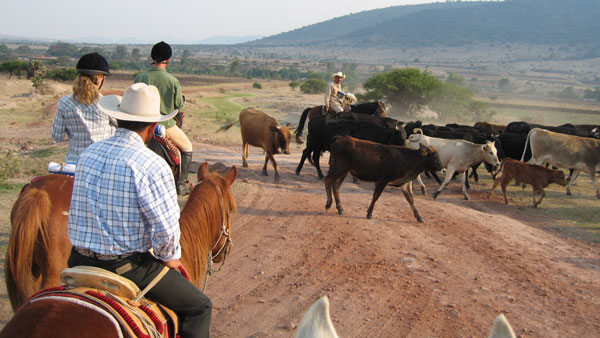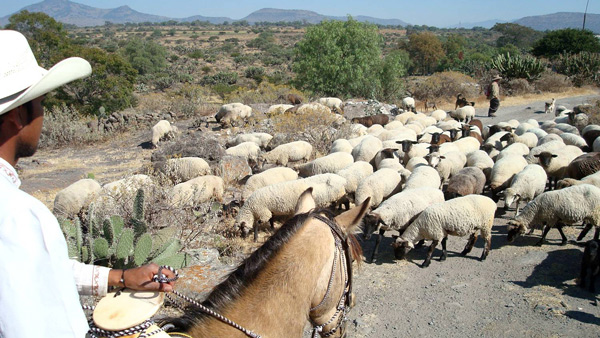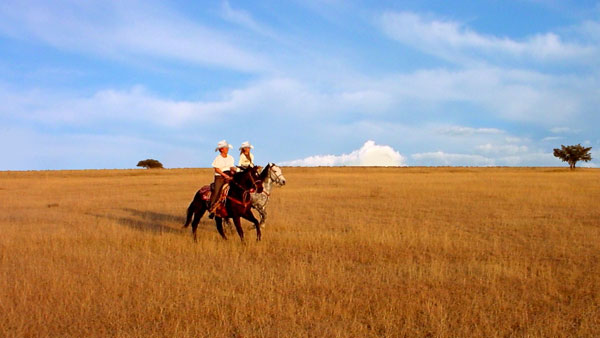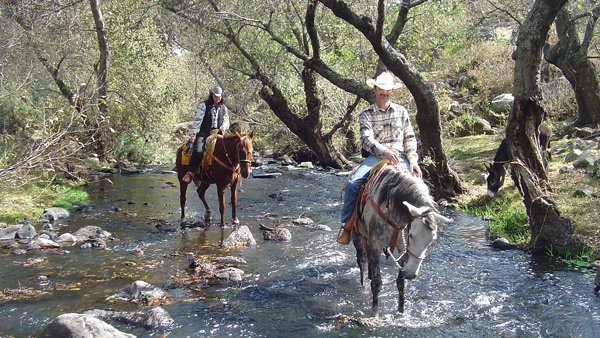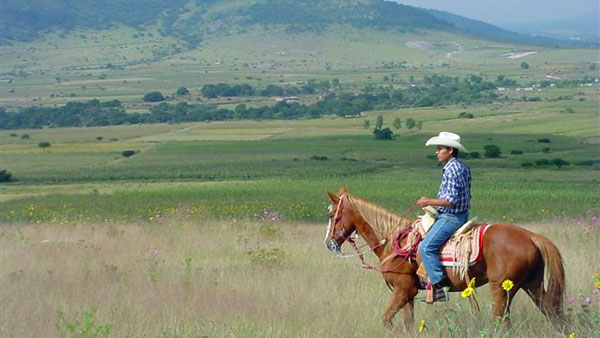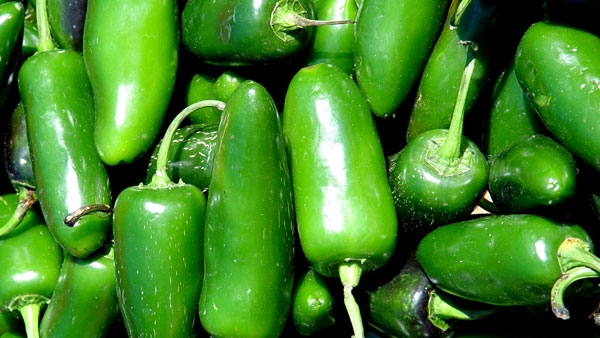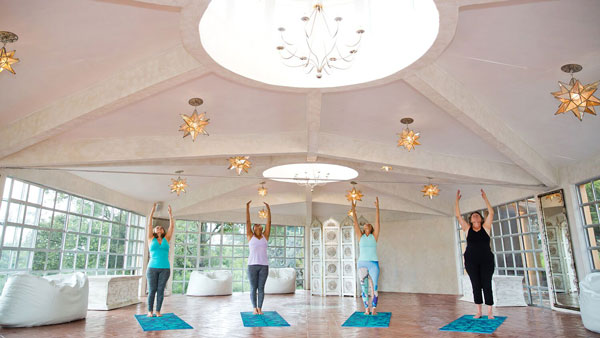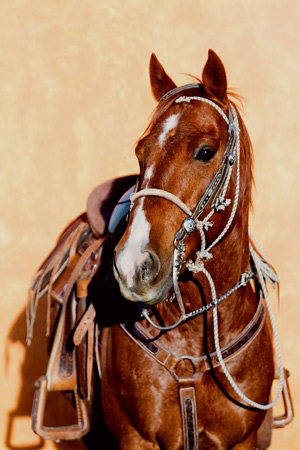 Visit this fascinating country with its colorful people, tasteful food, tropical climate and exciting culture. It is an elegant and tastefully decorated ranch for the active guest with high quality requirements for comfort and interest in good food and drinks. You will be welcomed already at the airport and then driven about 1.5 hours to the ranch.
If horses and riding is your passion, you can choose to only ride.
At Colores de Mexico you can ride as much as you can and want to. This is called "open big sky country" where you can gallop miles and miles without seeing a fence.
The rides take you through picturesque little villages, past beautiful haciendas and to colorful markets, where you will most likely be the only tourist. Riders are divided into groups according to experience and riding pace each day. If you want to ride at a lower pace that is fine too.
Here you can also be offered daily yoga, tai chi and meditation in the mornings and in the afternoon guided hiking and cycling tours and a little later a cooking class. So every day you can choose what you want to do, for example yoga in the morning and riding or cycling after lunch or maybe an interesting excursion.
In the evening everyone will gather for a delicious dinner and rewarding conversation about all your new experiences.
This is the perfect destination for the active family and friends with different interests.
Accommodation and Food
The house is built of stone and is decorated in typical Mexican style with wonderful colors and airy rooms. Each room is uniquely decorated with great attention to detail. The rooms are doubles and have their own shower / toilet and exit to the veranda where you can sit and relax in the evening. There is also an elegant heated swimming pool of 15 x 10 meters (50 x 32 ft) and a jacuzzi.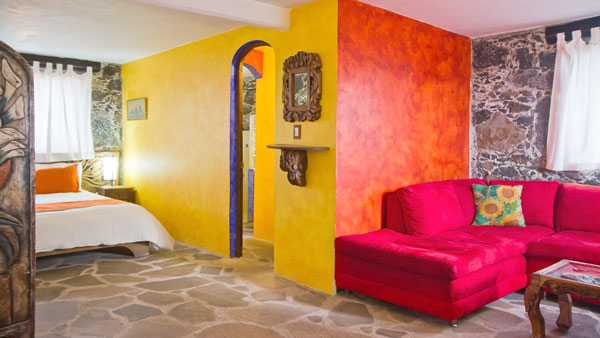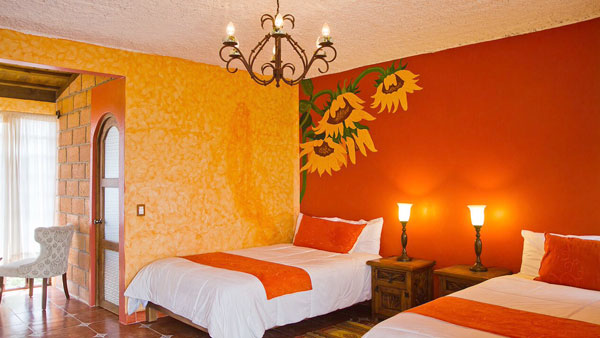 The food is exciting, There are over 200 different varieties of chili which together with lime, cilantro, seafood, meat, fish and corn tortillas create delightful surprises. The food is cooked in the restaurant and is made with local ingredients and cooked so that it will satisfy even the most discerning guests. You will be treated to many new and exciting dishes.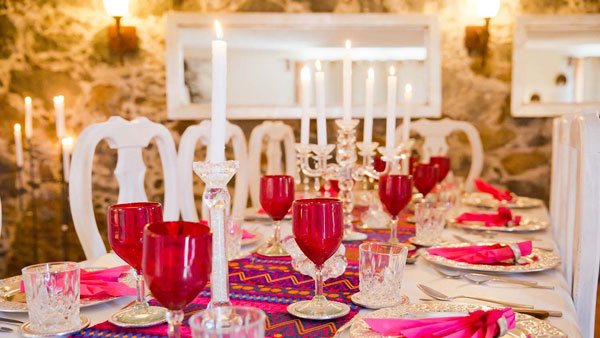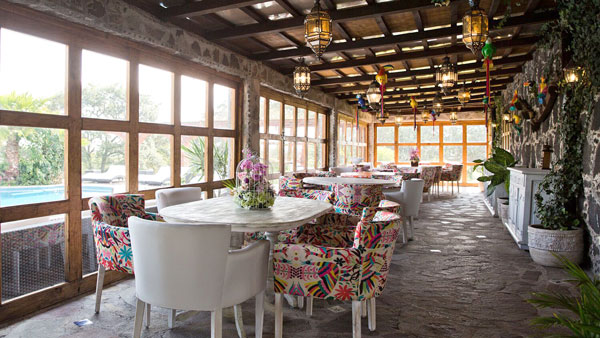 The tequila is probably not what you imagine, either. Here they prefer to drink vintage tequila where the barrel aging creates a pleasantly rounded taste.
At the ranch there is a family atmosphere and you are free to go into the kitchen and see how the food is prepared. The well stocked bar is always open.
Safe deposit box: Yes
A/C: No
Hair Dryer: Yes
Towels and sheets: Yes
Fridge: No
Shower: You get shampoo, conditioner, shower gel.
Mexico - Colores de Mexico
If there are varied levels of riding experience, you may be broken into two groups so everyone gets can get a bit of what they want. To a large extent, you choose how much you want to ride, and if you want to rest one afternoon or book an excursion, for example, that's fine.
The rides take you through picturesque villages, past stately haciendas and colorful markets where you will often be the only tourist. There is much to see and experience during your stay at the ranch. Ursula offers tips and help so that you can get the most out of these interesting and exotic surroundings.
The riding starts from the ranch, every day. Subject to the time you arrive, you are free to start riding as soon as you get there.
There are many different daily rides, but no fixed itinerary, so the tours can in many cases be adapted to your preferences and interests.

Here are examples of the daily programs.

Day Ride 1:
After a hearty Mexican breakfast, you ride to the old Tandeje hacienda, which was built in 1685. A cobblestone path takes you through an old oak forest where the trees are weighed down by Spanish moss and old roots grow between the stones. Once you have passed the woods you reach a waterfall.
After lunch you will pass El Huizachal in the old part of San Agustin Buenavista. There is a Lienzo "charro ring", a place where they hold festivities with horses. Behind the Lienzo, there is a really beautiful view of two of the three waterfalls located next to the ranch.
Back at the ranch, you can relax on the patio with a refreshing beer or a Margarita before you are served a gourmet dinner.

Day 2:
Friday is market day in the town of Jilotepec. About 30 minutes by car from the ranch, you have the opportunity to explore the largest market in the region where people from the surrounding districts come and sell their goods. You can buy everything from different animals, colorful vegetables and fruits, fashionable sombreros, leather boots, equipment for horse and riders and lots of chili peppers. If you want to go to the market so, book and paid once you are there.
After the market you can go on an an afternoon ride.You cross the Rio Rosas, galloping along the old canal and then climb up the hill for sunset. Here you get an amazing view over the ranch. Then a final gallop back to the ranch in time for dinner.

Day Ride 3:
This morning, you ride up through the mountains. You will pass local cemeteries where in early November del Dia de los Muertos - Day of the Dead - is celebrated. You then follow the river to the center of the village of San Agustin Buenavista and see the church built in 1701. You continue then along the river back to the ranch. In the afternoon you are driven to the archaeological site Atlantes of Tula (optional and booked and paid locally). After you have gone up the stairs to the temple, you can admire the giant stone figures. After this you will visit the city of Tula. This is a popular place to look out over the main square, the main meeting place on the town.

Day Ride 4:
After crossing the Rio Rosas, you get to gallop through corn and flower fields. You will pass the racetrack where illegal horse races are usually held once a month. From there, you follow the old Spanish built stone road to El Bordo Viejo and cross the type of Mexican countryside you might recognize from the movies. Heading back to the ranch, you will pass through some rocky terrain that the horses can handle with ease.

Day Ride 5:
After breakfast, you ride north through the village of Vista Hermosa, which means 'beautiful view'. From there, after a steep climb, you head up to the Cerro del Ahorcado "the hanged man's hill" with a 360 ° view of the pink church of Heroes de Carranza and the Lake District. A gallop through eucalyptus trees and then down to the lake where the horses love to cool off by the water's edge.
Back at the ranch, you can look out over the water and eat an arrachera steak cooked the Mexican way on the barbeque grill under the big oak tree.
In the afternoon, you take a different path down and across the river, then take a steep climb and after riding through some small ponds, you gallop up a hill where you enjoy a breathtaking view of the ranch. A long gallop takes you back across the open fields, and finally to the ranch. Why not relax with your favorite drink and listen to some Mexican music in the background while dinner is prepared.

Day Ride 6:
Today you pack your swimsuits. On the way to the Mexicaltongo springs, you will visit a hacienda called La Goleta, which was built around 1690. You continue over open fields until you reach the village of Zaragoza and then you gallop further across the fields to the cool springs of Mexicaltongo next to the village of El Tejon, where you then eat picnic. On the way back, you ride over an old stone bridge "Puente del Muite" and for the last section, you ride under shady trees along the river.

Day Ride 7:
Today's ride takes you 600 meters (2000 ft) up in to the mountains. The landscape changes quickly as the horses start to climb up behind the small villages. Further up the mountains, the landscape is filled with cactus and tequila plants. A gallop across the high plateau takes you to the other side where you descend to the city of San Francisco Soyaniquilpan de Juarex. This is where the Rio Rosas (which flows next to the ranch) starts its journey through the valley. For lunch you eat at a local restaurant where you can taste the local cuisine. On the way back, you ride through San Agustin Buenavista.

Departure Day: You drive to Mexico City Airport in time for your departure. If you have a late departure, you have the opportunity to ride in the surrounding area before you leave for the airport. Or you can choose to stay a few extra days and experience some more thrilling rides.
Horses
The horses are Quarter horses crossed with Criollos and Thoroughbred crosses. They are all nice and well trained and there are horses to suit all tastes. Both calm and safe, if you prefer, or horses with a little more speed.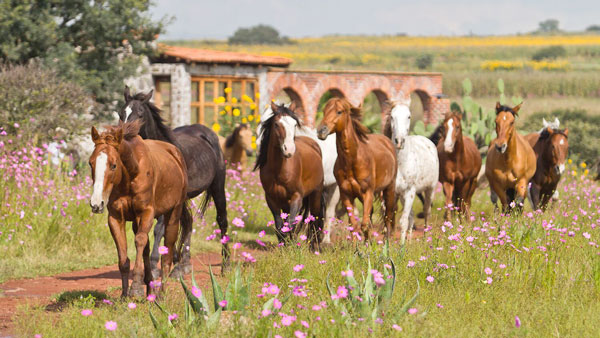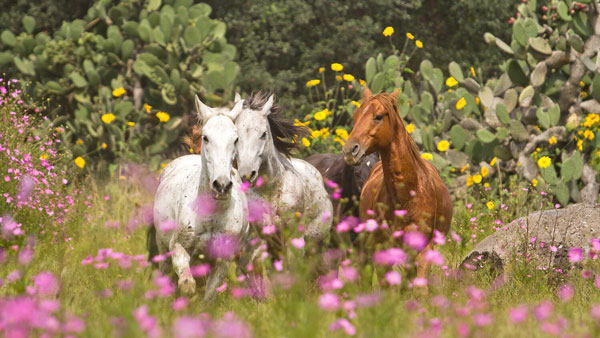 El Día de los Muertos, (Day of the Dead)
There are many ceremonies and celebrations in Mexico and El Dia de los Muertos is undoubtedly one of the most colorful. As part of your stay during this festival, (special week 29.10-5.11), you can be part of this weird and wonderful celebration of life and death. Nowhere in this corner of the country are the celebrations more enthusiastic than in the colorful towns of Canalejas, Tepotzotlan and Jilotepec - all located near the ranch. In front of cathedrals and cemeteries there is a continuous three-day celebration with lots of orange Marigold flowers. Full-size skeletons made of terracotta hang at every corner, grinning bony smiles under big sombreros, playing guitar and drums to symbolize all the fun they had when they were alive. Inside the cemeteries, families put flowers on their ancestors' graves. On the graves, some people placed the food and drink that the returning dead liked. Family photographs and small dishes of bread, sweets and maybe even a bottle of Tequila are placed on the graves. At the ranch, you take part in the festivities by having a special program of events including a themed dinner and a special all-day ride to make sure you are where all the action is.
Excursions
Each day, you can choose if you want to ride or go on an excursion or possibly do both. You decide when you are there. Below are examples of possible excursions you can take during the week. This is booked and paied direct to the ranch.
Atlantes of Tula - half day
Atlantes of Tula consists of four beautifully designed stone figures or warriors that are six feet tall and together form temple. After you have gone up the stairs to the temple, you can admire the giant stone figures. After this, you will visit the City of Tula for some shopping. Here you can also enjoy a fresh fruit ice cream in the main square the place where everyone meets.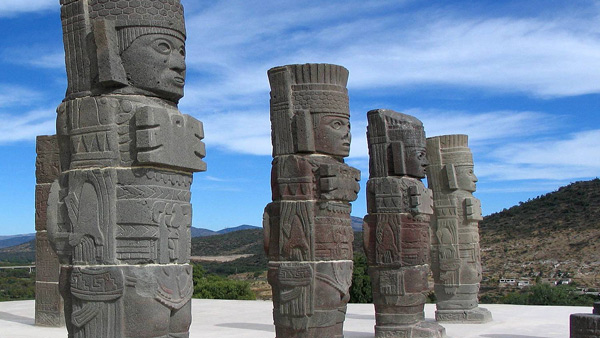 San Miguel de Allende - full day
Visit this city with its colonial charm, special architecture and cobblestone streets. There is excellent shopping along the narrow winding streets.
Teotihuacan - half day
The historic City of Teotihuacan, or 'gods town' or 'place where men became gods', is an archaeological site. Here you will see the impressive sun- and moon-pyramids. The prehistoric town was built during the Mayan period 600 BCE. It was included on the UNESCO World Heritage List in 1987.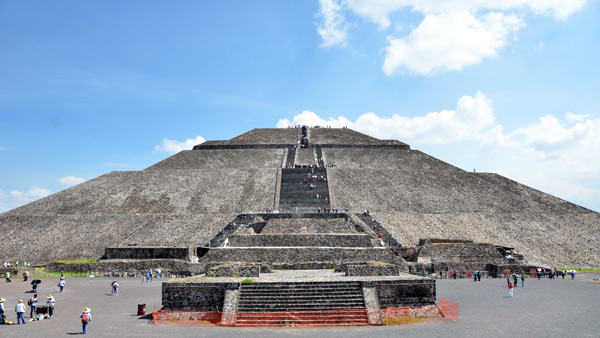 The weekly market in Jilotepec - half day
Every Friday there is a big market where you can find everything from chili and sombreros to live sheep and excellent food. On the way home you stop at some local pottery and clothing stores to bargain a little.
Mexico City - full day
Museum of anthropology - this museum is considered one of the world's major archaeological museums. There are 23 halls with archaeological finds.
Monastery & Craft Market in Tepotzotlan - half day
Visit the old Jesuit Monastery and the beautiful craft market where you can buy souvenirs.
Climate
The Ranch is set on a plateau at an altitude of 7500 feet/2300 meters, allowing you to enjoy the sun of Mexico without humidity and a great temperate climate all year round. Even in the summer, the average temperature at midday is in the mid 70s◦ F (22◦C). Depending on the season, the evenings and mornings can be somewhat cooler, but the daytime temperatures are perfect for riding any time of the year. Pack thin layers of clothing so you can be comfortable throughout the day.




Travel Information
Ability description: Colores de Mexico, level trail ride 1-3 >>

Included in the price: 5-7 nights, 5-7 days riding and sport activities, shared transfer, all meals, all national alcoholic and non - alcoholic drinks, coffee & tea at the ranch.
Not included: Flights, private transfer to/from the ranch, drinks outsite the ranch, insurance, cultural excursions, massage and extras not mentioned.
Travel: Book flight/rental car >>
Fly to Mexico City.
Transfer: Book in advance with HorseXplore and pay on spot.
From Mexiko City International Airport to the ranch about 80 km (50 miles) (about 1½ hours) north.
Price: Included for shared transfer.
Time: Synchronized with incoming/outgoing international flights with other clients normally. Arrival to Mexico City airport no later than 10pm for shared transfer. For private transfer, contact us for price.
Meeting spot: You will be met in the arrivals at the Exit door "Puerta 8" in terminal 1. The driver will hold a sign with the ranch logo and your name.

Single room: Can be booked with a supplement. For price click on "Book on request" under Dates & prices. If you are willing to share room, you will not have to pay a supplement if you are allocated a single room. Three rooms without single supplement at any dates of the year. First come – first served! To apply for it… Book as soon as possible
Season: All year. High season during Christmas and Easter.
Arrival: Any day of the week.
Currency: Mexican pesos in the villages. At the ranch you can also pay with Mexican Pesos and USD.
Credit card: Preferably cach, but credit card accepted by riding center, not AMEX.
Tipping: Not required but appreciated, normally around 10-15%.
Wifi: Yes
Electricity jack: US standard
Group size: Min. 1 maximum 8 in one group.
Age limit: None
Child discount: Families with two adults, one child under 14 years old get 50 % discount.
Closest village: About 25 minutes from the ranch.
Beach: None
Pool: Yes, heated by solar panels.
Misc.:
Riding equipment to borrow: Helmet, sombero, short chaps.
Saddle bag available: Yes
Special diet: Inform when booking.
Christmas and new year

On this beautiful and well-kept ranch you can enjoy both Christmas and New Year. Is suitable for the whole family or a company where not all are riders. You do not have to have ridden before because the western horses are so stable. Then you are diveded into groups so that the more advanced riders go in a higher pace and ride more challenging horses.
Regarding service and good food you can expect the best.
Christmas Eve, the 24th December, you go to the local village and celebrate Christmas with the locals.
Christmas Day, the 25th December, you have a special 10 course dinner and live music.
The day after you have a very special trail ride with a nice picnic lunch.

On New Years Eve you will have a special 10 course dinner and live music to ring in the new year.
On New Year's Day you also have a special ride with a nice picnic lunch.
Book the rides under "Mexiko - Colores de Mexico".