Romania, Carpathia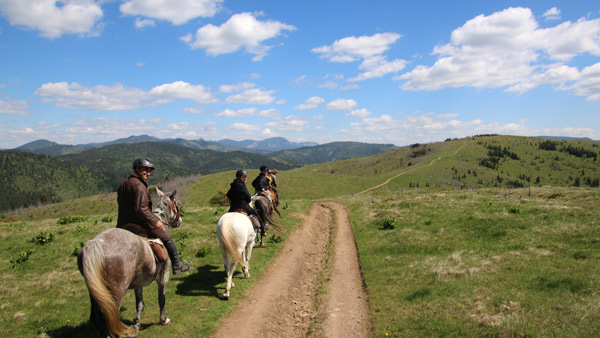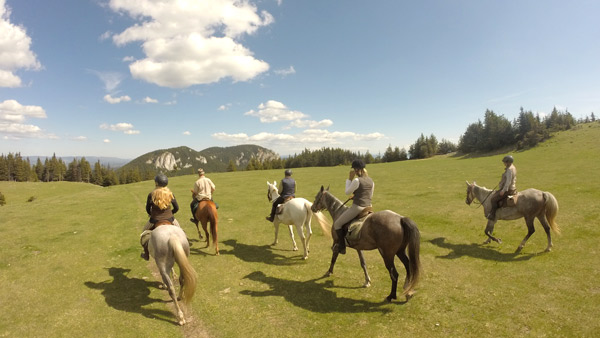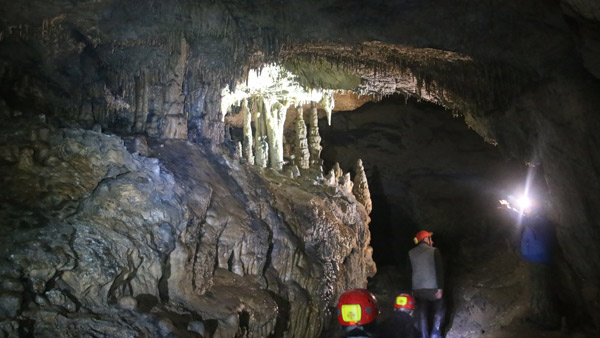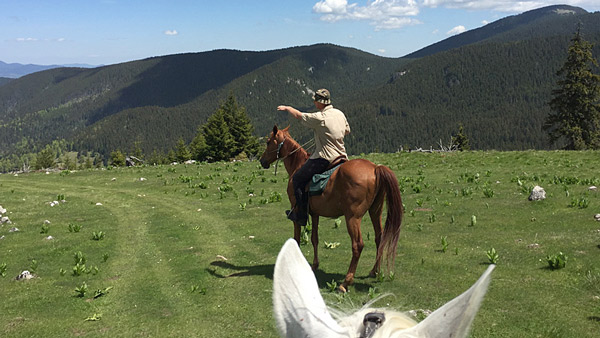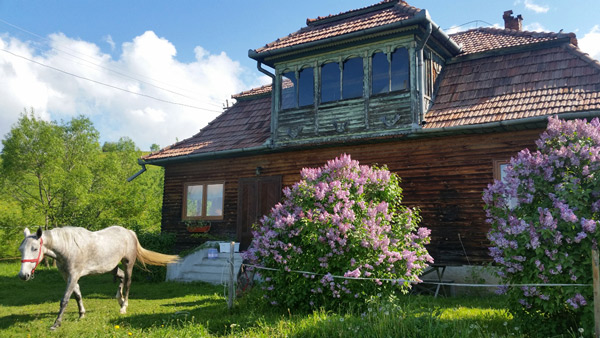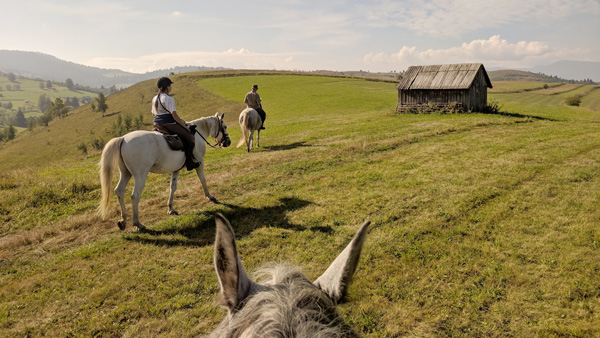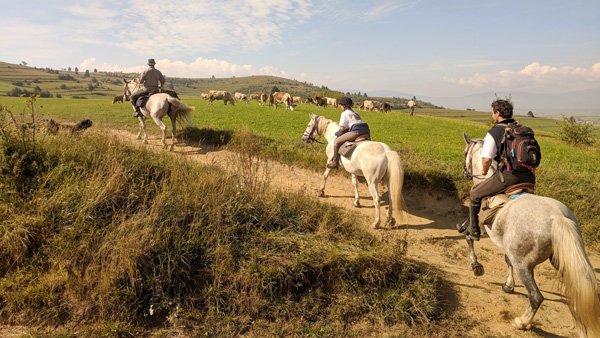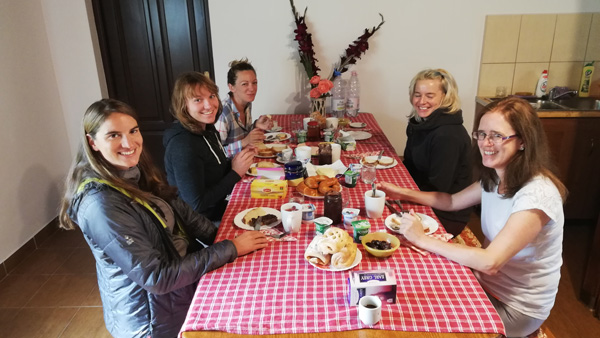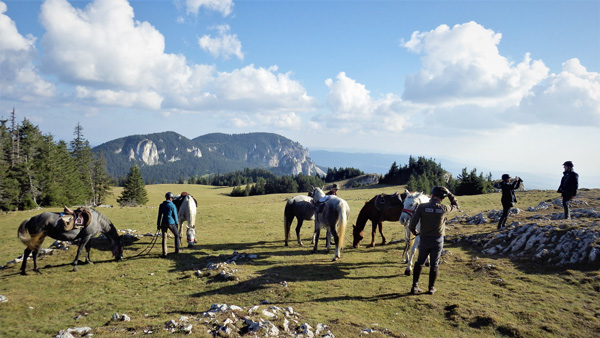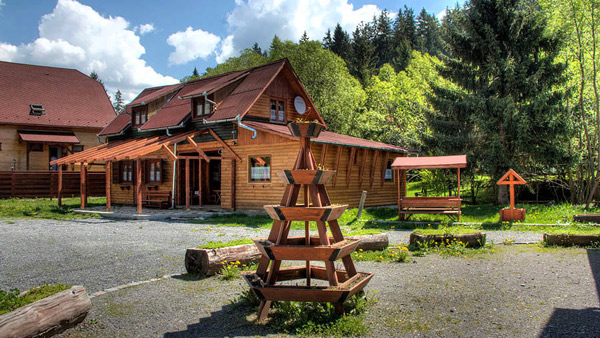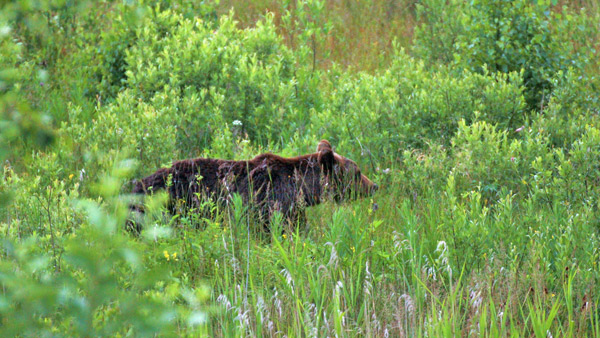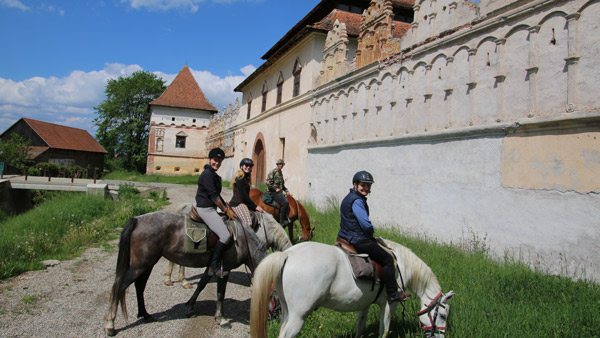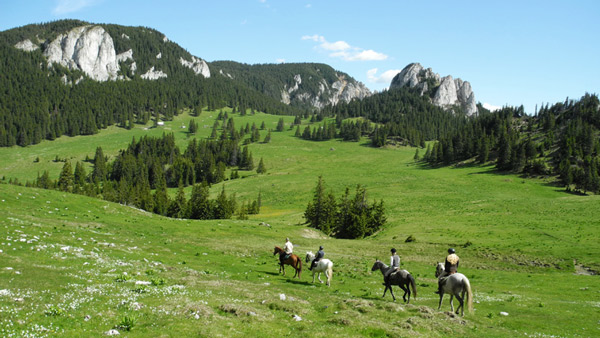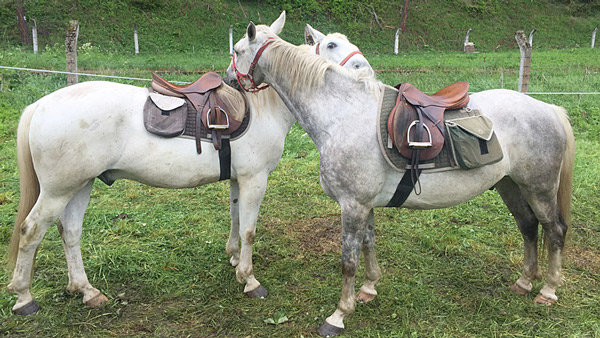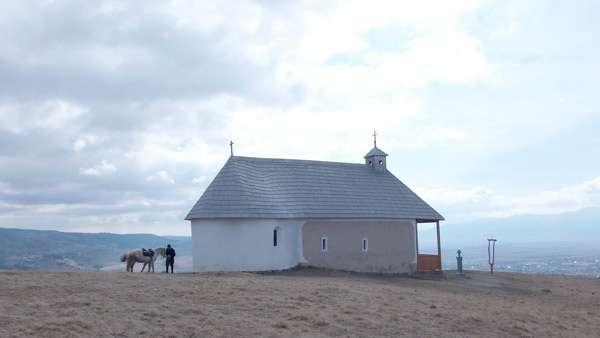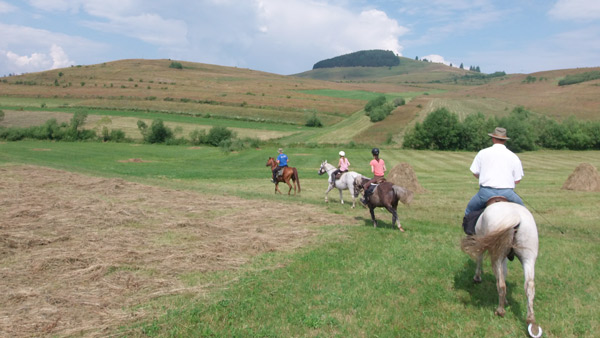 Red Lake trail on lipizzaner
Explore on horseback the mountainous region of Székelyland, where a Hungarian speaking ethnic group from Transylvania live in the valleys and hills of the Eastern Carpathian mountains range. This one-week trail ride takes you to pristine mountainous landscapes with ancient pine forests, pure creeks, dramatic limestone rocks, hidden farming villages and lush meadows still cultivated traditionally by the locals. Here you can experience unspoilt nature and step back in time at least 50 years. One of the curiosities of the trail is Red Lake (Lacu Roşu), Romania's largest naturally dammed mountain lake, which came into being in 1837 as a result of a huge landslide.The tips of the broken trunks of spruce trees can still be seen above the surface of the lake, while its deep-green waters mirror the rocks of Suhardul Mic Massif. Another highlight of the trail is the Bicaz Gorges – Hasmas Mountains National Park with its caves, dolines, sinkholes, defiles and waterfalls providing a picturesque karst scenery. You will visit also one of the most beautiful dripstone caves of the area, Sugau Cave. Your guide knows the trails inside and out in this region, meaning you are getting an insider's tour.
This ride is for travellers seeking an offbeat and authentic Carpathian experience.
Accommodation & Food
Overnights are in local guesthouses, small pensions, at a local family and in a bungalow. Overall the accommodations are rustic in remote places with true immersion into the local culture an nature. Availability of single accommodation cannot be guaranteed and riders must be prepared to share. Bathroom facilities are either private or on a shared basis.
1st night: Guesthouse in Gheorgheni with 3 double rooms, shared bathroom
2nd night: Anita Pension, double rooms with private bathroom
3rd night: Local family in Haromkut, double rooms and shared bathroom
4th night: Bungalow near Red Lake, double rooms with private bathroom
5th night: Anita Pension, double rooms with private bathroom
6th night: Guesthouse in Gheorgheni with 3 double rooms, shared bathroom
All meals are included and will be of traditional Transylvanian, homemade fare. Vegetarian and gluten free options can be provided as long as we are notified in advance. Breakfast will be a buffet which may include salami, sausage, vegetables, jam, cottage cheese, eggs, mushrooms, tea and coffee. Both hot and cold options are possible. Lunch will be boxed and eaten out on the trail. For dinner, traditional Romanian and Hungarian meals which may include soup and hot entrees.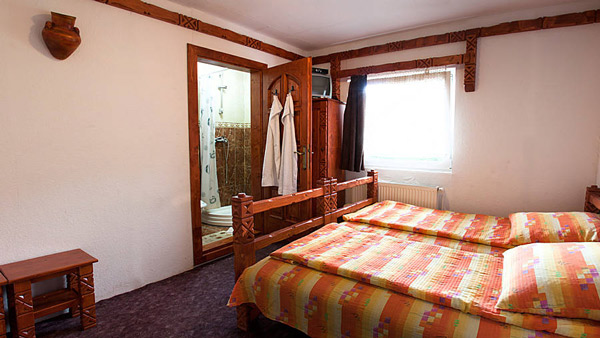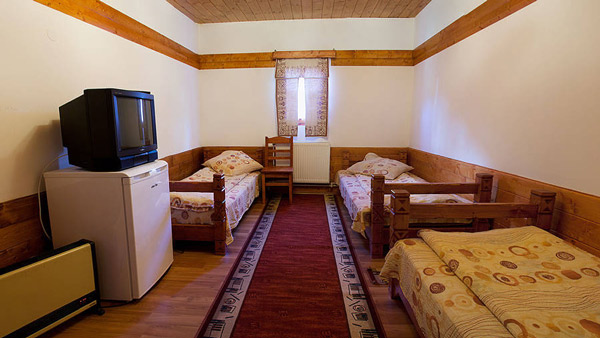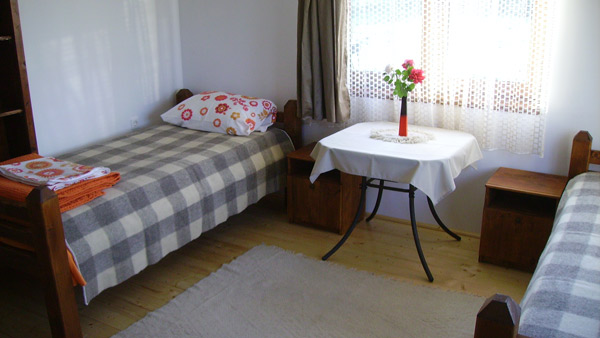 Program
The terrain is varied, with open fields and mountain ridges, scenic mountain tops, dense forests, steep climbs and descends. Daily difference in elevation varies between 300-800 m, the highest point of the tour being on Tuesday at the Great Hasmas Peak (1792 m). You ride between 4-7 hours/day. Be prepared to lead your horse in difficult paths.
Preliminary day-by-day programDay 1: Sunday
Day 1: Sunday - Upon request, we will wait for you at the airport and take you to Gheorgheni with a private car. You will stay overnight in the guide's guesthouse located outside Gheorgheni and discuss the weekend ahead at your welcome dinner.

Day 2: Monday - After a short test of the participants skills, the ride starts with a free gallop over plain hay fields in the surroundings of Gheorgheni, then continues on a really steep path until we reach Pricske Peak (1545 m). Here we have a picnic at the bottom of the cross, then slope down on a grassy ridge to the narrow valley of the Bekeny Stream. We spend our first night in a pension in the valley. Optionally either today or on Thursday evening you can join a bear watching tour
from a wooden wildlife hide at a surcharge of 35 euro per person payable in cash on site. Prior notice on the day of arrival is required for joing the tour. Distance: 23 km, 5-6 hours of horse riding, elevation gain 950 m
Day 3:Tuesday - After breakfast we set off for a one-hour ride on the banks of the stream, then leave the valley and climb a mountain-pass until we reach Medias peak(1445 m). From here the trail goes along the ridge of the Hasmas Mountains, through the lush green Poiana Alba (White Glade), below the highest peak of the Hasmas Mountains (1792 m) and leading to the rock towers of the Lonely Stone. The panorama is worth all the efforts, as we can see two basins (Gheorgheni and Ciuc) from here. In the east Moldova's hills and rocky regions, while to the north Ceahlau's enormous limestone rocks can be seen. We have a picnic at the hut at the bottom of the Lonely Stone then we descend to the isolated village of Haromkut on a steep path. In this ciangau village we spend the night at a local family. Distance: 25 km, 6-7 hours of horse riding, elevation gain 1325 m
Day 4: Wednesday - Riding in the valley of the Little Bicaz Stream, we arrive at Red Lake. We round it and after which we leave the horses at their shelters, we walk across the dramatic Bicaz Gorges. If there is will and energy for it, we can climb up the Little Suhard Massif to enjoy the sunset view. We spend the night at Red Lake in comfortable bungalows. Distance: 17 km, 3-4 hours of horse riding, elevation gain 435 m.
Day 5: Thursday - Leaving Red Lake on an old railway we reach Pongracz Peak, which is the highest point between Gheorgheni and Red Lake. On the old railway we descend to the valley of the Belchiei, where we spent our second night as well.
Distance: 25 km, 5 – 6 hours of horse riding , elevation gain 630 m.
Day 6: Friday - From the Bekeny Valley we ride along the Sipos ridge to the unique Sugo Cave. Here we have a picnic and visit this beautiful dripstone cave, then ride back to the guide's guesthouse in Gheorgheni.
Distance: 25 km, 5 – 6 hours of horse riding + 1h visiting the cave, elevation gain 1260 m.
Day 7: Saturday - Start the day with a wholesome breakfast, then it's time to say goodbye to your fellow participants and your hosts, before you depart from Gheorgheni.
Travel Information
Riding ability: Trail ride level 2-3
Included in the price: 6 nights, 5 days riding, full board, coffee and tea at breakfast, 1 bottle of water per day, riding and guided cave tour.
Not included: Flight, beverages, transfer, bear hide (35 EUR pay on spot).

Travel: Fly to Bucharest Otopeni airport (approx 4.5 h) or Sibiu airport (approx 3.5 h):
Transfer: Book and pay to HorseXplore before departure.
Bucharest Otopeni airport Between 11.30pm and 4.30pm. Book a flight that arrive at 4 pm at the latest and depart after 1pm.
Price: Airport transfer from Bucharest is 135 euro per person. A discount of 35 euro per person is available for 3 or more people booking together.
Sibiu airport Between 11.30am and 5.30pm. Book a flight that arrive at 5pm at the latest and depart after 12.00pm.
Price: Airport transfer from Sibiu is 115 euro per person. A discount of 30 euro per person per person is available for 3 or more people booking together. Pay on spot.
Arrival-/departure day: Sunday afternoon, depart following Saturday after breakfast.
Season: May - October
Single room: No. Riders must be prepared to share room.
Pool: No
Group size: Min. 1 and max 6 riders.
Age limit: Min 16 years. 12 year with an adult.
Currency: Lei (RON). They do not accept credit cards. It is also possible to pay with EUR in some places, but exchange is recouped in LEI.
Wifi: You will have access to free WiFi at your accommodation only on Monday and Thursday and during dinner at the restaurant on Wednesday. On the rest of the days you can use the local 3&4G cell network when it is available.
Phone signal: Your daily ride goes through the mountains during most of the tour therefore you may have no phone signal for a few hours during the daily ride between Tuesday and Friday, and no phone signal at all at your accommodation on Tuesday.
Horses
Locally bred Lipizzaners, with 155-165 cm heights. English saddles and bridles.
Weight limit: 90kg
Feedback from our travellers