Denmark, Römö - Long weekend Thursday-Sunday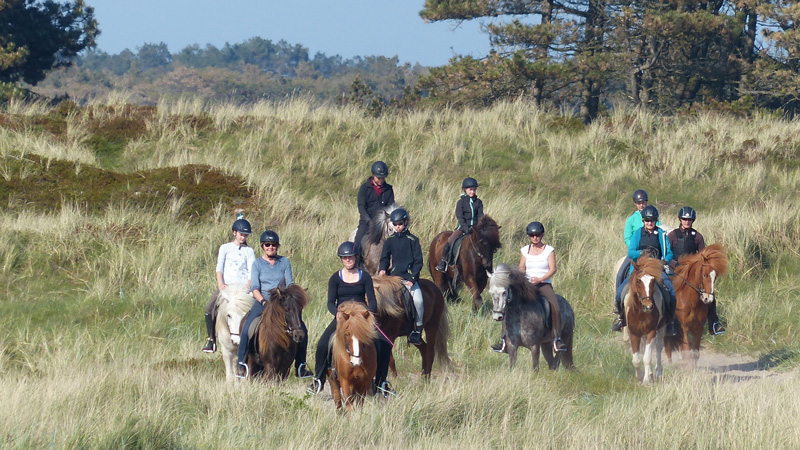 Römö longweekend Thursday – Sunday
During a long weekend you will experience fantastic riding both in the forest and on the endless beach.
The Icelandic horse is a positive and comfortable horse to explore nature on.
After day riding you can enjoy good food and comfortable accommodation.
• 3 nights in a double room (standard) incl. half board, 3 riding days (according to the daily program)
• Free access to the wellness center with indoor pool, sauna and the possibility to book various treatments.
Read more facts about the destination here>>
Program
Preliminary Program
Thursday: You will meet for dinner in the dining room at the hotel at 19.00, three course menu /buffé. After dinner you will get informationa bout the program in the bar.
Friday 5 hours Römö halfday ride with picnic - Today you are invited to the longest ride of the week which is a pure delight on the comfortable Icelandic horse which is made for long rides. From the stable you ride along winding forest paths in fresh tolt. A canter will take you across the fields and then reach Sönderstrand over the sand dunes. Once out on the beach you can once again enjoy the canter, some times of the year only you are there, the whole beach is clean from imprints, only your hoof traces that show that someone has been there. During high season, there is another scenario, with bathers and full activity. When you reach Lakolk, the island's beach town, you take the saddle of your horses and eat your lunch. After well-deserved rest, it's time to get back up again and you ride along the dunes, across the road and into the woods again. Along the winding roads, you ride tolt and canter and finally reach the stable again.
Saturday 2 hours Kirkeby nature area ride - The ride goes along nice small roads to Vråby nature area. You will enjoy lovely tolt and cozy gallops. During the ride, deer often stand and graze and watch the riders pass. Then over the heath and out to the Kirkeby plantation, where there are many nice riding trails. You will pass Römö's highest point, Spietsbierg.
Sunday - 3 hours Sönderbeach Today you ride on Sönderbeach on the west side of Römö. Here, the finest sandy beach stretches along the entire length of the island. The beach is open and flat, which means that the opportunities to find amber are good. The northernmost part of the beach is blocked off as a military zone, while the rest of the beach can be used freely. The view is miles long, sand and sea. Departure after 12.00