Mongolia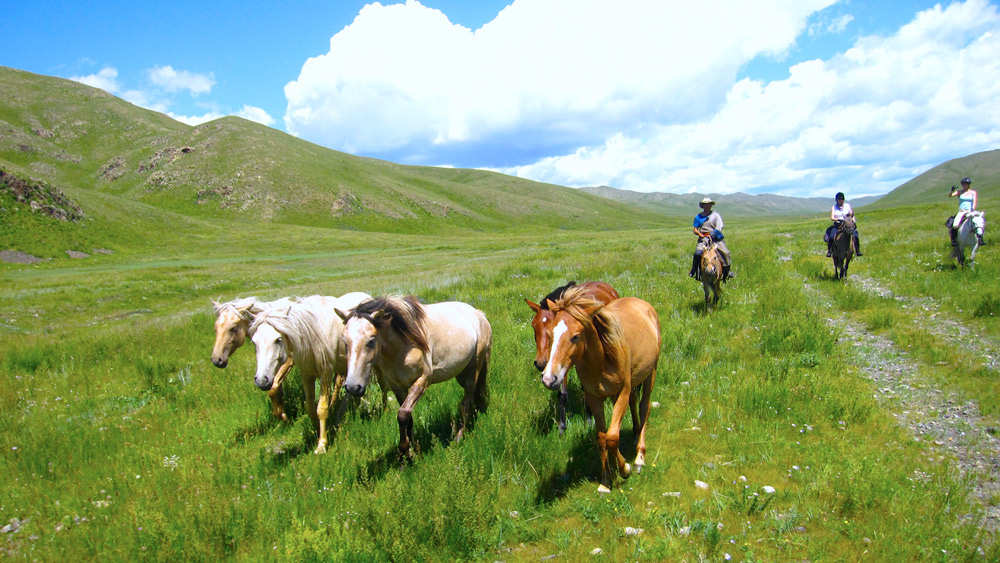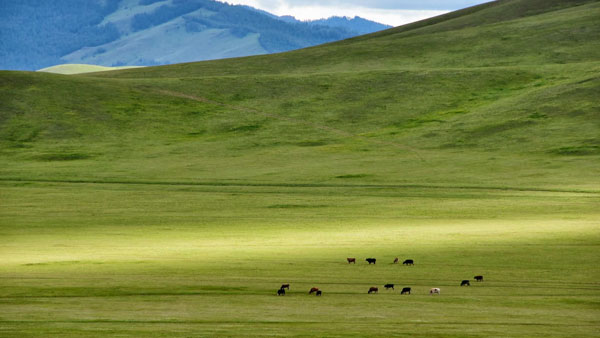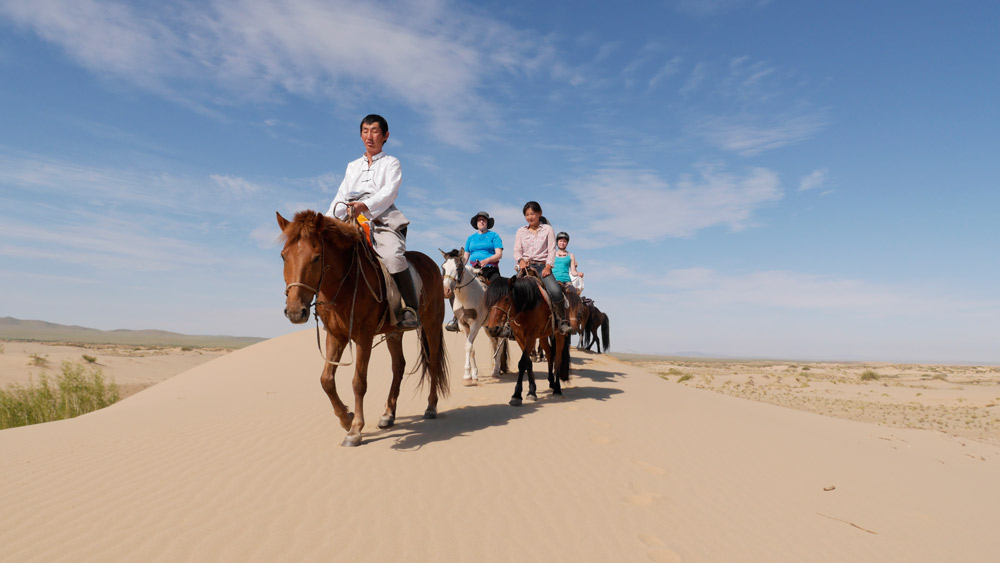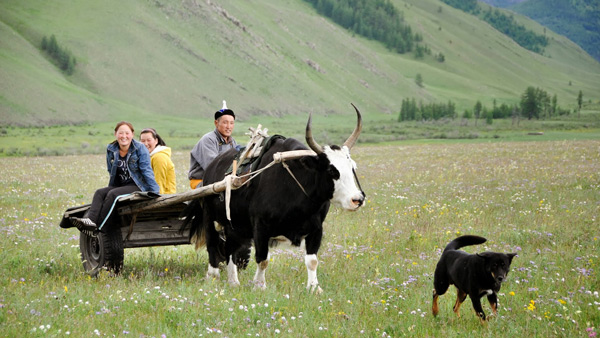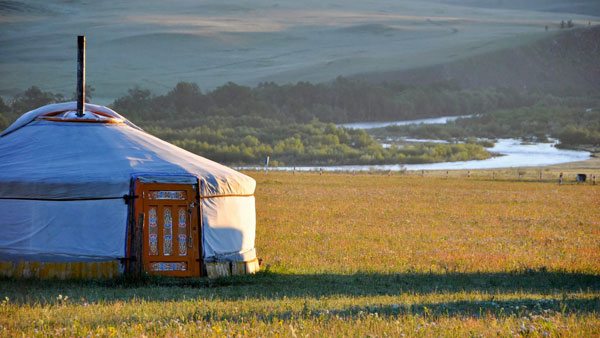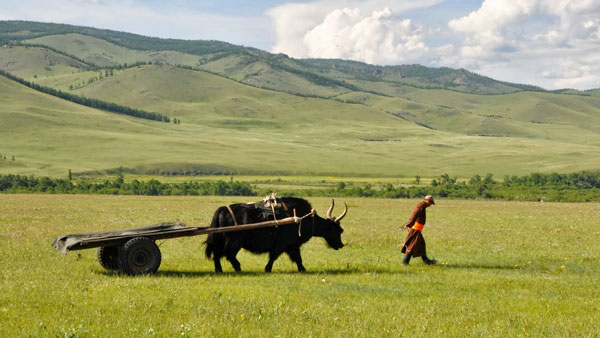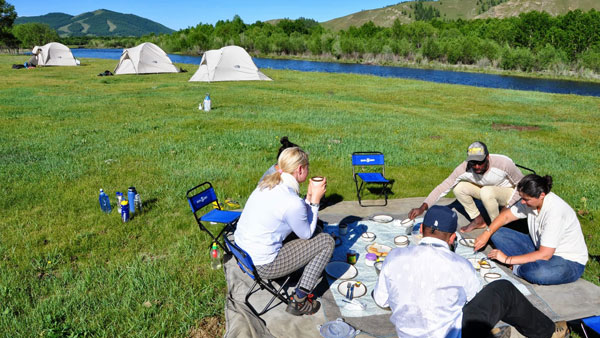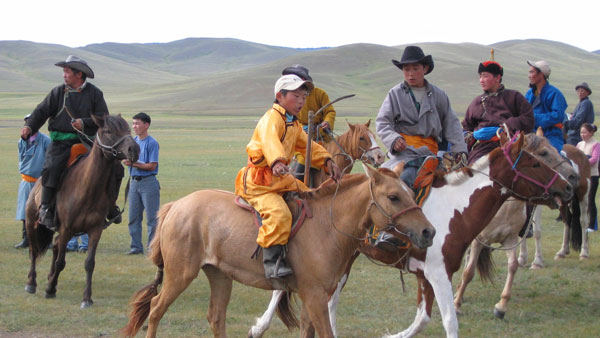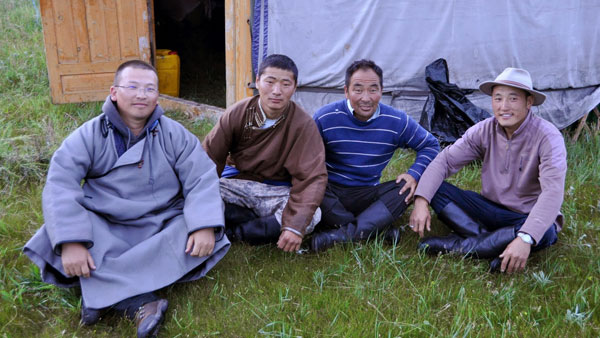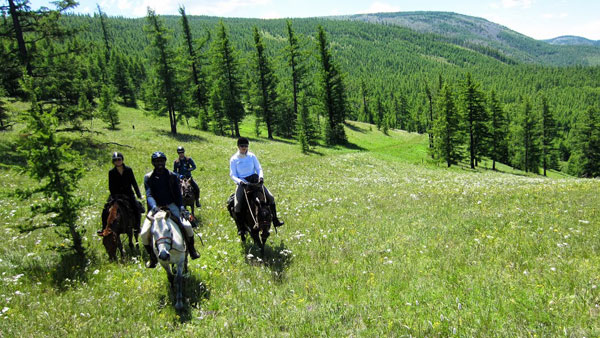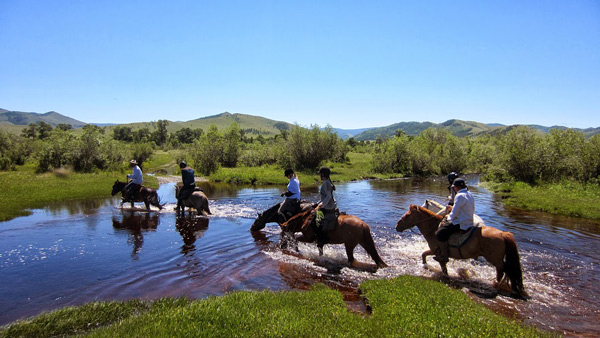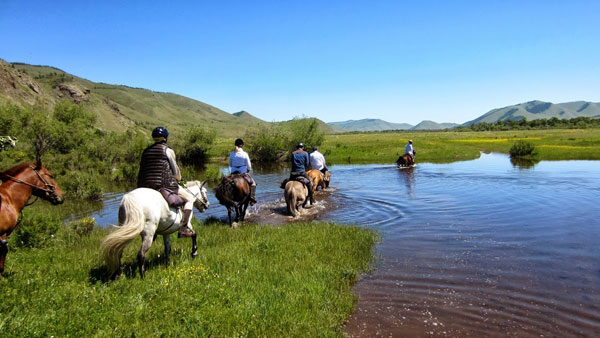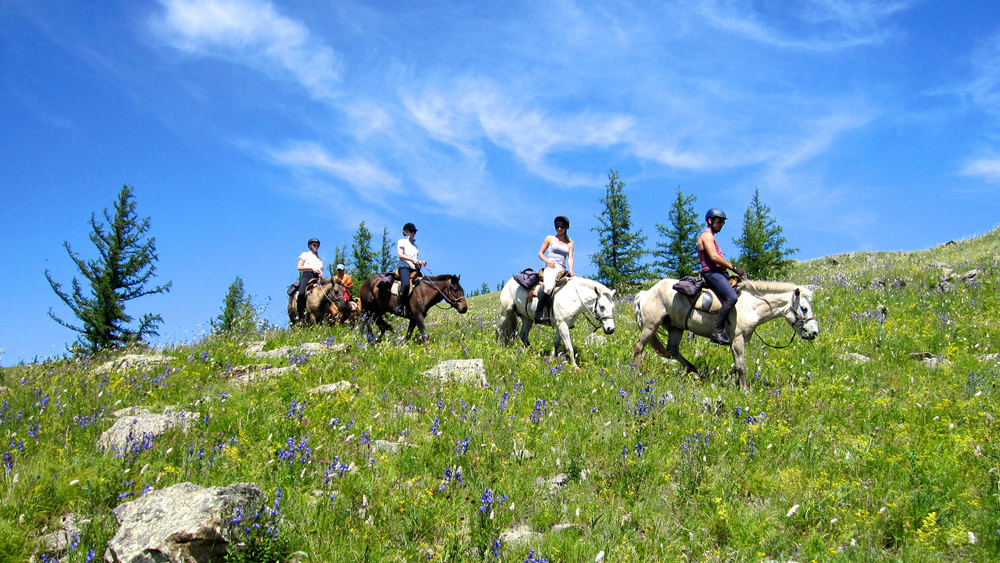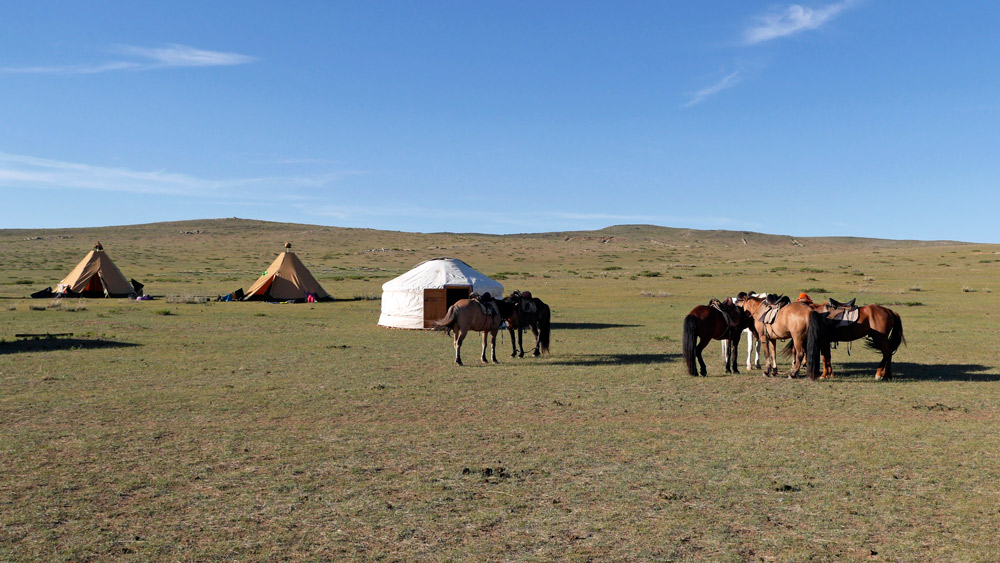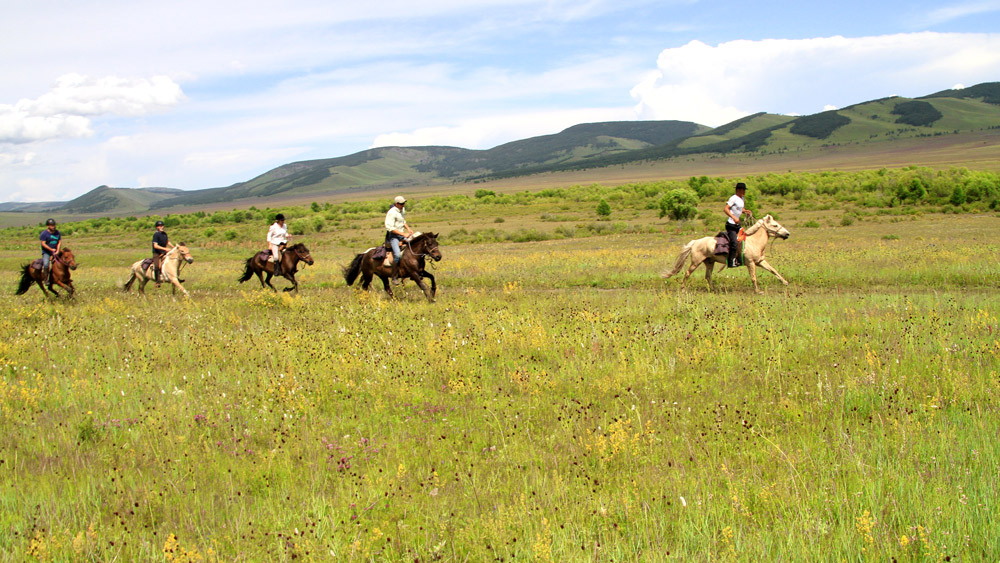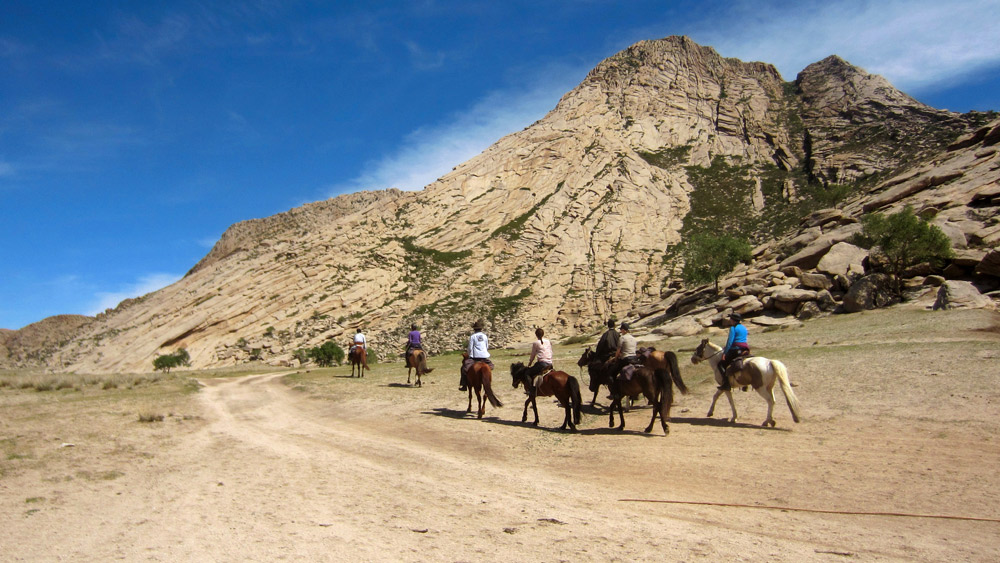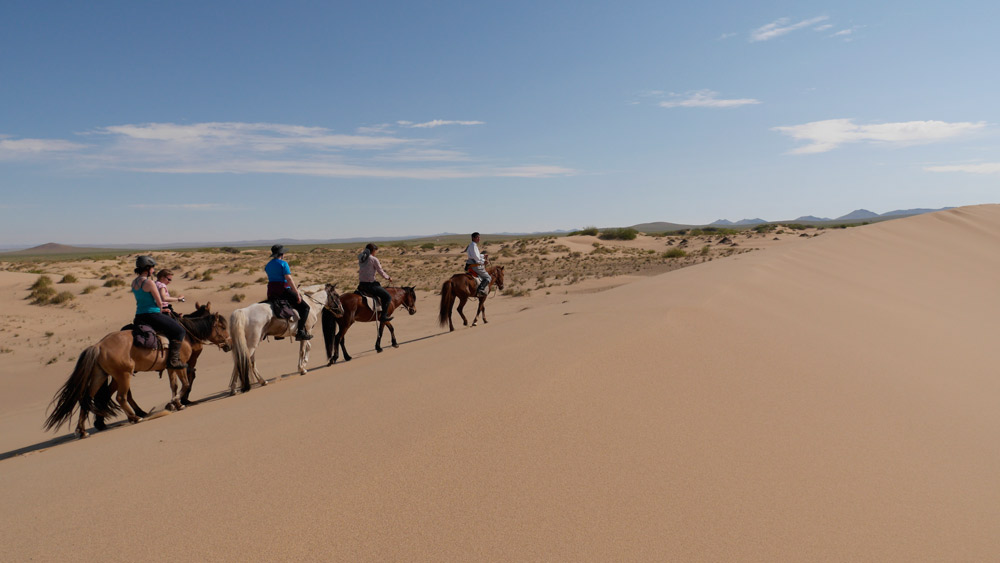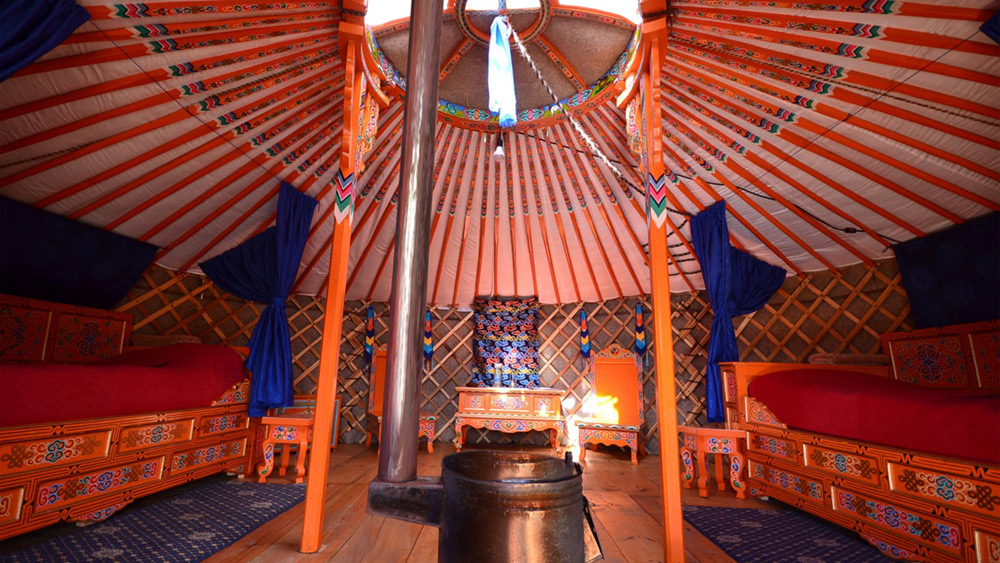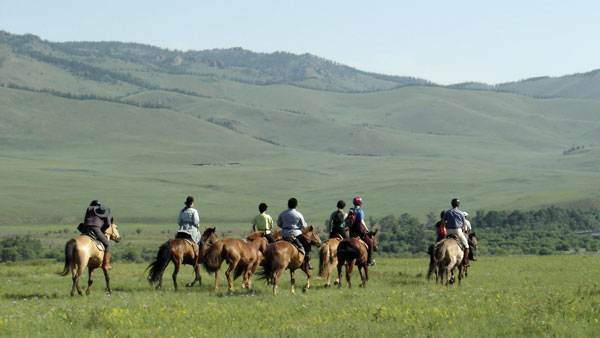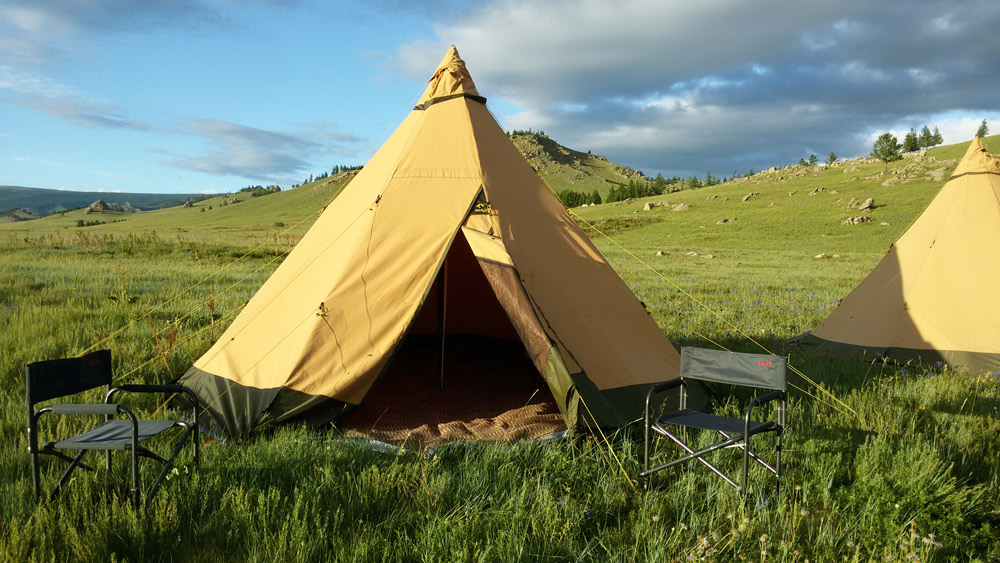 This is riding tour for those who have already seen and done it all, almost ... Mongolians still alive according to the traditions that brought Genghis Khan's armies all the way to Europe.
You can choose between different rides, which can be found further down.
Ecotourism means adapting tourism to the natural conditions of the country. Tourists should not leave any trace of themselves behind, and help to preserve wild species and the environment.
Nearly half Mongolia's population are nomadic herders and completely dependent on their horses. Children learn to ride while they learn to walk. The horses live in herds and only eat grass. There are no fences and even though it can be -40 C in winter you will not see a single stable ....
Mongolia is located in the interior of Asia, and its north-western regions are as far away from the ocean as you can get on earth. The average elevation in Mongolia is about 1500 meters (5,000 ft) above sea level, and the land spreads out over two time zones across Asia's interior. The population is 2.3 million, of which about half are nomadic herders. They keep yaks, cows, camels, sheep, goats and horses. The Mongolians have live today in much the same way as the have since before the time of Christ. Livestock production is still the largest economic activity, and the nomadic traditions have survived in this part of Asia's interior.
In the north, there are coniferous forests, the so-called Taiga (also permafrost areas on low altitude) and in the south the Gobi desert. In addition to these northern Taiga areas and southern deserts, there are steppes (in the east) and mountain ranges (Altai, Hangai and Hentii).
Zoologically speaking, we can say that in Mongolia stretches almost from camel to reindeer country! The earth's northernmost deserts are in the Uvs region in the northwestern part of the country. And Mongolia is at about the same latitude as the Czech Republic!
Mongolia is geographically spread between the Siberian Taiga and the Eastern and Central Asian flora, which is why there is so much variety. There are 2,380 species of flowering plants. In summer, you can enjoy bluebells, edelweiss and other wild flowers.
Terrain
Mongolian horses do not jump at all, because you simply do not use horse that way in nomadic society. You will work directly with real nomads and their horses, which is why this tour quite different from most other riding tours.
The terrain includes both areas for galloping and other areas where you cannot gallop. The nature of the ride changes depending on the group's composition. Guests from England, Germany, France, Sweden, Norway, and USA and Canada can be on the tour and needs and styles differ. There are no strict guidelines as to how the tour will be run. You ride through trackless terrain and with nomads caring for their flocks. There are no pubs to go to, and no hotel where you have to be at specific times.
A cook and the provisions travel with you. The luggage moves on camel carts or yak-carts. We have a yurt, which is set up every afternoon, which is also a portable restaurant / kitchen.
Participation
You participate as much or as little as you like. The first thing Mongolians usually do on setting up camp is collect firewood to cook, then erect the common yurt, then take care of camels and horses, and finally sets up their own bivouacs, ie the collective before the individual.
Those among the guests who help with wood-gathering and putting up the yurt, also then get help with setting up their own tent. Mongolians tend to do things together. Except in the "kitchen". The chefs usually do not like visitors helping them to cook, as language barriers and the way they work are completely different from the ways you are probably used to. They cook over an open fire, and there are usually three courses every evening.
Important to remember
Mongolia is situated in highlands south of Siberia. Some seasons have been extremely hot. Ulan Bator - meteorologically the Earth's coldest capital - has exactly the same historical average temperature as northern Sweden on an annual basis. Even if the summers in recent years have not been cold, it can suddenly become cold. In August 2003, a hiking group had a couple of inches of snow in the camp one morning. The wind can be fierce. Windproof clothes are a must in the mountains.
Accommodation and Food
All meals outside Ulaanbaatar are included as part of your stay in Mongolia. There are no restaurants or eateries at all on the ride. In Ulaanbaatar there is now a growing number of restaurants to choose from. The food during the ride is good. Breakfast consists of yogurt, bread, eggs, porridge, coffee and tea. Lunch and dinner are usually meat dishes and dessert. Let us know when booking if you are vegetarian.
Outside the capital, most nights will be spent in spacious Tentipi Safir tepee tents. Camp beds are also used in Mongolia. You must have your own sleeping bag. For two nights, you will stay in camps consisting entirely of yurts (nomadic tents). The yurts are comfortable and furnished with real beds and bed linen. There is of course no toilet then, but only outhouse. They provide shower tent with shower bag for all riding trips. Teh staff heat water and fill shower bag with warm water when you want to have a shower.
Safe deposit box: No
A/C: No
Hair Dryer: No
Towels and sheets: No. Bring warm sleeping bag.
Fridge: No
You can book extra nights in good hotels through us. Hotel reservations in Ulaanbaatar can never be guaranteed. Demand is cyclical, and there is greater demand in July and August than rooms available. Having to change your travel and hotel arrangements is not uncommon.
Horses
The Mongolian horse is very easy to ride. You ride with the reins in one hand and control it like a polo horse. The horse's equipment consists of a halter and lead rope that is never taken off, and a very simple bridle and a Russian leather saddle with steel frame.
Guests receive Russian saddles. Horsemen riding in the Mongolian style use saddles made of birch wood! The horse is small, about 130-140 cm, but very strong, and can easily carry an adult (maximum 90 kg).
The Mongolian horses have distinct herd behavior because the Mongolians keep their horses in the same way as they did during the Bronze Age, that is, not stabled and they get no additional grains or food, etc. They graze on winter pasture, and are kept in 'harem herds'. Herds must be a certain size, so that they can protect their foals from possible wolf attacks. Therefore, they naturally stay together. Wolves are still a minor problem in the summer when they hunt marmots (which goes into hibernation for the winter).
A herd of 300 horses is required to be able to find 10 horses that are suitable for westerners to ride. Most horses are not broken in the way we in the West are used to. From a western perspective, we have access to suitable horses in all the places we take tours. Mongolians are generally content to ride less broken-in horses.
The horses you will ride are more tolerant than other horses, even if they dislike, for example, patting under the neck, stirrups flapping freely under their bellies or the rustle from Gore-Tex clothing, which they are not used to. They get used to a new rider quickly, however.
Weight limit: 90kg. For those who are over 90kg and up to 100kg, we charge for extra horse, 40 EUR per day.
Climate
It is important to understand what kind of climate you will meet in Mongolia. The mean elevation of Mongolia is about 1400 meters above sea level (5000 ft), which enhances the sharp continental climate. Mongolia has the highest atmospheric pressure in the World and the pronounced elevation – and the distance from the moderating effects of the oceans – makes Ulaanbaatar the coldest capital city on Earth. This fact does not rule out extreme heat waves in the middle of the summer. Heat waves have in the last two years, during specifically hot days in the end of June and early July also carried with it large quantities of flies and horse flies in forested areas. Due to warmer previous winter, this enhances survival conditions for such insects.
In Mongolia the Central Asian desert zones meet with the Siberian taiga, hence, Mongolia is a transition zone with climatic extremes. Most of the year it is very cold, especially at night. Precipitation is low and skies are usually clear during the wintertime. Summers, however, are very pleasant just as in the US and Europe. There is a short rainy season in July and August during which most of the annual rain will fall. Around 70 percent of all precipitation falls during these three summer months. When raining it tend be heavier and shorter, if extended it may cause floods locally. Occasional strong winds can come and go quickly.
Mongolia is known as the Land of the Blue Sky and throughout the year, there are 278 sunny days and 9-23 cloudy days. All in all, the weather pattern is very variable over short periods of time.



Travel Information
The following applies to all rides. For additional details see the facts for each ride available through the links at the bottom of the text.
Ability description: Level, trail ride 3>> (Mongolian trail ride, Gobi Steppe Ride, Big Skies).
Level, trailride 2-3 >> (Gobi Light)
Included in the price: Leadership, breakfast every day in UB, and all meals outside Ulaanbaatar. All overnights in hotels in shared double, ger camps and tents . Camping equipment and all local transport.
Not included: Air or train tickets in and out of Mongolia. drinks, laundry. Lunch and dinner in Ulaanbaatar. Visa fee. Bring your own sleeping bag.
Travel: Book flight >> We help you book flight if you like.
Flight to Ulaanbaatar via Moscow or Beijing.
It is important that you inform us as soon as possible of your arrival and departure times.
Transfer: Book in advance with HorseXplore. You will be picked up at the airport in Ulaanbaatar. If you arrive at an earlier or later date, you can book extra nights at the hotel, and the transfer in Ulaanbaatar is included.
Visa: Check with your nearest Mongolian Embassy or Consulate for visa requirements. For 2016, please check carefully at the website or call the Mongolian embassy or consulate nearest to you, what is applicable for your nationality: http://www.mongolembassy.com/
Suitable equipment: You will receive detailed information about this after booking.
Field Hygiene: This is, to say the least, an expedition, and you will generally be a long way from the nearest hotel. You will be outdoors most of the time. For the toilet, you dig a pit, around which is erected a toilet tent (a tent without a roof). "Flushing" is done by placing earth on top once you are finished. Toilet paper will be provided, but it's handy to have your own roll when you are on the move. On the steppes, there is limited water. There is a field shower, so a hot shower is possible under outdoor-like conditions. On the steppe there are no rivers, but usually small rivulets of running water.
Single room: Can be booked with a supplement. For price click on "Book on request" under Dates & prices.
If you are willing to share room, you will not have to pay a supplement if you are allocated a single room.
Currency: Tugrik
Credit card: Not accepted at trail rides but at hotel.
Tipping: Not required but appreciated.
Wifi: At the hotel, first and last night.
Electricity jack: EU standard is working.
Age limit: None specific but you need to be a compenent rider.
Closest village: About 120 km (75 miles) away on trail rides.
Beach: Sometimes you ride beside the Tuul river beaches.
Pool: None
Misc.:
Riding equipment to borrow: None
Saddle bag available: Yes
Special diet: Inform when booking.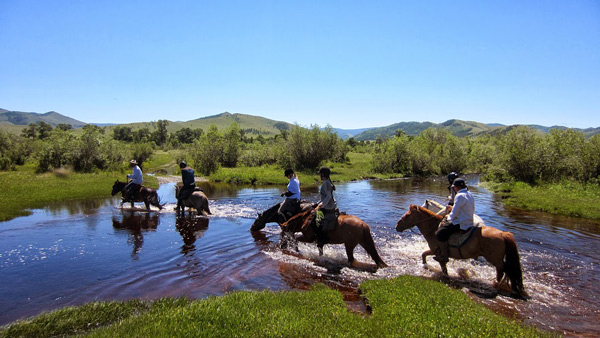 This journey on horseback is a close encounter with Mongolian horsemen and their horses, nomadic people who have thus far survived modern pressure and lifestyles. There is no other nation in the world that so much depends on horses. Mongol horsemanship is famous and strikingly different than anywhere else. The herders keep their ....
Read more »
From
EUR 1,995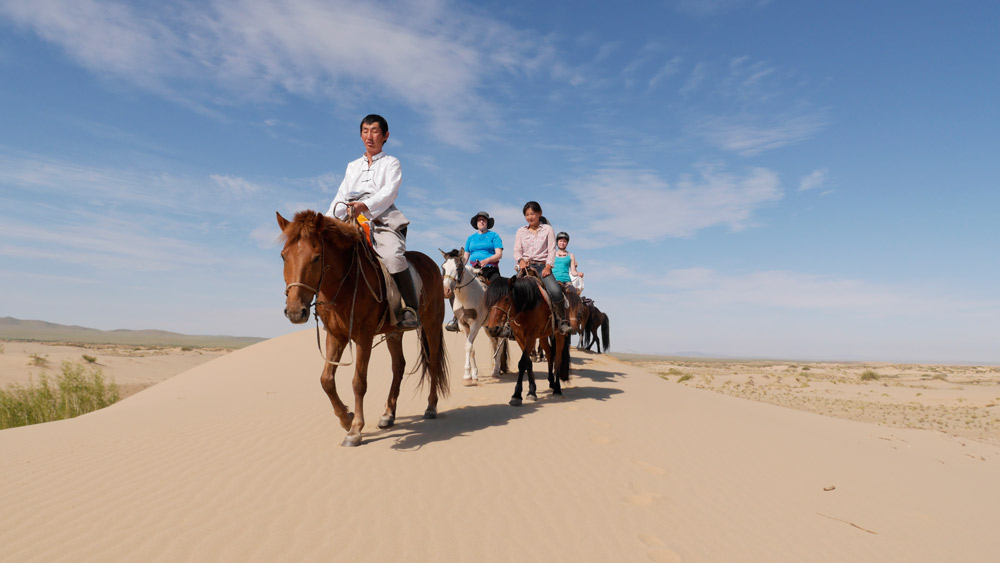 With some of the country's best horse trainers you will explore the Gobi steppe, the largest unexploited steppe in the world. It is fascinating to ride across this almost infinitely large, desolate and treeless steppe. You are followed by camel-drawn carts. Nomads who breed horses come with your on the ride. You will also pass several nomadic ....
Read more »
From
EUR 2,180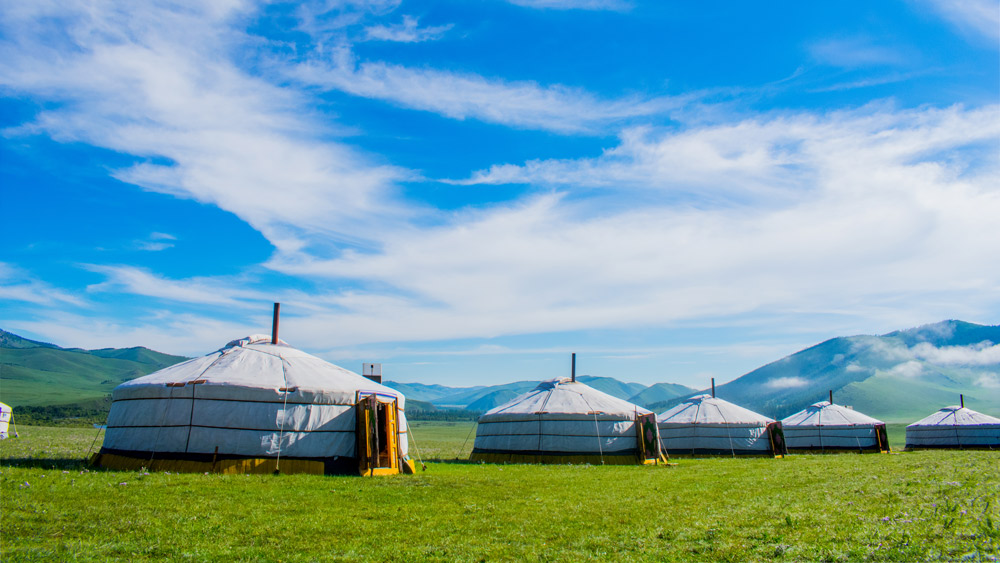 This is a tour for those that would like a few more comforts than you get on the other rides in Mongolia. You will not have to crawl into a small tent and sleeping bag in the evenings and you will move camp every other night followed by yaks carrying your luggage. You will sleep in yurts heated by a stove with comfortable beds and proper bed linen. ....
Read more »
From
EUR 3,265