Denmark, Römö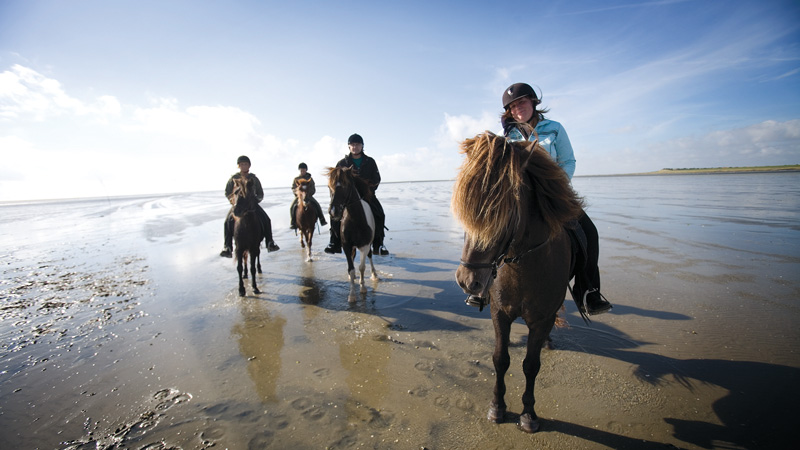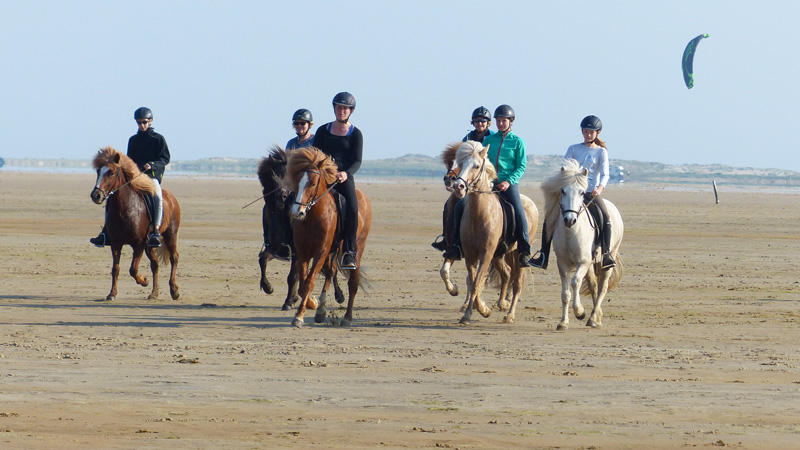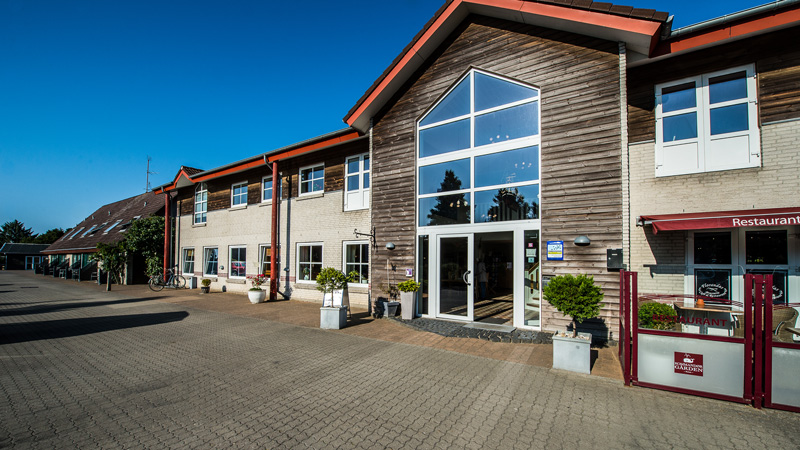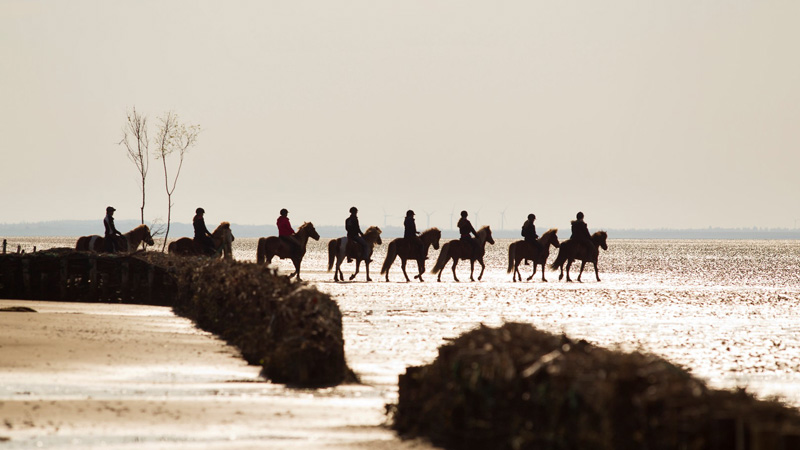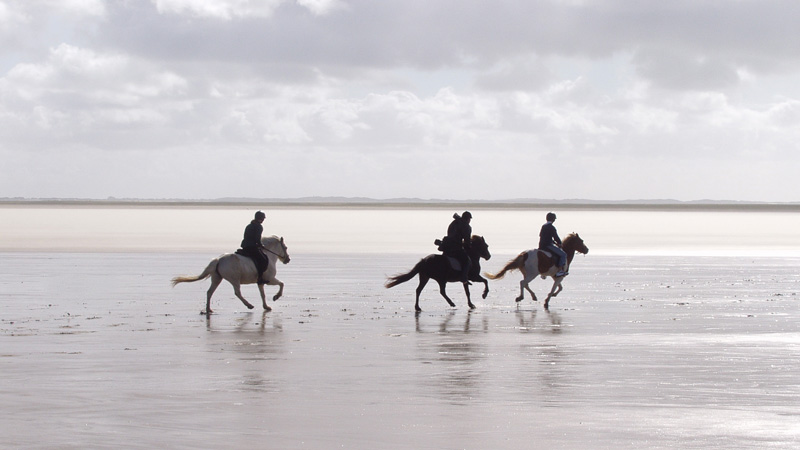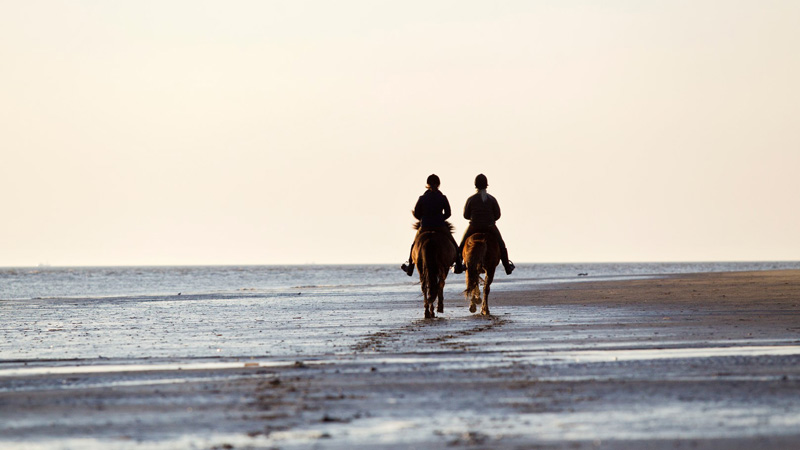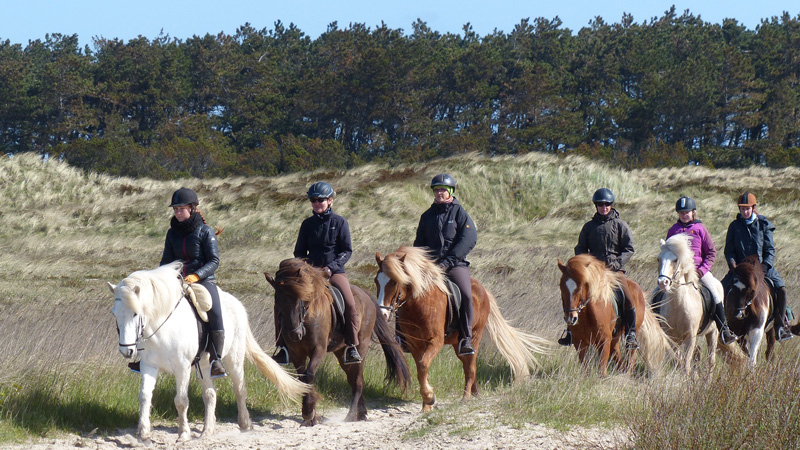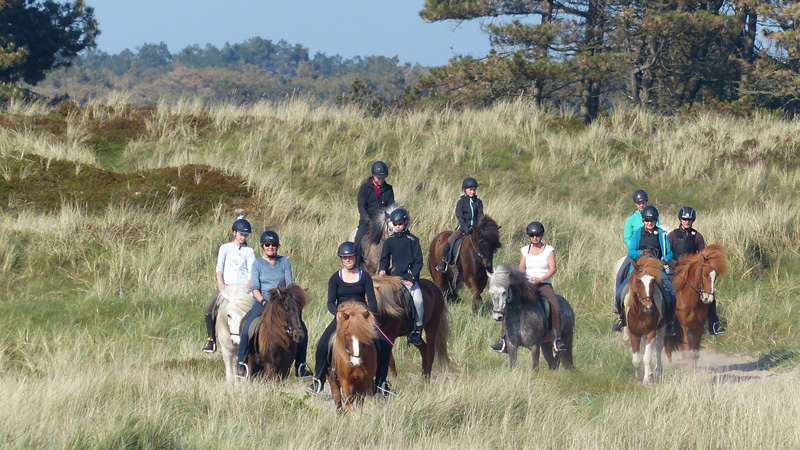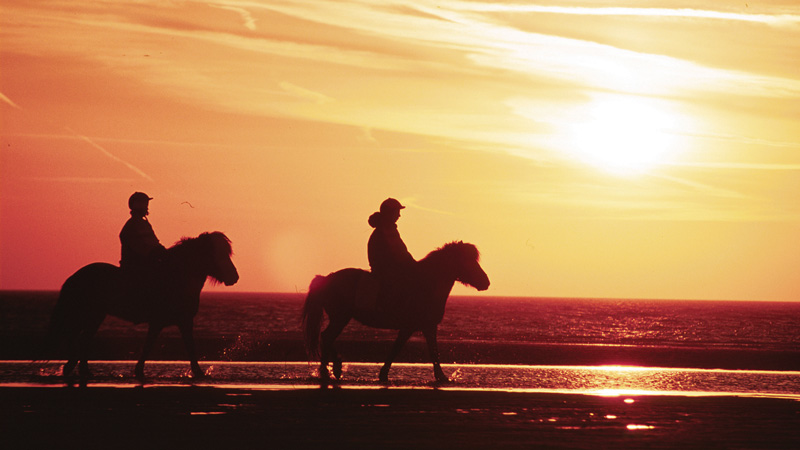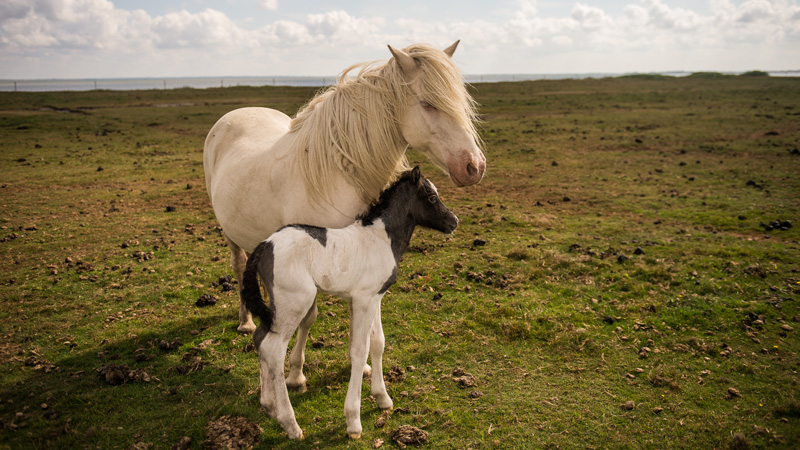 Römö is Denmark's most southwestern island and easily accessible by bridge from the mainland. As much as 90% of the island consists of unspoilt nature, half of which is a sandy beach. That is, an Eldorado for riders. Here is actually the largest sandy beach in Northern Europe. It is miles long and hundreds of meters wide! You can tolt and gallop on perfect ground in total silence forever - indescribable!
The base for the adventure is a complete holiday resort which, depending on the season, suits both the dedicated rider and the rest of the family. If you are a nature-loving rider it is recommended to come off season as you can enjoy the proximity to the sea and nature and excellent riding. July and August are perfect for the family as it is full of people at the campsite and many families with children.
The horses play a central role. There are about 100 Icelandic horses, which allows good riding for both experienced and beginners, adults and children. Everyone can ride here. But you are divided into two groups, so that the experienced riders get challenging rides and the beginners get a safe experience.
The entire facility, which consists of hotel, wellness and spa, cottages, camping and equestrian center has been run by the same horse-loving family for 30 years. Everyone strives for satisfied customers and new renovations and improvements are always planned to succeed.
Other activities
There is a whole lot of other activities that the accompanying travellers can do. Besides all the sports you can do on the beach, hiking trails, bike rides and fishing are very popular. The Wadden Sea is an Eldorado for birdwatchers with 15 million migratory birds that stop to eat their fill during certain times of the year.
An 18 hole golf course is located about 1.5 km from the hotel.
Dogs are warmly welcomed and there is an agility course in the area + lots of forest and beach to explore. Dogs are welcome everywhere also on the beach, but should be on a leash 1.4-30.9 (however there are several fenced areas where dogs can be loose all year round). It costs 300 SEK extra / stay with dog. Please notify at time of booking if you wish to book with a dog.
At the reception you can get help with information and booking of activities.
Accommodation & food
Apartment hotel
The hotel was built in the early eighties and the apartments are well equipped and functional. Standard apartment included in the riding weeks / riding weekends is for 2 people and fully equipped. 25sqm, combined bedroom and living room with a small kitchen area which has fridge, stove, microwave and coffee and tea facilities. Bathroom with shower / WC, terrace or balcony facing the pool. TV and wifi. Free access to wellness area with indoor pool, sauna and possibility to book massages and treatments.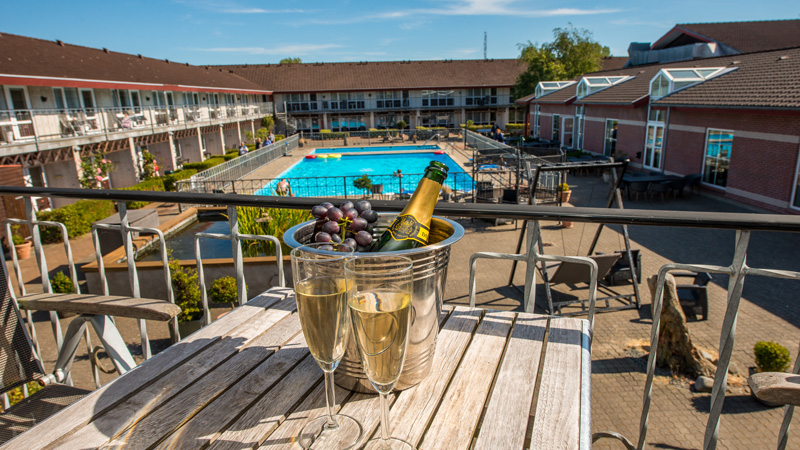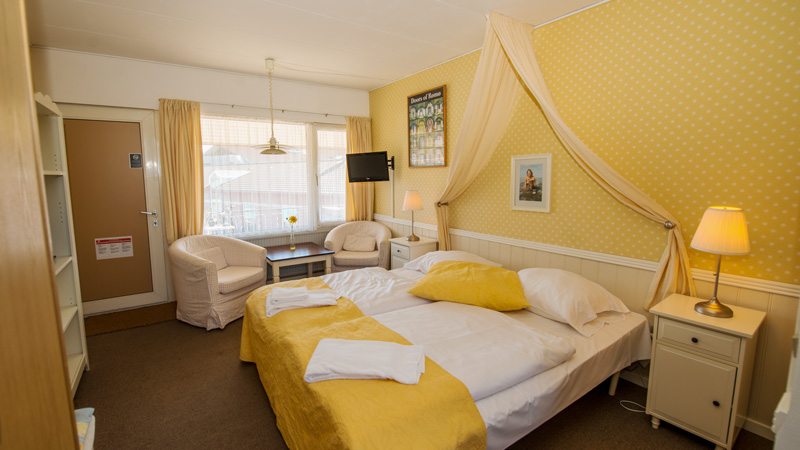 Cottages
There are 15 nice red Wadden Sea cottages, located about 100 meters from the hotel and 50 meters from the sea. 43sqm, 2 adults and 2 children, 15sqm terrace, Insulated for all year round use, bathroom with bathtub, WC and shower, 1 double bedroom and loft 4.5sqm with sofa bed, living room with sofa bed, TV, wifi and kitchen area. Free access to the pool and spa with indoor pool, sauna and the possibility to book treatments.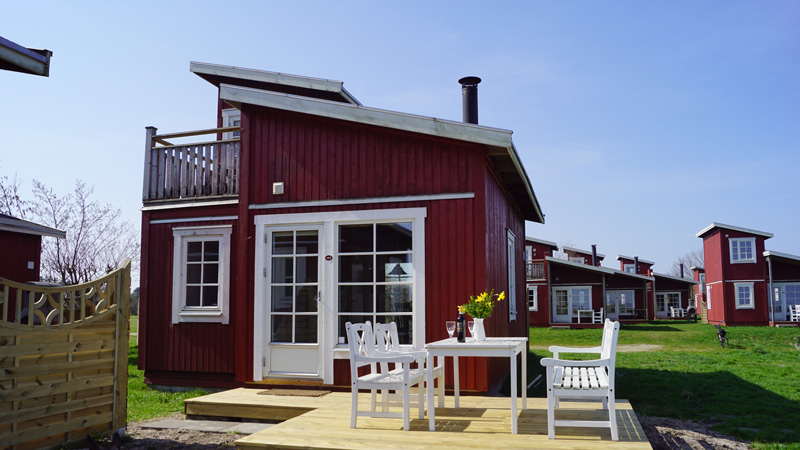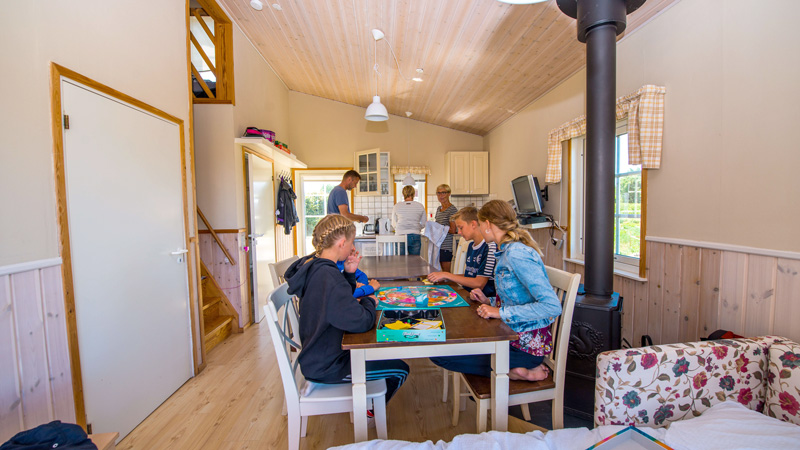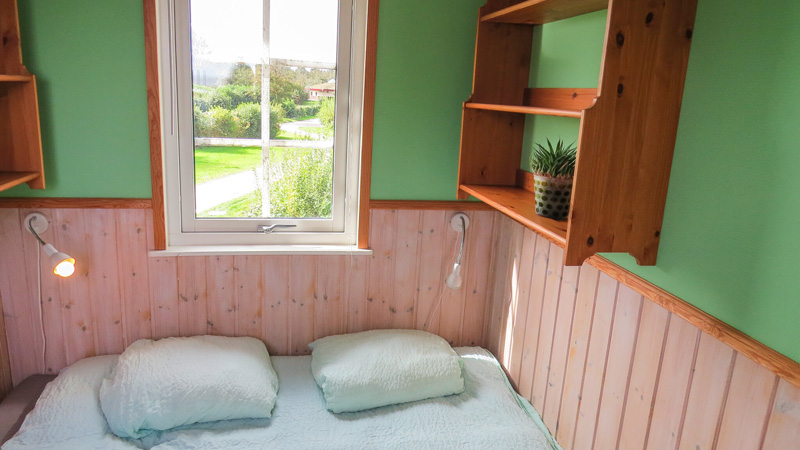 Florandas brasseri
A rich buffet breakfast is served at the hotel. The half-board dinner consists of three courses, which are served as a buffet. On Fridays, a sumptuous fish buffet is served, with fresh shrimp, herring, scampi, fish soup, mussels, deep-fried fish, saithe, salmon, etc. that is something for every taste. On Saturdays the menu is a little extra nice. After dinner it can be nice to hang out in Captains bar.

Horses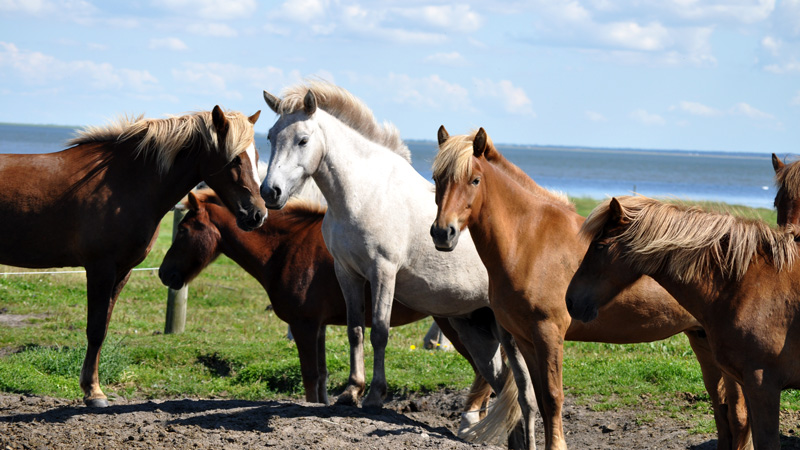 In total there are about 100 Icelandic horses, of which two breeding stallions and every year new horses are born. At the stable is the Icelandic horse expert Sigursteinn Gudmundsson, "Steini". When Therese, the hotel's owner was in Iceland 16 years ago to look for nice Icelandic horses, she took the opportunity to import a genuine Icelander as well. In addition to his expertise in horses, Steini is good at creating a good atmosphere, especially with his guitar and his Icelandic songs. In the stable there are horses for both the experienced rider and for you who are sitting on horseback for the first time.
Blue and red groups
The riders are divided into two groups. Red = experienced riders and blue = beginners. Usually there are about 8 riders per group, but just like in Iceland there can sometimes be more.
Travel information
Ability description: Trail ride level 1-3>>

Included in the price: 3-7 nights, 3-6 days riding depending on program, apartment or cabin, food depending on program.

Not included: Travel to and from Römö, lunch, alcohol, taxes (about 1,7 per person an day, paid on spot).
Travel: Fly to Billund (closest about 100 km, 1.5 hours), Århus (about 3 hours), Copenhagen (about 3.5 hours). Continue with train / bus to Skærbæk. From Skærbæk you can take the bus to Römö (not all the time). You can see times and prices on Rejseplanen .
Transfer: Book beforehand to HorseXplore and paid directly to the riding center.
From: Skaerbaek
Price: 300 DKK one person/ one way. 2-4 pers 200 DKK/person /way

Rental car: We recommend a rental car if you want to explore during your free time.

Arrival: Different arrival- and departure days depending on whcih program you choose. Check in from 15.00 on arrival day and check out at 10.00 on departure day.

Optional arrivalday: If you prefer to arrive on a different day please contact us at info@horsexplore.se
Season: Year around. High season July- mid- September.

Single room: It is possible to book a room for only you. To find out the price click on Book on request under Dates & Prices.
Numer of riders: Minimum 1 maximum 8 per group, but sometimes the number can a higher depending on season.

Age limit: Min. 6 years old for beginner rides (blue rides), 8 years old children with riding experience (red group)

Currency: Danish Crown

Credit card: Yes, in the accommodation.

Tipping: Optional but appreciated

Wifi: Yes

Electricity: EU-standard

Beach: Kilometer after kilometer of nice beaches.
Pool: Yes (heated from mid-May to mid- September)
Wellness: Wellness department, indoor pool, sauna and possibility to book massages and treatments
Misc:
Riding equipment to borrow: Riding helmets, rubber boots, rain clothes
Special diet: Inform when booking. If you are gluten intolerant please bring your own bread (if you want to have bread)