France, Aquitaine - Perigord and Beach Combo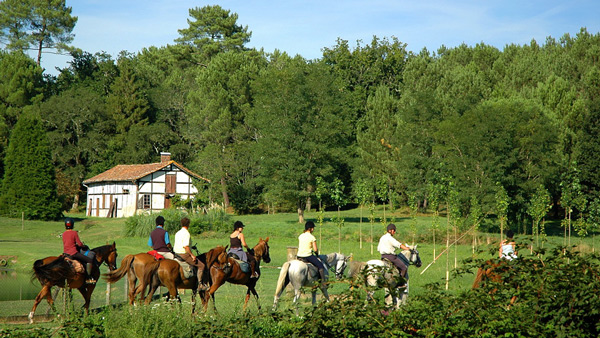 This route offers the chance to experience the Aquitaine region's rich history and passes through walled cities and fortified castles. Riding through the beautiful valleys takes you through a magnificent forest, which was a refuge for locals during the One Hundred Years War. The last days of the ride are spent in Mimizan, so in addition to an historic experience, you also get some fantastic beach rides!
The marriage of Eleanor of Aquitaine and Henry II (Henry Plantagenet) in 1152 drew Aquitaine into a long conflict known as the One Hundred Years War. Many walled towns and castles were built during this period in response to the regions strategic, political and economic needs. This ride takes you back in time, through deep, mysterious valleys and a maze of old forest paths, which provided refuge for many of the locals during the war.
For three days of the ride, you will return each evening to the Hameau de Peyrie where you can enjoy good food from the Perigord region. You will spend four nights in this beautiful location. Each evening, you will get the opportunity to taste some amazing French wines at dinner. Three provinces border on this area - Lot, Lot et Garonne and Dordogne, so every day you get to discover new areas, new flora and fauna and, last but not least, some magnificent castles.
After four nights at Hameau de Peyrie, you will travel to Mimizan where you spend three nights in a gite in Mimizan and you get to experience beautiful beach rides and the chance to explore this amazing area.
The Program
Sunday: Arrival day. Transfer from Bordeaux airport at 2.00 pm to Bonaguil and the Hameau du Peyrie, a beautiful Manor House. Here you can meet the horses and enjoy a pleasant evening by the pool and eat at a local restaurant (dinner not included).
Monday: Full day ride in " Lot " ( 5 to 6 hours with Riding ) - You start at approx. 9.00 am and discover the vineyards of Cahors and the Lot Valley. A 4 km (3 mile) gallop takes you to Duravel and an al fresco lunch in the forest. You ride through the fortified village of Moncabrier on the road to Bonaguil Castle. This is a great example of military architecture and is the last of the great fortified castles of France. This amazing castle was never besieged and is in a perfect condition. (5-6 hours in the saddle).
Tuesday: 4 hours Day Ride in " Dordogne " - Today's ride begins at about 9.30 am. You ride through small villages with stone architecture typical of the Perigord. You will have lunch near Sauveterre Castle. There is a chance to canter in the afternoon before heading back to your gite to relax by the pool. (4 hours in the saddle and a few hours by the pool!)
Wednesday: Endurance Day in " Lot et Garonne " - 7 hours riding. You start a little earlier today, at approx. 8.30 am be able to finish the day's ride of 65 km (40 miles). The rhythm of paces changing a lot, makes the way short and exciting. You pass Bastide St front sur Lemance and Lacapelle Biron. You then ride to the beautiful and noble Biron Castle where you will eat lunch. It is a long afternoon's ride and you will pass the picturesque village of St Avit and Gavaudun Castle, before heading on into the deep chestnut forest in Cuzorn with its surprising viewing point over the Lot Valley. You then ride back to Bonaguil and the Hameau du Peyrie. (7 hours in the saddle).
Thursday: Transfer to Mimizan with an halt, lunch and 2 hours ride in the Sauternes Vineyard in "Gironde"- Departure for Sauternes ( 2 hours drive trough Lot et Garonne ) and reach a new department " La Gironde " internationally know for the Bordeaux white wine !
After lunch you will have a 2 hours ride through the different and Famous vineyard – Chateau Ychem – Chateau Trillon - Chateau Giraud. At 17h00 visit of Chateau Filhot and wine tasting. Transfer to Mimizan and relaxing time in the new Guest House around the swimming pool before dinner.

Friday & Saturday: On the last two days, you will ride through Landes, " St Julien – Bias – Mimizan. The first day's ride is approximately 45 km over soft and sandy ground in one of Europe's largest forests with some fantastic views of the beautiful beaches. This will also be a memorable moment because you will have the chance for an amazing gallop on the white sands of the Aquitaine coast.
The following day is a more relaxed day where you get to ride on the beach and enjoy lunch at Lake Aureilhan. You finish Saturday with an amazing sunset ride before your last dinner together.
Sunday: Transfer to the airport. You will be dropped in Bordeaux before 1.00pm. The transfer takes about 1 hour and 30 minutes.
Min. 4 riders; Max. 8 riders.