Argentina, Salta - Inka Trail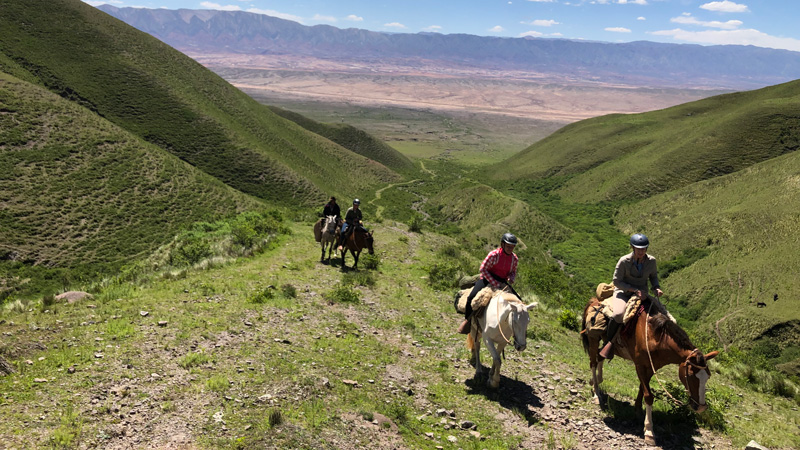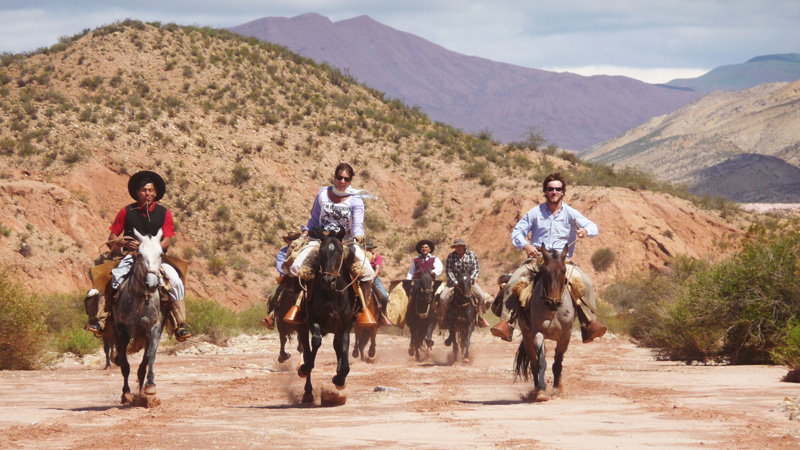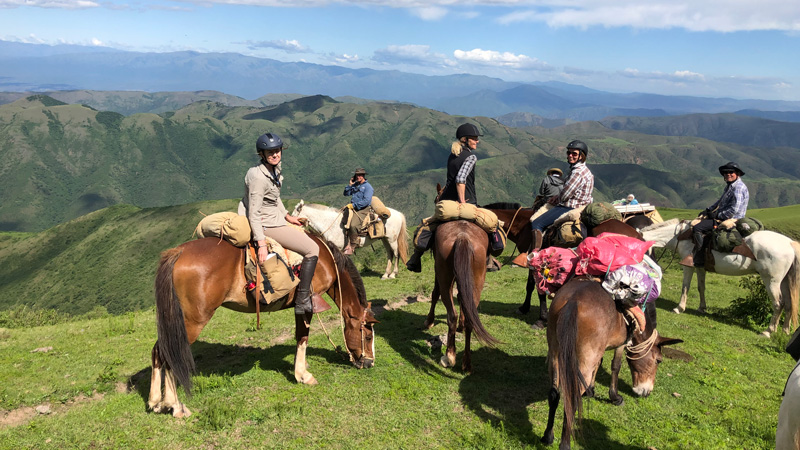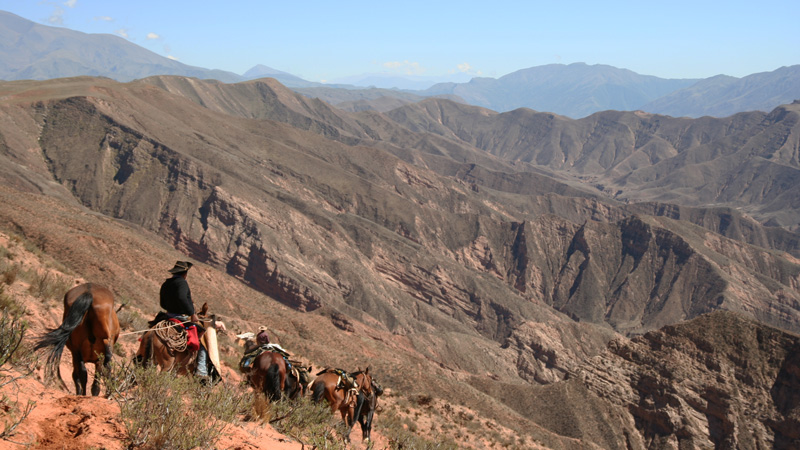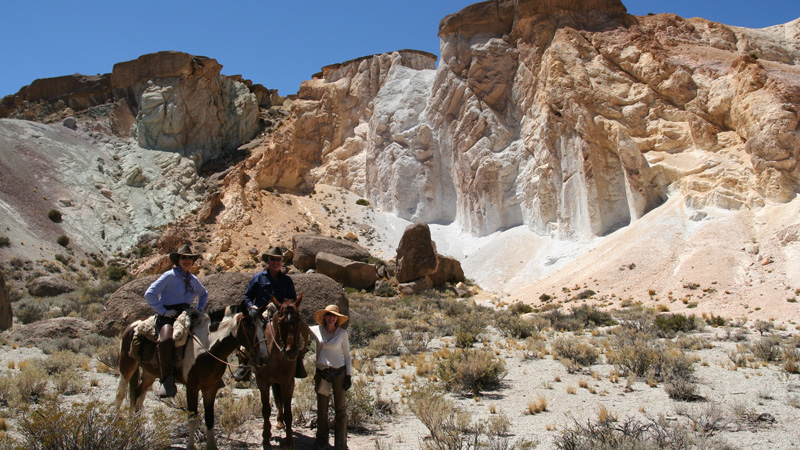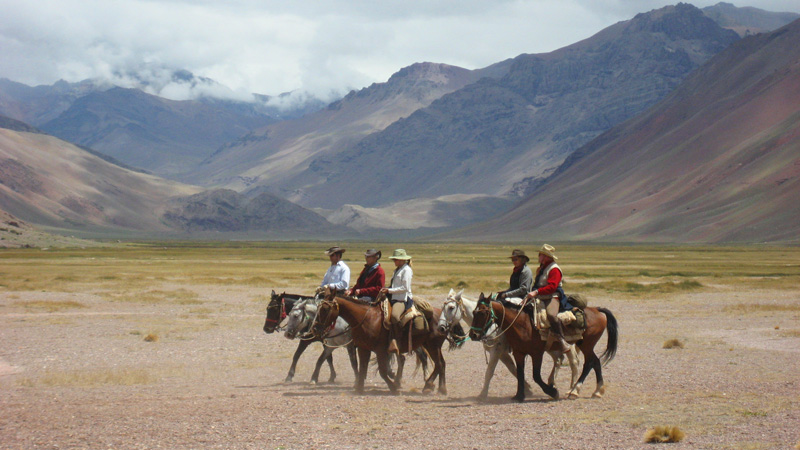 This point-to-point ride runs along the famous Inca Trail and over the mighty Andes in Northwest Argentina. You will visit places that you can only get to by horse. The area has an impressive landscape and a unique diversity of climate zones. Tropical forests with crystal clear streams in the Lerma Valley. The Calchaquí desert with its multi-colored mountains and Cafayate Creek with its peaks eroded by wind and water. Eduardo has successfully created a ride where you will experience these unique contrasts.
You will ride up to 3,000 meters (9,800 ft) above sea level to the tree line where the forest gives way to grassland. This is the Condors' home territory. When the sun goes down the spectacular stars of the southern hemisphere cover the sky. After a tough day's riding, it is great to be able sit by the campfire and enjoy the peace and quiet and the company of new friends.
Program
Day 1
Fly to Buenos Aires before a domestic flight on to Salta City where you will be met at the airport. Arrival in Salta prior to 4.00 p.m. You will visit the MAAM (Museum of High Altitude Archaeology) that has recently opened to display objects discovered at an Inca sacrifice site at the Llullaillaco volcano (6,730 meters / 22,000 ft meters above sea level). The Museum has the best-preserved mummies in the world. Afterwards, you will check in to a boutique hotel. Enjoy a beautiful welcome dinner with your guide.
Day 2
Riding: After breakfast, you will be driven to meet your horses. You will travel along the Cuesta del Obispo with its breathtaking views to the Cardones National Park. When you arrive at Piedra del Molino (3,348 meters/ 11,000 ft above sea level) you will meet your horses and Gauchos. Lunch. The ride then heads south at high elevations. You will reach Peñas Blancas (2760 meters / 9,000 ft) before sunset and spend the night in a mountain cabin after having crossed a small mountain chain. On the way, you may see herds of wild donkeys, descendants of donkeys released by the Spanish Conquistadores.
Day 3
Riding: After breakfast, make yourself ready for a long day's riding. Today you will ride along the 'life line' that this valley has used for centuries. On the way you will see small houses made of mud and the archeological remains of earlier settlers. You will start to ride westwards until you reach the very steep slopes of Chilo which separates two valleys. The view is magnificent and you really experience the power of nature. Lunch on a dry riverbed that is also excellent for galloping. On the way, you will stop to look at the old pictographs painted by the local Indians centuries ago. You will visit Isonza which is a working ranch where the old way's have continued unchanged and Leuca Bergis makes goats' cheese. The methods of milking goats, making cheese and growing crops are hundreds of years' old and have been passed down since the time of the Incas. Night at Peñas Blancas in the Calchaquí Valley.
Day 4
Riding: The riding today is mainly in a southerly direction. You will ride past Yaslaguala. These giant cacti dominate the area. After lunch, you ride to the village of Amblayo (2,400 meters) where you will stay overnight. The village has only 150 residents and the main means of transport is horse. They are well known for their excellent goats' cheese. It is amazing to arrive by horse in this little village with almost no cars! An unforgettable experience. To get there you first need to ride through archeological diggings where you can see pieces of painted ceramic littered around. Overnight at Amblayo. Rooms with beds and bathrooms with hot water.
Day 5
Riding: After breakfast, you will explore this picturesque village, including a visit to the old chapel with its seventeenth century Peruvian paintings. After lunch, you will ride to the foot of the Sierra Pelada. This multicolored mountain is unique. You will also ride along the Río Salado, which is a great place for galloping! Overnight in Amblayo. For dinner you will be served a traditional barbeque grilled goat. Overnight at Amblayo.
Day 6
Riding: The riding today offers up a day of complete contrasts. When you ride eastwards, you will cross the Dead Lion Range. The desert gives way gradually to grass plains. This is the home of the Condor. When you reach an elevation of around 3,000 meters (9,800 ft) you may get the chance to see a few. You now begin to travel through the dense forest in the Lerma Valley. At sunset, you will arrive at the El Churqui mountain camp (1,960 meters) where you will be greeted by an energizing homemade meal.
Day 7
Riding: After breakfast, you will ride to La Viña along the course of the Las Pircas stream. These roads have been used for centuries and remain the only means of communication for the local people. When you reach La Viña a minibus will be waiting to take you on the two-hour car ride to Salta city. Check in at the boutique hotel where you will eat a farewell dinner.
Day 8
Buenos Aires City: Breakfast. Transfer to the airport. Fly to Buenos Aires. Transfer to the hotel. You will have time to visit and learn about the city's icons: tango, Plaza de Mayo, Casa Rosada, Eva Peron etc.. In the evening you will participate in a tango show (voluntary) with dinner and a tango lesson. Overnight at the hotel.
Day 9
Departure: Breakfast and end of the program.
This is a preliminary daily program.
Accommodation
5 nights cabin accommodations w/shower 2 nights and no heating in the rooms –shared rooms, 2 nights boutique hotel in Salta (www.hoteldelvirrey.com.ar) or similar, 1 night hotel Tribeca (www.tribecahoteles.com) or similar in Buenos Aires. Bring your own warm sleepingbag. All personal items go in the saddle bags they provide at the beginning of the ride. They can carry 10 kilos and the sleeping bag.
Horses
Criollo and Peruvian Paso cross, mountain trained
Tack: South American Recado saddles. They are very comfortable on long rides.
Riding hours: 5-6 hrs /day.
Climate


Travel Information
Ability description: Level Trail Ride 2-3 >>
Included in the tour: 8 nights, including 3 nights in hotels and five nights in cabins with of basic and of differing standards, 6 days riding with full board including wine for dinner. Hot dinners and picnic lunches. All meals and drinks on the ride and others in the towns as listed in the daily program. English speaking guide
Not included in the tour: International and domestic flights, Buenos Aires Pistarini airport transfers, travel and medical insurance, gratuities and all others not indicated
Travel: Book flight/rental car >> We help you book your flight if you wish.
Fly to Buenos Aires, then domestic flight on to Salta City. Arrival in Salta prior to 4.00 p.m where you will be met at the airport.
No. of riders: Minimum 4 riders, max. 15. The ride can be done for 2-3 riders for an additional cost.
Climate: Summers range from highs of 30 C (86 F) to lows of minus 5 C (25 F).
You should keep in mind that the seasons are the opposite to those of the Northern Hemisphere. November to March are the warmest around 30 C (86 F) also with more rain, April – October experience cooler temperatures but also driest.