Portugal, Alentejo - Atlantic Trail Ride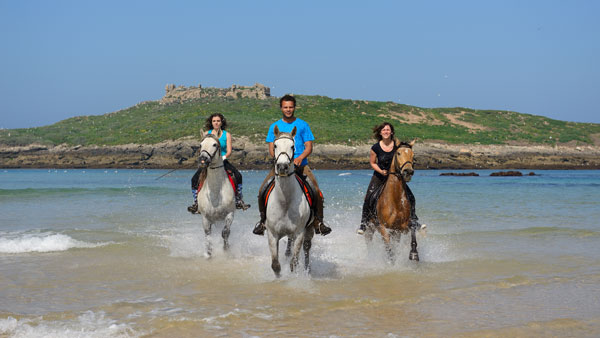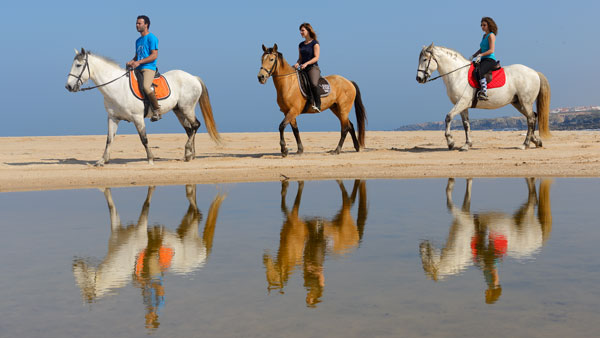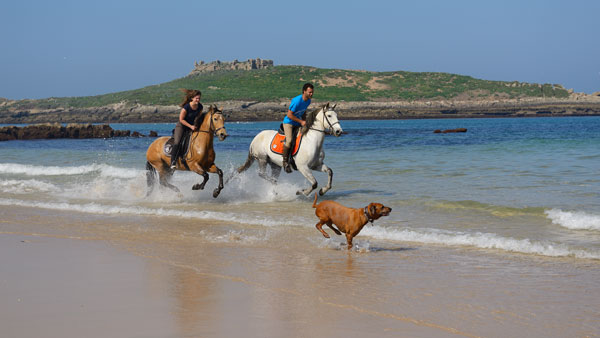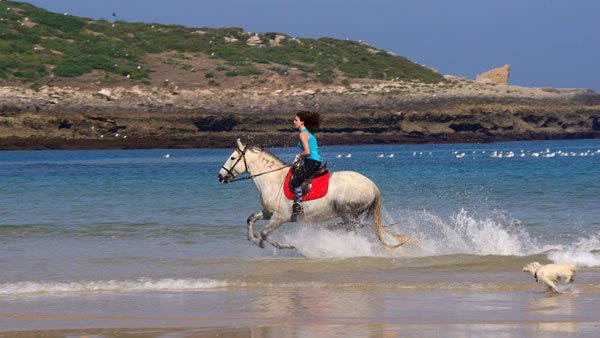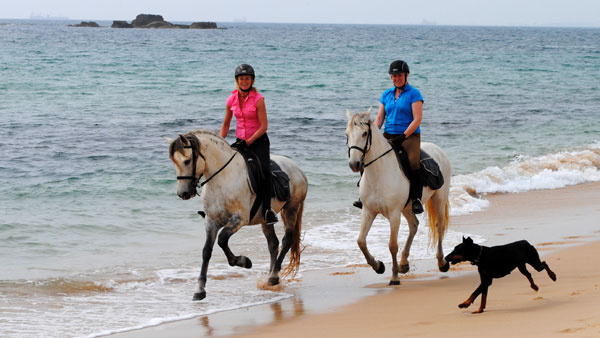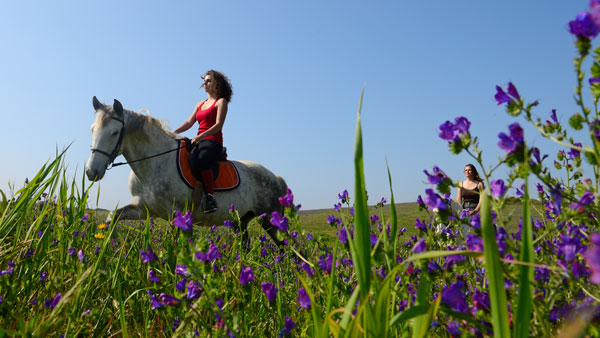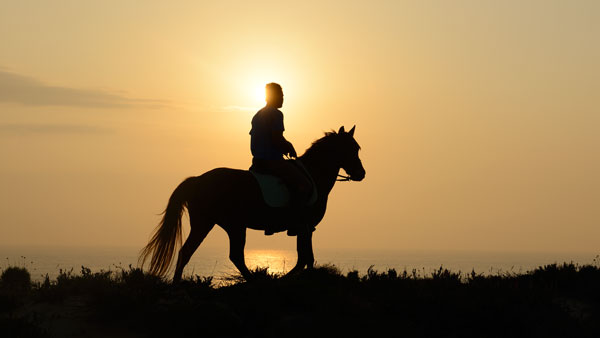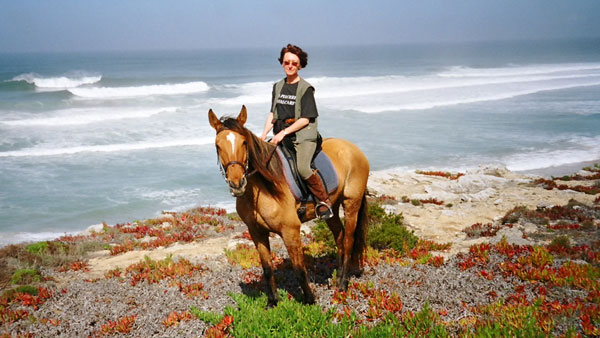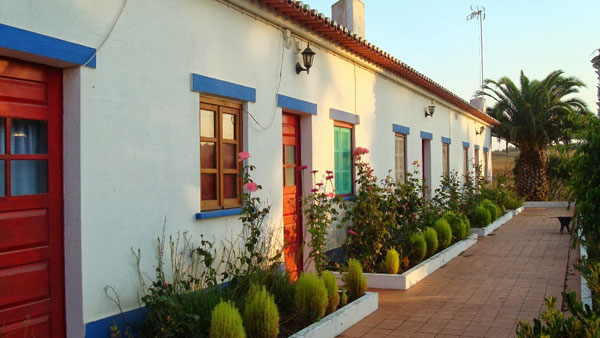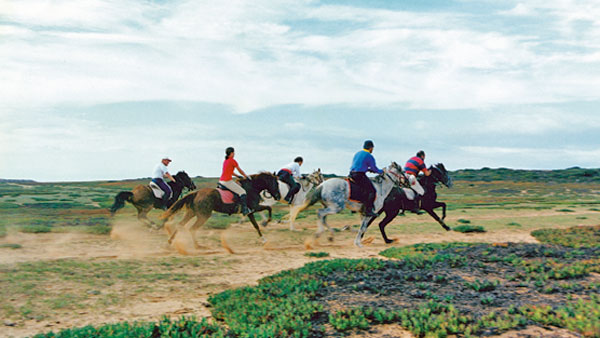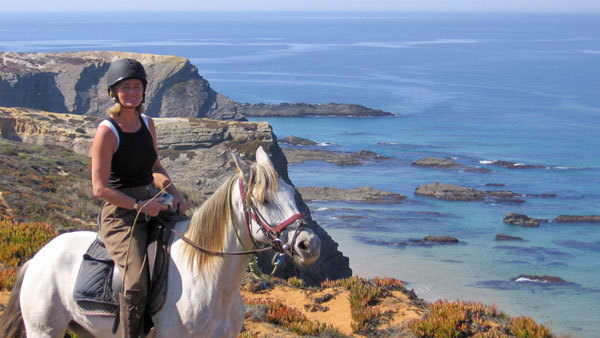 The horse riding center sits on the west coast north of the Algarve. The region is called Alentejo and is part of Portugal's largest nature reserve and is protected from development. This is a paradise for riders where there are hundreds of kilometers of sandy roads connecting the small-whitewashed villages.
This is a fast-paced trail ride where the horses are left in pastures along the road overnight while you are driven "home" to the stud farm each evening. Dinner is eaten at the family's cozy seafood restaurant which is also a popular meeting place for locals. If you are energetic in the evening you can finish the day with a swim in the ocean.
Your hosts are Claudia and her family. Claudia is an accomplished dressage rider who has trained many young horses and competed up to intermediate level. Now she has chosen to focus on trail rides. She raises Anglo Arabs which she breaks in and trains, but her main interest is making her trail riders as content as possible. Claudia's expert guides will lead the trail rides. A short distance from the riding center where you eat breakfast and dinner during the week, the family has its own restaurant located on the seafront. You can swim in the sea all year round if you wish.
You ride 4-6 hours per day at changing tempos, about 200 km (124 miles) in total.
Minimum number of riders are 4 and the maximum number is 6-8 riders. If you are less than 4 people the program will be slightly changed to the so-called star-ride. We then ride in different directions and ride back to the riding center every day.
Accommodation and Food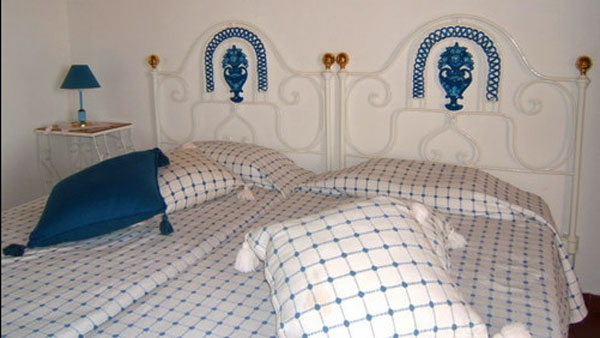 The farm has six apartments consisting of one double bedroom, kitchen with refrigerator, fireplace and a bathroom. Each apartment has its own sheltered patio. Here you can sit in the evening and watch the sun go down.
Single: It is possible to book a single room (price for single supplement available under Dates & Prices). If you are willing to share rooms, you will not have to pay a single supplement if you are allocated a single room.
Breakfast and dinner you eat at the family restaurant located by the sea, 800 meters (2,600 ft) from the riding center. You can be driven there, if you do not want to walk. The breakfast consists of coffee, tea, juice, bread with ham, cheese, marmalade. Dinner consists of three dishes. Given all the small fishing villages located nearby, you will be served many tasty seafood dishes. Wine and beer is payable locally. For dessert, you will be treated to dishes such as chocolate or almond pie. The picnic lunch is substantial and good, and includes hot food.
The Program
Day 1 Arrival. Enjoy a welcome dinner in the evening.
Day 2: After breakfast, you ride north through the small fishing village of Porto Covo. Then it's off up the mountain with a great view of all the small beaches along the coast. You continue to a cork oak forest next to Morgavel Pond where you stay for a long picnic lunch and a swim with the horses in the pond, weather permitting. In the afternoon, you ride to Gaio Valley, which is filled with wild flowers. You continue north through Palrão Valley until you come to an old windmill. Here, you will leave the horses for the night and be driven back to the riding centre.
Day 3: Starting from the windmill you ride through the "Sela Vermalha Valley" where you pass the to the ridge of "Cercal", where you will have a spectacular view in all directions of the region. You stop to have pick nick next to the small creek shaded by the overhanging poplar trees. Afterwards you go to the rich green rocky "Roncão valley" and canter inland through Eucalyptus and cork oak forests.
Day 4: Today you ride south to Godin's Valley until you reach the Ribera Da Azenha Plateau with its sandy paths leading to a pine and eucalyptus forest. You cross the River Mira, have lunch and then continue through the pine forest to the small village of Almograve where you finish the days trail and stable the horses.
Day 5: Today you ride over Almograves big soft dunes, along the stunning cliffs at Cabo Sardão on safe paths with the foaming waters below. After lunch, you continue the ride along the cliffs and before the horses are stabled in Almograve. You will then drive to Milfontes and have a drink and enjoy the city before returning to the farm.
Day 6: From "Almograve" you ride along a farm track until we reach the sand dunes and the sea. You then cross over the Mira River and ride through the town of "Milfontes". After lunch you ride up the coast and then cross over the coastal plain to reach the farm, where you leave the horses and go to the restaurant for the final evening dinner.
Day 7: Breakfast and transfer to the airport.
(Subject to change due to local circumstances.)

(Riding on the beach is prohibited from 1 June until 30 September.)
Horses
Mainly Lusitanos that are excellent for trail rides. Relaxed but still sensitive and lively. Height at the withers 150-165 cm (59 – 65 in). The horses have English saddles and bridles and yuo can brush and saddle the horses if you would like to. Some of the horses have saddlebags.
Climate



Travel Information
Ability description: Trail Ride level 2-3 >>
Included in the price: 6 nights, 5 days riding, full board incl. non alcoholic beverages.
Not included: Flights, alcoholic beverages, transfer, insurance and extras not mentioned.
Travel: Book flight/rental car >> We help you book your flight if you wish.
Fly to Lisbon.
Transfer: Book in advance with HorseXplore.
From Lisbon airport, about 2 hours.
Price: 98 EUR return per person. Payable on spot.
Meeting time: At 17.00
Taxi transfers at other times cost about 150 EUR per trip.

Departure: Book a flight going home after 1.00pm on departure day.
Riding: Trail ride where you are driven back to the farm every night, but the horses are left at different location every night. You ride 4-6 hours per day at varied tempo. Riding on the beach is prohibited from 1 June until 30 September.
Currency: EUR
Credit card: Yes accepted by riding center.
Tipping: Not required.
Wifi: Yes
Electricity jack: EU standard
Group size:
Age limit: 12 years old
Closest village: 7 km away
Beach: 900 metrers away
Pool: None
Misc.:
Riding equipment to borrow: Helmet
Saddle bag available: Yes
Special diet: Inform when booking.