Romania, Transylvania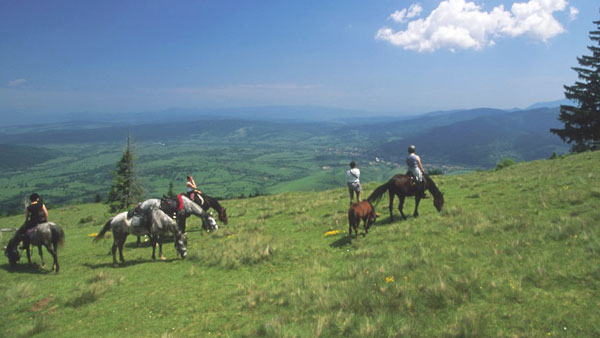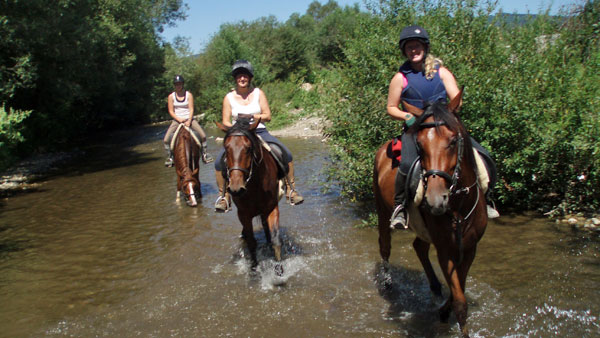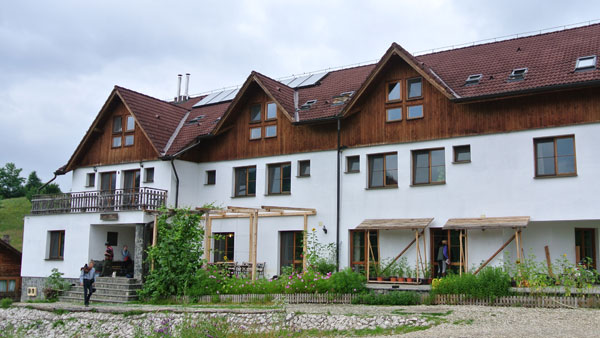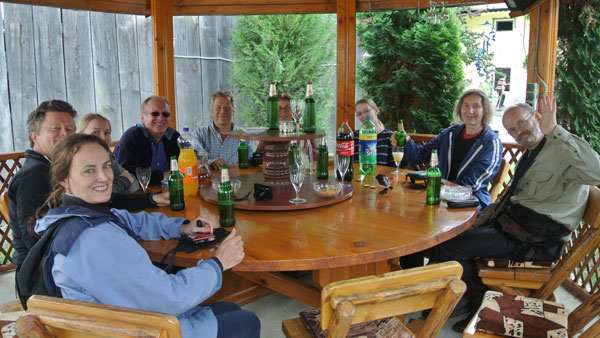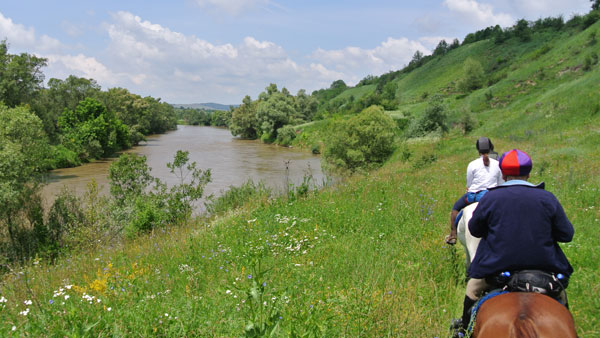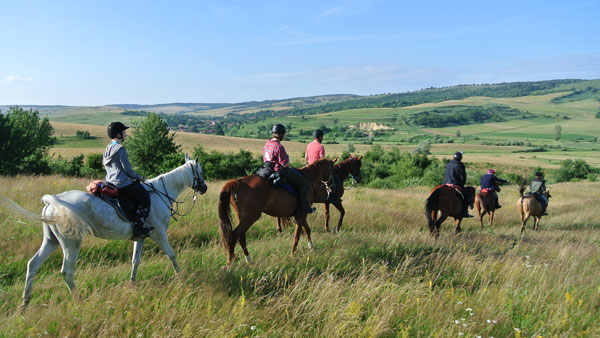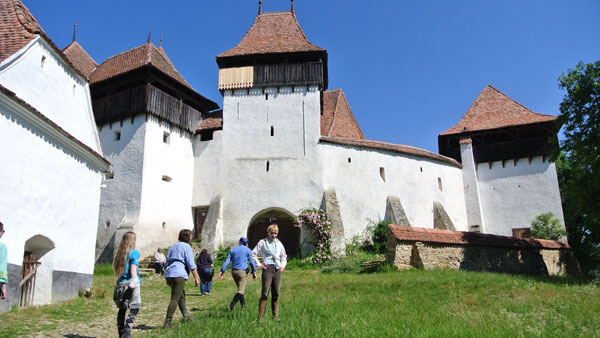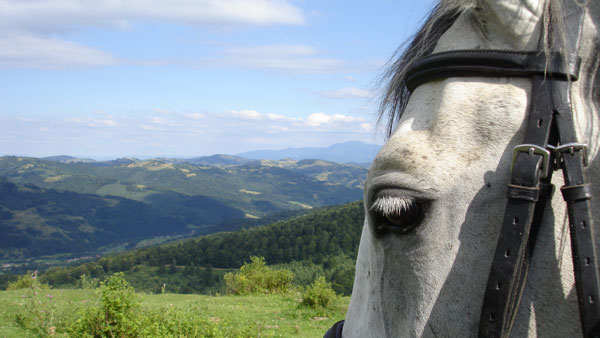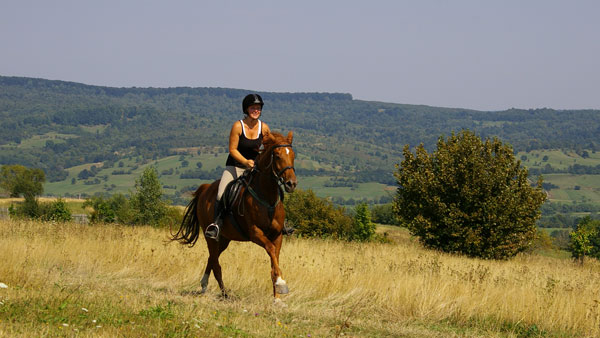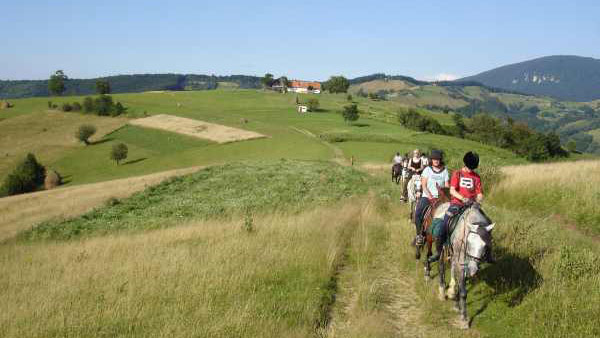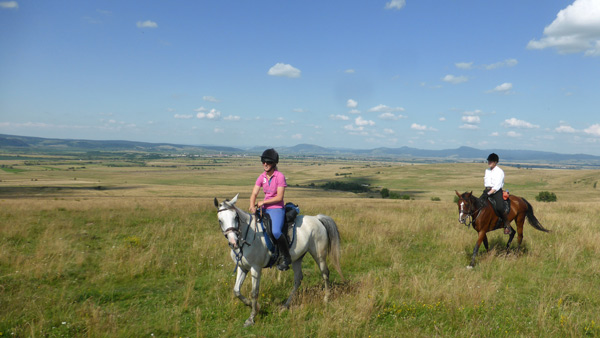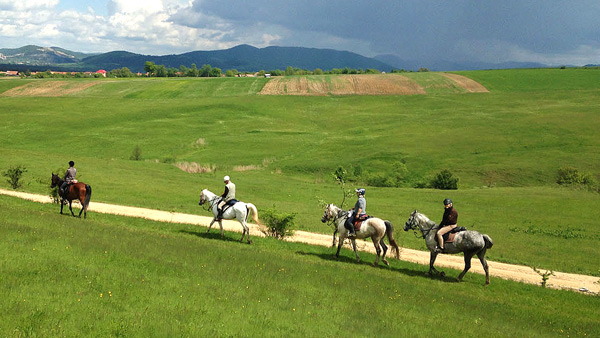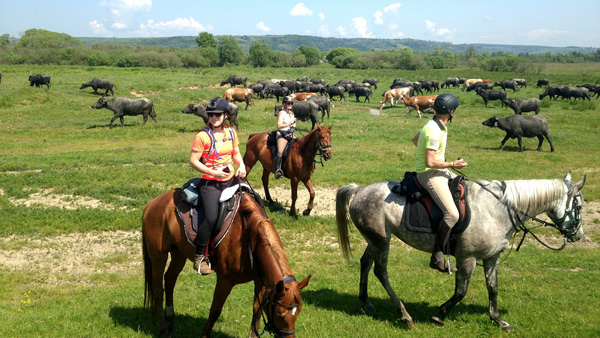 The great forests of the Carpathian Mountains in Transylvania are amongst the best-preserved ecosystems in Europe. Around the village of Sinca Noua there are still thousands of hectares of virgin forests, the scenery is stunningly beautiful and large flocks of sheep roam free in the unfenced valleys.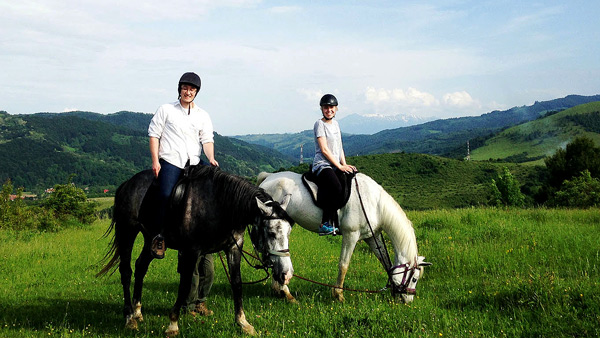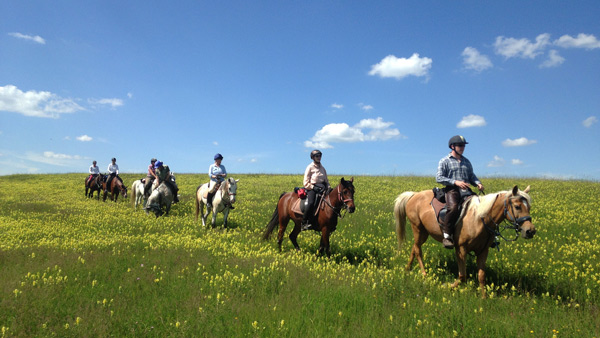 Your hosts run one of Europe's largest private conservation project, the establishment of a new 200,000 ha National Park all across the South-Central Carpathian Mountains. The area has Europe's highest concentration of large carnivores and the centre-based rides offers the opportunity to even watch wild brown bears from a hide. The adjacent Transylvanian hills are the location of the Transylvania Trail, a fascinating ride over endless hills covered with pastureland – as if they were made for horse-back riding. In the villages inbetween time seems to stand still, not many cars visit these villages and the pace of life on the small farms is still as it used to be hundreds of years ago.
You can choose between staying on the farm all week or riding on a "real" trail ride with a variety of accommodation or combine a trail ride with local culture.
Accommodation and food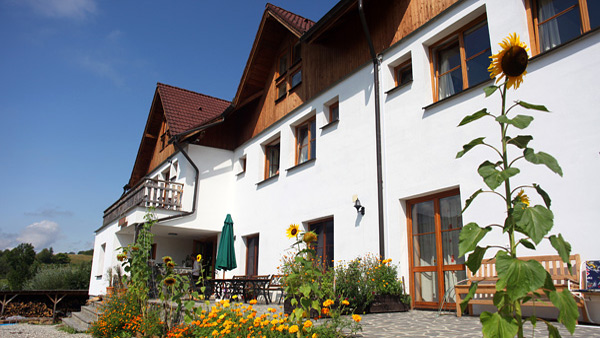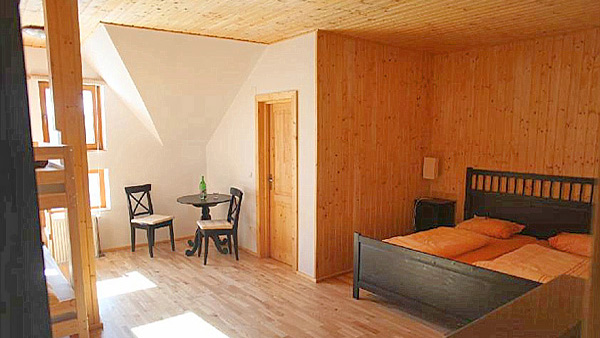 The riding centre, built in 2004, combines local traditions with western standards. The centre has a new, tasteful and modern guest house with 9 double rooms and private bathrooms. Two living rooms, one with a fireplace and bar that is inviting for relaxing evenings. Downstairs there is a pleasant dining room and there is a large veranda outside where you can sit in the summer. There is free wireless internet throughout the building.
Safe deposit box: No
A/C: No
Hair Dryer: At request
Towels and sheets: Yes
Fridge: No
On the Carpathia Trail Ride you stay at the riding centre all week in double room with private bathroom and possibly one night in tents. It is possible to book a single room on request.
On Transylvania Trail Ride you stay the first and last night at the riding centre and the rest of the nights in small guest houses and farms in double- triple room with shared bathroom.
The food you will be offered is mainly organic food from the own garden, own chickens, turkeys, and pigs, or from surrounding farms.
Horses
The horses are Arabians, Shagya-Arabians, Hungarian and local half-bloods. There are about 25 horses with different temperaments and experience. Some of the horses have competed at an elite level in endurance riding. There are also some ponies. They provide saddlebags for the week ride.
Transylvania Trail Ride – Centre based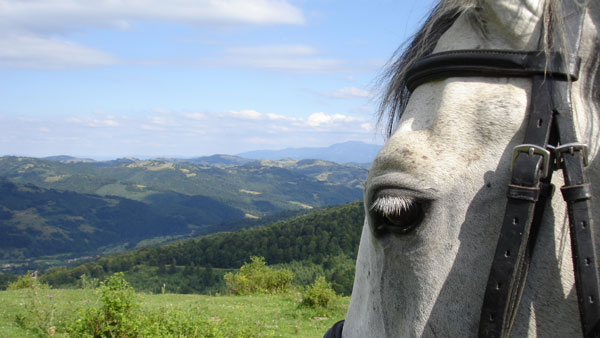 You will be welcomed at Bucharest airport and driven to the riding center where a tasty meal awaits you. You will have a good night's sleep in one of the farm's lovely double rooms and then head out on a test ride. You are treated to great views of the mountains and long gallops across the fields. Your English-speaking guides know the area and its history inside and out and it's fantastic to be able to benefit from their knowledge about predators and the wilderness.
The riding is varied and will be at a good pace when the terrain allows. You pass through small villages and get to see what life is like in rural areas. It is as if you have gone back in time 100 years.
You can take a trail ride where you stay on the farm all week, with the chance of one night in tents. It is possible to book a single room, EUR 70 for the week payable on site at the riding center.
Midweek the horses get a rest and you head off to visit Viscri who has many colorful stories to tell and you will be invited to enjoy a special meal with homemade wine and plum brandy.
The last riding days will be a trail ride up into the predator-filled mountains. If weather permits, you will stay overnight in tents (sleeping bags and camping matts can be provided for 15 EUR/person) . Your food is cooked over an open campfire and it's exciting to sit in the dark and listen to the wolves howling.
This week not only gives you great riding but also a unique insight into the interactions between predators and humans.
Daily Schedule (subject to change due to local circumstances):
Day 1
Arrival at Bucharest airport where you will be picked up and driven to your guesthouse in Sinca Noua. The trip takes about 3 hours. Welcome drink and dinner is served and you spend the evening with Barbara and Christoph preparing you for your week.
Day 2-3
After breakfast, you familiarize yourselves with your horses and head off on a trail ride through meadows in the foothills of the Carpathian Mountains. There is a fantastic view of the mountains and the meadows offer both trotting and galloping opportunities.
After a day in the saddle, with a break for lunch in a mountain meadow, you return to the riding center. In the evening, you can see a video about the research team's project that your hosts have led over many years. Another day's riding then awaits and you will ride through a beautiful undulating landscape at the foot of the Carpathian Mountain range. You will pass a railway viaduct that was built more than 100 years ago, during the Austro-Hungarian Empire. During the ride, there are chances to see traces of bear, wild boar and red deer and perhaps also wolves. The day offers numerous opportunities for galloping through meadows in the mountains.
During the early summer you have the chance to see a stunning floral display. The Fall colors are also fantastic.
Day 4
Today, the horses will rest and you will instead learn about Transylvania's exciting history. You head off from the riding center and drive for about 1½ hours to the medieval village of Viscri. Attractions here include the famous fortified church dating from the Turkish invasion. In Viscri, you will be served a traditional Saxon meal with homemade wine and plum brandy. After the visit to Viscri, you continue to the town of Sighisoara and its well-preserved medieval old town. Both Sighisoara and Viscri are listed on UNESCO'S World Heritage List.
You return to the riding center in the evening.
Day 5 and 6
A two-day tour of about 40km (25 miles) that involves riding over rolling hills and through deep woods together with some long gallops. In the afternoon, you reach an area where time seems to have stood still. Here people's lives have not changed much since the Middle Ages. The small mountain farms still use bullocks and horses and many lack running water and electricity. You will camp overnight at one of these farms. Tents, sleeping bags and food etc. will be provided. You will enjoy a dinner cooked over a campfire before it's time to crawl into your sleeping bags. You might even be able to hear the howling of wolves in the distance ....? In the morning you ride through the forests of Transylvania where you can enjoy breathtaking views of the Carpathian Mountains. You return to the riding center in the afternoon.
Day 7
Your last ride for the week takes you in a great arc around Sinca Noua, through woods and across meadows where you can enjoy both galloping and beautiful views. After three hours riding, you will return to Sinca Noua in time for lunch.
You then travel to Bran Castle, known as Dracula's Castle.
Day 8
Time to say goodbye and head home. After breakfast, you are driven to the airport in Bucharest.
Minimum Number 4 riders.
Other:
Depending on season and weather you may be offered a trip to a hide in the forest where you can see wild brown bears, foxes and even wolves. (30 EUR extra).
One day, instead of dinner at the riding center, you may be offered a visit to a genuine shepherd's camp. There, you will see how to milk sheep and make cheese. The trip ends with a barbecue of roast mutton and traditional shepherds' fare. Note that this opportunity is yet to be finalized, as the location of the shepherd's camp has not been determined.
Reservation
We reserve the right to change the day-to-day program due to weather and other local conditions, without affecting the program's character.
Transylvania Trail Ride - different accommodation each night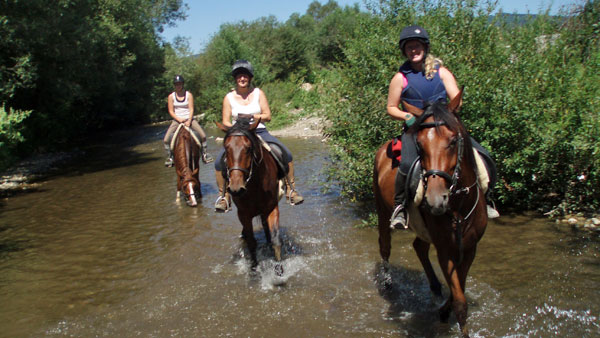 You will cover about 200 kilometers (125 miles) on horseback along ancient paths that go from one medieval village to the other. The ride takes you through the beautiful mountain passes and over vast moors. You will spend the night in small guesthouses and the homes of the locals. If you are curious about the "real" Transylvania, this is perfect for you.
The ride is a bit like an expedition where you get to experience the Romanian countryside up close. The ride goes through central / southern Transylvania, which is perfect for riding. It is fantastic to be able to explore the mountains, the plains and the medieval villages on horseback.
The riding center is located at Sinca Noua, in the foothills of the Carpathians in southern Transylvania. The ride is approximately 190 km and you ride about 6-7 hours (20-36 miles; 12-22 miles) per / day. You ride through a hilly landscape with thousands of grazing sheep and pass medieval villages where you will see some of Eastern Europe's most beautiful churches.
Program (subject to change due to local circumstances)
Saturday
Arrival at Bucharest airport where you will be picked up and driven to Sinca Noua. You stay in the farm's guesthouse. You are invited to dinner and you will go through the week's riding ahead. Single rooms are available.
Sunday
After greeting the horses, you mount up and ride towards the plains of the Olt River Valley. Almost straight away you have the chance for long gallops before you get to your destination at Mandra where you will stay with local families in double or triple rooms. About 31 km, 7 hours of riding.
Monday
Today you cross the Olt River at Halmaeg and continue to Shona where you climb up on to the high plateau. You ride around the hills of the Felmer Valley and eventually up to Cobor, an old Hungarian village from the middle of a Saxon area. This is where Barbara and Christoph run a project to restore and preserve old abandoned houses. You will stay here in double or triple rooms with modern facilities. About 32 km, 7 hours riding
Tuesday
An all-day ride around Cobor, about 6 hours, ca 32 km. You ride through a beautiful landscape. Here you get several opportunities for long gallops. You return to Cobor in the late afternoon.
Wednesday
A full day's riding over the mountains to Viscri and your next overnight stay. Viscri is known for its stunning church. The British Mihai Eminescu Trust (under the patronage of Prince Charles) has restored village to its original condition. You will stay on small farms converted into guesthouses and enjoy traditional Saxon cuisine. In the afternoon, there will be time to walk around the village and maybe visit a blacksmith, who still works in exactly the same way as his ancestors have done for centuries. Alternatively, you can hike to a small brick factory where everything is still done by hand. About 39 km (24 miles), 7 hours of riding.
Thursday
After breakfast, there is time to visit the village and after lunch you begin your ride over the hills and mountains and through forests and meadows. In the late afternoon, you reach Jibert. You will spend the night in a beautiful log cabin. About 3 ½ hours of ridin, 24 km.
Friday
After a few gallops, you leave Transylvania's mountains and descend into the Olt River Valley again. In Halmeag, you will enjoy a barbecue grill and then a bus will take you back to the farm in Sinca Noua for a farewell dinner. About 34 km (22 miles) riding.
Saturday
After breakfast, transfer by minibus to Bucharest airport.
Minimum number of riders is 4 and maximum 8 riders.
Climate
As you are staying in a mountainous environment, the weather can change, but normally it is quite nice and warm during the day and cooler at night. High summer is hot. It can reach freezing temperatures in the mountains during the nights starting in October.




Travel Information
Ability description: Trail Ride Level 2-3 >>
Included in the price: 7 nights, 5-6 days riding, full board incl. all beverages (including wine, beer, and home-made liqueurs), return transfer Bucharest airport.
Not included: Flights, insurance, extras not mentioned, rent of sleeping bag for camping overnight stay (Carpathia Trail Ride): approx. 15 EUR.
Riding: Trail rides with 3-7 hours / day in the saddle. There are horses for less experienced and experienced riders.
Travel: Book flight/rental car >> We help you book your flight if you wish.
Fly to Bucharest.
Time: Book flights arriving no later than 4.00 pm and departing no earlier than 2:00 pm on day of departure
Transfer: Book in advance with HorseXplore.
Transfer from Otopeni Airport Bucharest to Sinca Noua is included, about a 3 hour trip.
Meeting spot: You will be met at the airport in the upstairs arrivals hall by where people exit the arrivals gate at 4pm. The driver will be holding a sign with the riding centre name.
Single room: It is possible to book a single room on the Carpathia Trail Ride, for EUR 84 for the whole week. On the Transylvania trail ride single rooms are available on some nights for 15 EUR / night. The supplement is payable locally to the riding center.

Currency: Lei (RON). Euro is accepted at many places frequented by tourists. Do not change into Romanian lei at the airport in Bucharest since the rate is very unfavorable there. The Riding Centre accept euros and can also help you to change to Lei.
Credit card: The Riding Centre do not accept credit cards. Credit cards are used mainly in large cities and at petrol stations.
Tipping: It is common for the guests to leave tips at the end of their stay. There is really not any typical amount, but any amount are of course very welcome and appreciated.
Wifi: Yes
Electricity jack: Standard EU 2 plug.
Group size: Min. 4 max 8
Age limit: Everyone are welcome, to ride you need to be a competent rider.
Children discount: To live at the hotel, free of charge under 3 years old, under 14 years old 40 % discount. Can not be applied on riding.
Closest village: 23 km away.
Beach: No
Pool: No
Misc.:
You will be asked if you want to give 40 EUR to support a local fund for the development and conservation of predatory animals in the area (payable locally).
Riding equipment to borrow: Helmet at request.
Saddle bag available: Yes
Special diet: Inform when booking.
Feedback from our travellers