Italy, Florence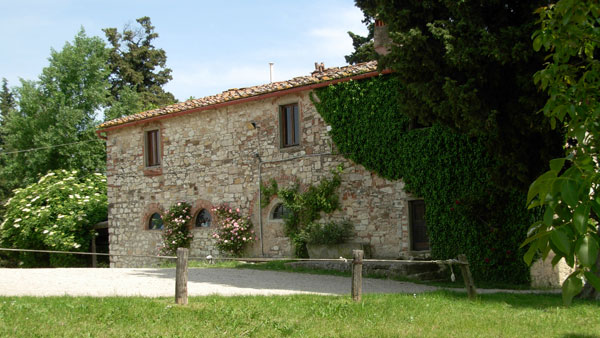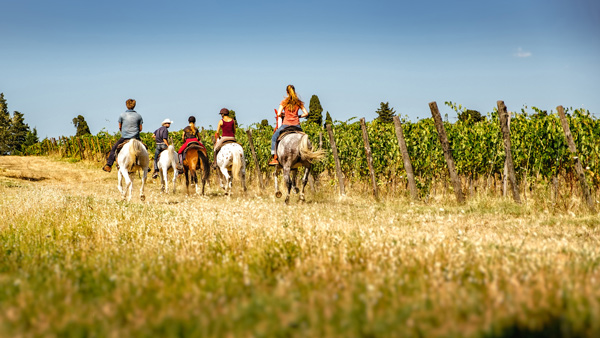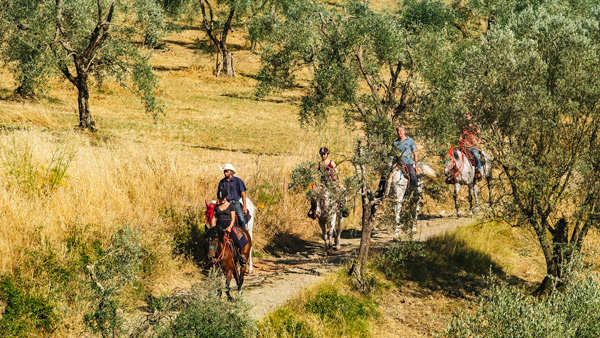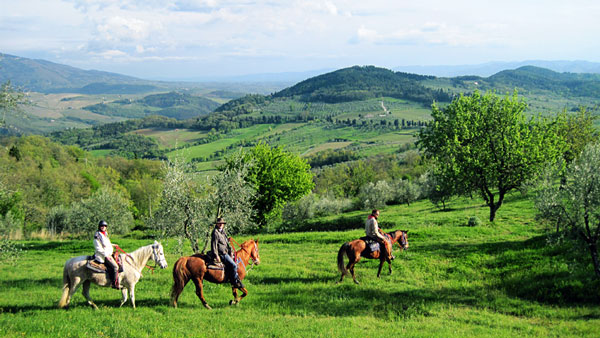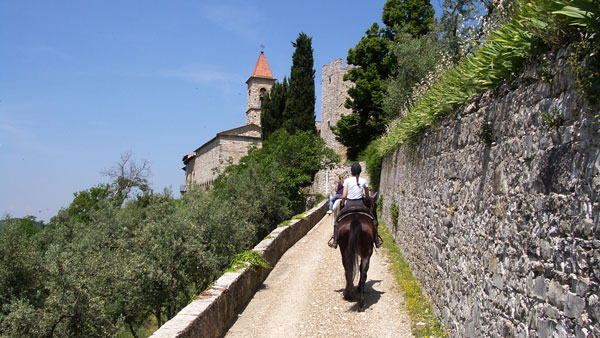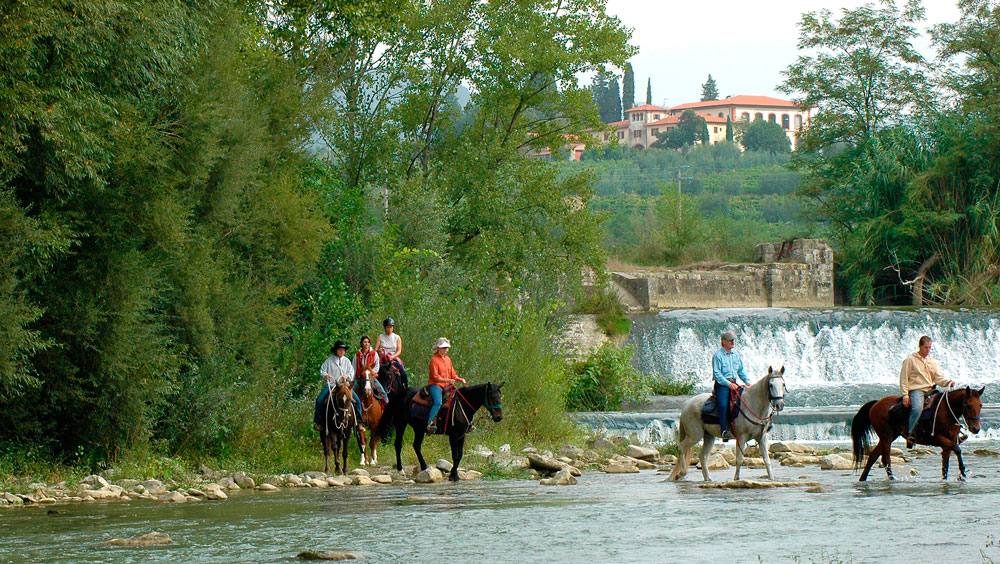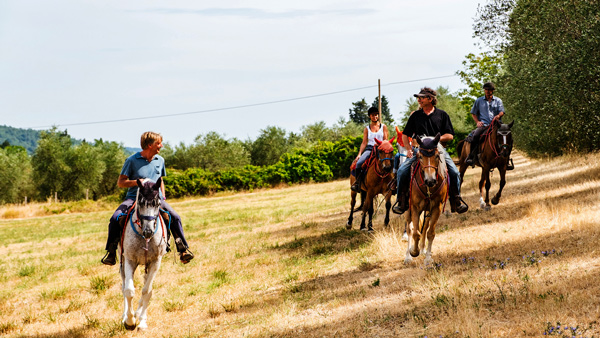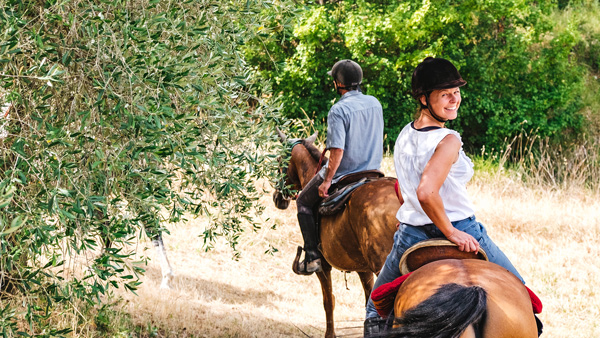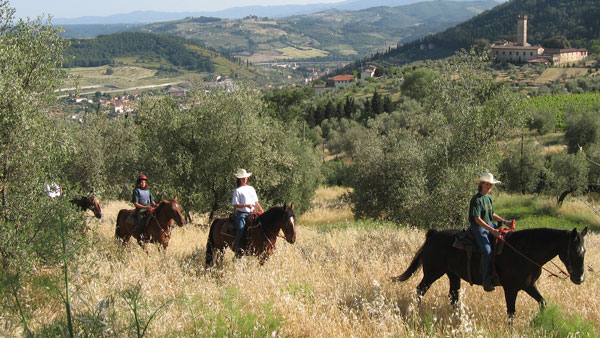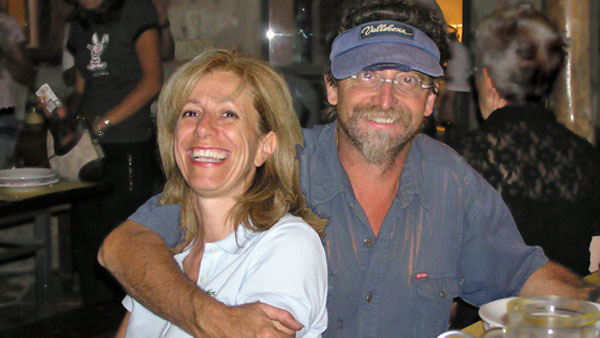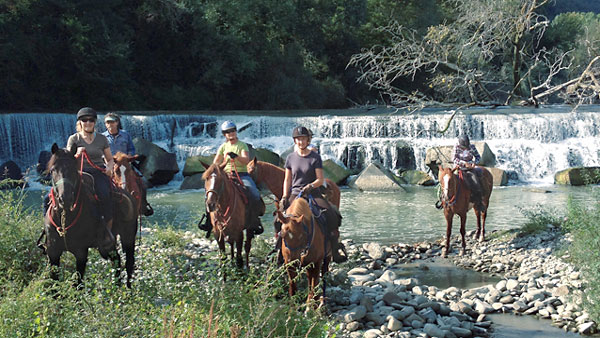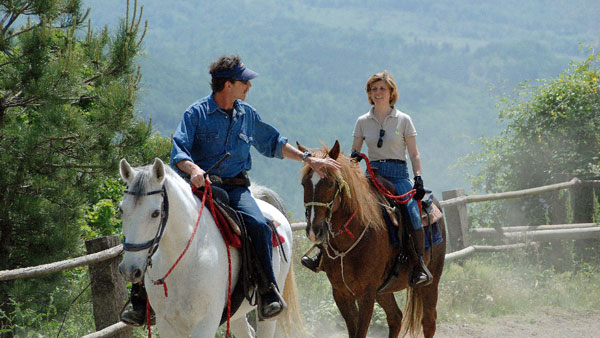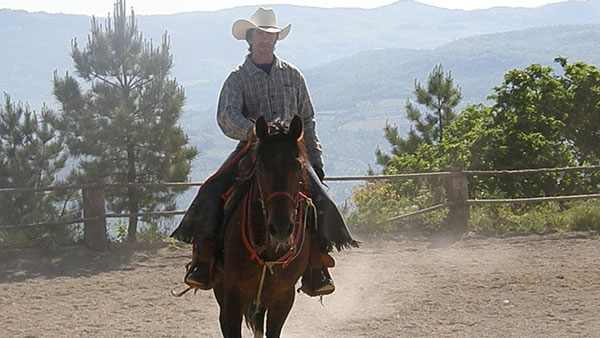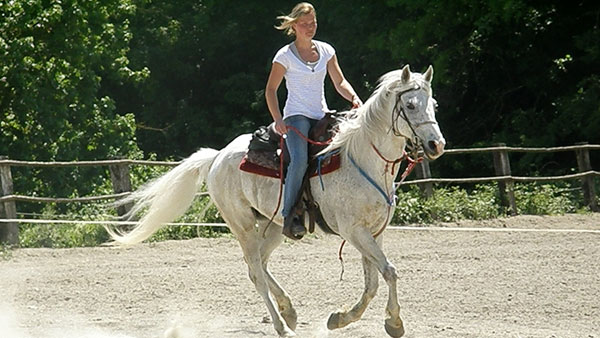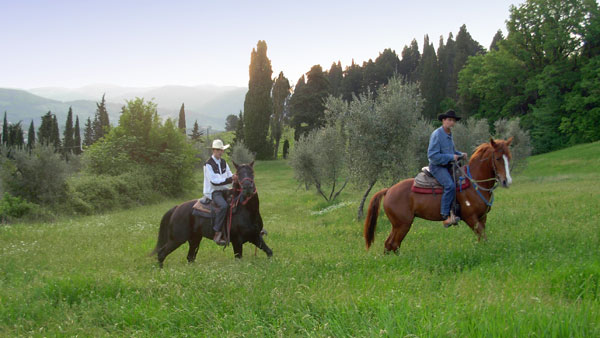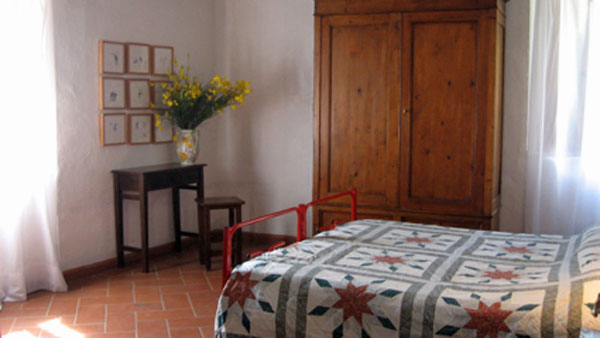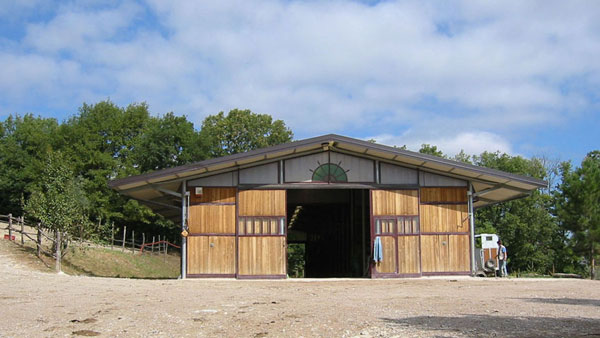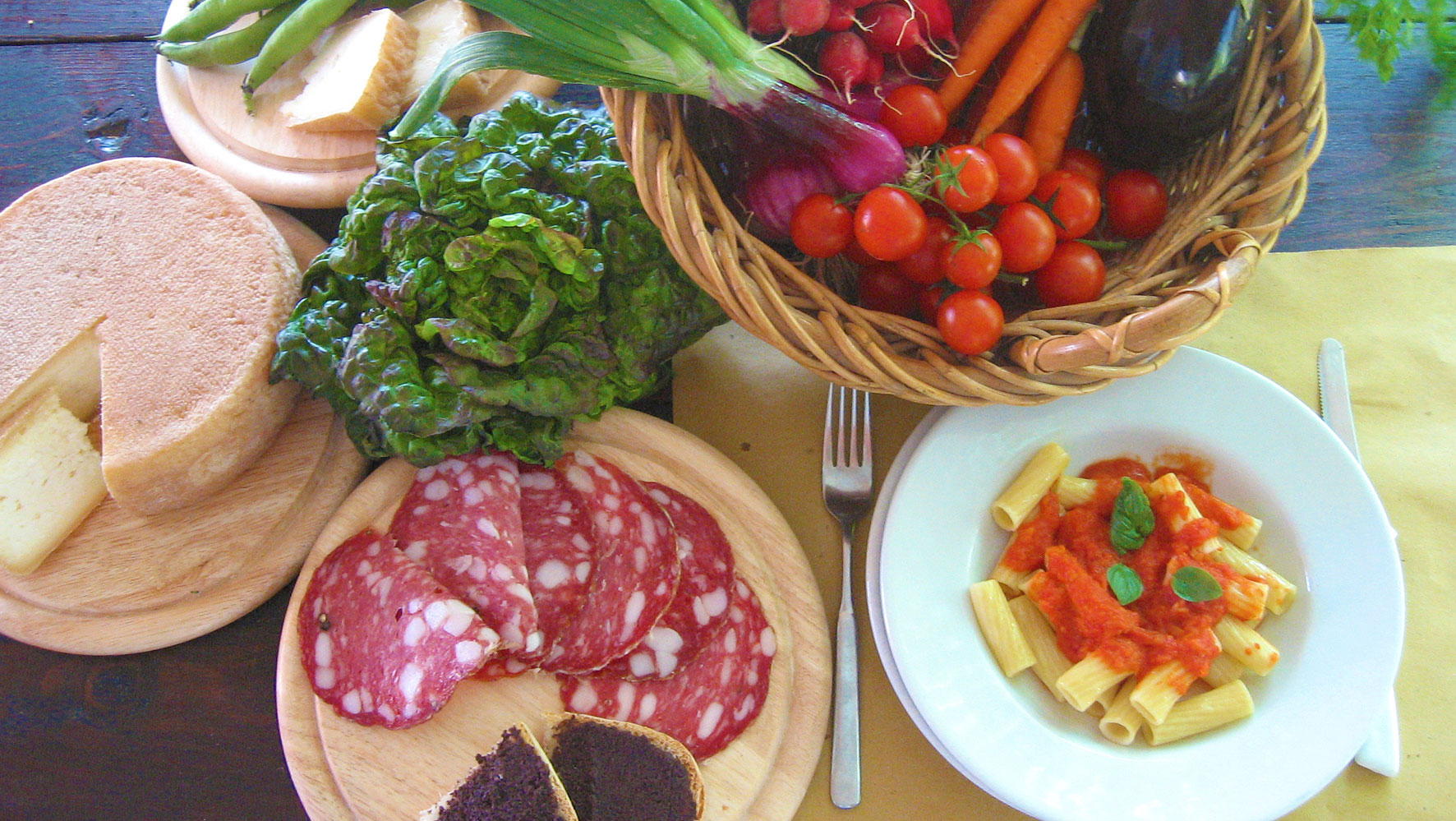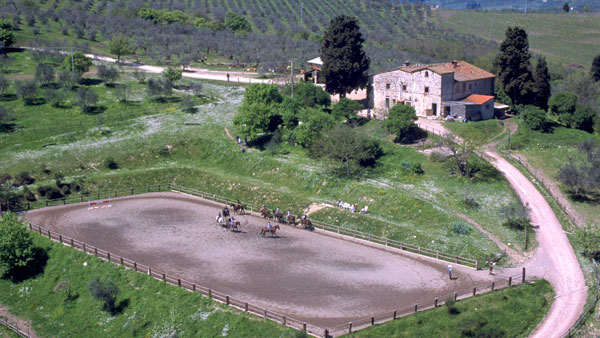 Franco has been hosting riders for 20 years, and has become well known both in Italy and other countries for his quality horses and experienced guides. Franco is a skilled guide and horseman with years of experience as a horse trainer and riding instructor. The horses are very well trained and ridden in the western style. The farm is located in the middle of typical Tuscan countryside with olive groves, vineyards and woods surrounding the old courtyards, towers and castles. The farm is traditionally Tuscan, with a warm and relaxed atmosphere.
Here you can choose between
- A week-long farm program
- Three week-long programs where you are on a trail ride for three of the days.
- City riding holiday with 2 days in Florence and 3 on the farm
Learn more about the options further down the page.
The farm offers horse lovers a wonderful setting with its typical stone house surrounded by green pastures and the beautiful olive groves, and you can even make your own olive oil. The house was originally a watchtower from the twelfth century and is decorated in a rustic style. The atmosphere is warm, friendly and relaxed, far from a formal hotel.
You arrive on Saturday and familiarize yourself with the farm and greet the horses. Sunday begins with a lesson, allowing you and the horse to understand each other, and you get insight into how Franco's western-oriented riding philosophy works. The day continues with a ride in the surrounding countryside.
If you select any of the trail ride programs, you will ride through the beautiful hills on Monday and Tuesday (about 2 hours per day) and return to the farm for a good dinner with wine. If you prefer, you can replace any hour's riding with lessons in Western riding. On Wednesday, you leave the farm for a three-day trail ride where you ride all day and carry your lunch in your saddlebags.
Each day-long ride will mean about five hours in the saddle. You ride through and past small villages and castles.
Group size is 4-8 riders.
When not riding during the first few days, you can relax with walks in the surrounding area, you can walk 2,5 km to a nice swimming pool at a nearby small hotel or visit Florence, Siena or San Giminiano. It is recommended to take a car, but it is also possible to organize a taxi.
Accommodation & Food
The farm has 6 spacious rooms each with 2-4 beds. Double and single rooms can be booked at extra cost. Toilet and shower are shared between two rooms.
Safe deposit box: Yes in office
A/C: Yes
Hair Dryer: No
Towels and sheets: Yes
Fridge: No
Everyone eats together, either indoors or on the terrace with a nice view of the surroundings. The good food is a variation of Tuscany's good home cooking, and the chef will do all he can to satisfy all requests. Meals often include different kinds of pasta dishes, and the table never lacks olive oil or a good wine.
The breakfast normally consists of coffee, tea, milk, yoghurt, muesli, fresh bread, marmalade.
Dinners often start with two different pasta dishes (eg broccoli or tomatoes, olives, parsley and olive oil) or lasagna with pesto tortellini with creamy sauce.
It then continues with meat, duck or chicken, served according to Tuscan tradition. It is often served with zucchini, carrot and peppers with aubergines.
The dinner ends with a homemade dessert. The menu changes subject to the tastes and flavors of the season.
Horses
There are about 30 horses and most are of Italian descent (Maremma, Sardi). All are very well trained on the farm. The horses are well balanced and live naturally outdoors in herds. There are quiet horses for less experienced riders and livelier horses for those who wish. You will use Western saddles with loose reins.
Climate
Autumn / spring about + 20-25 ° C (68-77 F). Even in winter it will often be about + 20 ° C (68 F) when the sun is shining, but it can also snow.



Travel Information
Ability description: Level, trail ride 2-3 >> On stationary program, level 1-3 >>
Included in the price: For all programs except City Riding holiday includes 7 nights, 6 days riding, full board incl. red wine with meals.
City Riding Holiday: 5 nights (2 at the B & B in Florence), 3 days riding, full board at the ranch and breakfast in Florence.
Not included: Flights, transfers, insurance, local tax, drinks and extras not mentioned.
Travel: Book flight/rental car >>
Flight: To Florence or Pisa.
Transfer: Book in advance with HorseXplore and pay on spot.
From Florence airport about 47 km.
Price: ca. 100-120 EUR one way for 1-2 persons.
For the program City Riding Holiday you are going right away to your accomodation in Florence, you can either take a train from the airport to the central station and walk 5 minutes, or you can take a taxi. After two days, monday, you can book transfer to the riding center (information above) or take train like described below.

Train: From Florence to Pontassieve (end destinations Arezzo or Rome).
Transfer from Pontassieve train station around 4.30 pm on Saturday. Price 40 EUR one way/person.

Rental car: If you want to explore the surroundings or come by flight to another airport, we recommend you to rent a car.
Riding: 2-5 hours/day, western, outdoor rides and lessons with the same accommodation throughout the week, or trail ride with different accommodation.
Season: All year round. Low season between Feb - May and Oct - Dec. High season in the period May - September.
Currency: Euro
Credit card: Possible at riding center (except american express), small expences is preferably being paid with cash.
Tipping: Not expected.
Tourist tax: "Imposta di soggiorno" is 6 EUR/week/person which will apply and is payable directly on site. Children under 16 do not pay tourist tax.
Wifi: Yes
Electricity jack: 220V, adapters are available.
Group size: Trailrides, minimum 4 persons, max. 8. Stationary program, 1-8 persons.
Age limit: 10 years
Closest village: 1 km away where there are restaurants and pubs, bigger town is 7 km away. There are lot of special sightseeings in the surroundings, usually a car is needed.
Beach: No
Pool: Yes about 2,5 km away, open may-september.

Misc.:
Riding equipment to borrow: Helmet and rain jacket.
Saddle bag available: Yes
Special diet: Inform when booking.
Feedback from our travellers