South Africa, Waterberg - Ranch Stay with Safari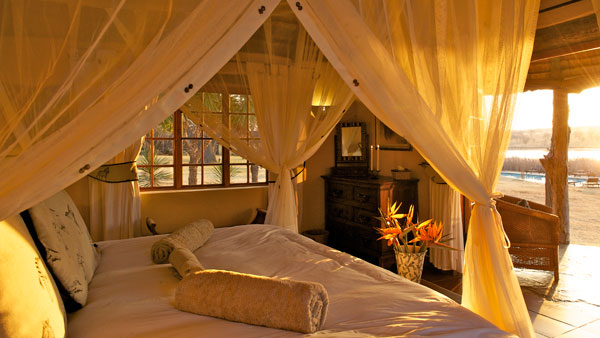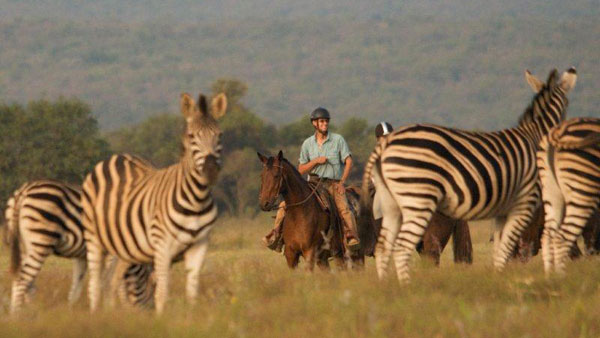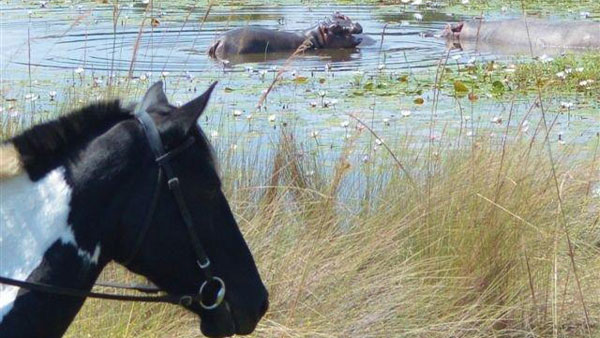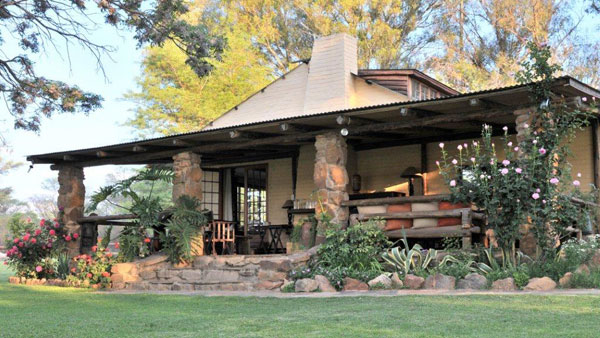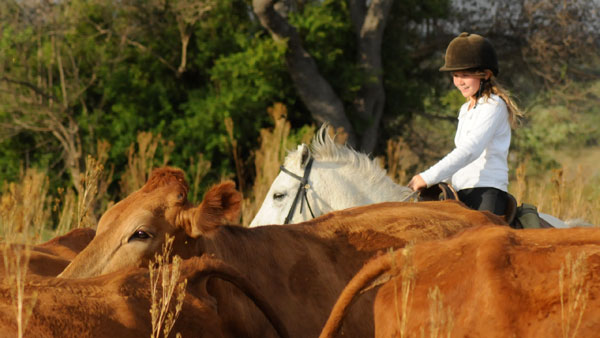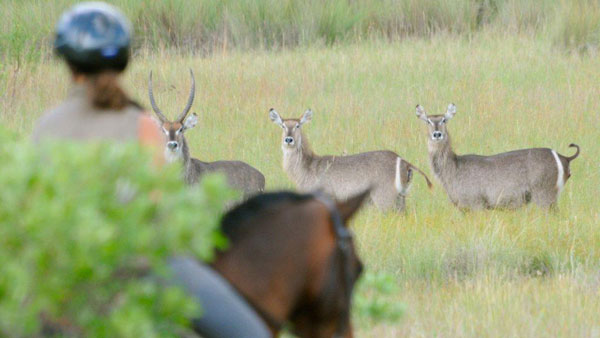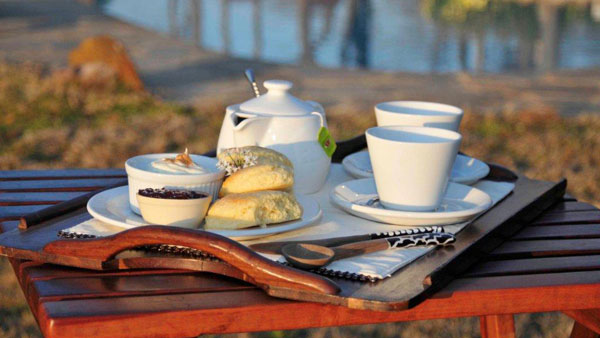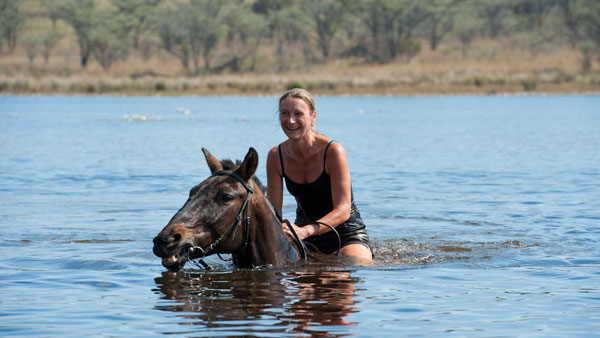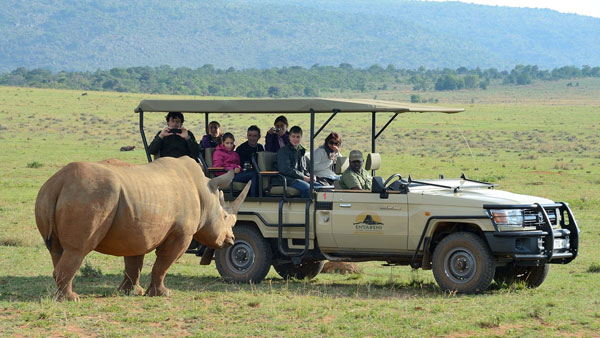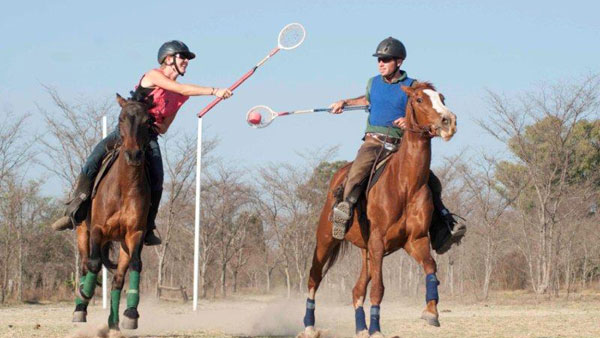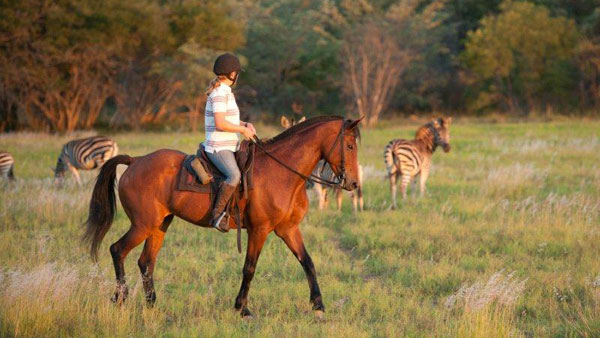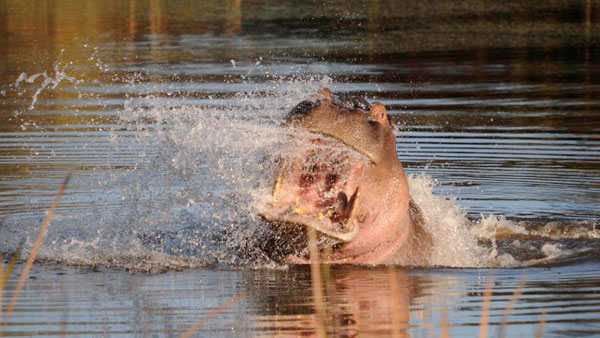 The ranch is beautifully situated by a lake with hippos and consists of a nicely renovated colonial house with a classic porch and a number of guest cottages, each with its own character. You will really enjoy your stay, whether in the main house or in one of the cottages.
Your stay here is tailored for you and with a herd of 60 horses, there is a suitable partner for every rider. There are lots of options, with exciting riding among wild animals, swimming with the horses, western games, jumping on the cross-country course and if you want you can learn to play polocross. You can even get married here, not to forget that it is an ideal special birthday destination.
Children over eight years are welcome and will love every minute. Without the distraction of computers, families mix and enjoy the wonderful experiences together.
Riding
The terrain on this ranch is superb for riding. The horses are ridden unshod on perfect sandy surface and although the bush is thick in places, it is mostly open and flat landscape. There are rolling hills that lead to ideal vantage points where you can truly see the breadth of the Waterberg Plateau.
To swim with the horses in one of the many ponds is a great way to cool off after a long morning ride. On the rides in this private game reserve, you get close to wild animals such as giraffe, zebra, impala, red hartebeest, eland and reedbuck as well as many of the smaller mammals such as jackals, baboons, monkeys and warthogs. Getting to see these wild animals on horseback is a deeply enriching experience and you can come closer than you ever thought possible, as the game animals do not feel the horse as a threat. The guides will show you how to follow animal tracks and teach you the local bushlore. A ride to the hippo family at the lake is always appreciated.
Experienced riders can enjoy the challenging terrain course, which consists of logs and over thirty obstacles.
Those who are interested in yet another challenge on horseback can participate in fun western games. Barrel racing and pole bending are fun ways to teach yourself the art of giving light commands and get a quick response.
Polocross is a mixture of polo and lacrosse and is easy to learn. It is an exciting sport on horseback. Guests who have never played before are introduced to the game slowly, and go through the basic rules. Then it's "for real" with a full game. One chukka is usually all that is needed to bring out the competitive spirit.
Riding about 4-7 hours / day.
Accommodation and Food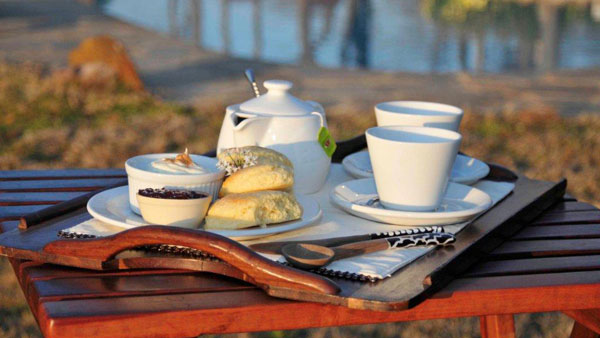 There is one double room (standard room) in the main building or six bungalows (garden chalet) with thatched roofs and all with private bathrooms. Each bungalwo is discretely located away from the main house. A pier extends out into the lake and offers secluded sunbathing. There is a pool in the garden where you can cool off on hot summer days.
After the horses, food is your hosts' passion. After a light breakfast and an appetite building morning ride, you are invited to lunch under a giant tree in the garden followed by afternoon tee.
Dinners are social events where the day's adventures and events are re-lived. There is a carefully planned three-course meal served with selected South African wines. Fresh vegetables and herbs are included in all recipes and fresh bread and homemade cakes are baked daily.
Travel Information
Ability description: Trail ride level 1-3 >>
Included in the price: 7 nights, 7 days riding, full board incl. beverages. Transfer to from Johannesburg airport.
Not included: Possible nights at the camp. Tips.
Transfers: Transfers are included in the price. It is a group shuttle that leaves Johannesburg at 10:00am. On the return trip you arrive at Johannesburg airport at approx. 5:00pm. Provide us your arrival and departure details in good time. If you need a transfer at other times there will be an additional transfer cost.
Number of riders: At least 1 and 12 or less.
Child discount: Up to 15 years. Discount stated under Dates & prices - Book on request.
Season: Arrival/departure any day all year. Minimum 3 nights. If you like to go any other dates than stated under Dates & prices send us an e-mail: info@horsexplore.com
Electricity/Wi-Fi: 3 plug (type M). There is some adapters to borrow. Wi-fi both at the lodge and at camp on the veranda.
Misc.: The pool is open all year
Optional Camp
You can choose to stay a few nights in a camp that is located high above the Matlapeng Valley in the heart of the forested mountains of the Waterberg. Here you get a wonderful panoramic view of the central highlands of the Waterberg Massif, with picturesque sunsets in the west. The classic two-man safari tents are built on wooden deck with private bathrooms behind the tent. The riding is flexible and there are usually two rides per day. The morning ride is usually 3-4 hours and afternoon ride shorter.