Turkey, Antalya – Trail Ride, Ranch Ride or Riding Sun & Sea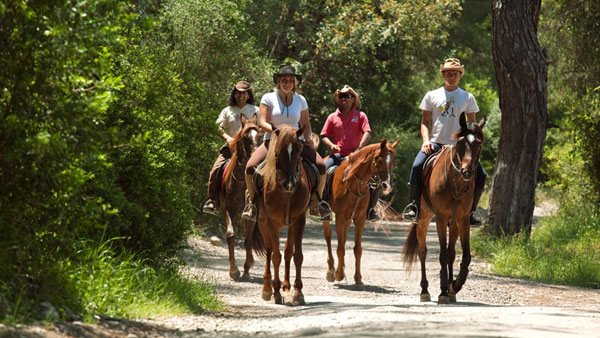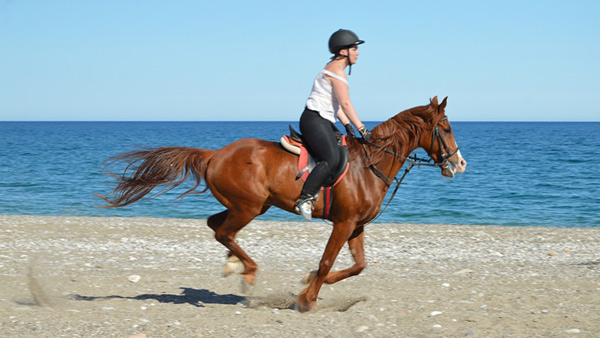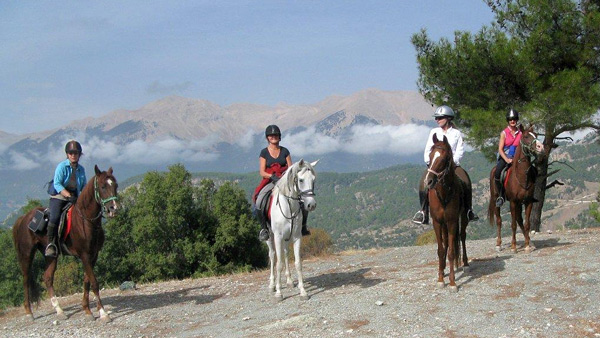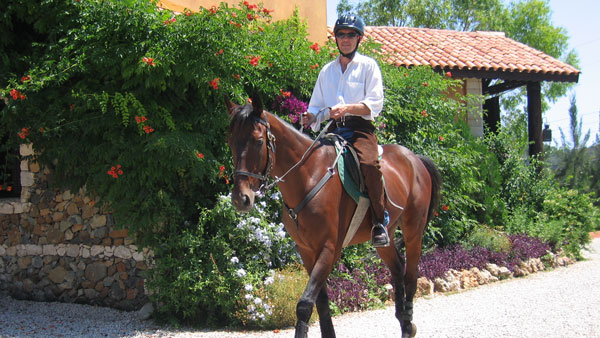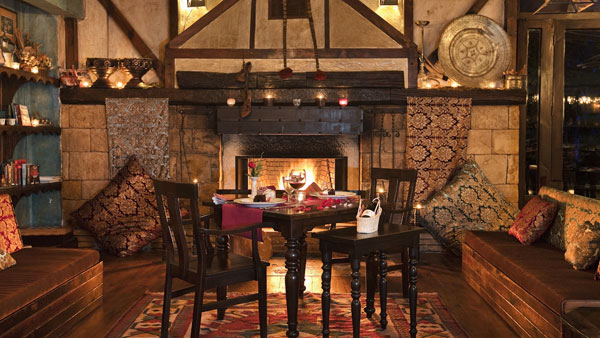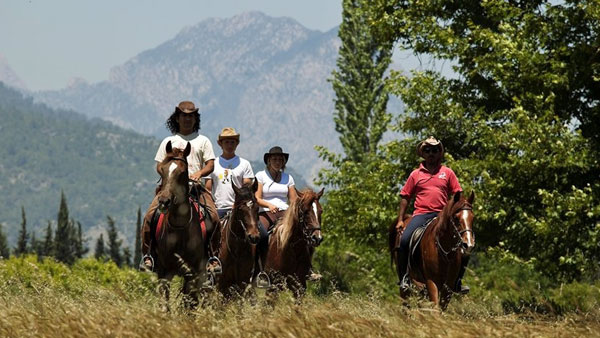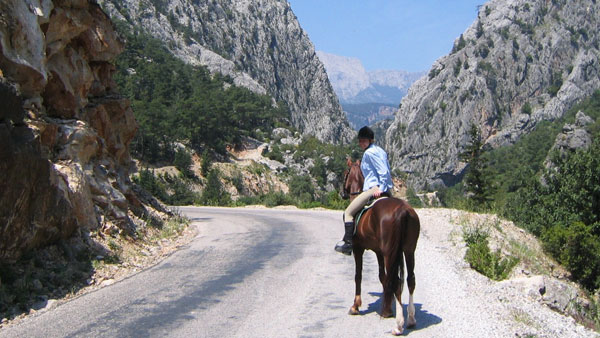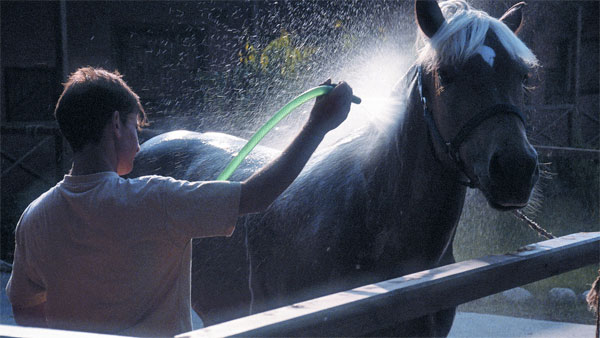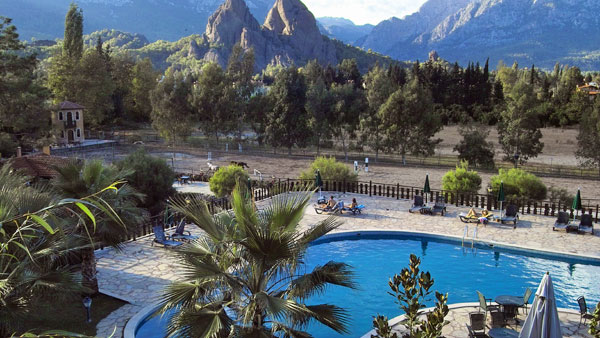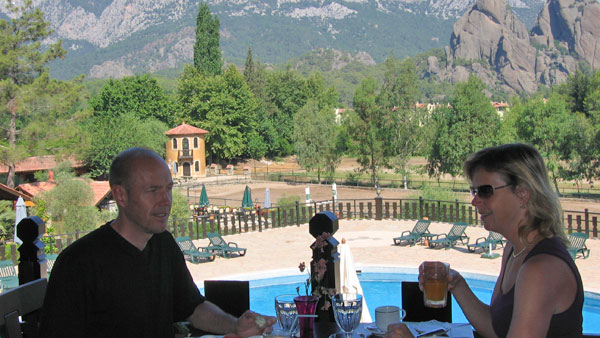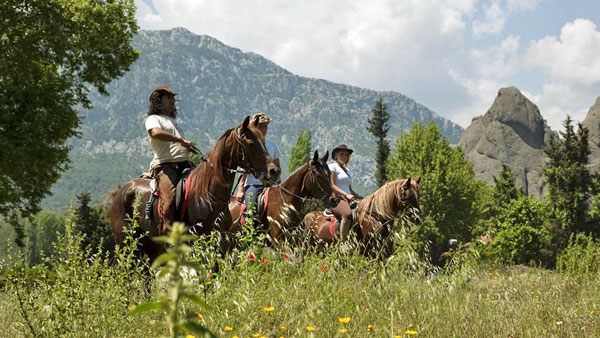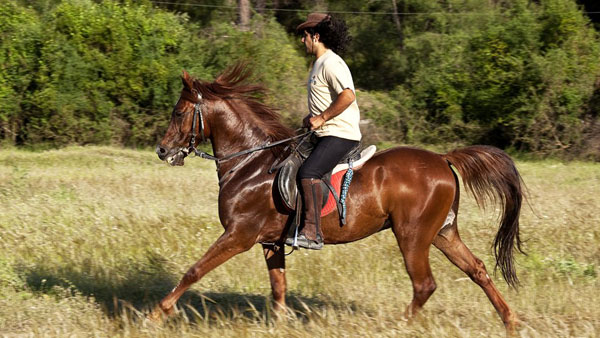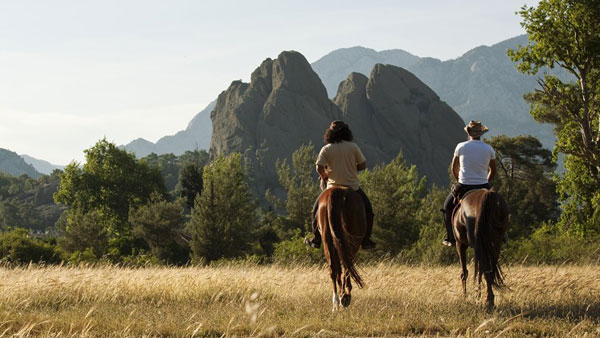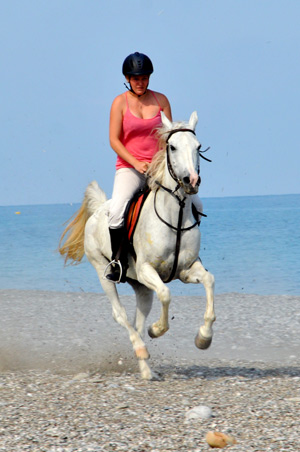 Our elegant ranch has a fantastic location, alone in a lush valley surrounded by beautiful mountains and only a few kilometers from the sea. It is unusual to be so close to the beach, swimming, mountains and culture. Every day there is a free shuttle service to the beach and the turquoise Mediterranean Sea (5-10 min.). If you want to combine beautiful beaches with fun riding this is the place for you. You ride mainly on Arabic and English thoroughbreds.
You can choose from a trail ride where you stay a few nights in mountain villages, a ranch ride (where you stay at the riding center every night), or riding a little each day so you have more time for swimming, sunbathing, the beach and shopping.
The ranch is located in a beautiful valley surrounded by gardens and orange and lemon trees. The view to the Taurus Mountains peaking at over 2300 meters (1,500 ft) above sea level is fantastic. For a large part of the year, the Mountains are covered in snow. In the other direction, it is only a few kilometers to the great beaches of the Mediterranean, and about 7 km from the seaside resort of Kemer.
The ranch has a large well-maintained swimming pool and bar / cafe right next to the riding center where you can get drinks and snacks. There is also a very nice restaurant. The riding center is well maintained and has a refined and personal, friendly and relaxed atmosphere. Several of the staff speak English, some well good, some not as well.
About 10 minutes by car from the riding center is the resort of Kemer with beaches, lots of hotels, restaurants, bars and shopping.
Accommodation and Food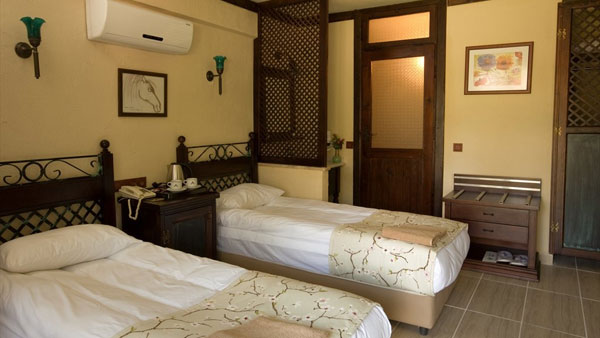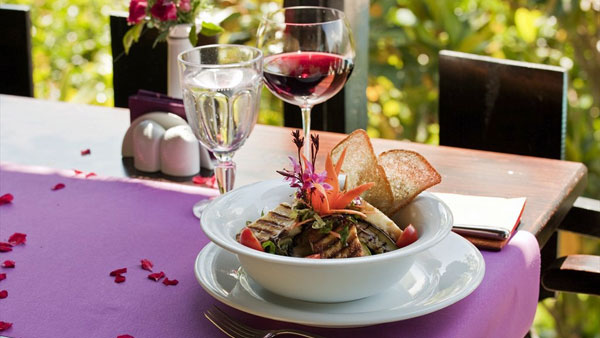 The riding center has 26 double rooms and 2 apartments, all with shower / toilets and is nicely decorated with a cozy atmosphere. The rooms also have air conditioning, TV and telephone.
Safe deposit box: Yes
A/C: Yes
Hair Dryer: Yes
Towels and sheets: Yes
Fridge: Yes
Breakfast and dinner are served in the restaurant that overlooks the mountains and pool. Breakfast consists of fruit, yoghurt, bread, cheese and coffee or tea. Dinners are well prepared and tasty, and are is generally international cuisine influenced by Turkish cuisine with Arabic elements.
Lunch is not included in the price. For the rides, there are packed lunches containing a sandwich with drink that you can buy for around 7 EUR.
Horses
The horses are in large stalls with open hatches out in the open. There are around 14 horses and 4 ponys (the ponys only work in the manege). Most are thoroughbreds of Arabic or English descent. You ride in English or Western saddles.
Climate



Travel Information
NOTE! The following applies to all three programs. For more information on prices, etc., see the respective programs.

Included: 7 nights, 6 days riding, half board (breakfast and dinner). On the Ride of contrasts full board is included 3 days (except drinks) the days you don't live at the riding center.

Not included: Flight, transfer, lunch, drinks.
Travel: Book flight/rental car >>
Fly to Antalya.
It is advisable to book a flight that arrives before 11:00 pm on Saturday. Flight departure no earlier than 10.00 am.
Transfer: Book in advance with HorseXplore and pay on spot.
From Antalya airport about 50 minutes (about 60 km) to the riding center.
Price: 90 EUR/return/car 1-4 persons.
150 EUR/return/car 5-10 persons.
Other transfer times then mentioned above will be EUR 15 extra per person.
Car: If you want the opportunity to do your own sightseeing (there may be time for that) we recommend you to rent a car . Pick up and drop off at the airport in Antalya.
Visa / Passport: Please check with your nearest Turkish Embassy or Consulate to check visa requirements.
Single room: Can be booked with a supplement. For price click on "Book on request" under Dates & prices. If there is no one to share a room with, a single supplement will be added.
Number of riders: minimum 1 and maximum 15. On The Taurus Trail Ride of Contrasts minimum 2 and max 8.
Currency: TRY
Credit card: Accepted at riding center, VISA and Master Card.
Tipping: Not required but appreciated.
Wifi: Yes
Electricity jack: Adapter is available.
Age limit: No
Child discount : In shared double room with 2 adults. Non riding child 0-6 years - 100% discount. Child 7-12 - 155 EUR discount
Closest village: Camyuva is 2 km away.
Beach: 3 km away.
Pool: Yes
Misc.:
Riding equipment to borrow: Helmet, chaps
Saddle bag available: Yes
Special diet: Inform when booking.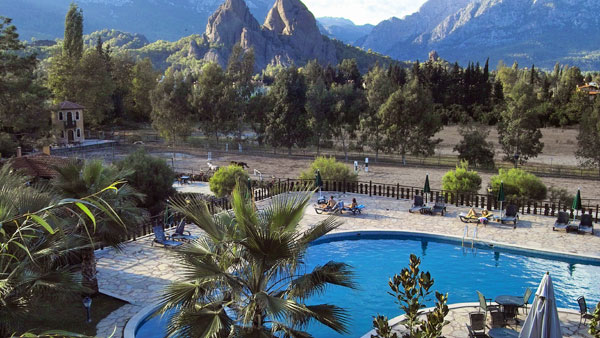 If you want some more time for the beach and pool, but still want to ride a few hours each day, this trip suits you. This program is designed for those who want to spend more time swimming, in the sun, at the beaches and sightseeing, but still want to be able to ride every day. On arrival, you will be served a welcome drink, and you will be given information ....
Read more »
From
EUR 595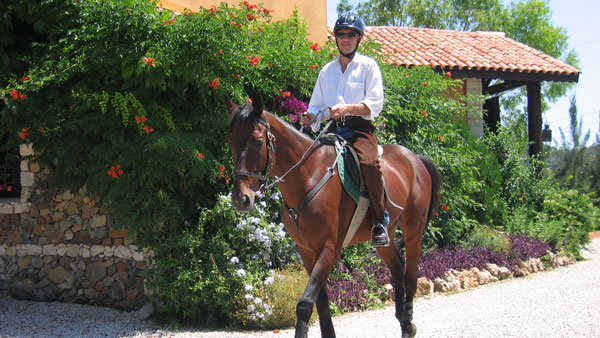 After a welcome dinner and a good night's rest, you test ride your horse in the volt. You then get to experience Turkey in the best way - on horseback. You climb the mountains to see the Mediterranean, swim in the sea and come in close contact with the friendly locals. You ride a lot but you will still have time for some sun and swimming. At ....
Read more »
From
EUR 710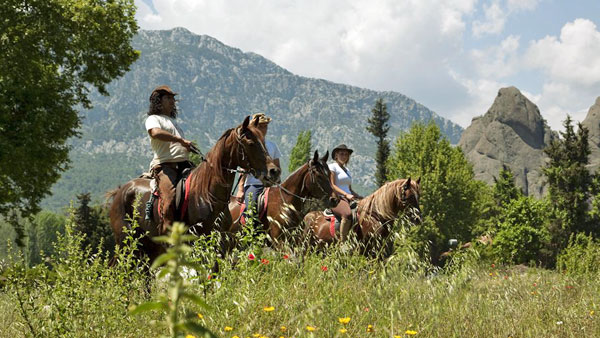 Up high in the Taurus Mountains, life goes on as it always has in the small isolated villages without the pulsating big city beat. It is fascinating to come here to the horse along the small winding roads. You come into close contact with the friendly locals. You stay 4 nights at the elegant ranch and 3 nights in simple accomodation with local families ....
Read more »