Portugal, Golega - Dressage or Showjumping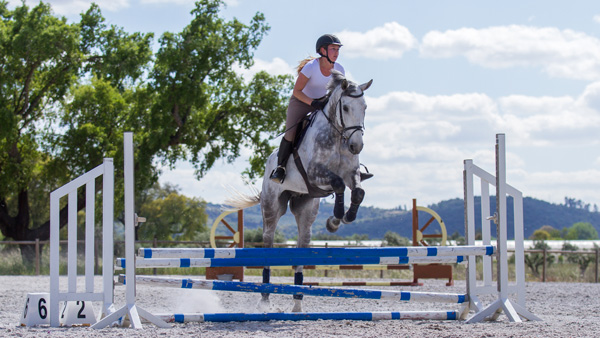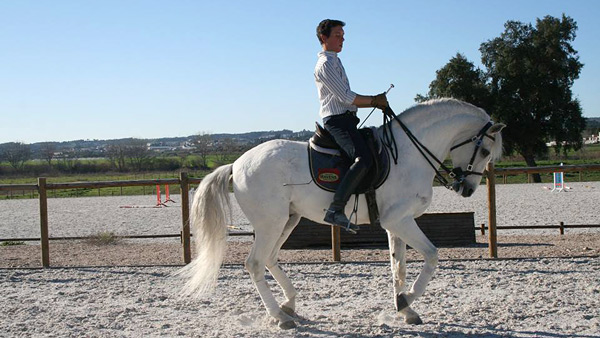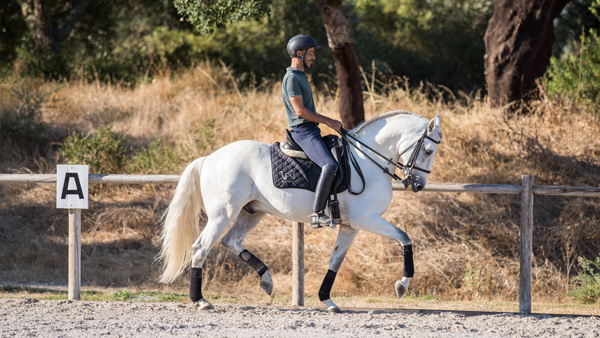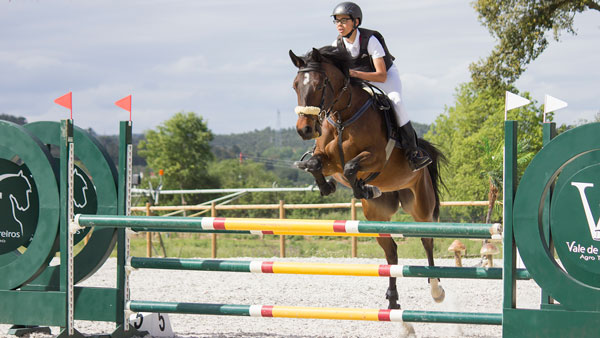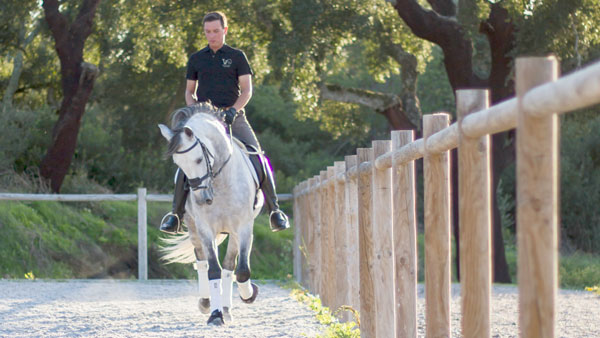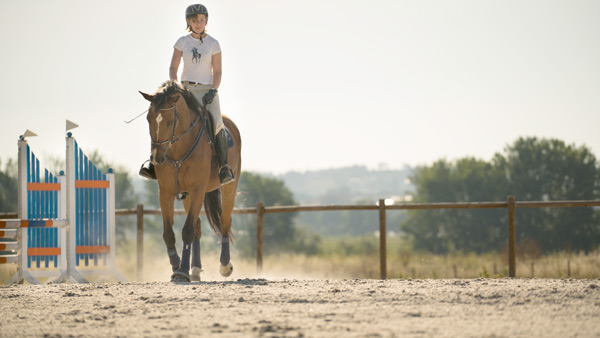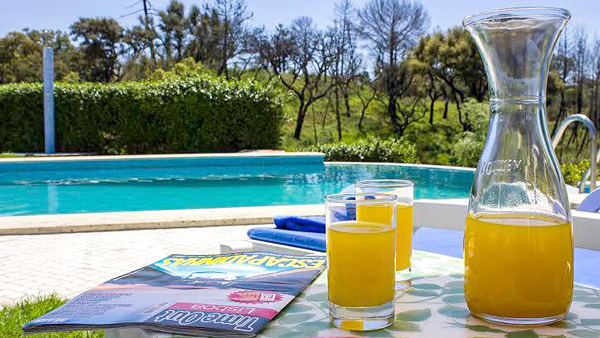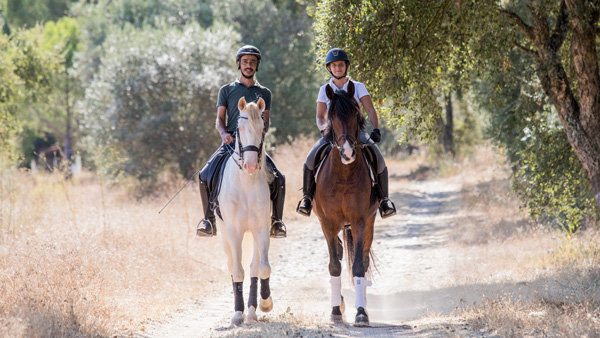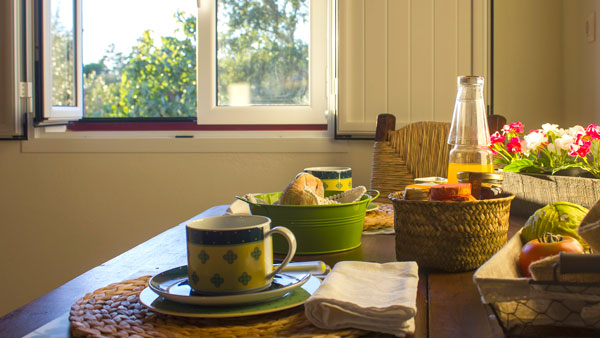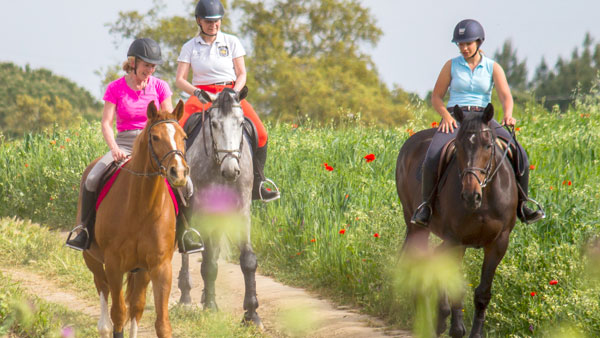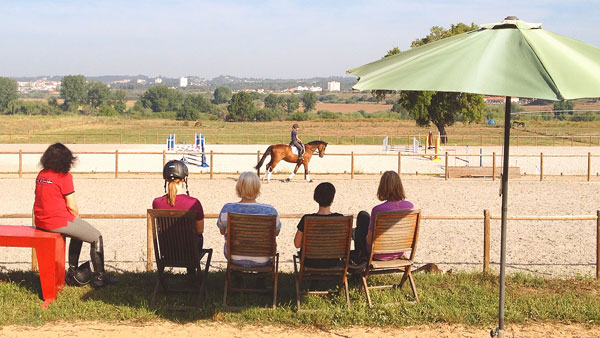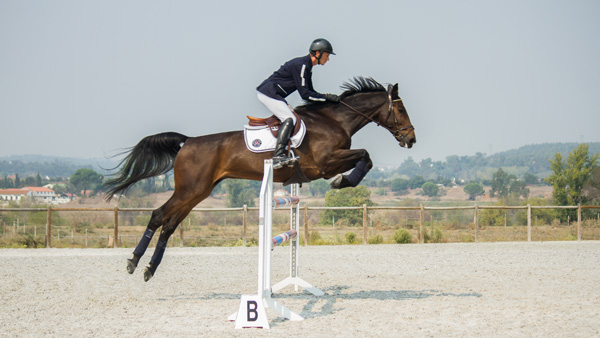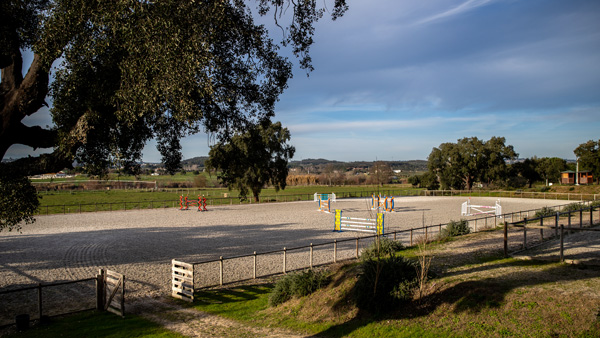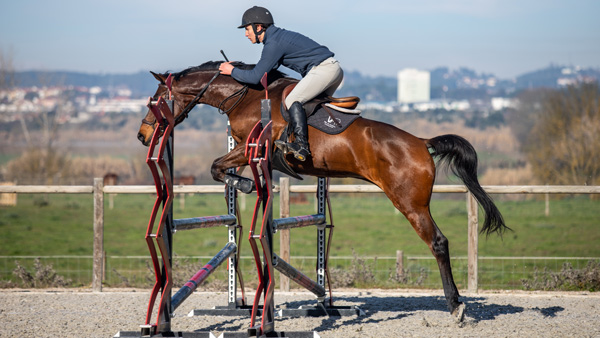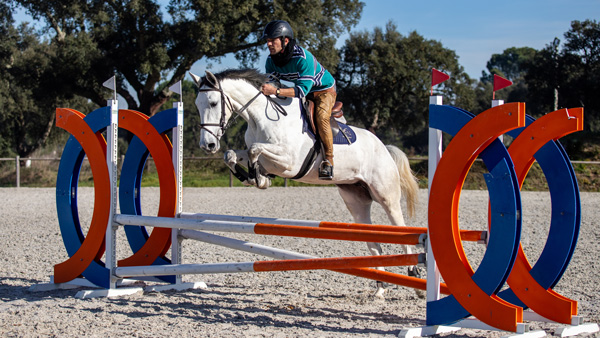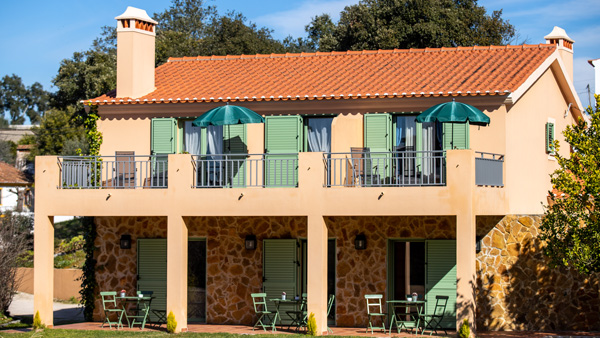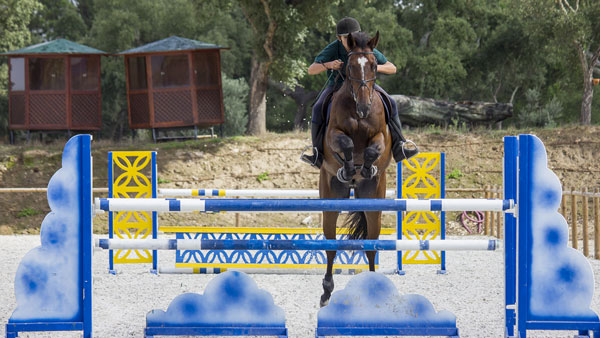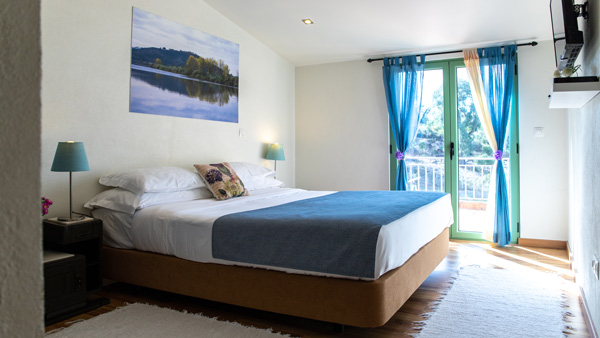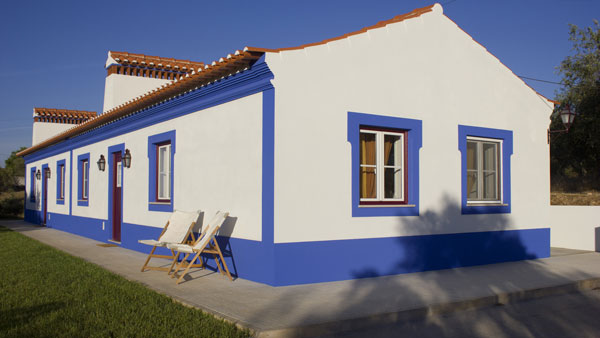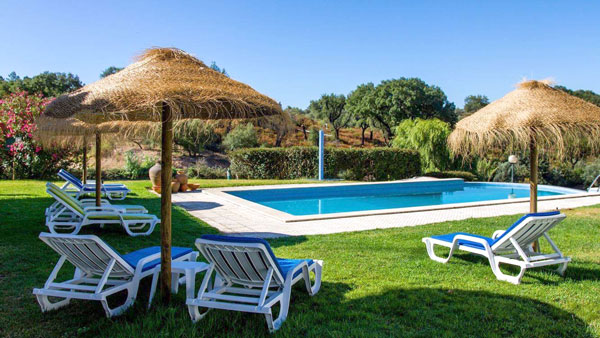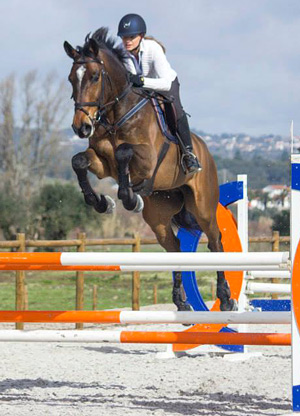 This training destination is just a little over 40 kilometers from Golegã, known for its annual horse festival, with hundreds of horses, riders in traditional clothes, plenty of wine, music & dance. A gem for all our dressage and showjumping loving riders.
A small equestrian center with horses and instructors of the highest class has opened its doors to us. The equestrian center is about 150 kilometers (93 miles) from Lisbon in the region of Santarém. Lusitanos are trained here up to Grand Prix movements and Dutch Warmblood (KWPN) that competing in jumping up to 115 cm.
You will live and eat well and you can relax at the pool between rides. Here you can develop your riding and have a good time.
If you can't manage a full week, you can always take a long weekend.
Program
You can choose from dressage, show jumping and an all-round program of both disciplines. If you like, you can replace some lessons for 1-hour hacks in the surroundings. There are two outdoor arenas and also a covered arena 20x50 meters with fiber sand.
Week Program: Arrive Sunday afternoon / evening and depart Saturday after breakfast.
Training week, intensiv: 10 lessons
Training week, basic: 5 lessons
You choose which discipline you want to ride under Date & Prices below - Book on request
Weekend Program: Arrival Thursday, latest 3.00pm, for the first lesson. Depart, Sunday after breakfast. If you arrive in the evening during Thursday you can ride the last lesson on Sunday morning instead.
Training weekend, intensiv: 5 lessons
Training weekend, basic: 3 lessons
You choose which discipline you want to ride under Date & Prices below - Book on request
Based on your previous experience, we will determine which horse and trainer is best for you. Your stay begins with an evaluation lesson where you get a chance to feel whether you like your horse.
You can always replace a training session with a hack. If you want to ride more hours, you can also book on site.
1. Dressage. Your training will be based after your prior knowledge and preferences. Normally, you train seat and grounds and detachment movements such as shoulder in, travers, leg yielding, etc. And depending on how it goes, it is possible to practice more advanced moves such as pirouettes and flying changes. Teaching is 2 people per lesson.
2. Jumping. Your training will be based after your prior knowledge and preferences. There will be flatwork with low jumps and the level of difficulty will be increased gradually with more obstacles, changed distances and series. To finish up, you will jump a course at the appropriate height. The group may be up to 4 riders.
3. All-round. If you want to practise both dressage and jumping select this program.
You choose which discipline you want to ride under Date & Prices below - Book on request
Accommodation and Food
The accommodation is also of excellent standard in comfortable double or single rooms about 200 meters (650 ft) from the riding center. Single: It is possible to book a single room (price for single supplement is available under Dates & Prices). If there is no one to share a room with, a single supplement will be added.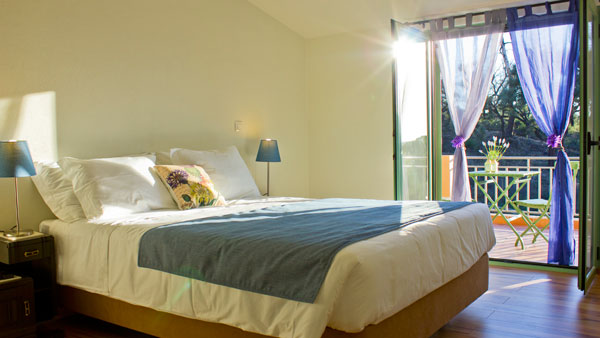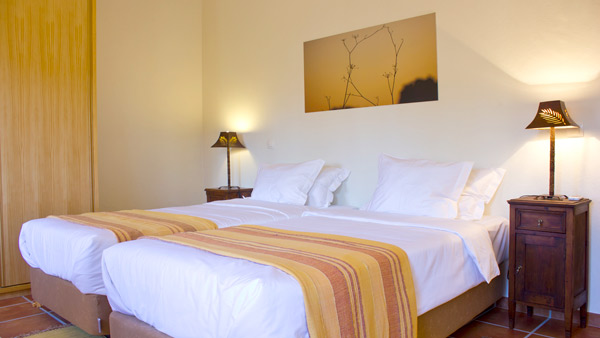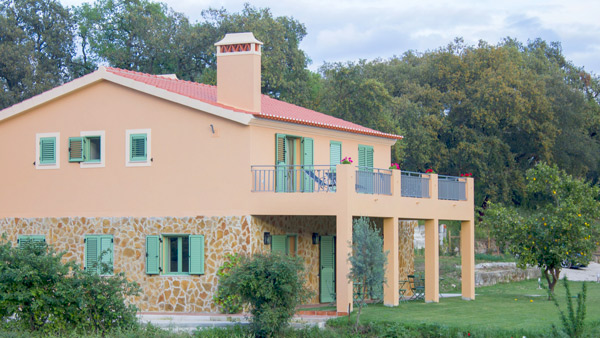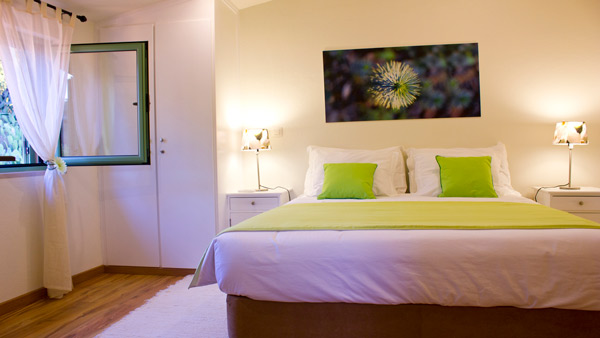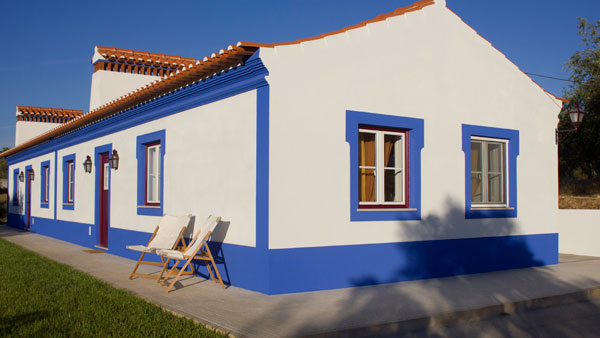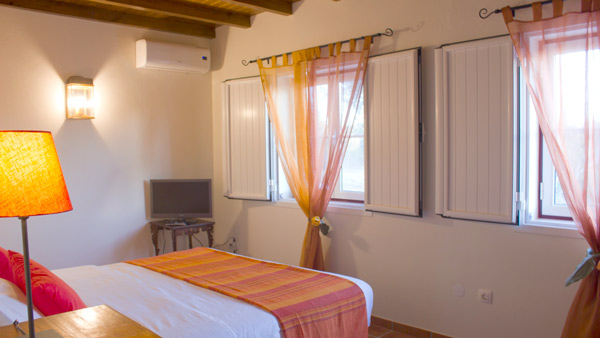 Safe deposit box: No
A/C: Yes
Hair Dryer: Yes
Towels and sheets: Yes
Fridge: Yes
Between rides you will be served good meals in the guesthouse. The price is for half board so you can choose if you want to eat lunch or dinner. If you choose dinner, you can buy lunch on site or vice versa.
The food is portuguese homecooking so you will leave the table satisfied. The dinner begins with an appetizer in the form of soup or salad, followed by a fish or meat dish and finally you will be offered a good dessert. It includes wine with dinner (about 1 Bottle for every four people). Other beverages can be ordered and paid for on the spot.
Between rides it is lovely to take a refreshing dip in the pool.
There is free WiFi in the accommodation.
Horses
There are approximate 15 horses. 8 are dressage horses (7 pure Lusitanos) and 5 are dutch warmbloods (KWPN) for jumping. There are also 2 horses suitable for children.
Minimum number of riders is 1 and maximum 6 for the dressage and showjumping program and 8 for the allround program.
Covid-19
Holds the Clean & Safe certificate (the Portuguese health authority has issued a number of criteria that must be met in order to obtain this certification).
This includes:
- All staff are trained on hygiene
- Procedures for cleaning and disinfecting the pool and public areas.
- Table service only- Distance between deck chairs, dining table
- Mouthguard when you are indoors
- Hand alcohol
In addition, there is plenty of space and easy to keep distance
A riding holiday means that you are mainly outdoors.
Only small groups are accepted.
It is possible to book single rooms.
Climate
Daytime temperature is around about 20 + C (68 F) in spring and autumn, about 15-20 + C (60-68 F) in winter and 25-30 + C (77-86 F) in the summer. During winter, it is cold evenings and at night so it's good to bring some warmer clothes.



Travel Information
Ability description: Dressage level 3-5, Showjumping level 3-5>>
Included: 6 or 3 nights, riding described in program, half board incl. wine. If you want to see full board price, click on "book on request".
Not included: Flight, transfer, drinks except wine.
Travel: Book flight/rental car >>
Flight: To Lisbon.
Transfer: Book in advance with HorseXplore and pay on spot.
From Lisbon airport about 1,5 hours (140 km).
Price: 200 EUR for a 9 seater car and 170 EUR for a standard car one way.
Train: From Lisbon Oriente to Abrantes, when arriving a short taxi ride (7-10 EUR) to the riding center. Tickets can be purchased from an automatic kiosk at the station. You can see train timetable at www.cp.pt
Car: It is cheap to rent a car in Portugal, so if you would like to have a look around between lessons we can recommend a rental car company.

Arrival and departure times:
Weekly program - arrival sundays afton noon/evening, departure following saturday after breakfast.
Weekends - arrival thursdays about 3.00 pm for the first lesson, departure sunday after breakfast. If you arrive on thursday evening you can have the last lesson sunday morning instead.

Optional arrival/departure: You can choose another arrival and departure day, just mail us on info@horsexplore.com
Season: All year. Low season price January-March and October-December.
Single room: Can be booked with a supplement. For price click on "Book on request" under Dates & prices.

Other activities: For families where everybody doesn't ride there is also special bike trails, a great golf course at Obidos in the dunes along the beach, 100 km away from the riding center. Rowing and cannoeing is also possible nearby.
Currency: Euro
Credit card: Accepted at riding center.
Tipping: Not required but appreciated.
Wifi: Yes
Electricity jack: EU standard

Age limit: No
Closest village: You live in small village, 7 km away from an old village with a lot of history, shopping, restaurants and sight seeing. The oldest Lusitanos breeding public insitution is 60 km away and is also worth visiting.
Beach: About 1 h away by car but also a big lake 14 km away where you can do water sports or boat tripping.
Pool: Yes, open May-October.
Retuning guest: You get 1 extra lesson free on a weekend and 2 extra lessons free on a weekly stay.
Misc.:
Riding equipment to borrow: Helmet
Saddle bag available: No
Special diet: Inform when booking.
Christmas and New Year

You are welcome to this small and very hospitable farm both during christmas and new year, they offer high class dressage and show jumping training. Good food and drinks will make this both an active and cozy holiday. You can choose between week and weekend.
You can buy an exklusive christmas- or new years eve dinner for 75 EUR/person.
If you are a big group or family you can be considered to get taylormade program.
Feedback from our travellers