Italy, Sicily - Madonie Mountains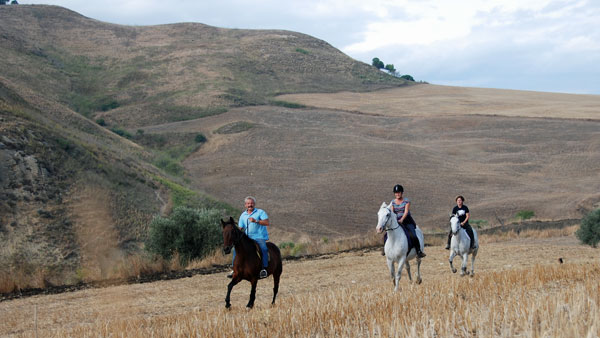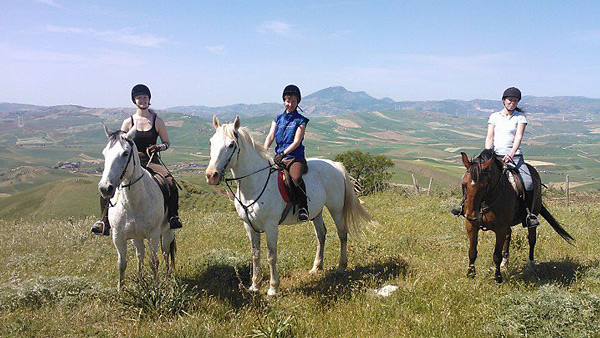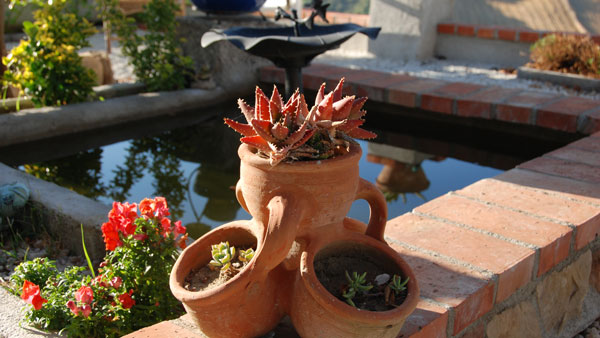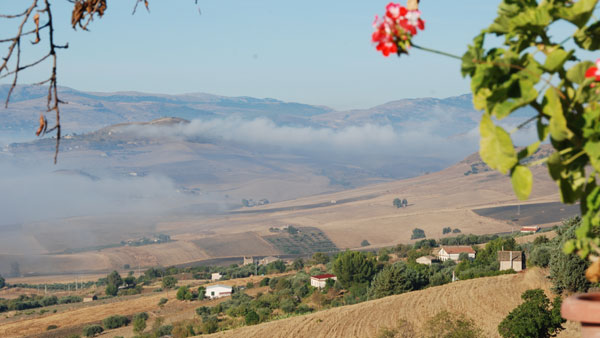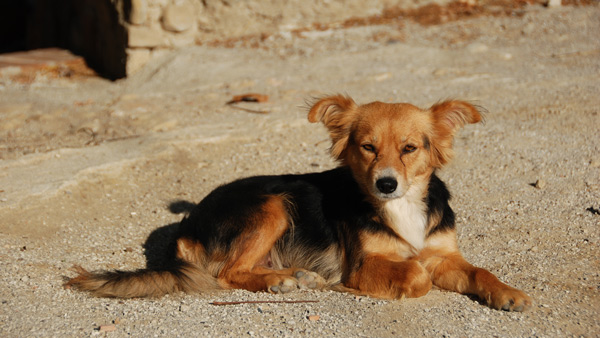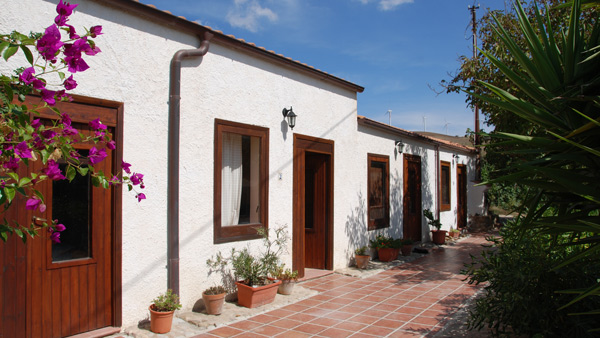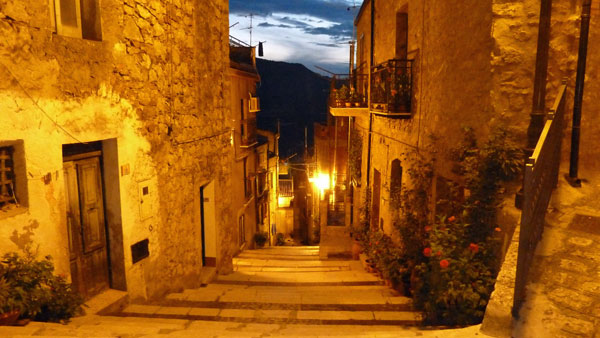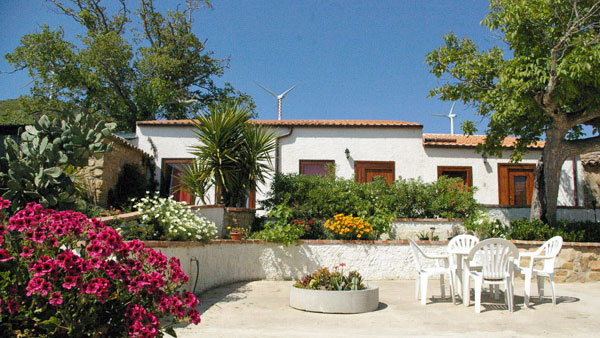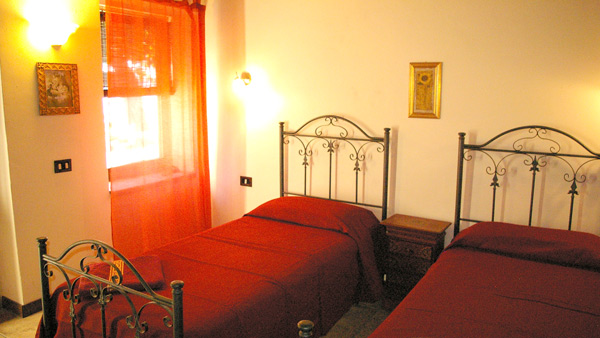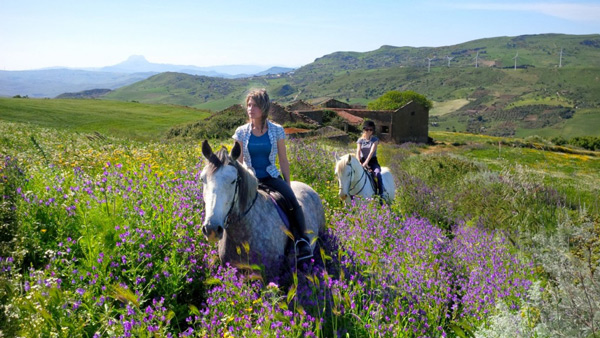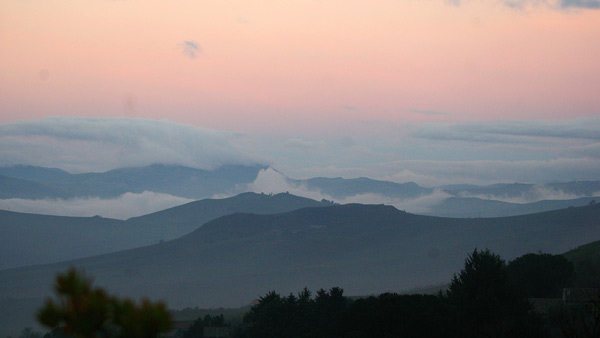 Mark and his teenage daughter chose to settle on wild and incredibly beautiful island of Sicily. Mark has done many different things in his life, including being a racing driver, but then he saddled up and renovated a farm 700 meters above sea level in the Madonie Mountains. The farm is located in one of the most fertile valleys in the region – the Gurfa Valley, named after the prehistoric caves there. At this altitude, you will enjoy spectacular views of mountain peaks and vast rolling hills.
This is a small, personal farm where in addition to the riding, Mark will show you charming little villages, their favorite restaurants and interesting places that tourists normally never discover. He also knows a lot about Sicily's history and culture and likes to share his knowledge.
They have developed a weekly program where you get to experience and see the best of their new homeland on horseback. The horses are a mixed bag of Andalusians, Haflinger, and various local crosses. They are always keen on a gallop but also totally unafraid of anything that you might encounter out on the rides. Lunches and dinners are usually eaten at local restaurants, which are chosen because of their beautiful location, nice owners or skilled chef. In the middle of the week you spend a full day in Palermo, Sicily's capital. You visit markets for shopping, sightseeing and you will get to taste some typical local specialties. On the last evening you will enjoy a BBQ grill and drinks on the terrace overlooking Gurfa Valley (weather permitting). Mark's friends, many of whom you've probably met during the week, often participate in the festivities. After an early breakfast (and bags packed), you head out on a brief farewell ride before it's time to leave this fairytale island.
Accommodation
Originally, the equestrian center was a farmhouse and now the old corn store now been converted into 4 simple guest rooms with shower / toilet. Outside the rooms is a large terrace overlooking the picturesque valley where the colors change with the seasons. The terrace is perfect for BBQ grills and pleasant company. There is also a small living room / dining room where you can have breakfast if the weather is bad.
Safe deposit box: No
A/C: No
Hair Dryer: Yes
Towels and sheets: Yes
Fridge: No
Horses
The horses are a mixed bag of Andalusians, Haflinger, and various local crosses. They are perfect trail riding horses.
Travel Information
Ability description: Level, trail ride 2-3 >>
Included in the price: 7 nights, 5-6 days riding, full board incl. drinks with meals.
Not included: Flights, transfers, personal insurance, drinks and extras not mentioned.
Travel: Book flight/rental car >>
Fly to Palermo Airport, which is about 1½ hours from the equestrian center.
Catania airport (Fontanarossa) is about 2hours from the equestrian center.
Trapani Airport is about 2½ hours from the equestrian center

You can take the train from Palermo to Alia. It takes about 1 hour. You can buy train tickets at the station in Palermo. Train times can be found at www.trenitalia.it.
Transfers: Book in advance with HorseXplore and pay on spot.
From Palermo airport 90 EUR/car/return (max 3 persons).
Catania or Trapani 105 EUR/car, return (max 3 personer).
Single room: Can be booked with a supplement. For price click on "Book on request" under Dates & prices.
Currency: Euro
Credit card: Not acceptad at riding center.
Tipping: Not expected.
Wifi: Yes
Electricity jack: 220V
Group size: 1-6 riders.
Age limit: No
Closest village: 5 km away with restaurants and pubs. Every night you go sight seeing or at activities in the villages.
Beach: 1 hour drive away.
Pool: No
Misc.:
Riding equipment to borrow: Helmet
Saddle bag available: Yes
Special diet: Inform when booking.
Climate
March – Spring comes in mid-March. The days are beautiful with sunshine and flowers, etc. Daytime temperature approx. 15 to 18 C (59-64 F) and cooler in the evenings. Sometimes there are storms (residue from winter).
April - Beautiful. Spring is now in full swing and the days are warmer, perfect for riding (about 20 C; 68 F). The evenings are always cooler in the mountains.
May - the same as in April but slightly warmer.
June - Summer has arrived. Day temperatures up to the high 20's (77 F +) and beautiful evenings.
July – It is only possible to ride on the 1st or maybe the 2nd week of July, then it gets too hot. Rides in the early morning
August - too hot to ride
September - The temperature drops again and it is a good month for riding. Little risk of little but it rarely rains a lot, maybe one or two days a week. On rainy days, you will be taken on alternative activities and excursions, so you never just sit around waiting. No additional charges in these cases.
October / November - usually very good ... like September there is a risk of some rainy days, but it is unlikely to rain all the time. The temperature comes down from the mid 20s (77 F) to around 16 degrees (61 F).
December - still mostly sunny days interspersed with rain. Temp down to around 14 C (57 F) with cooler evenings..

The Program
Please note that each day's riding may take place in a different order than described below. Changes in the program can also occur due to local circumstances.
Most often you ride 2-3 hours in the morning and the afternoons are for sightseeing by car. On one day there will be an all-day ride.
Day 1. Airport pick up. You will have time for a short ride in the afternoon. In the evening, you are invited to dine at a local restaurant.
Day 2. Today you take a two-hour ride in the morning so you can sense whether you feel comfortable with your horse or if you want to try another one. In the evening, you will enjoy the food prepared by a popular Sicilian chef in a beautiful garden restaurant.
Day 3. After breakfast, you will ride through the valley, passing some wind turbines that supply the whole area with electricity and then across to the nearby valley to a town called Valledolmo. In the evening, you eat al fresco in a nearby town.
Day 4. Today you take a break from riding to spend the whole day in Palermo, Sicily's exciting capital. Mark will take you to local markets for shopping, show you the main attractions and offer you some typical local specialties. Lunch is served in a special restaurant in the heart of old Palermo. In the evening, Mark will take you to his favorite restaurant "Chaplin" where Giacomino, your host, is extremely proud of his food, and the seafood in particular is recommended (meat also available).
Day 5. After breakfast, you ride up the mountain and continue along the trail to a nearby village. The ride is about 2-3 hours long. The afternoon is free. In the evening you go to the nearby village of Roccapalumba where you visit a planetarium and observatory. The clear Mediterranean night sky is a lovely appetizer. You dine in a restaurant located in a converted seventeenth century mill.
Day 6. After breakfast, you take a morning ride down into the valley until you come to the nearby village of Mercato Bianco. This small village, with about 500 inhabitants, is a place where "time stands still." With the exception of the car, not much has changed here in at least a hundred years. You visit Mark's friend Toti, in his quaint little farmhouse. Lunch is fresh, home-grown, organic, authentic Sicilian cuisine, cooked by Toti himself. After a several courses with homemade wine, you take a well-deserved rest and ride back again. In the evening, you will probably go into town for a light meal and a few drinks.
Day 7: After breakfast, you ride down and cross the nearby valley - gallops mixed with a relaxing walk pace. On your last evening, you will be served a BBQ grill and drinks on the terrace overlooking the Gurfa Valley(weather permitting). Mark's friends, many of whom you've probably met during the week, often take part in the festivities.
Day 8. After an early breakfast (and bags packed), you head out on a short final ride (if you have a late flight home). After lunch, you will be driven to the train station in Alia or to the airport if you have booked a transfer.
Alternatively, and depending on the time you have for the journey home, you can spending the day at one of the many typical Sicilian 'festas' or parades, where horses often plays a big role.