Great Britain, Dartmoor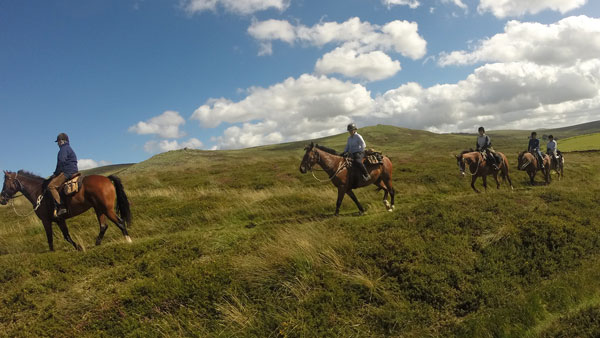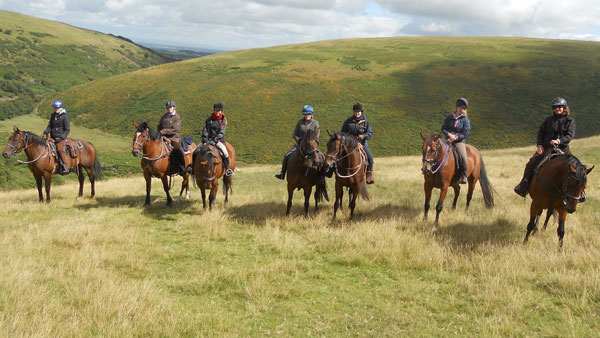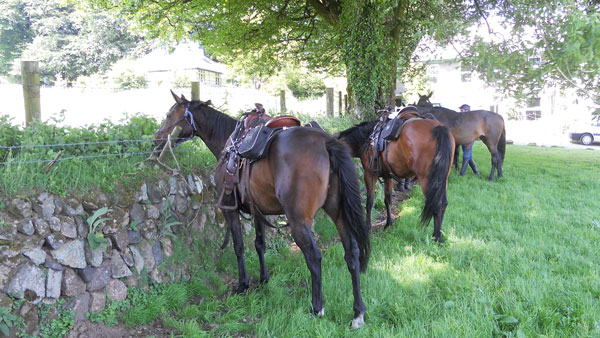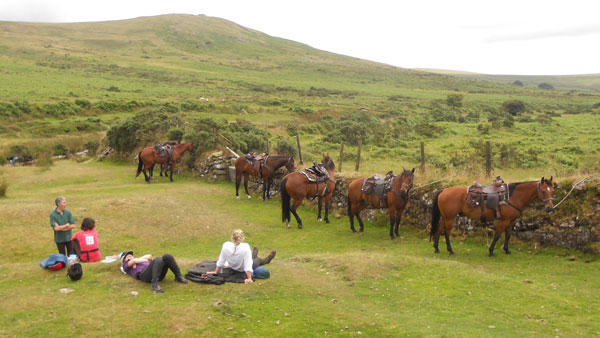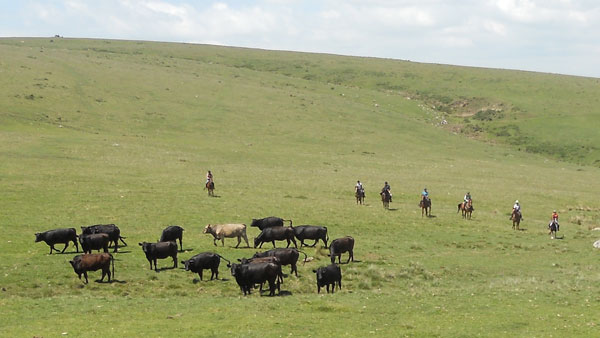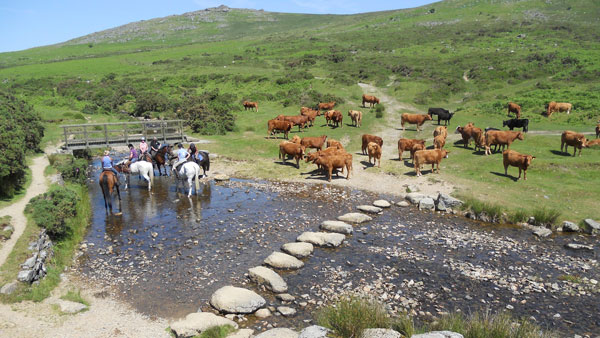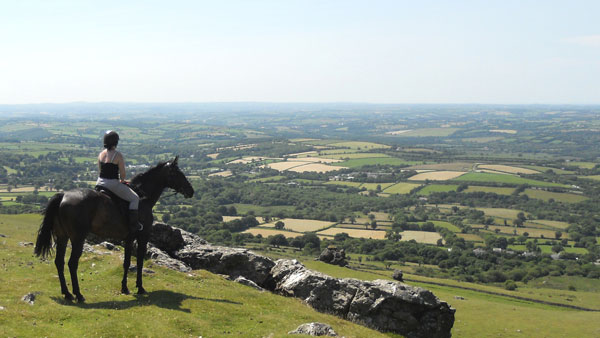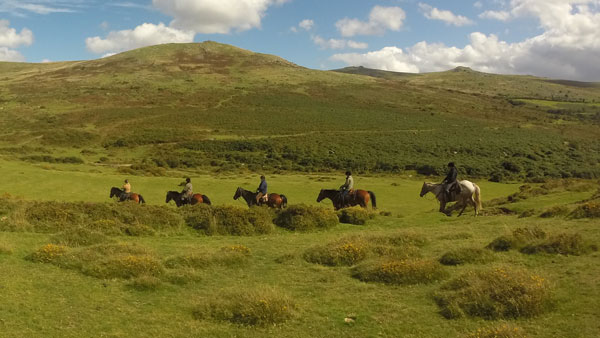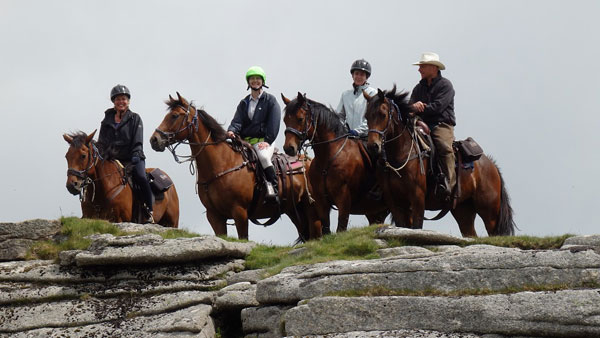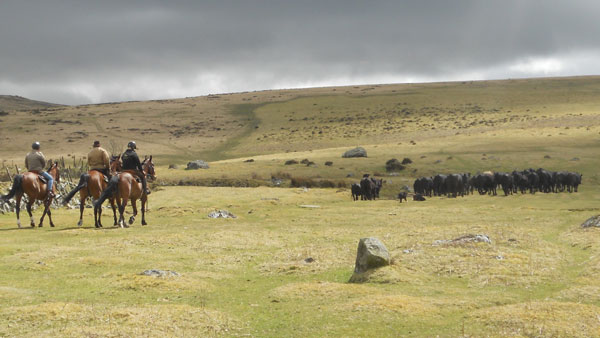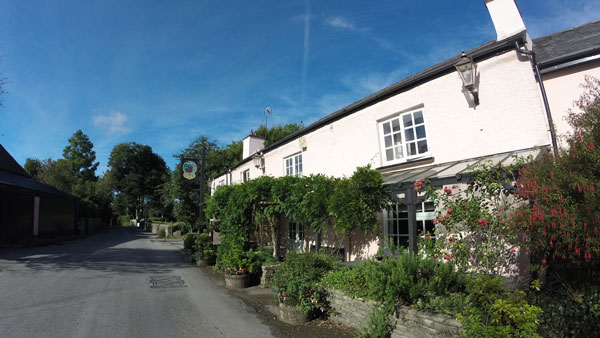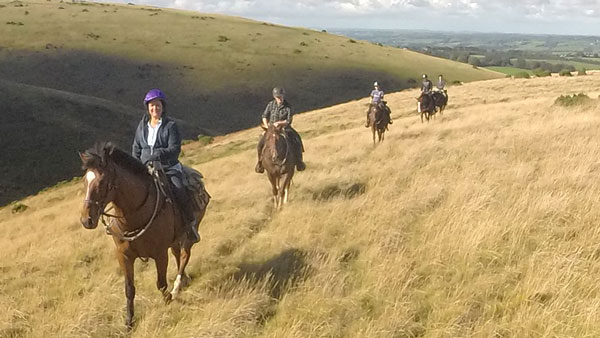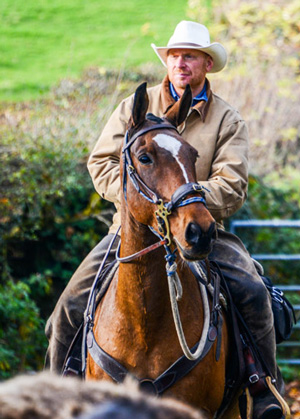 Explore the mythical and beautiful Dartmoor Heathland. The morning mist of Dartmoor National Park's mythical landscape has inspired many writers, including Agatha Christie. The heathland is incredibly beautiful and bordered by rattling cattle grids that prevent the wild herds of ponies from leaving the area.
Your hosts and guides, Phil and Mandi, know their way around the wide-open heath and will take you with them on Dartmoor trail ride together with their Western Horses. You spend four to five hours in the saddle with a stop either for a picnic lunch or at one of the small cosy pubs that you pass. You choose yourself whether to ride for a short week of a full week.
You can also choose a one week trail ride called The Dartmoor Crossing, where you stay at different bed & breakfasts and guest houses. Each week includes one non-riding day so you can see the local sights.
The horses are mainly quarter horses, but there are some Irish Hunters. All are in good condition, sure footed and have a lot of energy. You can choose yourself whether you want to ride a western horse or one that is trained in the English-style. The rides are demanding with steep climbs and descents, fording rivers and riding over all types of terrain so you must be at least a mid-level rider.
Phil and Mandi are unique in that they also use horses as part of managing their cattle. This means that sometimes there is the chance to be a real cowboy without having to cross the Atlantic. The cattle must be moved from their winter pasture to their summer pasture, calves must be branded and cows are let out with the bulls, etc… See specific dates under Cattle Drive below.
Enjoy the fun riding in a spectacular landscape led by your devoted hosts who love their heath.
Riding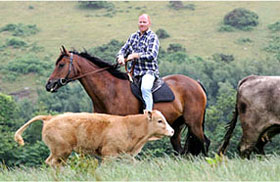 'If you climb in the saddle, be ready for the ride!'

They normally ride Western, however they can provide English saddles if the guests requests. Riders need to be reasonably fit and at least an intermediate standard or better, you are not having any lessons. The terrain involves crossing streams, shallow rivers, undulating ground and up and down steep inclines and would not be suitable for novice or inexperienced riders. The pace is often calm and in walk.

The style of riding is very much akin to 'Natural Horsemanship'. The riders should be relaxed and ride with soft hands.
The guides are all local moor men or women, who know the moor well. They know where the best crossings are, and where to avoid, as there are areas where it is unsuitable for horses. Some of the guides are members the Dartmoor Rescue Group; some are range clearers for the army on the moor. All are excellent horsemen or women, and are first-aid trained.
Accommodation and Food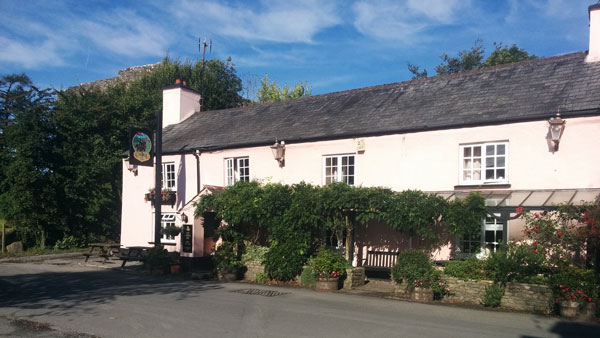 All accommodation is at an excellent Inn and is on a half board basis, arranged by the ridingcenter. Breakfast will either be at the Inn or the farm. Guests will be collected and returned from the Inn in the courtesy vehicle.
Safe deposit box: No
A/C: No
Hair Dryer: Yes
Towels and sheets: Yes
Fridge: No
Lunch at the farm, a packed lunch or en-route at one of many faboulous local pubs. Breakfast and lunch are all included in the package. The dinner is not included but the Inn serves very good food.
On The Dartmoor Crossing you stay at different hotel/B&Bs. The evening meal is not included in the price but everywhere you stay has a very good restaurant.
Horses
There is a selection of fantastic Quarter Horses with their calm attitude and appetite for work. All are western trained, very sure footed and a pleasure to ride. There is also a selection of Irish hunters some western trained some English style, all nice to ride and cross the terrain with ease. Heights range from 145-165 cm.
Climate



Travel Information
Ability description: Trail ride, level 2-3 >>
Included in the price: 4-7 nights, 3-5 days riding, half board (every where you stay has a very good restaurant)

Not included: Flights, transfer, insurance, dinner, drinks and extras not mentioned.
Travel: Book flight/rental car >> We help you book your flight if you wish.
Flight to Exeter airport or London. Train from London to Exeter (2-3 hours). You can see train times on www.nationalrail.co.uk
Transfer: Book in advance and pay to HorseXplore.
From Exeter airport or train station, about 45 minutes drive.
Price: 95 EUR/car/return.
Single room supplement: It is possible to book single room (price for single supplement is available under Dates & Prices). If there is no one to share a room with, a single supplement will be added.
Arrival / departure day: 6 nights, sunday-saturday, 4 nights Sun - Wed, The Dartmoor crossing, special dates.
Currency: Pound
Credit card: Not accepted by riding centre.
Tipping: Not expected.
Wifi: Yes
Electricity jack: EU standard
Group size: Min. 2 and max. 8
Age limit: 14 years old if accompanied by parent.
Closest village: The Inn is in a village.
Beach: No
Pool: No
Misc.:
Riding equipment to borrow: A few helmets and rain coats.
Saddle bag available: Yes
Special diet: Inform when booking.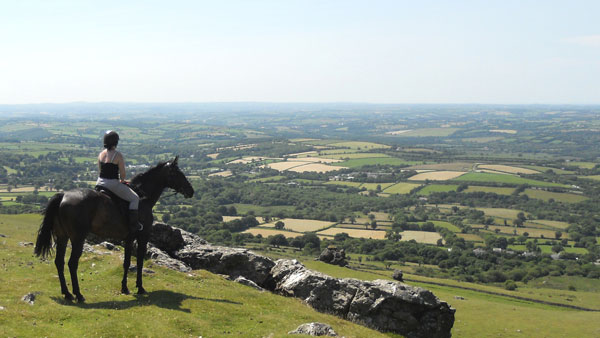 This is a 7 night, 5 day ride around Dartmoor, riding 12 – 19 miles (4-5 hours/day) each day stopping at fabulous moorland Hotels, or B&B's. This is a superb way to explore Dartmoor with its breathtaking rugged scenery, remote beauty spots and very friendly hospitality. You will be guided through some of the most spectacular ....
Read more »
From
EUR 1,475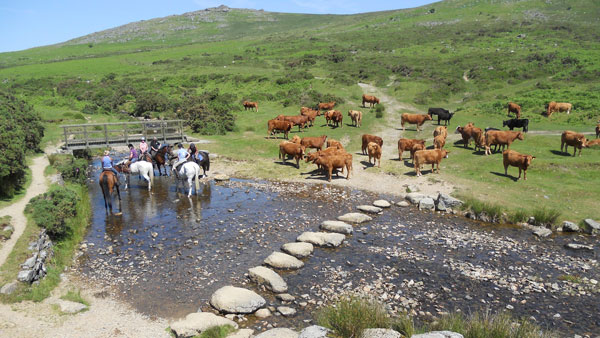 At various times of the year it will be possible to help with moving, mustering and checking the cattle. The 'busy periods' below will be the best chance to join in with this work. 'The fastest way to move cattle is slowly!' Cattle respond well to being moved by horses. Horses are quiet and the cattle are used to being moved ....
Read more »
From
EUR 950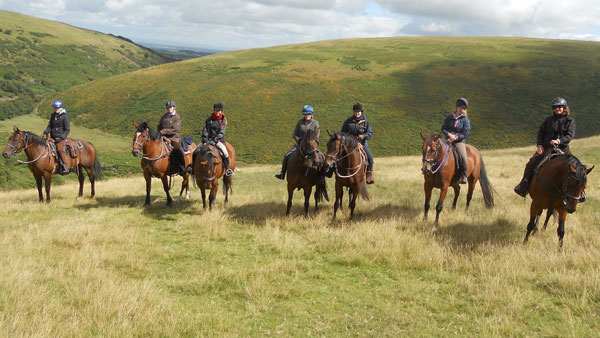 Explore the fantastic riding and scenery of Dartmoor, 4-5 hrs in the saddle, stopping for lunch, either packed or at one of many local cozy Dartmoor pubs in a western saddle. Typical itinerary: Check-in at accommodation in the evening and the owners will come and meet you to discuss your stay. The following morning, and subsequent days, breakfast ....
Read more »
From
EUR 895