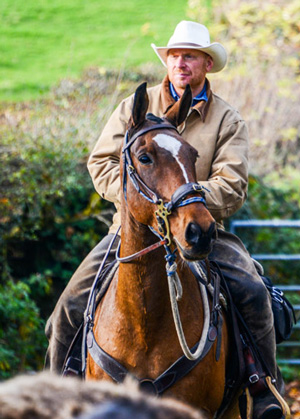 Explore the mythical and beautiful Dartmoor Heathland. The morning mist of Dartmoor National Park's mythical landscape has inspired many writers, including Agatha Christie. The heathland is incredibly beautiful and bordered by rattling cattle grids that prevent the wild herds of ponies from leaving the area.
Your hosts and guides, Phil and Mandi, know their way around the wide-open heath and will take you with them on Dartmoor trail ride together with their Western Horses. You spend four to five hours in the saddle with a stop either for a picnic lunch or at one of the small cosy pubs that you pass. You choose yourself whether to ride for a short week of a full week.
You can also choose a one week trail ride called The Dartmoor Crossing, where you stay at different bed & breakfasts and guest houses. Each week includes one non-riding day so you can see the local sights.
The horses are mainly quarter horses, but there are some Irish Hunters. All are in good condition, sure footed and have a lot of energy. You can choose yourself whether you want to ride a western horse or one that is trained in the English-style. The rides are demanding with steep climbs and descents, fording rivers and riding over all types of terrain so you must be at least a mid-level rider.
Phil and Mandi are unique in that they also use horses as part of managing their cattle. This means that sometimes there is the chance to be a real cowboy without having to cross the Atlantic. The cattle must be moved from their winter pasture to their summer pasture, calves must be branded and cows are let out with the bulls, etc… See specific dates under Cattle Drive below.
Enjoy the fun riding in a spectacular landscape led by your devoted hosts who love their heath.