Going to Gotland feels like to go abroad. It's not just the holiday atmosphere in Visby, but the island's special scenery and characteristic houses that create an atmosphere reminiscent of southern latitudes. This is where Lisa has built up a real western riding paradise.

For over ten years, she has renovated this beautiful eighteenth century farm, somewhat reminiscent of Pippi Longstocking's house. It is now completed with guest rooms, large stables, twenty western-trained horses and, as icing on the cake, a real saloon. Lisa has ridden all her life, but mainly with a focus on classic style and especially jumping. Gradually, Lisa became fascinated by western riding and is now an avid western rider.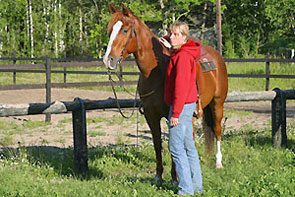 For those of who you think it would be exciting to ride western style, you have an exciting opportunity to gain an insight into the basics. For those who are already experienced western riders, you can hone your skills even further. For those of you who ride regularly at home, things will obviously move more quickly, but those of you who do not ride much are also welcome. You are divided into groups and the teaching is adapted to your level of knowledge.
You can try different styles of western riding. Lisa's specialty is equipment styles such as trail and ranch trail She also ride dressage (for pleasure), and horsemanship.
Good riding combined with good and plentiful food. Lisa is a charcutier, and also operates a catering company so you will be very well looked after even during meals. The saloon is fully licensed so there is a chance you will have some fun, late nights.
The riding is a mix of lessons and rides. A ride on Gotland is a ride with lots of history, and there are old stone cairns and stone fences to be seen everywhere. You pass beautiful old limestone buildings that recall Gotland's fascinating history. Wildlife is abundant, with sheep in particular running, bleating and leaping around everywhere. But the western horses is, of course, known for its calm temperament so they are not troubled.
One ride heads to the seashore and if you are in luck you will see one of the beautiful white-tailed eagles that usually float around in search of prey.
Just as it should be, rides usually end in the saloon and in the unlikely event someone takes a fall, they 'shout' the bar a round of drinks. The days events are relived and the stories get better in the telling, and everyone ends up better riders than Seb Macahan.
Number of riders are 4-14 in the group.