Poland, Masuria - Trail Ride or All-round Program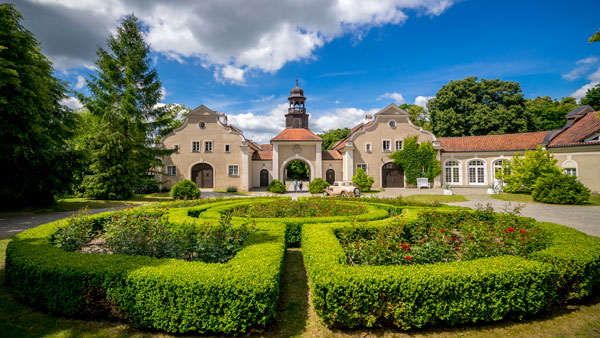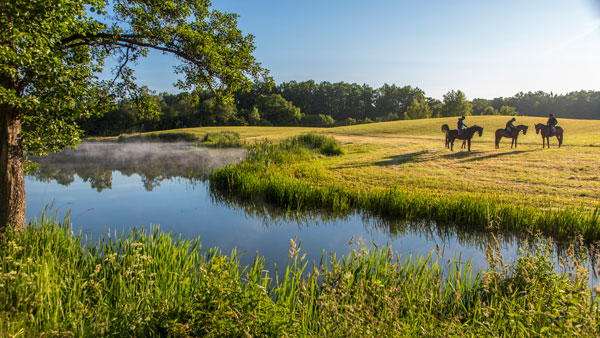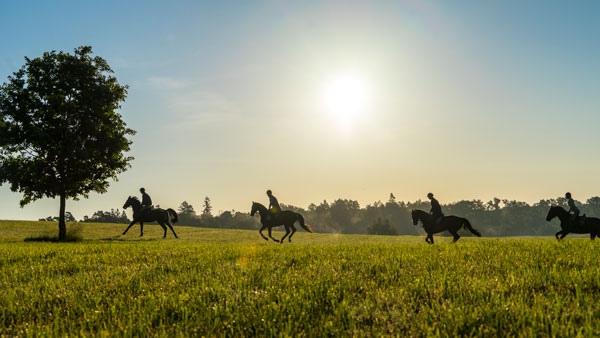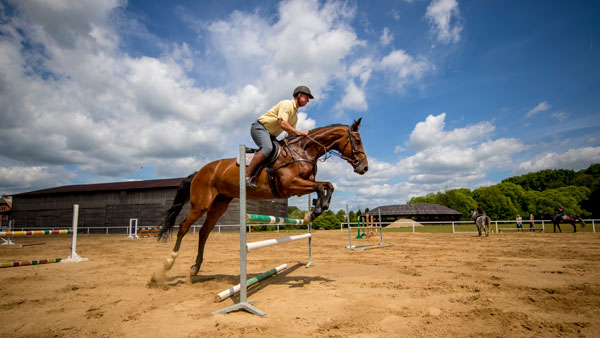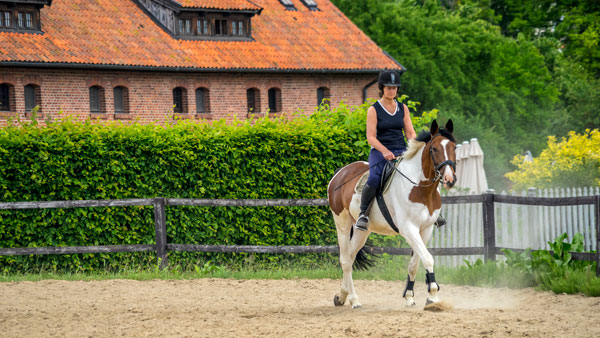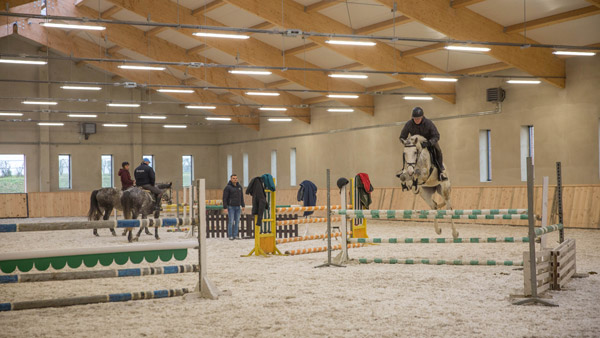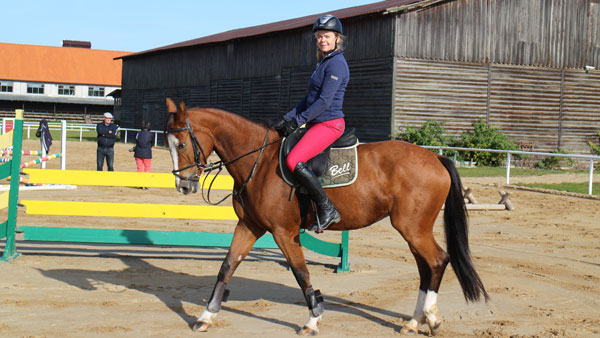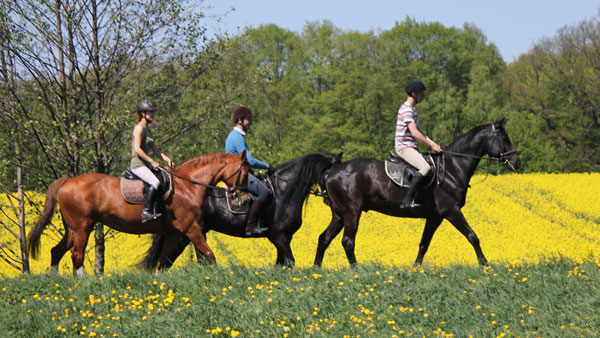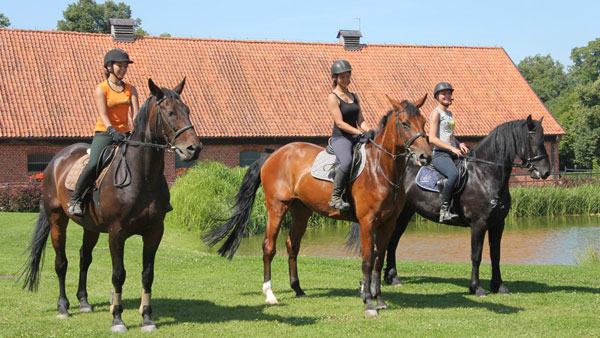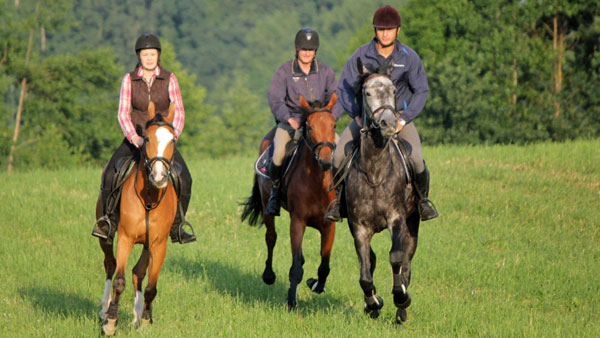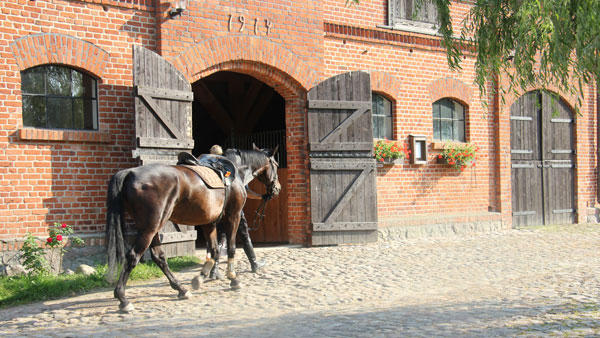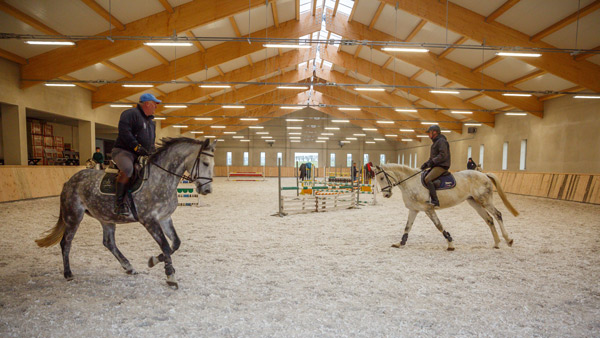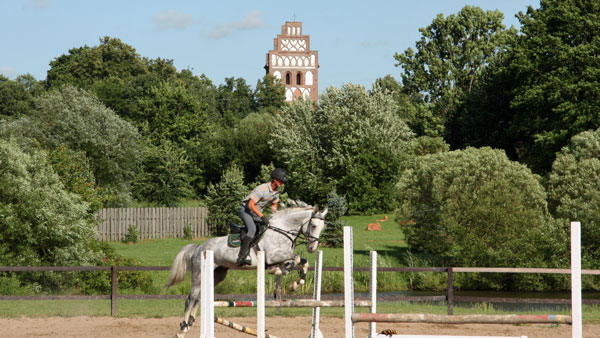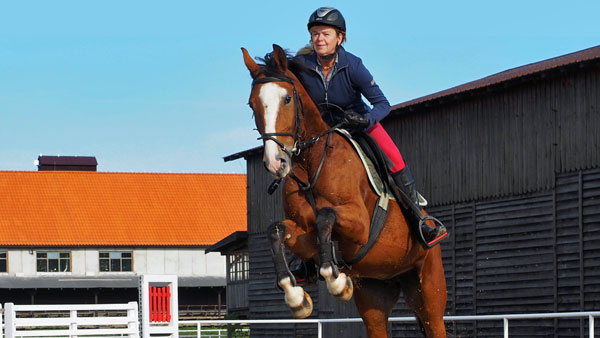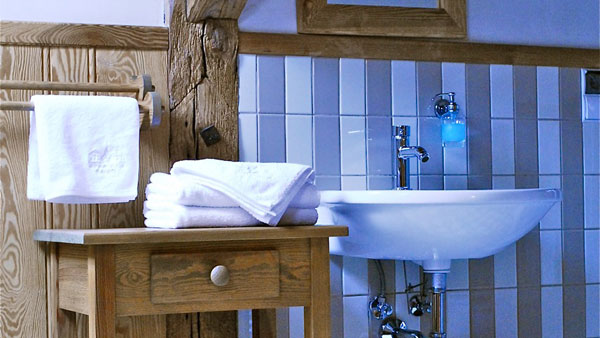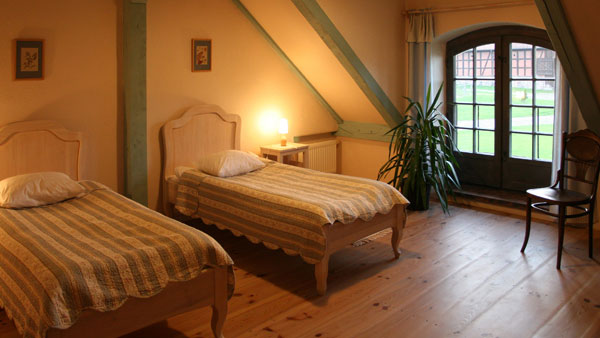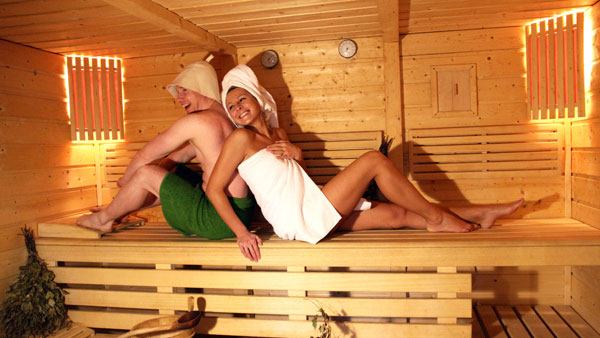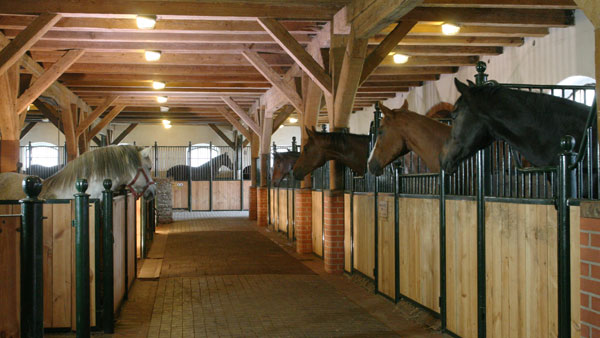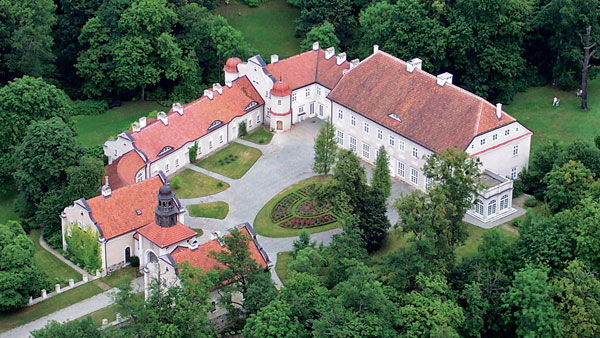 Joanna and her husband found their dream seventeenth century castle, as the roof was about to collapse, and decided to buy it at the last second. Over the past twenty years, they have restored it to its former glory. This beautiful country estate of 200 hectares (500 acres) includes rolling meadows, majestic oak forests and small lakes.
In addition to the renovation, they have also chosen to invest in the breeding of quality jumping horses with German breeds such as Holsteiner and Westphalian. Many of the offspring have been sold to competitive riders abroad.
Here's your chance to choose between a trail ride with lots of different scenery or an all-round program of lessons and rides, all on a beautiful castle estate.
In addition to riding, you can borrow bikes, go fishing, play tennis, go to the gym or why not enjoy a great massage.
Horses
There are about 50 horses. That includes horses for riding guests (about 20), racehorses and colts. They are Holsteiner, Westphalian and Polish halfbloods about 160-175 cm (63-69 in.), and there are some Welsh B ponies.
Whether you choose the trail ride or All-round program, it is a pleasure to ride these healthy and well-mannered horses.
Accommodation and Food
The accommodation is excellent, either in the castle or in the nearby hotel from the early 1900s. The hotel is a converted warehouse and contains a reception, restaurant and bar. There are a total of 36 rooms and suites. The rooms are large with plenty of pine and high ceilings.
Safe deposit box: Yes in the reception-
A/C: No
Hair Dryer: Yes
Towels and sheets: Yes
Fridge: Yes
Joanna's chef trained at a renowned restaurant in Warsaw, so the food is a treat for both the eye and the palate. They focus on organic food using local ingredients and lots of fruit and vegetables. At mealtimes, it is easy to forget that you are in the Polish countryside as feels like you could be at a fine restaurant in any big city.
Even the breakfast that horseXplore's test rider ate beat most multi-star hotel breakfasts.
During both lunch and dinner, you get to choose from the comprehensive a la carte menu, except when you are out in full-day ride, when you will be offered a hearty picnic.
Hubertus hunt 4-7 October
04.10.2018 - Arrival - Arrival to the Hotel around 3-4pm. You will get to know the people and staff who will take care of you during your stay. We will invite you to the stable and introduce you our riding instructors. They will take you for a 1 hour riding in the country side. After riding you will have a time to enjoy the warmian dinner in the restaurant.
05.10.2018 - Breakfast in the morning. On that day you will have 1,5 hour of flat work riding.
06.10.2018- HUBERTUS - Saint Hubert's chase The traditional Hubertus Hunt was a horse race on horses to pursue a fox - but today it is a wholly symbolic 'hunt', without hounds. The fox's tail is pinned to the shoulder of the leading rider that the other riders (hunters) have to chase. Less proficient riders and children will be transferred by horse-drawn carriages to the field where they will be able to observe the hunt. After Hunting Race all guests will be invited to a picnic and traditional Masurian feast.
07.10.2018 - Departure. Breakfast in the morning and 1 hour of riding in the country side. In the afternoon lunch (if you started your weekend with dinner). After check-out you will get back home with hopefully a full luggage of incredible experiences and amazing memories.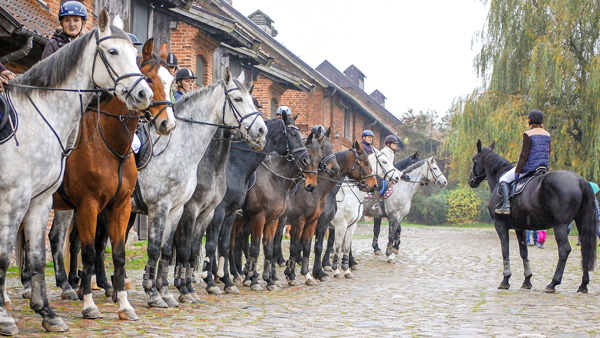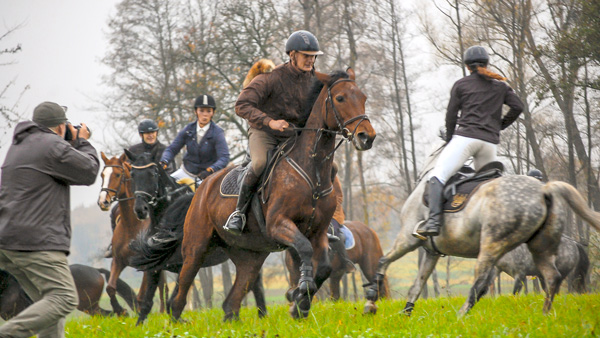 Trail Ride in Masuria
A wonderfully varied riding week on fine horses. Each day begins with the morning breakfast. Every trail is about 30 km and lasts approximately 6 hours (including the time for a lunch and a short break). Every day, you will visit different places. Lunch will be served in every location. When you get back to the riding centre a delicious dinner will be served in the restaurant.
Standard Program
Day 1: Arrival at the hotel and welcome dinner. After dinner there will be a tour of the property where you will see the stables and horses and you will be introduced you to our riding instructors. They will take you for a 2 hours test ride on the riding arena. That is going to help them match the horse to your riding skills and riding style.
Day 2: Sulowo village
Get ready for an intense trail ride! After breakfast you will go riding on the old hunter's path through forests and meadows. After about 3 hours of riding and sightseeing you will get to a lovely old village Sulowo. You will stop for a while, have lunch in the restaurant, rest and go back to the riding centre.
Day 3: Sanctuary in Stoczek Klasztorny
You will ride along the Warmia's wonderful meadows and forests to an eighteenth-century convent. The monks in the monastery cook a nice lunch taken in the garden. After the tour, you are back in the saddle for trotting and galloping on the way home. In the evening you will enjoy a delicious dinner.
Day 4: Krawczyki village
Another day and another beautiful route. Today you will visit village Krawczyki. From XVI c. to XX c. belonged to family Denhoff. Lunch will be served in one of the local agritourism farm. After lunch and a short rest you will go back to the riding centre.
Day 5: Wegoryty village
After another filling breakfast from the buffet you will prepare for a ride to the small village Wegoryty. Lunch will be served on a local farm. Owners are known for delicious vegetable pates.
Day 6: Sarnowo
Today you will arrive to Sarnowo village. On the way it is worth to pay attention to the small churches located at the side of the roads as it is a very characteristic element of Warmia's landscape. You will have a lunch in beautifully restored court from the beginning of XX century. Then you go back to the riding centre. In the evening a traditional dinner will be waiting for you.
Day 7: Breakfast in the morning and lunch in the afternoon (if you started your week with a dinner). After the check-out you will get back home with hopefully a full luggage of incredible experiences and amazing memories.
Minimum 4 people max 10.
Show Jumping/Allroundprogram
On Allround program you will receive 12 lessons (60 min. each) if you stay a week, or six lessons if it is a long weekend. You can choose flatwork / jumping, alternatively, you can mix outdoor rides with dressage and flatwork. You will also have the chance to practice lunging or learn to drive a horse & cart.
What is so great is that you decide for yourself along with the staff what it is that you want to do. During the Allround Weekend programme you can have max. 2 jumping lessons (up to 60 cm) and during the Allround Week Programme you can have max. 4 jumping lessons (up to 60 cm). One carriage lesson (1 hour) is equal to two standard riding sessions. 1 hour riding out is equal to 1 standard riding session. Max. 7 persons per group.
If you would like to focus only on jumping lessons you can choose Show Jumping Weekend (5 show jumping lessons) or Show Jumping Week (10 show jumping lessons). You also choose if you like show jumping up to 60 cm or 100 cm. Max. 4-5 persons per group.
If there is bad weather there is an indoor riding arena 60x25 m.
New Year

To welcome the New Year at a can never be wrong. With the combination of nice horses you will have a great time. Everyone are welcome, even those who don't ride. In Poland you will have an exclusive new year celabration with everything nice organized.

In the after noon you will first relax in the Russian Banya and then go with sleigh to a open bonfire. Then you will enjoy a delicious dinner and a buffé of cakes. You will then celebrate the new year at the big party where it is open bar and professional DJ!
6 nights, full board, 10 lessons
Climate
A northern European Summer. However, take too much rather than too little clothing. April and October 10-15 C degrees (50-60 F). May, June and September are often sunny and 15-30 degrees (60-86 F). July and August 20-30 (68-86 F) degrees.



Travel Information
Ability description:
Trail ride: Outdoor Riding level 2-3 >>
All-round programs: Jumping level 1-4 >> Dressage level 1-3>>

Included in the price: Accomodation and riding mentioned in the different programs. Full board (exkl. drinks).
Not included: Flights, transfers, insurance, drinks and extras not mentioned.
Travel: Book flight/rental car >>
Flight: to Gdansk.
Boat: You can also take the a car ferry to Gdansk, from where it is about 130 km (80 miles) to the riding center.
More detailed information is available in the travel confirmation you receive after booking.

Transfer: Book in advance with HorseXplore and pay on spot to the riding center.
From Gdansk airport or harbour about 185 km (115 miles), about 3 hours drive.
Price 2018: 1-3 persons 125 EUR/taxi/one way. 4-8 persons 190 EUR/bus/one way.
Price 2019: 1-3 persons 140 EUR/taxi/one way. 4-8 persons 190 EUR/bus/one way.
Train: If you want you can take taxi or light train to Gdansk train station and then take the train to Olsztyn which is closest to the riding center. You have train times on http://rozklad-pkp.pl/en.
Price: Transfer from train station in Olsztyn to riding center, approx. 75 EUR/car/one way.

Arrivals: Weekend programs - Advisable to get to the equestrian center between 3:00 - 5:00 PM on the arrival day to ride first class in the afternoon. Departure on Sunday after lunch about noon.
Weekly programs - Arrival time is suitable in the afternoon / evening on the day of arrival and departure after breakfast on departure day.
Season: High season: May - September Low season: October - April
Single room: Can be booked with a supplement. For price click on "Book on request" under Dates & prices. If you are willing to share room, you will not have to pay a supplement if you are allocated a single room. In low season (october-april) there is no single room supplement.
Currency: Polish currency, Zloty (PLN).
Credit card: The riding centre accept credit card.
Tipping: Not required but appreciated.
Wifi: There is free WiFi in the rooms.
Electricity jack: EU standard
Group size: Allround program minimum 1, maximum 10 riders. Trail ride minimum 4 participants.
Age limit: None. There are ponies to ride for children from 4 years old.
Child discount: Children up to 12 years recieve 20% discount. Non riding children, 50% discount.
Closest village: Bartoszyce is about 10 km from the riding center with restaurants, ATM and pubs.
Beach: About 20 km away.
Pool: 20 km away in the city Lidzbark Warminski there are hot springs.
Misc.:
Riding equipment to borrow: Helmet
Saddle bag available: Yes
Special diet: Inform when booking.