Portugal, Porto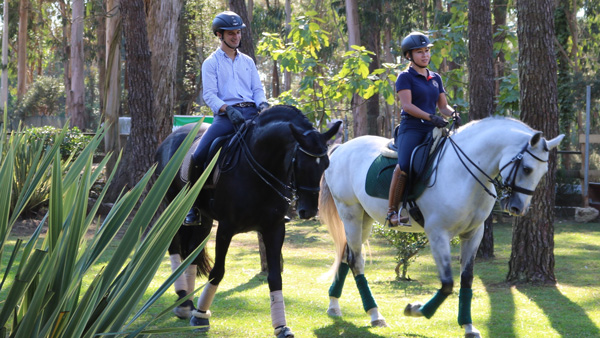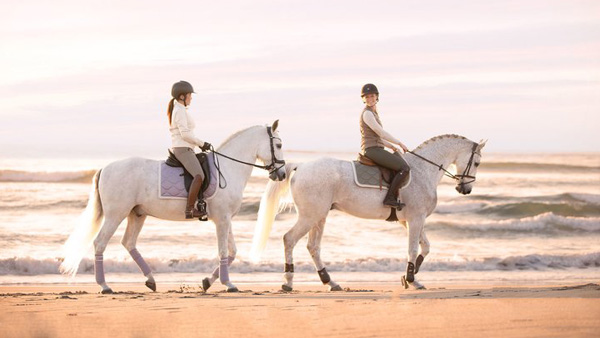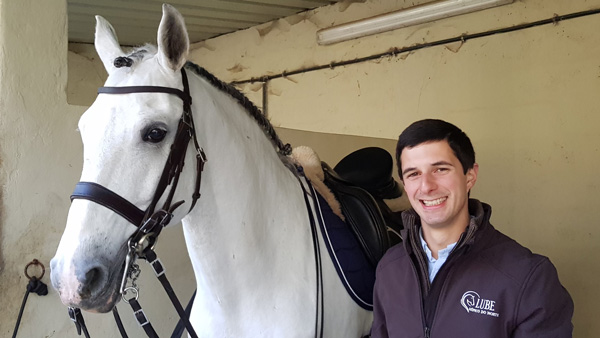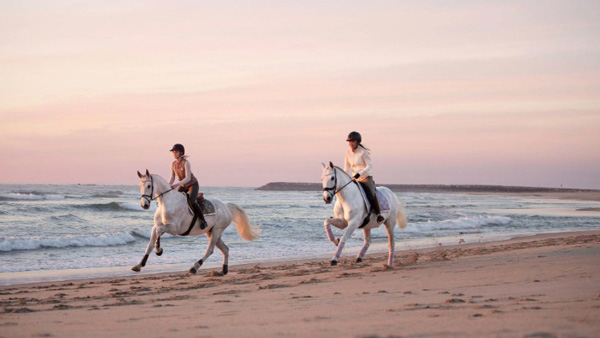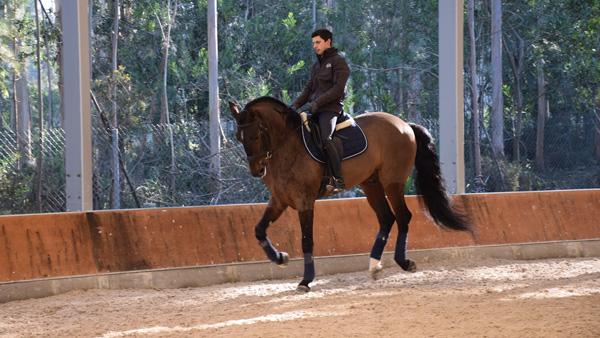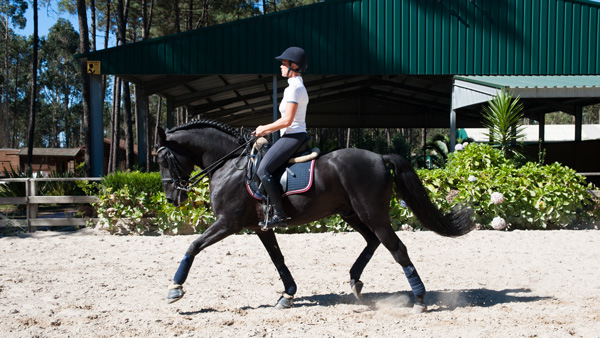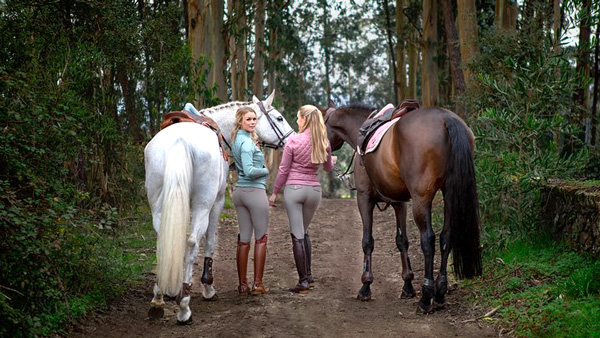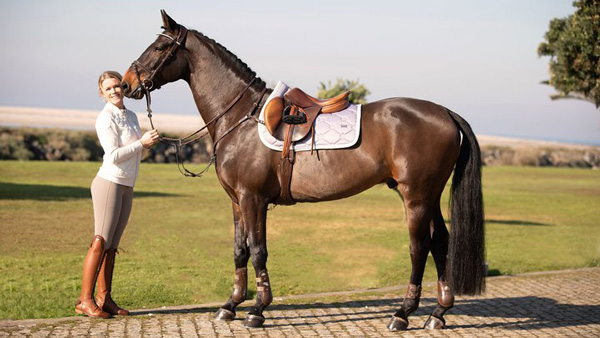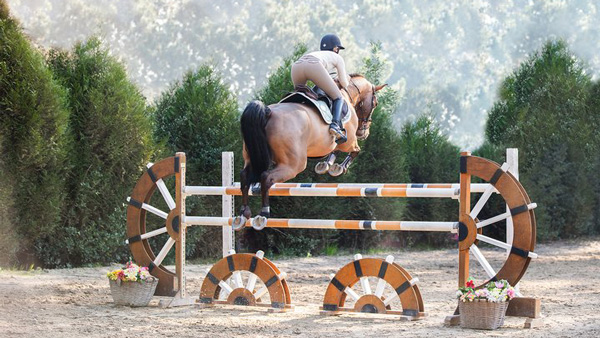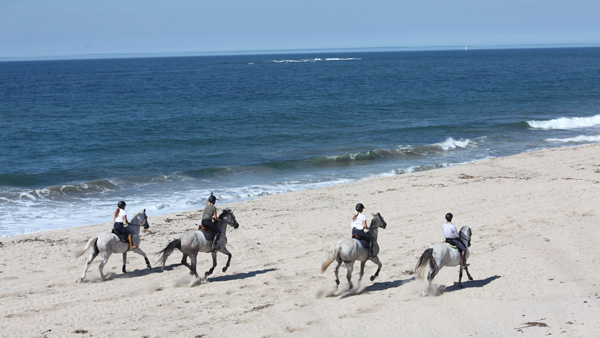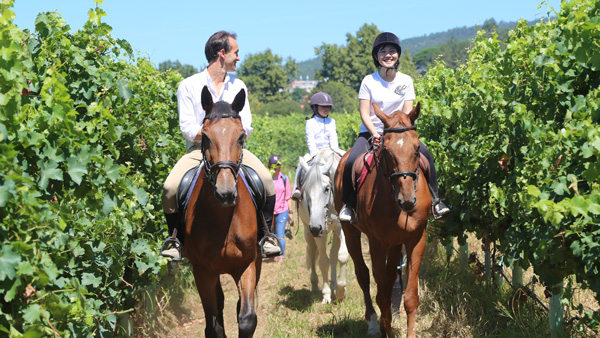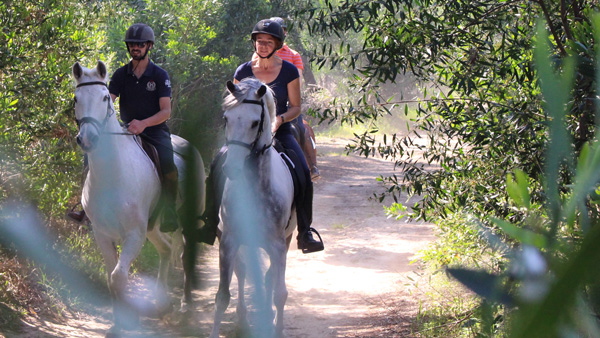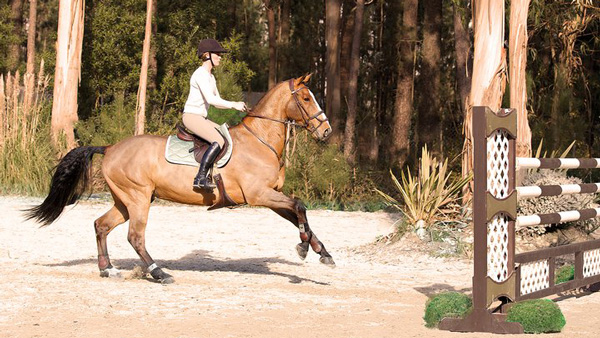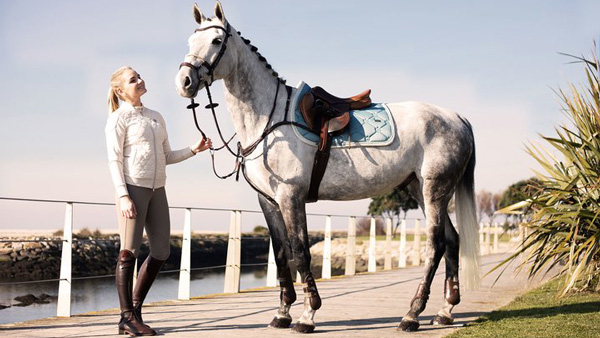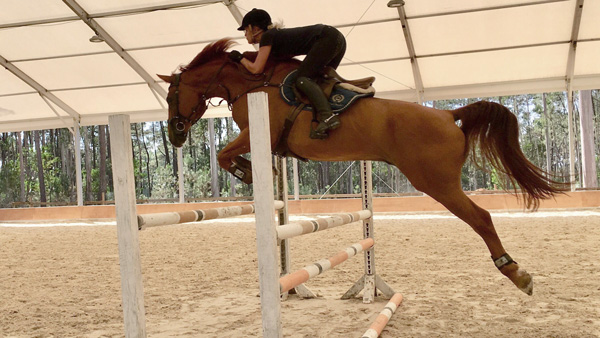 Whether interested in improving your dressage or show jumping skills through professional instruction, or wanting to experience this breathtaking part of the country on horseback, you´ve found the right place. The equestrian centre caters to your every need and ensures top quality training through a highly professional international team. Thanks to there ideal geographical position they also offer some of the most spectacular trail rides in the country; either along the beaches of the stunning Atlantic coast line or through the magnificent Gerês National Park. Here you can really get the complete equestrian experience!
Ensuring that you will get the absolute most out of your time spent here the two owners Bruno and João (who are both former professional show jumpers) have put together an international team of top instructors and support staff offering lessons in English, Portuguese and Swedish/Norwegian.
Accommodation & Food

The hotel is an extensive beach front hotel situated between the ocean with it's golden sandy beaches and the clear waters of the Cávado River.

The hotel consists modern rooms and suites, all of which are equipped with a complete bathroom, air conditioning, Satellite TV, direct dial phone, Mini bar and balcony. The Restaurant reveals a spectacular panoramic view over the beach and Atlantic Ocean or the river.

You will enjoy the big breakfast buffet at the hotel, then you will get picked up and driven the short distance to the riding centre. After the riding you´ll have lunch at different restaurants together with someone from the staff.
You can either have dinner at the hotel (not included in the price) or take a short drive with a taxi to the restaurant of your choice, there are quite a few nice ones to choose from.
Program Training holidays
There are 2 different programmes for Training Holidays according to the intensity and number of lessons per day, Standard and Intensive program.
A great way to improve your riding skills with amazing horses and professional instructors.
Standard program can be booked in either dressage or show jumping. The show jumping clinic will alternate flatwork and jumping tuition. If you prefer we can offer a combination of both dressage and jumping (allroundprogram).
Daily programme Standard
Day 1 - Depending on the arrival of your flight you will visit the centre facilities on the first day and after you will have time to settle into your hotel and relax.
Day 2-5- Second day in the morning you will begin your five day programme. The centre is only three minutes by car from the hotel and we provide transport for this at any time.
The Standard programme offers a five day clinic that includes 10 lessons. This will be two lessons per day, generally given in the morning, allowing you to have your afternoons free. There will be a maximum of two riders per lesson so we can ensure you receive the highest level of tuition. Each day there will be time to discuss your progress and you may choose to change your instructor and intensity of the lesson at any time.
You can also exchange lessons for trail rides if you wish.
Intensive programme 10 days
For those of you who enjoy competing, there is the Intensive programme. This includes 20 lessons over 10 days, with the option to participate in a competition, held during the middle of your stay.
Participation in the event is entirely optional, you may wish only to observe and enjoy the atmosphere of the competition, the decision will be yours to make.
Weekend programme
The weekend program includes 5 lessons. Arrival Thursdays approx. 14.00 for a first lesson, depart Sunday after breakfast. If you come in the evening on Thursday you can ride the last lesson on Sunday morning instead.

1. Dressage. Your training will be based after your prior knowledge and preferences. Normally, you train seat and grounds and detachment movements such as shoulder in, travers, leg yielding, etc. And depending on how it goes, it is possible to practice more advanced moves such as pirouettes, flying changes, piaffe and passage. Teaching is 2 people per lesson.
If you want to get the most out of your stay you can pay a supplement and book only private lessons.

2. Jumping. Your training will be based after your prior knowledge and preferences. There will be flatwork with low jumps and the level of difficulty will be increased gradually with more obstacles, changed distances and series. The group may be up to 2 riders.

3. All-round. If you want to practise both dressage and jumping select this program.
An insurance against personal accidents is also included in the price of the program. You can of course start your programme on any day of the week, according to availability.
We are also happy to organise any extra sport or cultural activities you may wish to do.
Features:
2 Lessons / Day
3-5-10 Days Riding |3 Nights | 6 Nights | 12 Nights
Classical Dressage, Show Jumping or combined training
High performance instructors (English speaking)
From beginners to advanced riders, divided in groups according to prior knowledge
Maximum number of riders per lesson: 2
Dressage Horses up to Prix St. Georges Level
Show Jumping Horses up to 1.25m
Rider weight limit: 95kg
Half-Board Accommodation: Hotel
Included Services: Transfers to/from hotel, morning snacks & soft drinks, individual locker, free Wi-Fi, horse equipment, programme supervisor
Program Countryside rides & lessons
The Trail Rides will take you through a variety of scenes such as galloping along the Atlantic Coast, Wine tasting during the vineyard trail, breathtaking views of the Gerês National Park and experience the true beauty of the Barcelos Forest and Mountain Trail.
There are 3 different trails:
Vineyard Trail with winetasting
Beach Ride
Geres National park Trail
Week program
Day 1: Arrival
Day 2: lesson + trail ride
Day 3: lesson + trail ride
Day 4: lesson
Day 5: lesson
Day 6: lesson + trail ride
Day 7: Departure

Weekend
Day 1: Arrival
Day 2: lesson + trail ride
Day 3: lesson + trail ride
Day 4: Departure
The trail rides are approximately 1.5-2 hours and depart from the second riding centre which is about 15 minutes drive from the hotel. International show jumping competitions are held here, and riding school activities and therapy are conducted for a nearby nursing home. From the riding centre you and the horses will be transported to the start of the various trails. It can be between 10-45 minutes drive.
Features:
Weekend: 2 lessons and 2 trail rides
Week: 5 lessons and 3 trail rides
All levels of riders
High performance instructors (english speaking)
Half-Board Accommodation: Hotel
Sport, Cultural & Leisure extra activities to be selected
Included Services: Transfers to/from hotel, morning snacks & soft drinks, individual locker, free wi-fi.
Group Size: Maximum 12
This program is ideal for families and groups but individual explorers are also very welcome.
All levels of riders are welcome. Beginners and experienced riders are divided in different groups in order for everyone to get a fun and safe experience.

Horses
There is a wide selection of horses available for both dressage and show jumping. For dressage there are mainly beautiful Lusitano horses educated up to St George level, and in the jumping there are a variety of Portuguese, Dutch, French and German warmbloods jumping up to 1.25 m level. All of the horses are ridden with English tack.
There are also lot´s of horses available for the trail programs including one 12.2 pony and three 14.2 ponies.
To guarantee your satisfaction during your stay, it is of utmost importance to match the right rider with the right horse / horses. Horses and riders will be matched based on information that you have sent in to HorseXplore a couple of weeks ahead of your departure, and from an initial one-on-one session with your instructor where you can discuss your previous experiences, as well as your goals for your stay, in order to find the perfect horse for you!
The two riding centres are both owned and managed by the two brothers Bruno and Joao, with their extensive experience at the top level of the sport, has created facilities to accommodate riders at all levels.
Being a reference riding centre for the north of Portugal, they are proud to have some of the best riders in the country choosing there equestrian centre as their base, giving your equestrian holidays just that extra touch of professionalism!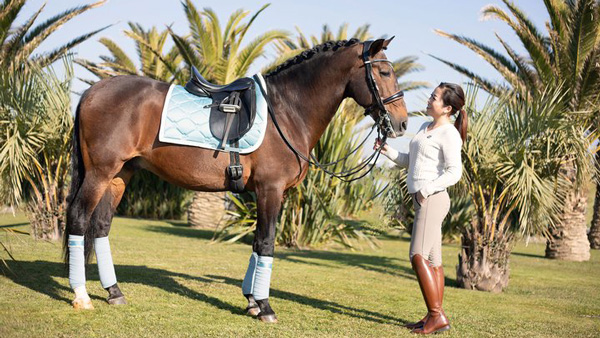 Sport, adventure and cultural excursions
Here are some examples of activities that the riding centre can organize for you.
Canyoning, 5 hours, approx.120 EUR, (50 minutes from hotel)
Wine cellars and boat trip in Douro, including Cellars Visit, Port Wine Tasting, Boat Trip, Riverside Walking. 3 hours, approx 80 EUR, (35 minutes from hotel)
Porto Cultural Tour; City Center Tour, Stock Exchange Palace, Clérigos Church and Riverside Walking, 4 hours, approx 75 EUR (35 minutes from hotel)
Kitesurf, 3 hours, approx. 90 EUR (3 minutes from hotel)
2 golf courses within a short distance (9 and 18 holes).
Porto & Esposende
The city of Porto is best known for two things: its river, The Douro, and its port. But the historic city itself should not be overlooked. One of the oldest cities in Europe, Porto's UNESCO world heritage site ,the Ribeira (riverfront district) , is a remarkable tangle of historic streets and alleys. The traditional barcos rabelos (flat-bottomed boats) bob at the foot of the pretty hillside, down which medieval buildings, Rococo façades and Gothic churches tumble.
When the 15th-century caravels of empire weighed anchor in Porto on their way to go conquer Africa, the city's inhabitants gave up all their available meat, leaving themselves with nothing but offal. Hence' tripeiros' ( Tripe people ). Amid the haphazard beauty of Porto's old city, the people display a rare sense of hospitality. "They say that in Lisbon if you can't find somewhere, they will tell you once. But in Porto, they will take you there."
As with Lisbon, it's hard not to like Porto A large city, maybe, but it's also a beguiling one, with a lengthy history – it was known in Roman times as Portus Cale (the "sheltered port"). However, there the comparison with the capital ends: as the saying goes: "Coimbra studies, Braga prays, Lisbon shows off and Porto works".
The prosperous business core is surrounded by a labyrinth of cramped streets, ancient alleys and antiquated shops. But since 2001, when Porto was declared European City of Culture, many of the city's streets and squares have been reconstructed and historic buildings restored, particularly in the riverside bairro of Ribeira ,where the waterfront cafés and many restaurants are an obvious attraction. The various river cruises are the best way to see the city's famous bridges – there are five more besides the landmark Ponte Dom Luís I, notably the Ponte do Infante, whose central 280-metre reinforced concrete arch is the world's longest, and further east upriver, Gustave Eiffel's iron railway bridge, Ponte Dona Maria Pia. For many, though, it is the port wine trade that defines the city, with its centre of operations at Vila Nova de Gaia , on the south bank of the river, the home of the famous port wine lodges.
Esposende, like many small towns in Portugal, has a long and ancient history. There is much archaeological evidence of this time – from stone age through to the Roman occupation, although you might not see very much today. The town has been important as it is strategically situated between Oporto to the south and Vigo, in Spain, to the north. Esposende has a long maritime tradition and people from Esposende were amongst the first to cross the Atlantic to Brazil and return to Portugal as "Brazileiros de torna viagem" – literally meaning, Brazilians make the trip!
Nowadays, you are more likely to find and enjoy the various small town squares with their cafes and the stunning sandy beaches – which have long been appreciated by Portuguese holiday-makers and today are being increasingly appreciated by foreign tourists. To the north of the town is the nature reserve – The Natural Park of the North Coast – a large area covering some 1,200 hectares and famous for its wetland areas and beautiful coastal sand dunes. It was the need to protect these magnificent sand dunes, that led to the creation of the protected area you see today. During the migration period of spring and autumn this becomes a prime spot for bird watching. Further inland, lush pine forests surround the town.
Esposende offers a wealth of activities and culture all year round for non riding partners and families, with many traditional restaurants famous for their seafood, bars and café's offering good food and live music, its easy to find something to do in the evenings.
Travel Information
Ability Description: Showjumping level 2-5>> Dressage level 1-5>> Trail ride: Outdoor Riding level 1-3 >>
Included in the price:
Weekly program: 6 nights, 5 days riding (for details see separate program), half board, wine for lunch, daily transfer return hotel – riding centre. For price click on "book on request" under Dates & prices.
Weekend program: 3 nights, 2-3 days riding (for details see separate program), wine for lunch, daily transfer return hotel – riding centre. For price click on "book on request" under Dates & prices.
Competition program: 12 nights (20 lessons), wine for lunch, daily transfer return hotel – riding centre. For price click on "book on request" under Dates & prices.

Not included: Travel to and from Portugal, transfer return airport, dinner.
Travel: Closest airport is Porto airport.

Transfers: Book in advance with HorseXplore and pay on spot.
From: Porto Airport, about 20 minutes.
Price: 1-3 people: 40 EUR/car return, 4-6: 60 EUR/car return.
During your stay you will be driven to and from the hotel whenever you want.

Rental Car: If you want to explore the surroundings on your own, we recommend a rental car.

Arrival / departure:
Weekly program: Arrive on Sundays during afternoon/evening, check in from 2.00 pm, departure the following Saturday after breakfast (before 11 am).
Weekend trainingprogram: Arrive Thursdays around 2.00 pm for a first lesson, departure Sundays after breakfast (before 11 am). If you have a late arrival on Thursday you can ride the last lesson on Sunday morning instead, then you can use the shower in the clubhouse.
Weekend Hacking & lessons: Arrive Thursdays after 2.00 pm, departure Sundays after breakfast (before 11 am).
12 night programme: Arrive on Sundays during afternoon/evening, check in from 2.00 pm, departure the last day after breakfast (before 11 am).

Optional arrival/departure: You can choose another arrival and departure day, just mail us on info@horsexplore.com

Return Guest Discount: Riders who book consecutive years, 100 EUR for weekly program. Also applicable for riders who book two weekly program during the same year. (for the 2nd)
Children discount: Riders under 14 years old, 150 EUR discount for the weekly program.
Group discount: A group of 6 riders get 500 EUR discount/group.

Weight limit: 95 kilos

Age limit: 6 years, non riders no age limit.

Group Size: Minimum 1 and maximum 6 riders (trail program maximum 12 riders)

Single rooms: Can be booked with a supplement. For price click on "Book on request" under Dates & prices. If there is no one to share a room with, a single supplement will apply.

Currency: EUR

Credit card: Accepted at the hotel.

Tipping: Not required but appreciated.

Wifi:Yes

Electricity jack: EU standard

Beach: Beach front hotel

Pool: Yes, open May – October

Closest village: Esposende

Misc.:
Riding equipment to borrow: Helmets to borrow.
Special diet: Inform when booking.