Italy, Molise - Majella Trail Ride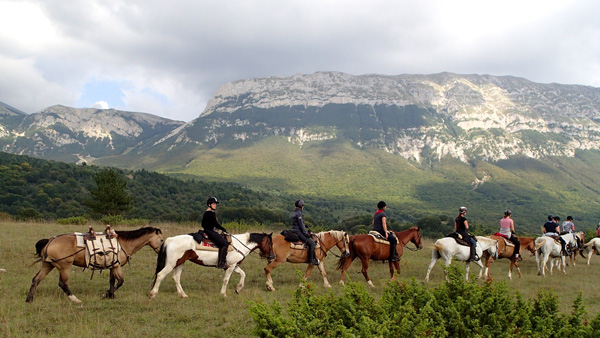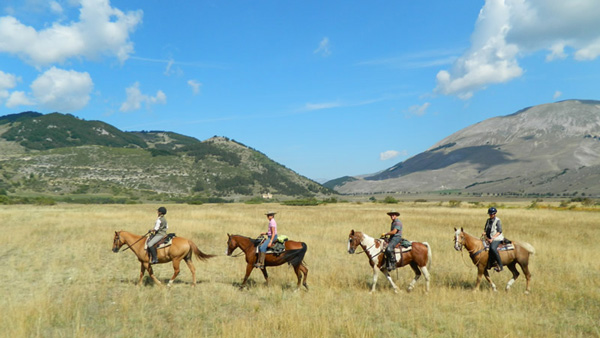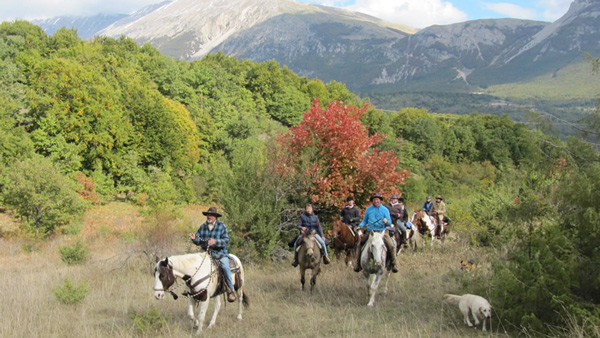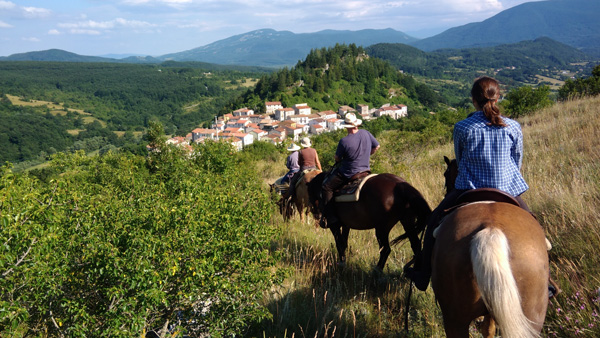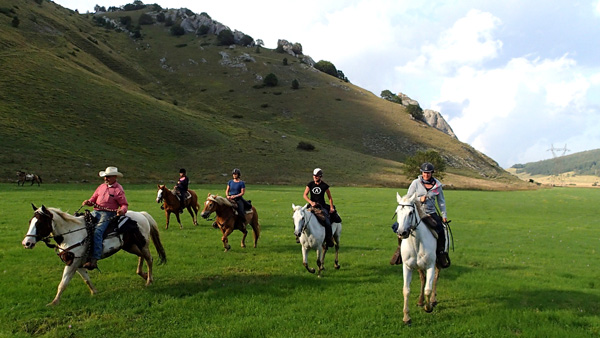 Trek through "Parco Nazionale della Majella" This National Park is the eighth so-called Pan Park in Europe. It is protected by WWF. You will ride through increasingly high mountains and large stretches of valley. On the tablelands many canters will be made. The national park is centered on the Majella massif, whose highest peak is Monte Amaro (2,793 m).
7 nights, 5 ½ days ridning (6 -8 hours per day). Min. 6 persons and max. 8-10.
Program
Preliminary day-by-day program
Saturday
You are expected to arrive on Saturday evening at the farmhouse. After a welcome drink there will be dinner with your host/guide. A three-course Italian dinner will be served every night, accompanied by local wines.
Sunday
The morning is yours. You may sleep late, take your time over breakfast, do whatever you like. Before lunch there is a safety-briefing. Then we groom and saddle up the horses, followed by a short demonstration in western riding. After lunch we do a test-ride (3 hours) to enable you to get acquainted with the horse you are going to ride on the trek. In the evening we visit the new riding centre inclusive Bistro from our host which is close by and looking forward for having a fresh prepared dinner.
Monday
You ride through large stretches of woods and fields and eventually stop for a picnic at an idyllic spot. After lunch you pass the remains of a Samnitic temple. The Samnites were the original population of Molise. It took the Romans three centuries of warfare before they finally conquered this region, which then became part of the Roman Empire (79 B.C.). Later you stop at a high hill from where you can see the Majella. Then you reach Montedimezzo. It is a old hunting lodge and belonged to the King Family Bourbons. Today it is a Museum. The surrounding forest is protected by UNESCO. Worldwide the organisation protect 256 forests. Four of these forests are in Italy and two of them in Molise. Todays ride ends here and you enjoy a nice drink. Meanwhile the horses get load on truck and will be brought to Pietransieri. A town where you follow by car after the break. In Christian's riding centre the horses get well cared like you! You sleep in a hotel few hundred meter away.
Tuesday
Today's destination is the small town of Pescocostanzo. The trail takes you through increasingly high mountains. From there you have a good view back to the hills of Molise. Up on the pass you stop for a picnic at the Pietra Cernaia, a viewpoint which shows now a completely different Panorama. You can see Pescocostanzo. The village is about 4500 feet above sea level and directly on the steep slopes of the Majella Mountain which alternate with high plains pastures where you can have some nice canters before arriving in the stable for the horses. Having spent about 6 hours on horseback you are bound to be longing for a drink and fortunately Pescocostanzo has a nice square with several bars and restaurants. Taking a walk in this picturesque medieval town is pleasant for everyone and a must for those who are interested in architecture. You are staying at a small and cosy hotel. Dinner is at a restaurant.
Wednesday
The National Park Majella (75.000 acres) is one of the biggest in Italy. It is a so-called Pan Park, which means that it is protected by WWF. Here are 30 Mountains over 6500 feet. Today there will be a 6 hours' ride in surrounding highlands. It's expected that you will be able to have nice canters here. The night will be spent at the same hotel. Dinner, however, is at a different restaurant.
Thursday
This is going to be a demanding day spending about 7 hours in the saddle. You leave the Parco Nationale della Majella and riding by the Parco Nationale della d Abruzzo. The first part of the trail takes you upwards towards a large valley. Here on this plateau you can canter, canter and canter until you reach the picnicplace. After passing a forest and in the end you will get surprised with a wonderful view. The next stretch is a long road, leading us down and down again. Part of that road must be covered on foot! In the early evening you finally reach the destination. After leaving the horses in a paddock you go to Sandra riding centre were you have dinner and spend the next two nights at her comfortable Hotel.
Friday
Your last ride starts with passing the town Alfedena. You ride close to the border of the two regions Abruzzo and Molise. The Mountain Mainarde in front of you is coming closer and closer. On the Valle Fiorita you enjoy a picnic break. On this day, you and also the horses stay at Sandra's riding centre where you can reflect over the week and spending a cosy evening with Pizza!
Saturday
Departure after breakfast from Alfedena to Isernia. Transferkost 25 EUR/person.
N.B. Due to weather or other unforeseen circumstances the programme may have to be adapted.