Turkey - Cappadocia Trail Ride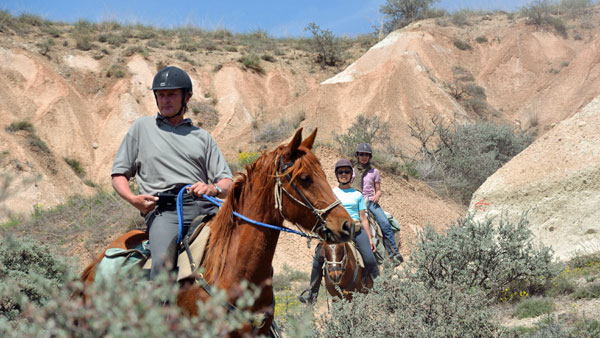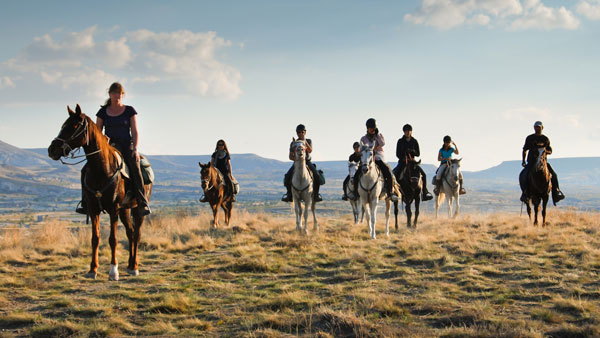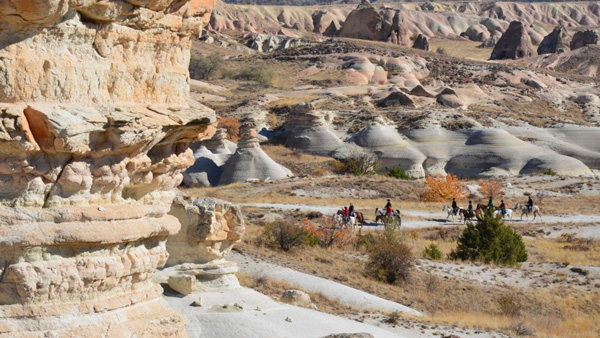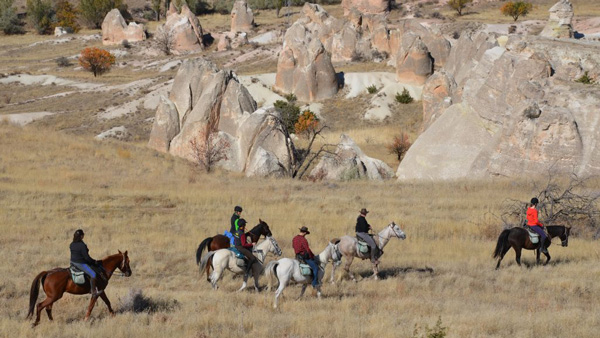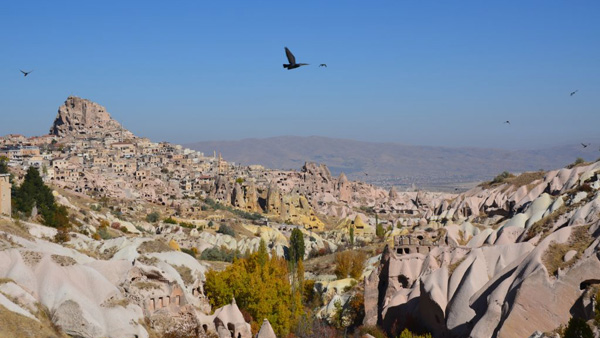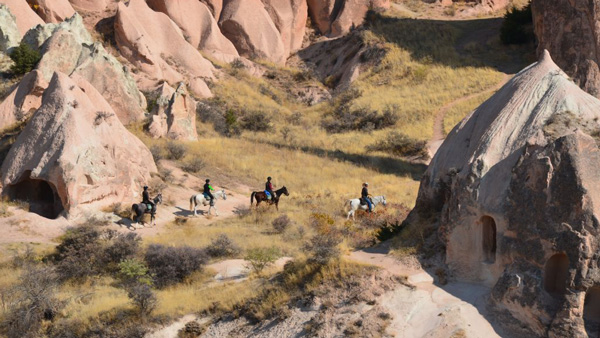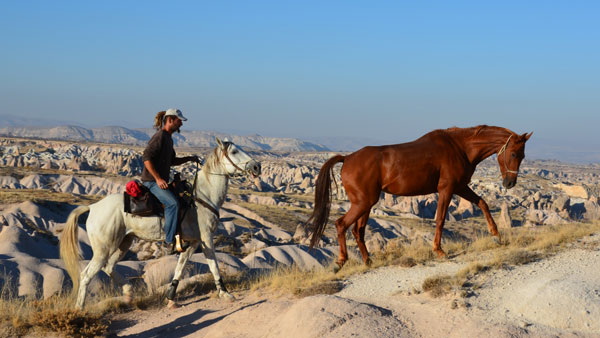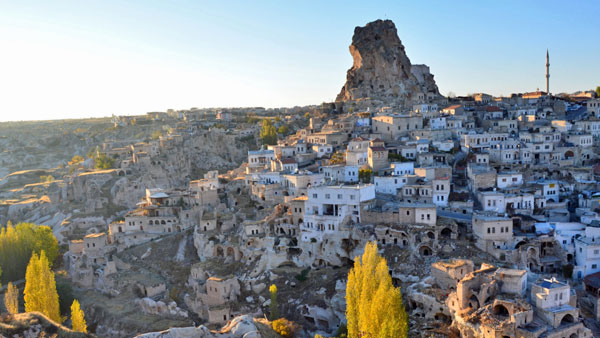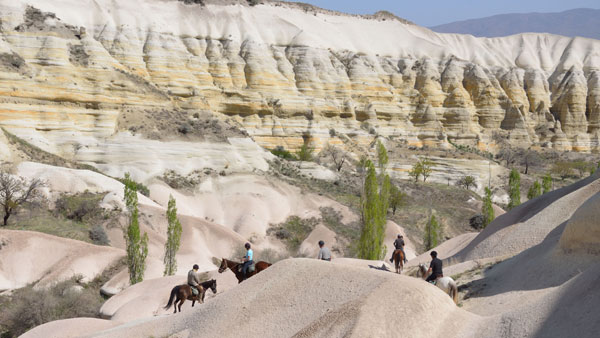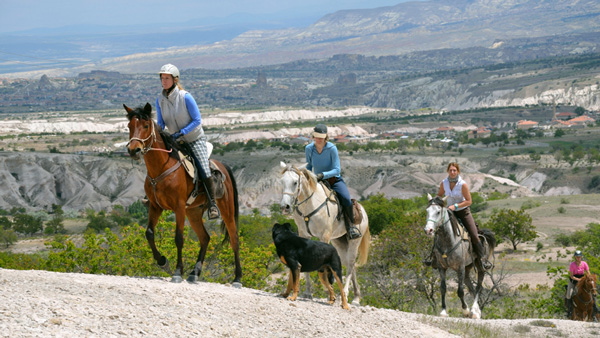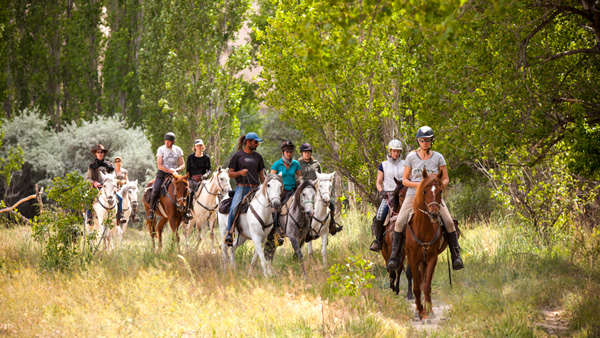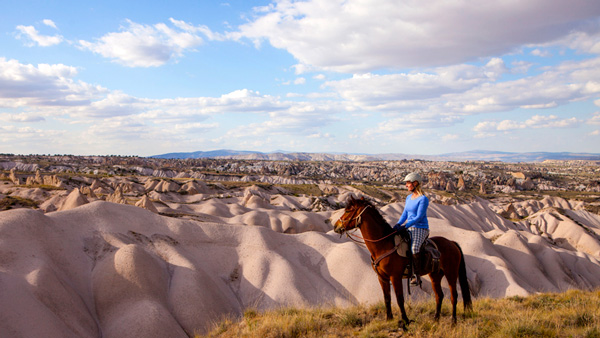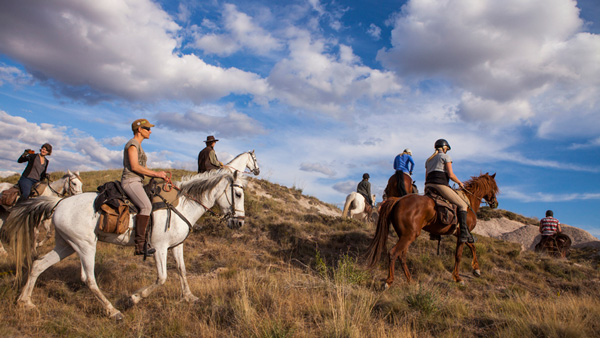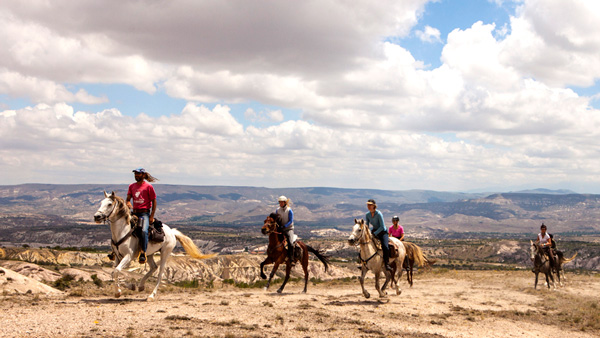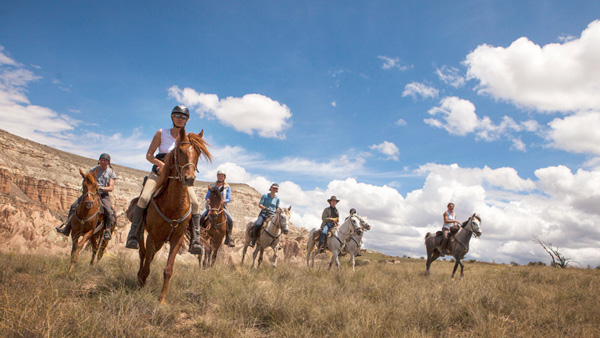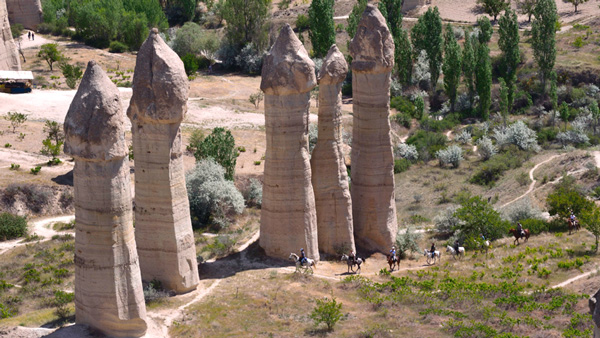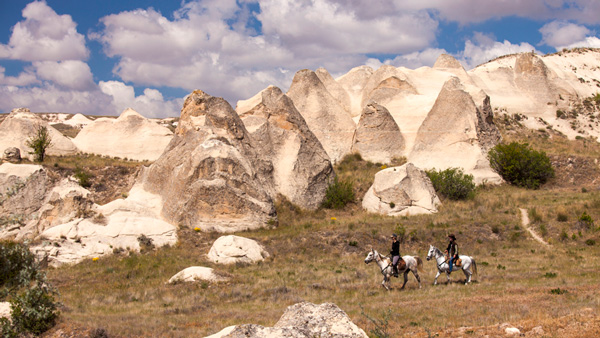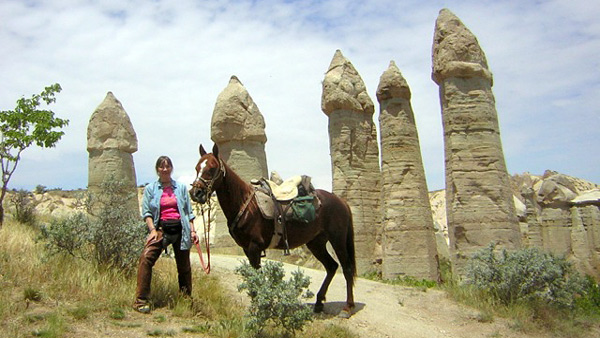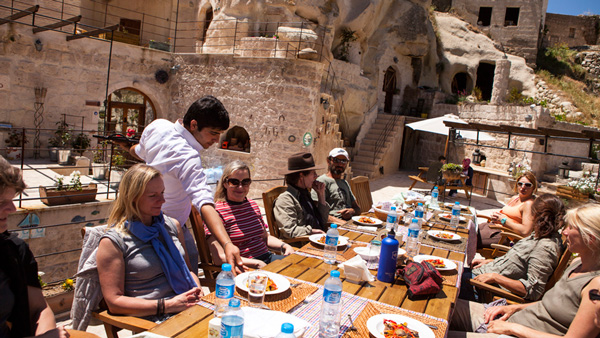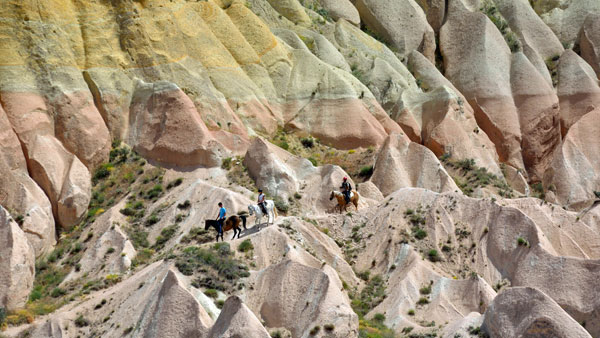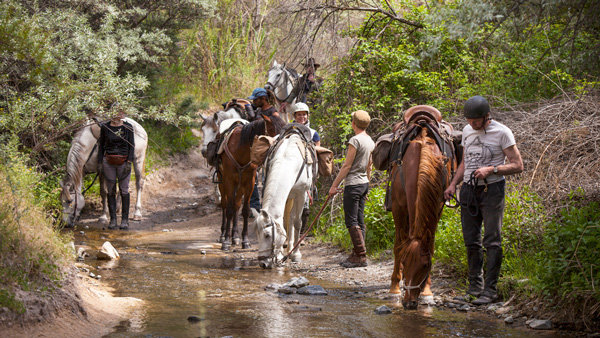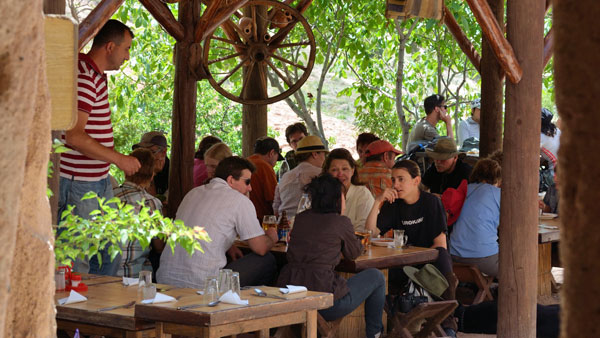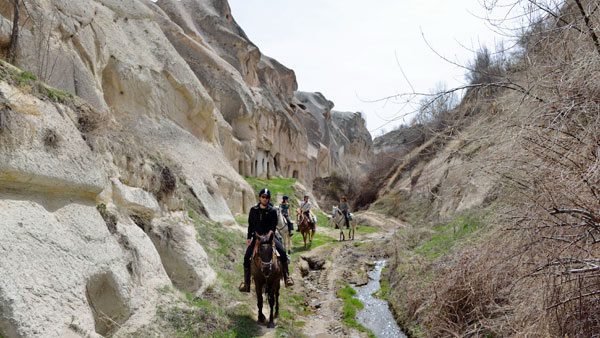 Cappadocia, or "land of the beautiful horses" as it is called in Old Persian, includes the Göreme Valley, Ürgüp and its surrounds. It is one of the most mysterious and stunning landscapes in the world, and has even been the backdrop to one of the Star Wars' movies. Time, wind and weather have shaped the almost sensual curves of this once-volcanic region and the rounded peaks and pinnacles are known today as "fairy chimneys". Cappadocia is unique, and is listed on UNESCO's World Heritage List.
The ranch is located in the heart of the National Park and is a perfect starting point to explore the famous Cappadocia Valley. French-born Nicolas discovered Cappadocia when he first went there as a film producer. After having travelled and ridden a lot in Asia, including Afghanistan and Turkey, he moved here nine years ago to realize his dream and since then has organized trekking in the area. He speaks English, French and Turkish. Nicolas is an open and soft-spoken person, but if you ask him a question, he can talk for hours about horses, Turkey, and the history of the area ... Nicolas and his girlfriend Hélène share their home with 25 horses, dogs, cats, goats, geese and one donkey.
Accommodation and Food
In Cappadocia - guesthouse trail you will stay 7 nights at family-run guesthouses which is typical for the area (stone houses, cave houses, Ottoman and Greek style). During the week, you will stay in 4 different guesthouses, in Cappadocia's most beautiful villages. Double rooms with ensuite shower / toilet. Most offer free Internet access and a laundry service.
In Cappadocia - comfort trail you will stay 6 nights at family-run guesthouses which is typical for the area (stone houses, cave houses, Ottoman and Greek style). During the week, you will stay in 3 different guesthouses in double room with ensuite shower/toilet. It is possible to upgrade to delux room (approx 400 EUR/week). Hotels are very close to each other, so dinners will be taken together. Breakfasts will be in the hotels where the riders sleep. Contact us if you like to upgrade.
Turkey is known for its kebabs, mezes (different kinds of side dishes) and also and the use of vegetables and fish. Central Anatolia is well known for its Manti and Gozleme, delicious pastries filled with spinach and cheese and other tasty fillings. Breakfast is typically continental. Most days you will ride to a local restaurant for lunch, and some days you will enjoy a picnic. Dinner usually consists of an appetizer, one or two main courses and a dessert. Vegetarians can be catered for but please notify us before departure. Water, tea and coffee are included. Local wine, beer and other beverages are available and you pay locally.
Program Cappadocia Trail Ride - guesthouse
You ride 6 days, about 5-6 hours / day. About 35 km / day on varied grounds. Pace is walk, with prevalent canters. Canters can be long (15 minutes) and technical (turn, slow down, downhill).
Riders must be in good physical condition to take part in the progressive trail. Circuit includes difficult ways where riders will be asked to dismount and lead their horses, sometimes up or down steep paths (twice 20 minutes downhill on rocky ground).
During the week, you have the chance to take a sunrise hot air balloon flight over Cappadocia's surreal landscape, as well as take side trips to the cave cities. You can also get a steam bath and massage in Ürgüp's traditional hammam (bathhouses) at the end of the week.
Tentative Itinerary (subject to change)
Sunday: Arrival at Kayseri airport. You are met by your chauffeur and transferred in 50 mn to your guesthouse in Ortahisar, where you have dinner with your guide.
Monday - You are driven to the ranch in the morning to meet your horse, and get acquainted with the riding equipment. You will have time to try your horse on a 1 km training course going around the farm. The trail begins with a one-hour riding through lush vegetation and along the stream of the Uzengi canyon. Very quickly, the first long canter brings you to Avlak mountain, with a magnificent encompassing view of Cappadocia. The rocky hills could provide the perfect background to a Western movie… Cantering on this high plateau brings us to lunch time. Olives, humous, vegetables, different cheeses, black bread, traditional yoghurt dish, Turkish black tea are served on a table, in the heart of a green tiny canyon, with the horses grazing around. The afternoon is spent riding through a huge valley where the ghost village of Karain takes place. A few more canters let us arrive to Akköy village. The horses are tied just under the hotel, and the group can enjoy a drink looking at them. The terrace of the hotel has an 180° view on the valley and the paddock is 100 m in front of the hotel.
Tuesday - We start this day by cantering through fields of the high Anatolian plateau (1600 m high) : barley, wheat, oat and beans fields. We dismount for 20 minutes of a steep single trail down to Damsa lake. Villagers cook lunch for us on a woodfire. Passing by and overlooking a valley of fairy chimneys, the afternoon scenery is made of bare hills surrounding the lake. (In case of hot weather, you can swim in the lake with your horse). You canter along tracks of soft red clay leading you to the village of Ayvali through a hidden canyon, and stop at your hotel.
Wednesday - In the morning, a quick start with a canter brings you to visit the underground village of Golgoli. Your sure-footed horse takes you off the beaten tracks along a scenic path through rock formations, vineyard and orchards, surrounded by table-mountains. Arrival in the center of the old Greek village of Mustafapasa and visit on horseback. You climb a scenic plateau where you have the opportunity to gallop your horse again. ` After a short ride, you arrive to your hotel in Ayvali. (depending on the season and weather forecast, lunch in Mustafapasa or next to the swimming pool in Ayvali)
Thursday - Leaving the hotel on horseback, you can enjoy a varied scenery of narrow tracks, small canyons, farmed land, and the wide- open spaces of Subasi, where shepherds lead their flock. You sneak your way along the lush, narrow canyon of a remote village, before galloping on large sandy tracks. Visit of a second and different type of underground village : "Kirkule". Long canter leads us through vineyards and orchards and over rolling hills of white tuffa to reach the fairy chimneys of Gomeda valley, then more fun riding awaits you in the narrow corridors and arches of the canyon of Gumuslu. You ride uphill to reach one of our best restaurants for lunch: "Babayan evi". Very good and healthy local food. From this picturesque village, you start ascending the 'twin hills' of Cappadocia to reach a panoramic viewpoint encompassing northern Cappadocia and the towering rock fortress of Uchisar. As you ride towards the village, you can admire the multicoloured rock formations of the famous Pigeon Valley, and Uchisar's picturesque fairy chimneys. Your reach your panoramic guesthouse on horseback and enjoy a drink on the terrace.
Friday - Optional hot-air balloon flight in the early morning: travel with the wind over Cappadocia's magical landscape at sunrise.
You ride through the rock tunnels, arches and small woods of the spectacular, 4 km-long canyon called the Green Valley. You make a detour through the famous Love Valley and its gigantic phallic rock formations, then into the Sword Valley and Red Valley. With its citadels of red, pink and ocre rock, and its beautiful troglodytic churches, this is Cappadocia's most spectacular ensemble of geological formations. A cave cafe located in an ancient monastery welcomes you for lunch. In the afternoon, you keep exploring the Red and Rose Valleys, then ride out into the fields, surrounded by the rocky hills of north Cappadocia. The winding paths of the Shepherd's valley take you back with a long canter to your guesthouse in Uchisar, in time to admire north Cappadocia in the sunset light.
Saturday - You enter another beautiful canyon called the White Valley, after the colour of its rock. You ride through stone labyrinths and lush vegetation, and pass the impressive fairy chimneys of yet another Love Valley ... Crossing the picturesque village of Cavusin, you dismount for a short walk to reach the plateau of Boz daha, you canter on the crest overlooking Red valley on one side and Devrent valley on the other, with its strangely shaped fairy chimneys on the other side. You enjoy more long canters through the maze of woody, sandy paths of the valley of Urgüp before reaching the valley of Pancarlik and its multicoloured rock formations, gardens and orchards. You return to the ranch in the afternoon. After tea on our terrace, you have an option to be driven to the hamam in Urgüp for a relaxing steam bath and massage. Short transfer back to your guesthouse and farewell dinner.
Sunday: After breakfast transfer to Kayseri Airport.
Horses and Riding
There are about 25 horses, Arab and Arab crosses, 150 cm (59 in) and well suited to the task. They go out with the herd year round. They are ridden with McClellan trail riding saddles. There are saddlebags for picnic lunches and personal items that you may need during the day. Weight limit for riders is 90kg (200 lbs).
You will ride, about 5-6 hours / day. You ride at a high tempo, both uphill and downhill. You will need to be in good physical condition, as you will occasionally need to dismount and lead your horse up or down steep slopes.
Comparison between Comfort- and Guest House trail
Guest house trail
Days in saddle: 6
Walking (on foot): Max 25 minutes downhill and 15 minutes uphill
Canter per day in kms: 10
Uphill during the week: 7700m (400m on foot)
Riders per group: Min. 2 max. 8
Service: Riders groom their horse. Need to mount and dismount unassisted.
Accommodation: Guest house
Comfort trail
Days in saddle: 5
Walking (on foot): Few
Canter per day in kms: 10
Uphill during the week: 4500m
Riders per group: Min. 2 max. 7
Service: Horse groomed. Groom will help riders to get in the saddle if needed
Accommodation: Guest house or upgrade to delux rooms (contact us for price).

Optional Activities
Below is an indicative list of visits, excursions and activities available in Cappadocia. Some can be done independently, while others can be arranged through us or by a local travel agent that we can recommend you.
- Hot air balloon at sunrise, a fantastic experience! (must be booked in advance)
- Visit the Göreme Open Air Museum - the region's largest concentration of frescoed churches.
- Excursion to the cave cities - these were used as shelters during the war, the bigger cities have 8 levels below ground level and there is a series of rooms, stairs and tunnels.
- Excursion to Ilhara Valley - at the foot of Hasan Dagi volcano, this long lush valley holds several shelters and several churches.
- Motor vehicle activities (jeep, scooter, ATV), mountain biking
- Discover Cappadocia's wineries and enjoy wine tasting
- Visit local craft shops and workshops: carpets, ceramics, and jewelry.
- Massage at a bathhouse in Ürgüp or Göreme.
Climate
April: The sun is back and nature comes back to life. The nights can be cool.
May: Mostly sunny and it can be quite windy.
June: The meadows are full of flowers and horses are in top form.
July: Beautiful weather !
August: Sunny and warm about 35 C degrees (95 F). Siesta is a must after lunch. Bring a hat and sunglasses.
September: Very nice late summer, the trees are laden with fruit.
October: Beautiful light and nice colors. The days are cooler and the nights are cold.
It rains on average about 29 days / year.




Travel Information
Ability description: Trail ride Level 3 >>
Included in the price:
Guesthouse: 7 nights, 6 days riding, full board incl. water, tea/coffee, transfer from/to Kayseri between 05.00 am and 10.00 pm.
Comfort: 6 nights, 5 days riding, full board incl. water, tea/coffee, transfer from/to Kayseri between 05.00 am and 10.00 pm.
Not included: Flights, insurance, optional activities, drinks and extras not mentioned.
Travel: Book flight/rental car >> We help you book your flight if you wish.
Fly to Kayseri airport (via Istanbul).
Transfer: You can order a transfer through horseXplore.
From Kayseri to equestrian center, about 50 minutes with shuttle minibus
You will be met for flights arriving between 5:00 am and 10:00 pm, we recommend arrival to Kayseri before 06.30 pm to be in time for the dinner at 08.00 pm. Transfer back to Kayseri Airport after breakfast.
Visa: Visit this page to check if you need to apply for e-Visa evisa.gov.tr/en/