Canada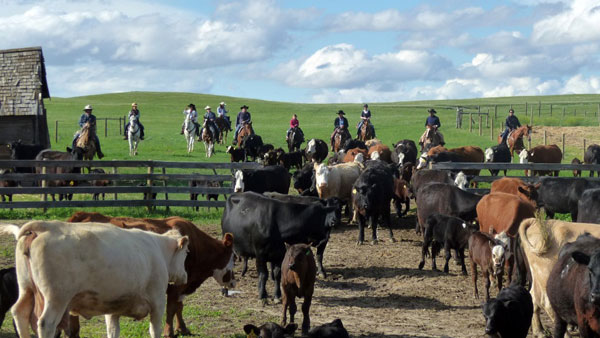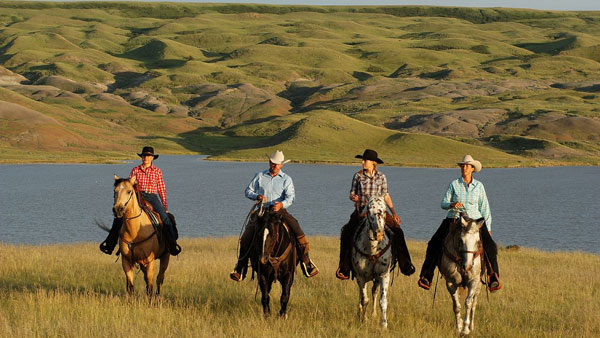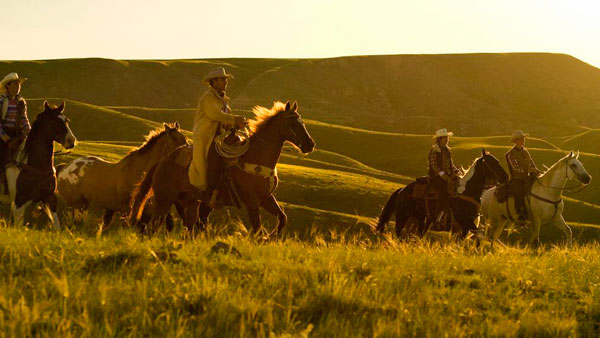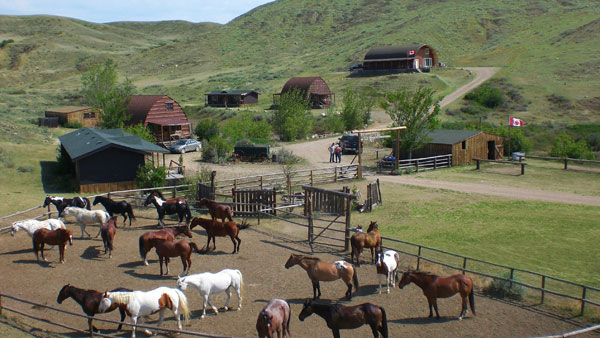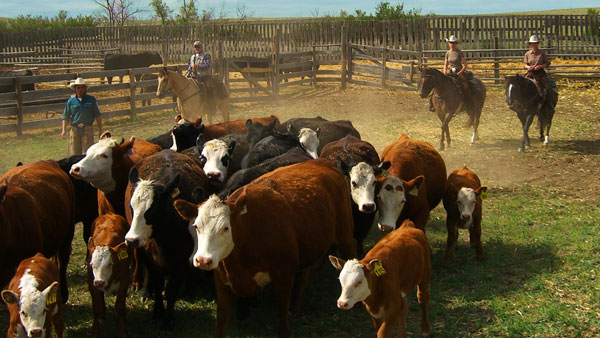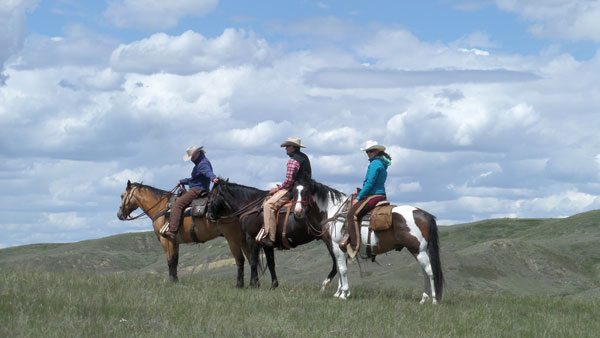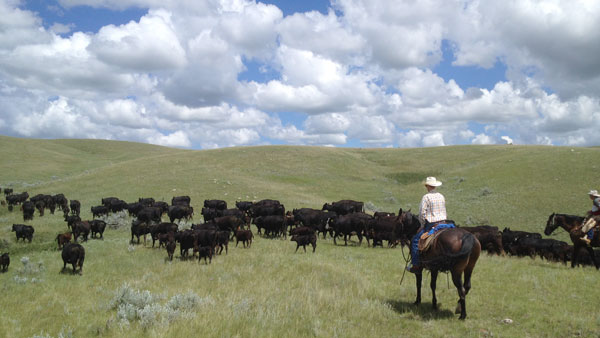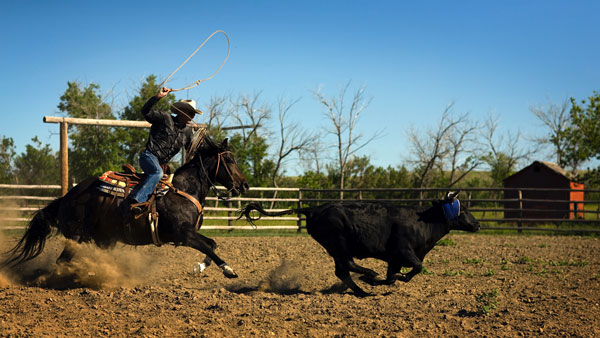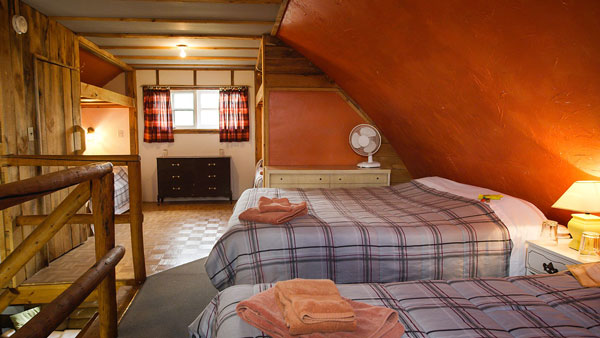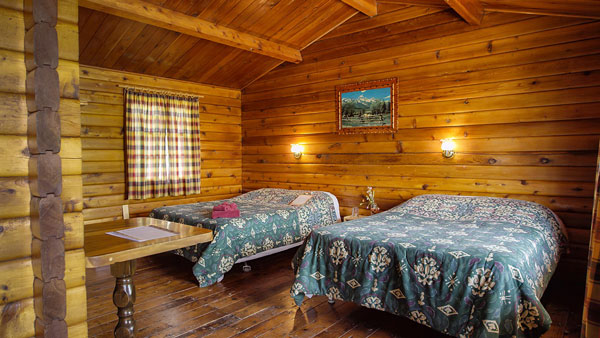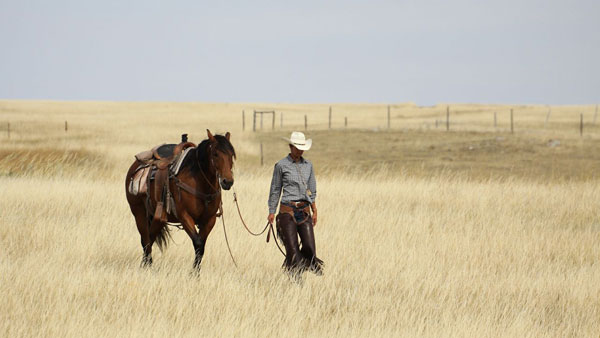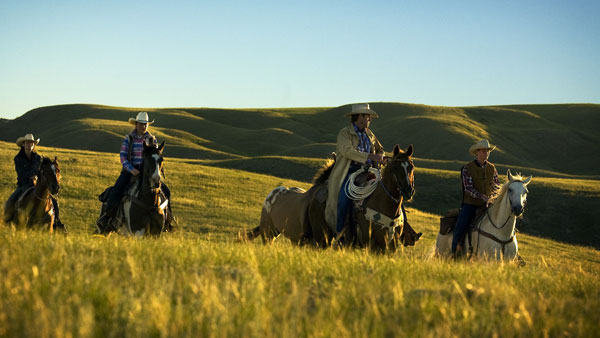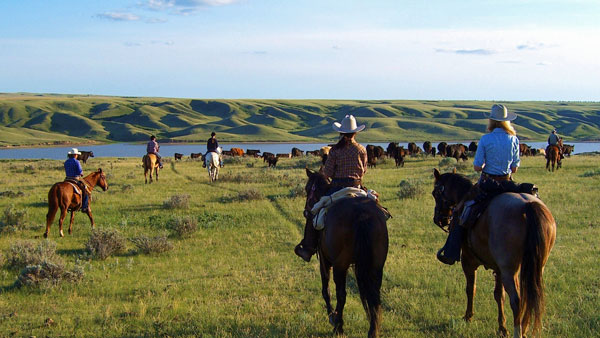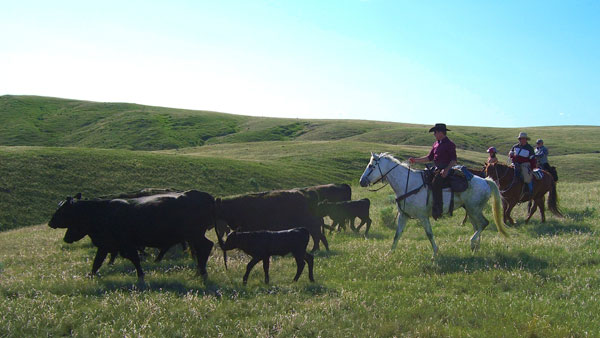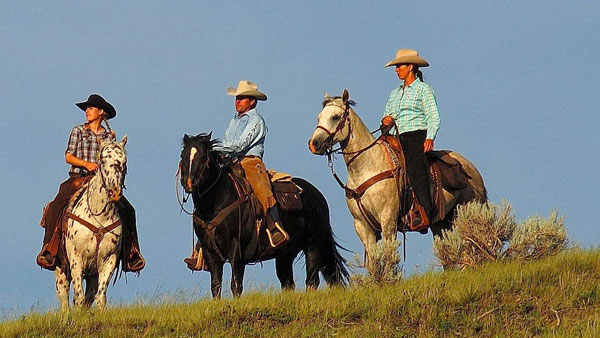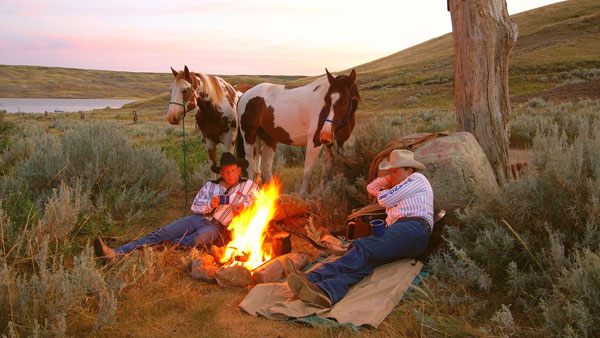 - Cowboy on a Working Guest Ranch -
This Canadian Ranch is hidden in the beautiful Saskatchewan River Valley and has 15 kilometers of beach along Lake Diefenbaker. Here you are welcomed by George, who has a working cattle guest ranch where he breeds calves and works with the cattle in the traditional way using horses. When new calves come to the world every spring, the ranch also wakes to life.
You ride on nice quarter horses, appaloosa and painthorses. The horses have a wonderful life, they live in huge pastures and come home in the morning to get ridden or maybe get a treat.
When you are a cowboy at a "working cattle-guest ranch" you follow the seasons and cattle rhythm. Everyone is welcome to participate in the work at the ranch. Most of the livestock work takes place in early June, in the "branding week" and at the beginning of October during the "round up week".
So if it is the work with cattle that attracts you, you should go for one of those weeks (must be booked in a very good time).
If you visit the ranch any other week, work on cattle is done about once a week. You then ride to the cattles pastures and check that they are well and any runaway calves are caught. If there is not enough grass anymore you help move the herd.
Whether it's the season for livestock work or not, there will be many hours in the saddle. George wants everyone to ride next to each other, no tail in tail riding here, so everyone can experience the wide views. It's amazingly beautiful. If you want to go galloping, just go, just keep track of where the others are.
If you are not an advanced rider but in good condition you quickly learn to keep up with the others. When you're out all day, the pace is mostly calm. So, this is also a perfect ranch to bring your partner or friend to, who has not yet experienced the thrill of riding.
You live in small comfortable houses in western style. The lunch consists of sandwich packs that you bring in the saddle bags, so for dinner it is good with a real meal. Everyone is gathering around the dining table and it becomes a lot of laugh and talk as everyone has a common interest.
The Program
You ride a lot on this ranch, sometimes when working with cattle, sometimes on relaxing outdoor rides. All are welcome to participate in the work of the cattle and on the ranch, but it is not a requirement. The cattle must be checked and often move every day, and sometimes you have to catch the calves for different reasons.
After breakfast, it is time to round up the horses in the huge pasture for the day's work. This is done by the staff with the help of a quad-bike. After a while, the herd comes trotting up from the lake or down from the hills to the paddock, where most have already voluntarily come in. After saddling up, it's off for a lovely day with lots of riding, to check how the cattle are feeling, maybe fix fences or search for missing cows or calves. Normally you will ride 5-6 hours per day. Sometimes it can be more.
Those who do not have much riding experience can get lessons in western riding at no extra cost. Everyone gets the opportunity to learn how to throw a lasso and work with livestock. The more interest you show, the more you can learn.
Accommodation & Food
You live in small cabins in the western style in a double room with shower / toilet. There are also a couple of slightly larger houses for small groups or families. Total available bed space is for 20 guests, but they would prefer to not have more than 14 riders at he same time. The Cabins are cleaned weekly or with each arrival. Bedding and toiletries are supplied.
Safe deposit box: No
A/C: No
Hair Dryer: At request.
Towels and sheets: Yes, but bring towel for bath in hot tub or lake.
Fridge: Yes.
Dinners are served in the ranch "cook shack" and are nice and plentiful. Everyone gathers around the dining table where you laugh and having a good time and share experiences with other guests from different parts of the world.
The ranch has its own saloon with a pool table, table football game, darts and country music coming through the speakers. People often gather here later in the evening for a few beers, maybe after first sitting for a while around the open fire just next door. You write up the beer you take on a chit and pay before departure. It is ok to bring other alcoholic beverages to the ranch if you like. Behind the saloon is a whirlpool with warm water that does wonders with tired riding muscles in all parts of the body.
The lunches consist of sandwiches that you carry in saddlebags, and around the campfire you will soon smell freshly brewed coffee. As you rest for a moment on the grass, listen to the wind and sounds of nature.
The well-cooked breakfast is varied every day and consists for example of scrambled eggs, toast, ham, fried potatoes, fruit, juice, and coffee.
Horses
The ranch has about 20 horses, most Quarters but also some Paints. They are well trained and there are horses suitable for both beginners and experienced western riders. All saddles have saddle bags.
Special Events
Branding the Offspring (first week of June):
One of the most popular events at the ranch is when the cattle are collected to be branded. Everyone has the opportunity to participate and learn how to catch calves, and more. You will need to be on the ranch a few days before to become familiar with how to do this and have time to get to know your horse properly. The actual branding usually happens between June 1st and June 4th.
Round Up Week (mid-October):
In the second week of October, the cattle are collected and driven back to the ranch. The cattle must be counted, drenched and moved to different pastures. This is an excellent opportunity to learn how to handle cattle for those who love to ride.
Other activities and excursions
When you are not in the saddle, there are many other things to do. During the summer you can swim, canoe, water ski or go on the lake below the ranch with the ranch's own little motorboat. There is also the chance to go fishing on the lake.
The ranch's large area encourages exploring on foot among the rolling hills, where in the pristine wilderness you can see deer, coyote, skunks, owls, eagles and pelicans. Or perhaps you prefer to find your own private part of the 15 km (9 miles) long sandy beach.
The day often ends with little rope-play (lassoing), a visit to the ranch's own saloon or just gathering around the campfire. Sometimes you go to the nearby White Bear Saloon, which is famous in the region for its special decor.
The region around the ranch has old ranch traditions. People often arrange joint excursions to local rodeo competitions, where cowboys compete to see who can stay on the bucking horses.
There are also many excursions for those who are interested in nature and western history.
Climate



Travel Information
Ability description: Outdoor riding, level 2-3 >>
Included in the price: 7 nights 6 days riding, full board incl soft drinks.
Not included. Flights, transfers, insurance, alcoholic beverages and extras not mentioned.
Travel: Book flight/rental car >> We help you book your flight if you wish.
Fly to Saskatoon.
Transfer: Book and pay in advance with HorseXplore.
From Saskatoon airport to ranch about 2 hours.
Time: Depending on the latest guest arriving and the earliest guest departing.
Arrival to Saskatoon airport Saturday latest at 8.00-9.00 PM and flight on departure day Saturday flight after 10.15 AM.
Price: 125 EUR /return/person.
Bus: Alternative travel options would be the arrival by bus from Saskatoon to Kyle or from Calgary to Swift Current! They pick up guests in either town for a very small fee. For bus schedule from or to Saskatoon www.stcbus.com and from or to Calgary www.greyhound.ca
Arrival-/departure day: The rooms are ready for check in at 3 PM and must be left at 11 AM on departure day.
Optional arrival/departure: You can choose another arrival and departure day (Monday and Thursday), just mail us on info@horsexplore.com . Transfer days to/from airport is Saturday, Monday and Thursday
Rental car: Normally, there is no need for a car, but if you want to continue on after the ranch stay you may want to have a car.
Visa: Starting March 15, 2016, most travellers entering Canada will need an Electronic Travel Authorization (eTA) or a visitor visa. Read more here>>
Single room: Can be booked with a supplement. For price click on "Book on request" under Dates & prices. If you are willing to share room, you will not have to pay a supplement if you are allocated a single room.
Currency: Canadian Dollar (CAD).

Credit card: The ranch do not accept credit cards.

Tipping: Not required but appreciated.
Wifi: There is Wi-fi at another ranch about 3 km away.

Electricity jack: Adapter is needed, typical north American power supply 110 Volt.
Group size: Min. 2, max. 16.

Age limit: None, but 5 years old and compenent rider for riding.
Beach: 150 meters to lake.

Pool: Hot tub available.
Misc.:
Riding equipment to borrow: None
Saddle bag available: Yes
Special diet: Vegan food can not be catered for.