South Africa, Waterberg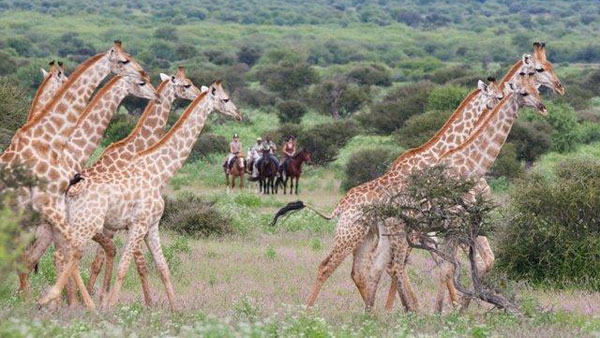 This safari lodge / cattle ranch has an excellent reputation. They succeed in giving a sense of African luxury and adventure while being relaxed and reasonably priced. We are extremely happy to have them in our holiday offering.
Only three hours from Johannesburg, there is something here for everyone from honeymooners to adventurous families, single riders and groups of friends. You can choose from a travelling safari or staying on the family farm.
Horses
The horses are thoroughbreds, Arabs, and a breed called the South African Boerperd, a beautiful, delicate and very alert horse that is also the spirited and courageous. Other horses include appaloosa, thoroughbred crosses and half-bloods. They are about 145-165 cm (57 – 65 in) at the withers.
Climate
Climate: There is sun virtually all year round. During the summer (October to March) is average temperature of about 30 C (86 F) and at night it may rain. During the winter (April to September) is about 25 C (77 F) during the day and cold at night (it could be 5 C / 40 F at nights in June and July).



Travel Information
Travel: Book flight/rental car >>
Fly to Johannesburg.
Safety: Before you are allowed to ride, you will have to sign a paper that riding is at your own risk. It is mandatory to ride with a helmet.
Single room: Can be booked with a supplement. For price click on "Book on request" under Dates & prices. If you are willing to share room, you will not have to pay a supplement if you are allocated a single room.
Malaria: This area is a low risk area concerning malaria, but it can occur. Talk with your doctor / vaccination center about prophylaxis of malaria in Limpopo province. Bring your insect repellent containing DEET, and have long-sleeved shirts in the evenings before sunset.

Currency: We suggest you exchange your cash into dollars, you shouldn't need local currency as your holiday is fully inclusive. Gratuities, onsite curio shopping and the Botswana tourism levy can all be paid in dollars. Should you need any emergency items the lodges can help exchange small amounts.

Credit card: Accepted by ranch, but not AMEX.

Tips: Not required but appreciated, around 5-10 $/day.
Visa: You must be in possession of a passport that is valid for at least six months after your return date and has at least 3 blank pages. Visas are not necessary for most countries but we do advise that guests contact their local embassy and make sure they don't need one. Please aslo visit South African Embassy for rules when travelling with children under 18 years.
Wifi: Yes at the verenda.

Electricity jack: South African three socket. In each tent (African Explorer) in both locations there is a small solar charger that can charge most cell phones with a USB port.

Age limit: At the ranch no age limit, at safari you need to be 12 years old.
Closest village: 30 minutes from ranch.
Beach: None
Pool: Yes
Misc.:
Riding equipment to borrow: Helmet on request. Helmet are mandatory.
Saddle bag available: Yes
Special diet: Inform when booking.
Safe deposit box: Yes at ranch
A/C: Yes at ranch
Hair Dryer: Yes at ranch
Towels and sheets: Yes
Fridge: No
Christmas and New Year

Warm and comfy at a ranch surrounded by wild animals will make this stay both exciting and lovely. You will be offered good food and great hospitality. Is suitable for the whole family or companies where not everyone are riders.
Feedback from our travellers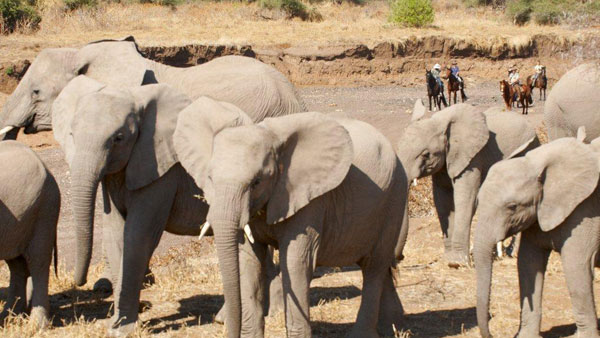 Get the best of two countries. Ideal for experienced riders who want to get as much as possible from their African riding holiday. This exciting ride combines four nights in a newly built camp in the Waterberg and three nights in the Limpopo Valley in Botswana. First explored Waterberg's fantastic Highlands and then move to Mashatu Game Reserve, ....
Read more »
From
EUR 2,295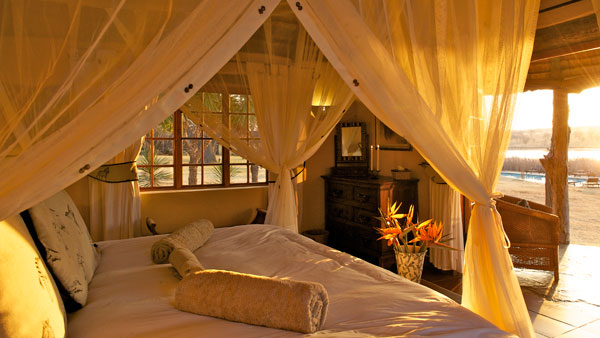 The ranch is beautifully situated by a lake with hippos and consists of a nicely renovated colonial house with a classic porch and a number of guest cottages, each with its own character. You will really enjoy your stay, whether in the main house or in one of the cottages. Your stay here is tailored for you and with a herd of 60 horses, there is a ....
Read more »
From
EUR 2,031