Kenya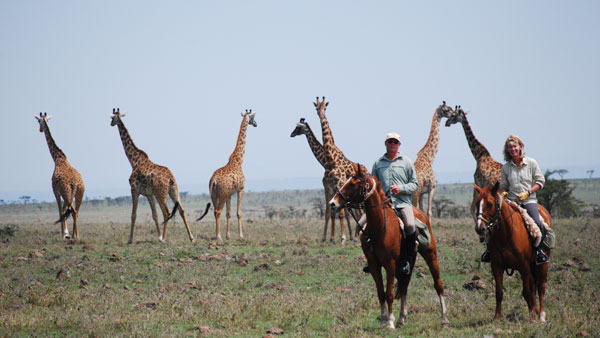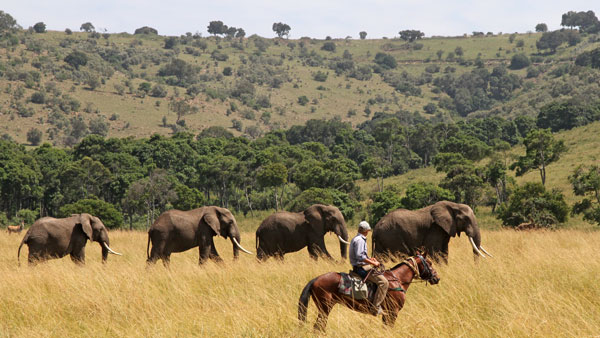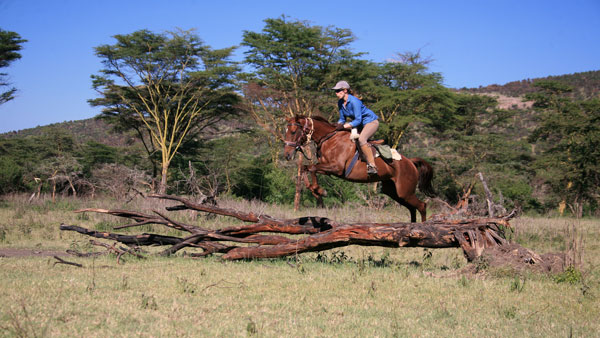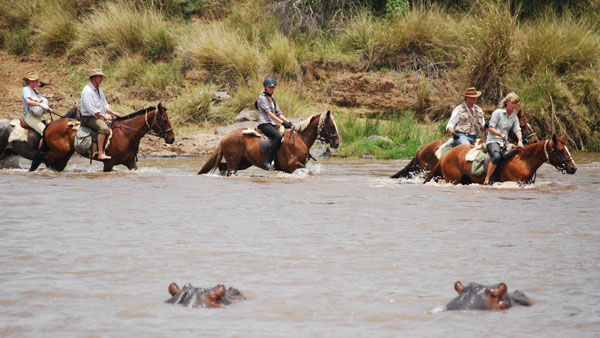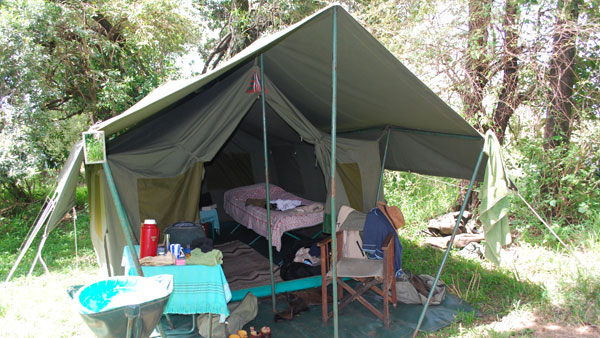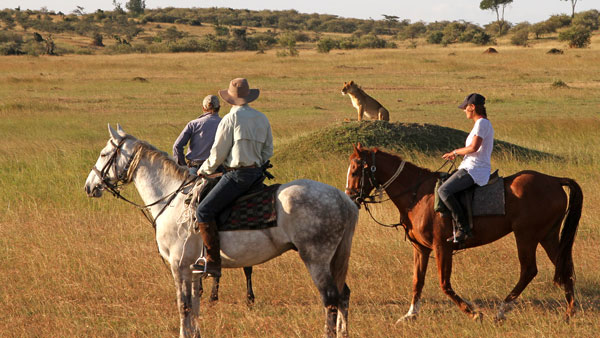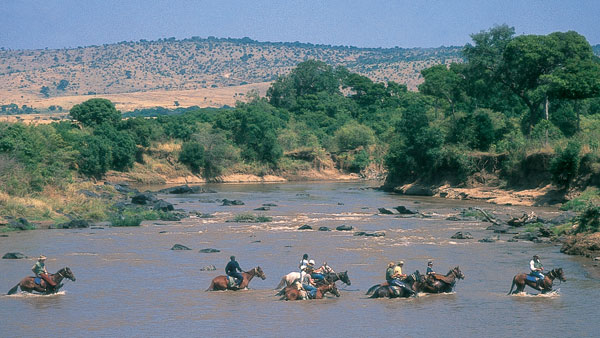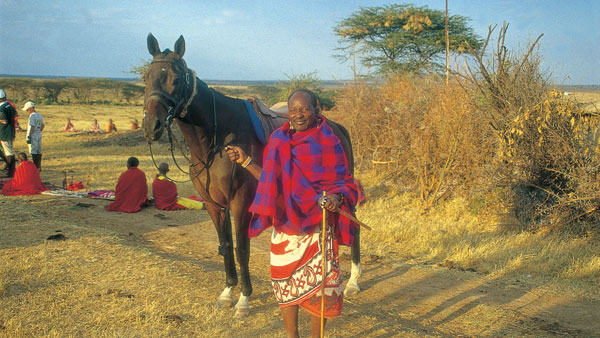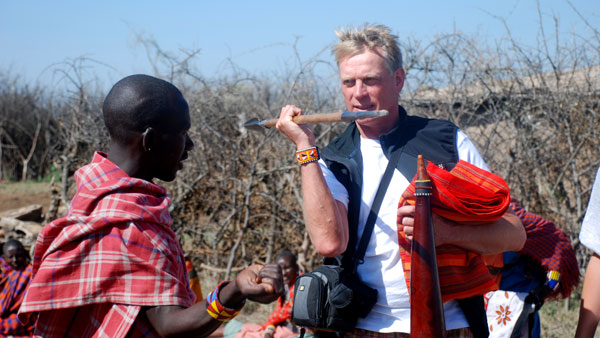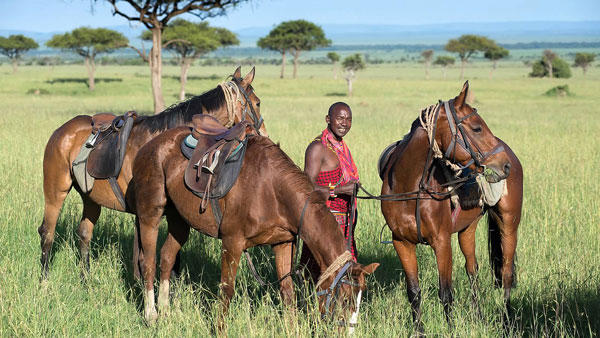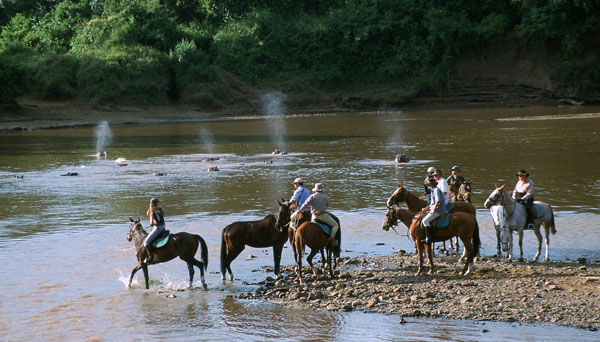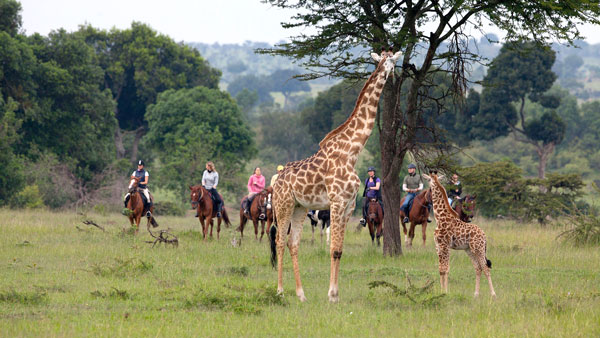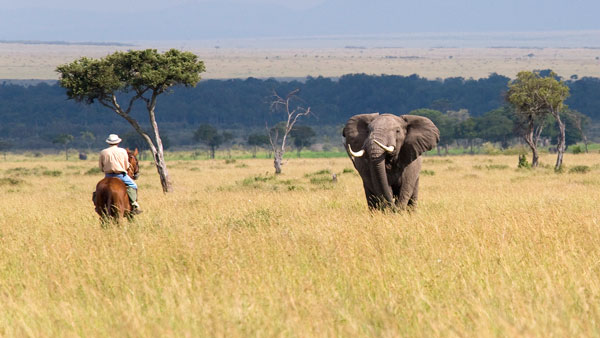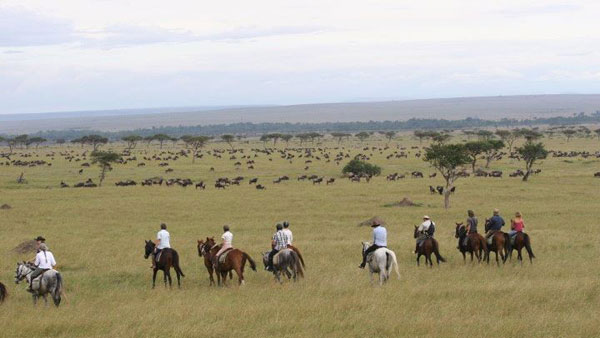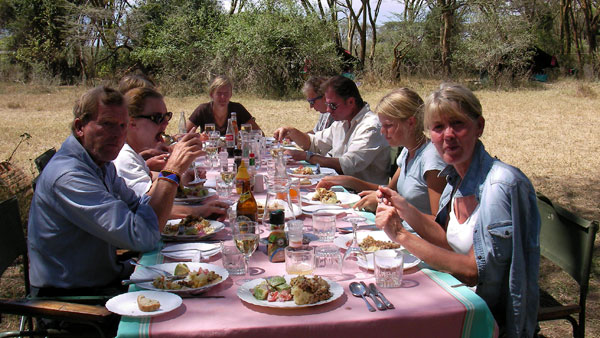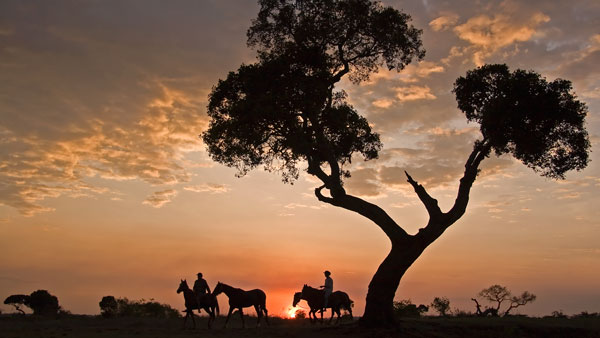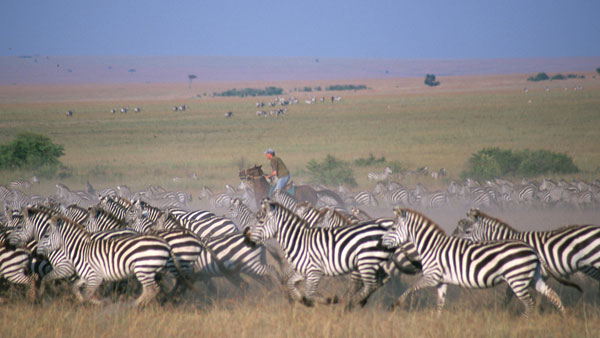 - Riding Safari in Masai Country -
This is ride for those who are fascinated by wildlife and want to experience it in total freedom. Imagine a fast gallop across the vast savannah next to herds of zebras, wildebeests and gazelles. This is a unique safari where you explore places far from the usual 'tourist trail', but don't have to forsake "luxuries" such as good food and drink, a shower every night and a comfortable bed. The ride goes through the Maasai, which is one of the most animal rich environments in Africa. During this long ride, you will get close to many of the animals of the savannah. If you are lucky you will see the "Big Five", which is the leopard, buffalo, rhino, elephant and lion.
Most of the riding goes through the Masai Land and through the northern ranches. The terrain is flat open plain and is very suitable for galloping. After a 7-9 hour ride, it's nice to come back to camp and relax with a cold drink. In the midst of the wilderness you will be served three-course dinners with wine as if you were at a fancy restaurant. Afterwards, everyone gathers around the campfire and it is fascinating to sit there in the pitch-black and try to distinguish the different calls of hyenas, lions, monkeys, etc. The feeling cannot be described in words.
Tristan, who comes from South Africa, is the founder of this safari. He and his wife Lucinda have lived with horses all their lives. Both are enthusiastic polo players and Lucinda is also an amateur jockey. They welcome you to their stunning home, a colonial house from 1920. You will stay 2 nights in a double room with shower / toilet. The other eight nights you stay in different camps.
Accommodation & Food
Lunches are a delicious picnic.
Dinner is served at set tables by costumed Masai. It's an amazing experience to eat such good meals while you listen to different wild animal sounds in the darkness. All the food is fresh, as the camp has a large amount of ice. Bread is baked daily on an open fire and the chefs are extremely talented. There is free access to all alcoholic beverages (except champagne) and soft drinks.
You live in comfortable 2- bed tents in traditional safari style with washbasin and toilet tent next door. There is also a shower close by. There is no electricity at the campsites but rather lights are operated by battery and gas.
Safe deposit box: Yes
A/C: No
Hair Dryer: No
Towels and sheets: Yes
Fridge: No
Climate
As the location is so close to the equator, there is no winter and summer. However, the rainy season runs between April-May and October. The hottest periods are Feb March and Sept / Oct, but the ride is about 1,800 meters (5,900 ft) above sea level which makes it quite cool with few mosquitoes.




Travel Information
Ability description: Level, trail ride 3 >>
Included in the price: All conservation & park fees, domestic flights and transfers associated with each safari. Dayroom in Nairobi on last day if required (7 night ride only). Full board accommodation, all drinks (except Champagne), all riding, game drives (day & night), walking, laundry, local airstrip transfers.
Not included: International flights, personal insurance.
Travel: Book flight/rental car >>
Flight: To Nairobi where you will be met at the airport.

From the international airport you are transferred to Wilson Airport to fly at 10.00 am with domestic flight to Naiboisho, in the Masai Mara.
Maximum 15kg luggage is allowed.
Riding: You will ride effectively 4-6 hours per day often at a fast pace. It is therefore important that you are a good rider, are in good condition and are accustomed to fast gallops. The horses are English Thoroughbred and Thoroughbred crosses.
Vaccinations: You need vaccination against hepatitis and should eat malaria tablets. Also ask at your vaccination center what they recommend.
Visa: A citizen of a foreign country, wishing to enter The Republic of Kenya, generally must first obtain an evisa via https://immigration.ecitizen.go.ke/index.php?id=7
Currency: Kenyan shilling
Credit card: Only accepted in shop.
Tipping: Not required but appreciated, normally around 9 EUR/day.
Wifi: Yes, in reception.
Electricity jack: Adapter is available.
Group size: 5-10 riders
Age limit: No
Closest village: None
Beach: No
Pool: No
Misc.:
Riding equipment to borrow: Helmet with request in advance
Saddle bag available: Yes
Special diet: Inform when booking.
Click here for more information >> Program Day 1 You will be picked up at your hotel in Nairobi or at the Jomo Kenyatta International airport and driven to Wilson Airport where a domestic flight departs around 10:00am to Mara Shikar. At the airport, you will be met by a car and driven about 1 hour to the camp. You can enjoy a good lunch and ....
Read more »
From
EUR 6,620
Click here for more information>> Program Day 1 You will be picked up at your hotel in Nairobi or at the airport and driven to Wilson Airport where a domestic flight departs around 10:00am to Siana Springs. It is a very beautiful flight over the fertile Kikuyu Highlands and the beautiful Great Rift Valley. At the airport you will ....
Read more »