Poland, Lobez - Trail Ride on a Country Estate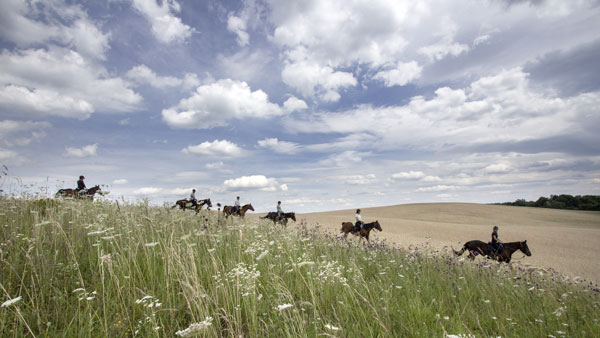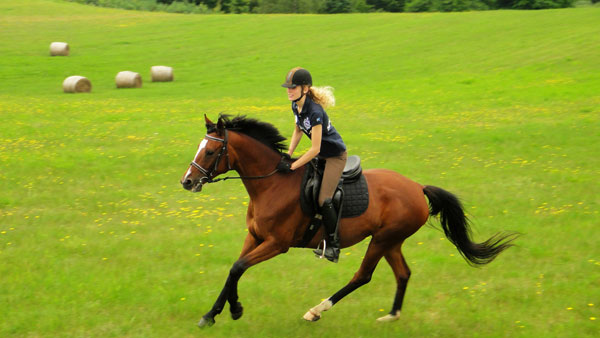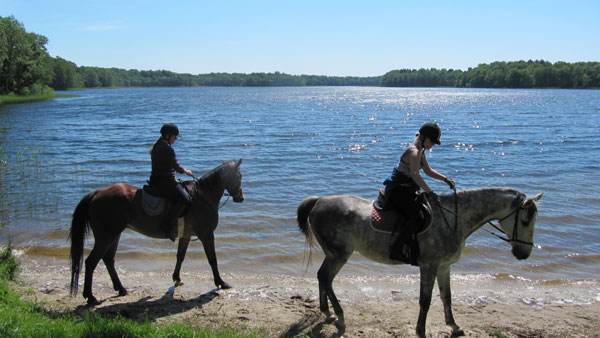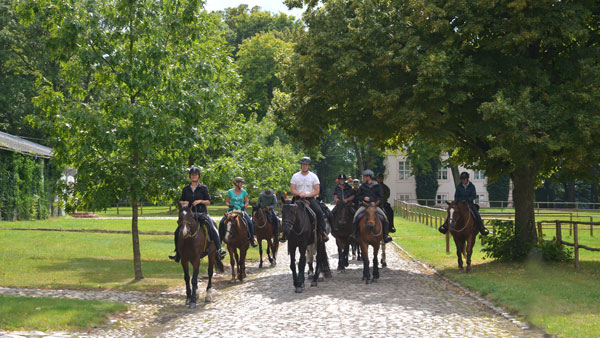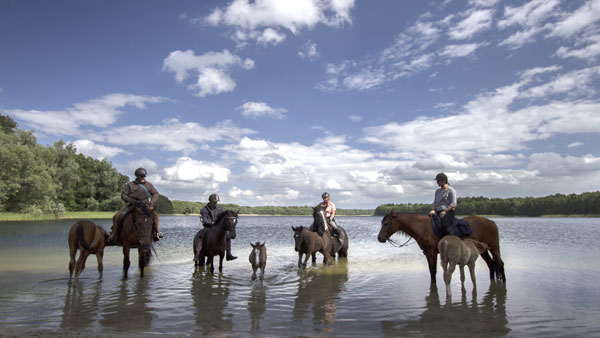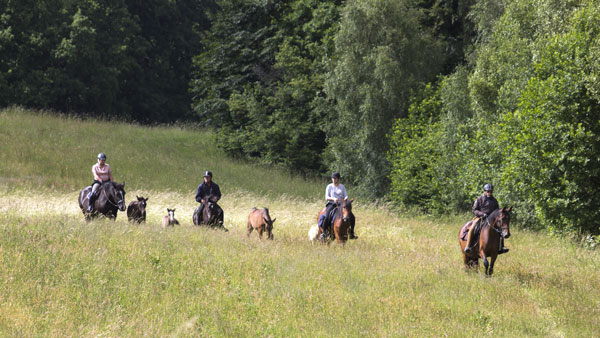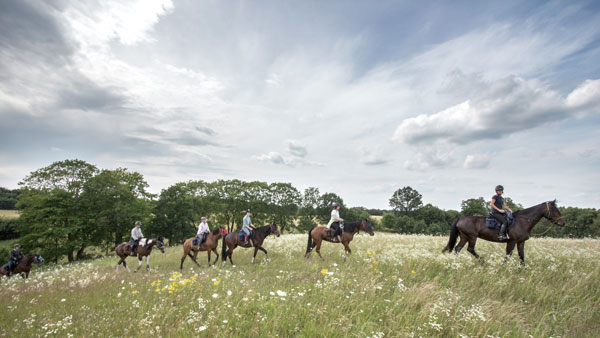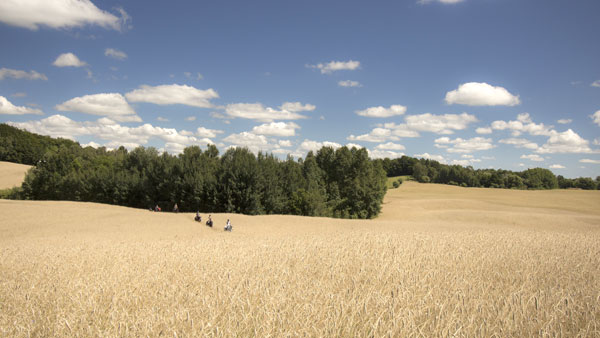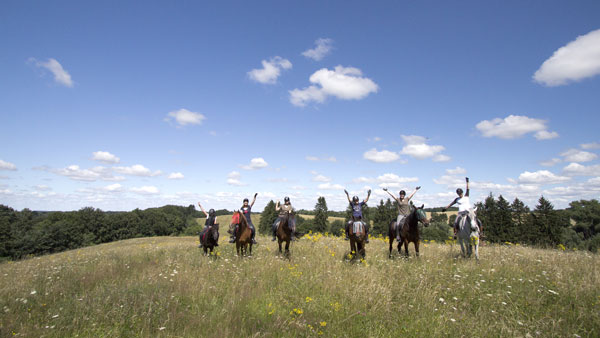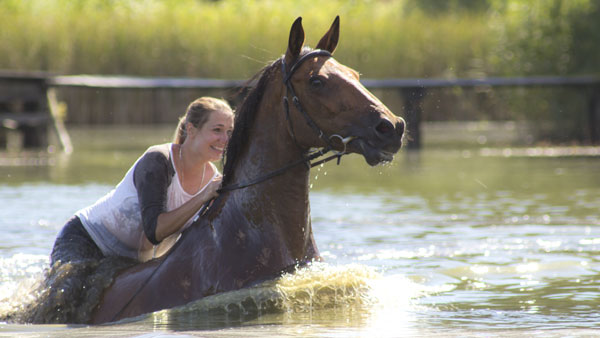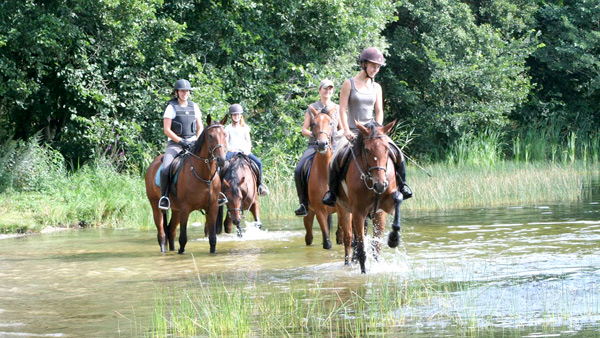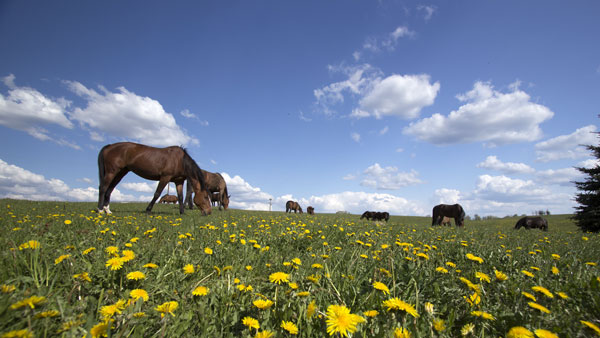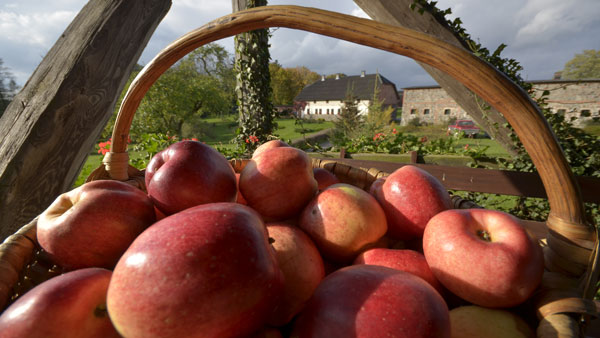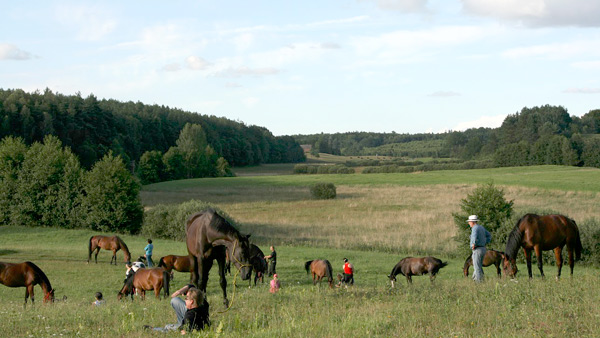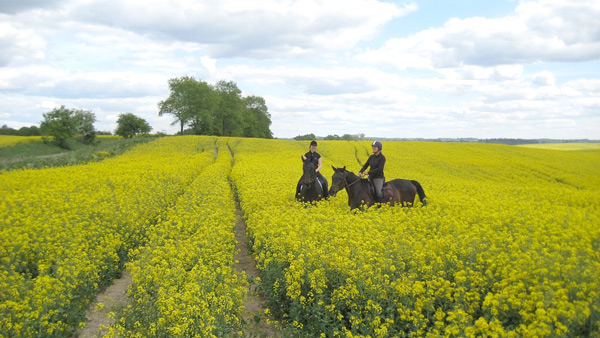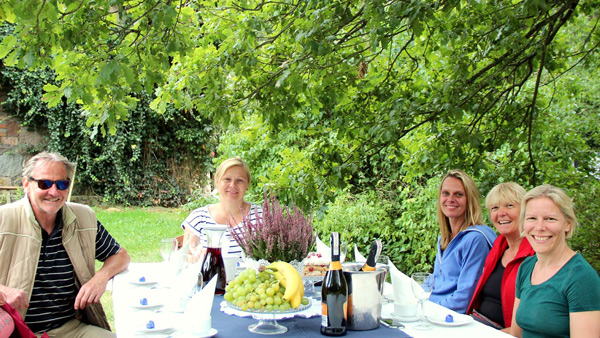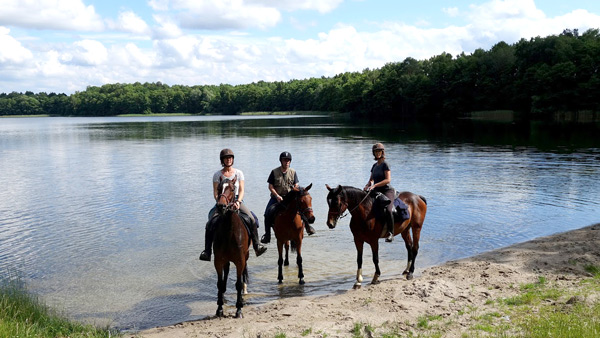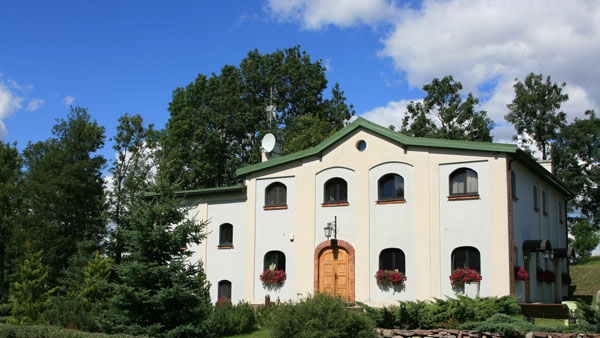 Outside Lobez is this large country property consisting of a manor house, stables, a small indoor arena and 1,000 hectares (2,500 acres) of land. The food served is very tasty and based on organically grown vegetables and meat, including the estate's home bred duck. Fish from the Estate's own lake are also served. During the week you stay at the nicely renovated manor house.
Most horses are Anglo Arabs and reared on the farm. They have a very good life and go out into the big lush pastures every day. They have good stamina are and in good condition allowing for a fast-paced ride with many long gallops. You will have the chance to do a lot of riding (3-6 hours / day). On a few of the days, the rides will start at the farm and on others you will leave the horses in stables and you be driven back to the estate. The ride goes over large, rolling hills, along good forest roads and to the region's largest lake. You will also visit a trotting stud farm, the former state-owned stud Lobez. After a nice long ride and a good dinner, it is cozy to sit by the fire and sample the homemade liqueurs.
Accommodation and Food
During the week, you stay at the manor house. There are 11 double rooms, all with private bathroom, TV and Internet. There is also a large living / dining room with open fireplace. The grounds include a private lake where you can swim after riding. It is also possible to use the Finnish sauna by the lake.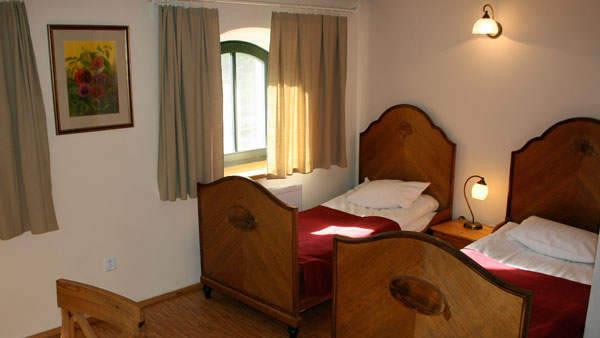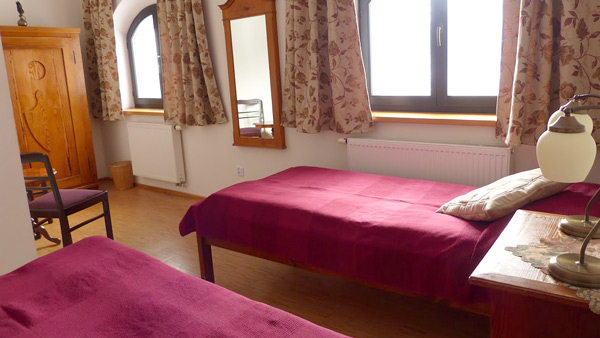 Single room: It is possible to book a single room (price for single supplement available under Dates & Prices). If there is no one to share the room with the single supplement will be added.
The food is very tasty and based on organically grown vegetables and meat, including the estate's home bred duck. Fish from the Estate's own lake are also served. Game is also served regularly. When the evenings are warm, dinner is served outdoors.
Horses
Most horses are Anglo Arabs and were raised on the Estate. They are very well treated and graze in the big lush pastures during the day. They have good stamina and are in good condition allowing for fast-paced riding with lots of long gallops. There is also a pair Polish Halfblood Horses and some ponies. The horses used on the rides are 6-15 years old and 148-175 cm (58-69 in) at the withers. Classic trail ride saddles are used and all horses have saddlebags where you can put what you need to have with you during the ride.
Program, Week & Weekend
Preliminary day-by-day program, week
Day 1 - Arrival. You arrive at the riding center in the afternoon or early evening and welcomed by your hostess.
Day 2 - After an initial trial ride in the paddock, following afternoon you take a first ride in the surrounding area. The vast hilly landscape offers great opportunities for fast and long canters. You ride through the peat bog of Karsibor and admire the magnificent 400 years old oak trees in the forest. In the evening you enjoy cosy crackling fire or relax on the terrace under the chestnut trees overlooking our 200-year old, beautiful park.
Day 3- You ride through the unique natural paradise of Drawski Lakeland, through beautiful, secluded forests and along clear, enchanted lakes. Weather permitting extensive bathing breaks for horse and rider are planned.
Day 4 - The ride today takes you through a beautiful, gently rolling countryside towards a stately manor house dating from the 19th century, where you are expected for lunch. After lunch you visit the farm with the old oak tree park by the lake. The spacious surroundings of the estate offer you again a lot of space for expansive canters. You take old forest avenues that bring you back to the estate, where already the dinner awaits. After dinner there are opportunities for invigorating sessions in the sauna on the lakeshore, a relaxing massage or a refreshing swim in the farm's lake.
Day 5 - After breakfast, you pack a picnic before you set out on today's ride. Riding through meadows and woods you enjoy the lush green, hilly and wide-open landscapes of the region. You visit a neighbouring farm on a secluded lake where you enjoy a picnic and subsequent siesta. After your return and a sumptuous dinner we ride in the carriages to the nearby old manor by the lake, where we can wander about the infinitely vast, lush green meadows to view and admire the leisurely trotting horse herd in the setting evening sun.
Day 6 Today you start the 2-day trail: The ride leads through sleepy villages, wide meadows and light forests to a horse training facility at our old manor. You leave the horses in the barn and enjoy a charming picnic in the backyard garden. The horses spend the night here, as you return to the farm (transfer about 20-30 min.). In the evening the idyllic sauna by lakeside can be booked for an extensive session, as well as a soulful massage or simply a swim in the refreshing lake.
Day 7 - You drive back to the horses and on the way visit a beautiful, historic equestrian centre in the vicinity, which is among the most beautiful of its kind in Europe. After visiting the old brick stables and the historic domination of the stallion depot in 19th century building. You ride back through quiet, sleepy Pomeranian villages. In the evening again a sauna, massage or a dip in the farm lake among options to choose from.Tonight you go for one last dinner at a great seafood restaurant, where you enjoy the delicious local fish specialties of the Pomeranian cuisine.
Day 8 - Breakfast and then departure.
Preliminary program, weekend
Day 1 - Arrival, dinner, relax time
Day 2 - Breakfast, 2 hours ride, lunch at home, 2 hours ride, dinner.
Day 3 - 3 hours ride, lunch at a friend's house, 2 hours ride, dinner at home, sauna by the lake sesion.
Day 4 - Breakfast, 2 hours ride, lunch at home, 2 hours ride, dinner at a small fish restaurant.
Day 5 - Breakfast, departure
Climate



Travel Information
Ability description: Trail ride level 3 >>
Included in the price: 7 nights, 6 days riding, full board incl. non alcoholic drinks.
Not included: Flights, transfers, insurance, alcoholic drinks and extras not mentioned.
Travel: Book flight/rental car >> We help you book your flight if you wish.
Fly to Szczecin (closest airport and about 100 km / 62 miles from the riding center), Berlin or Gdańsk.
From Berlin Tegel Airport an airport bus runs to Szczecin once every hour (3 hour journey) about 80 PLN / person.
Then car to equestrian center or train to Drawsko Pomorskie (about 15 km / 9 miles from the riding Centre).
Train or private car:
1. Boat - Train:
Boat Nynashamn to Gdansk with Polferries (www.polferries.com). Then you take a taxi or tram to the train station in Gdansk where you jump on the train to Drawsko Pomorskie, the train station nearest riding center. Train times are at www.rozklad.pkp.pl
2. Private vehicle: Car - boat - car
Boat Nynashamn - Gdansk with Polferries. Then, drive from Gdansk to the riding centre.
Transfer: Book in advance with HorseXplore and pay in cash on spot.
Szczecin Airport 280 zloty / road / car (maximum 4 people).
Szczecin bus/train station 300 zloty /road/car (max 4 people)
Berlin Tegel Airport 800 zloty / road / car.
Drawsko Pomorskie train / bus station: 60 Zloty / road / car.
Riding: The program includes 7 nights and 6 days of riding, 3-6 hours per day. You will be treated to lots of canters and both the terrain and the horses are suitable and ready for high tempo riding.
Single room: Can be booked with a supplement. For price click on "Book on request" under Dates & prices.
If there is no one to share a room with, a single supplement will apply.
Currency: You can exchange for Polish currency (PLN), on the boat or on airport. Or withdraw from an ATM when you arrive in Poland. The riding centre accept EUR.
Credit card: Not accepted by riding center.
Wifi: Yes, in the dining area and living room.
Electricity jack: EU standard
Group size: Min. 2, max 8
Age limit: None, under 18 years old accompanied by parent.
Closest village: 2 km away
Beach: 100 metres
Pool: None
Misc.:
Riding equipment to borrow: Helmet, chaps
Saddle bag available: Yes
Special diet: Inform when booking.
Safe deposit box: No
A/C: No
Hair Dryer: No
Towels and sheets: Yes
Fridge: No