Spain, Malaga – Countryside Rides and Dressage Lessons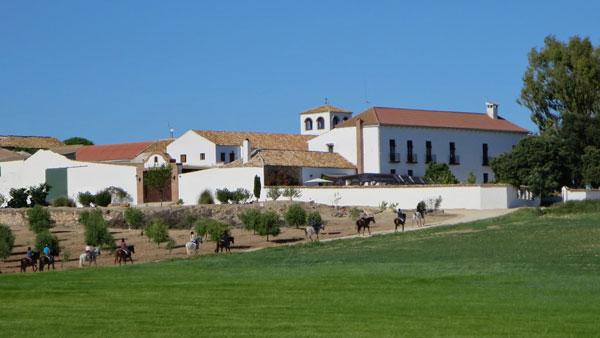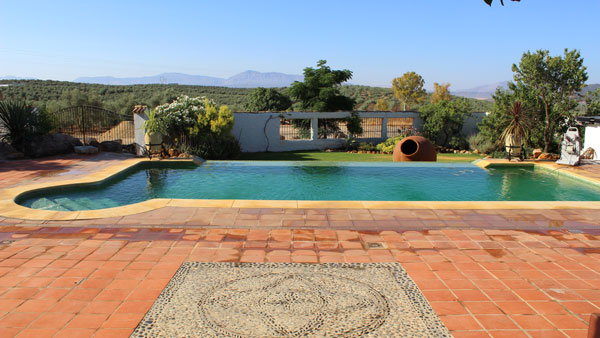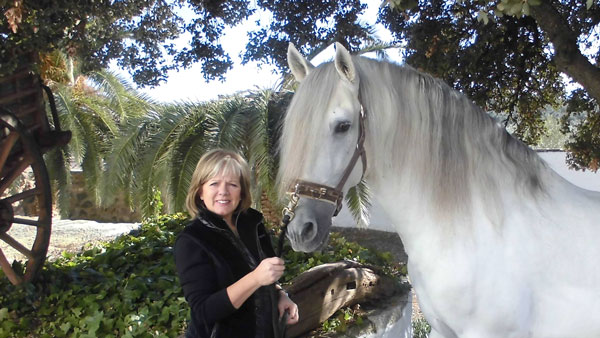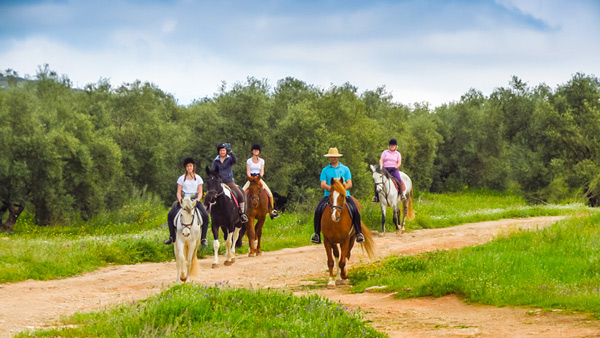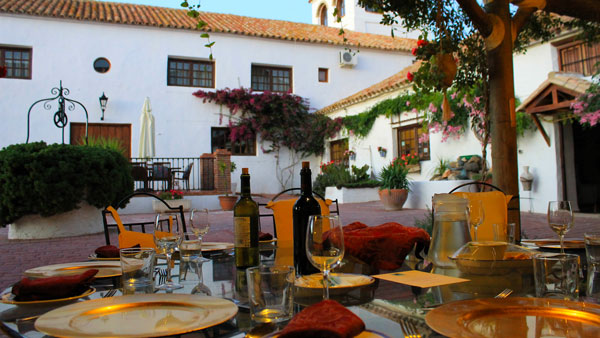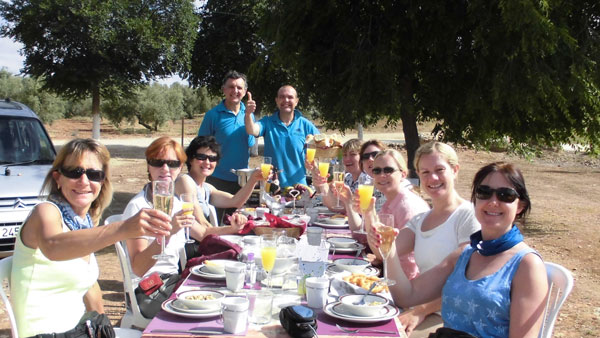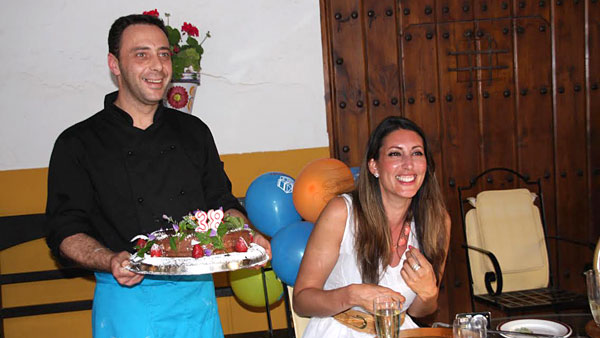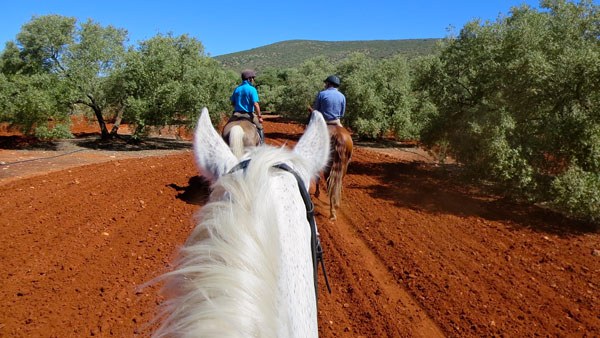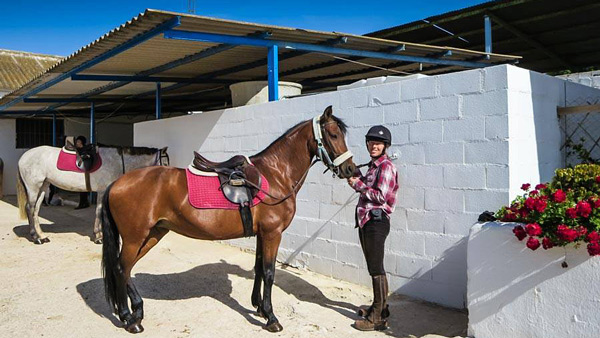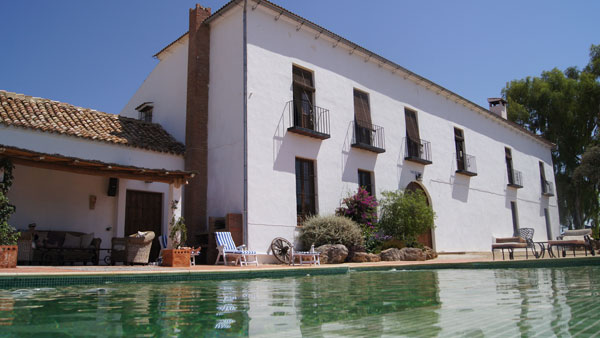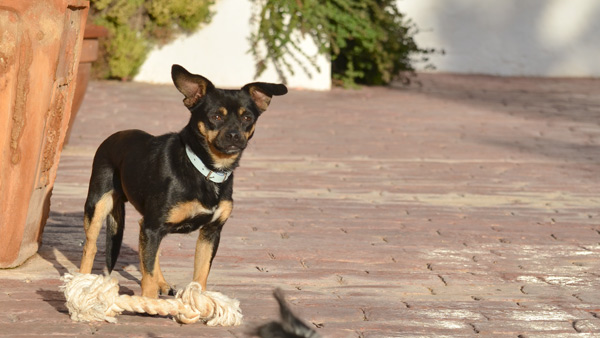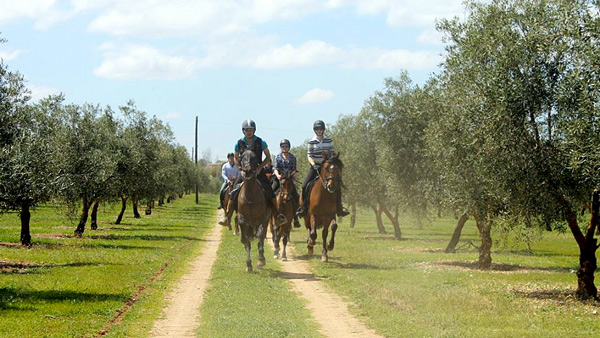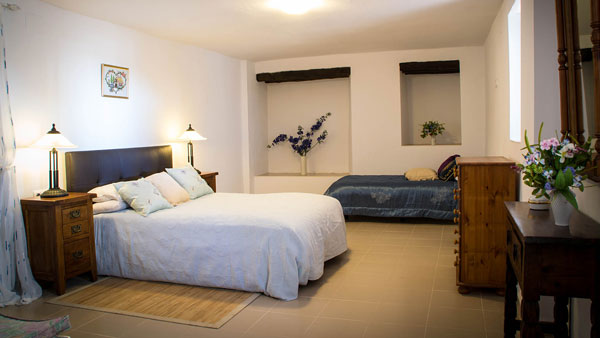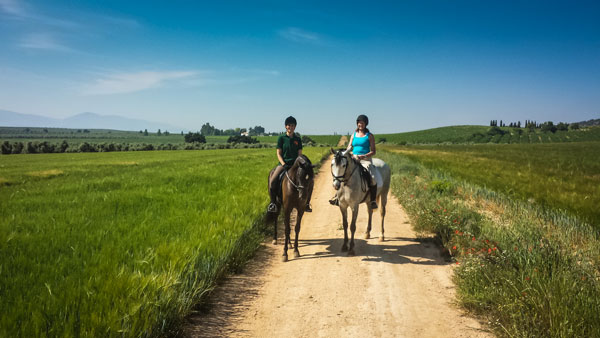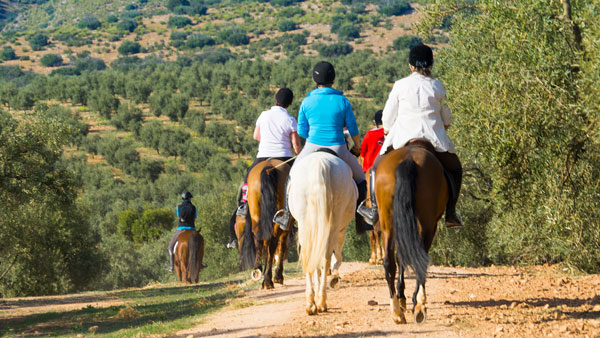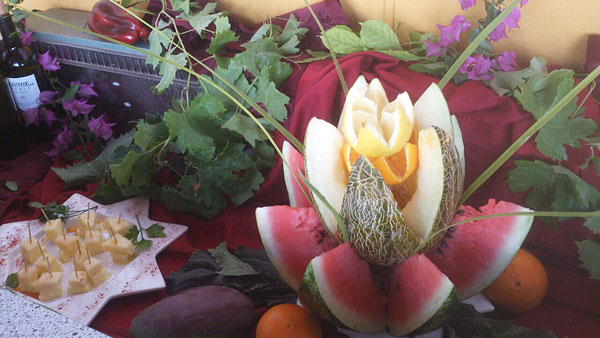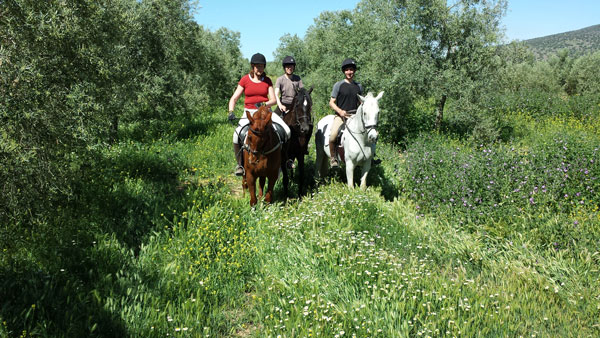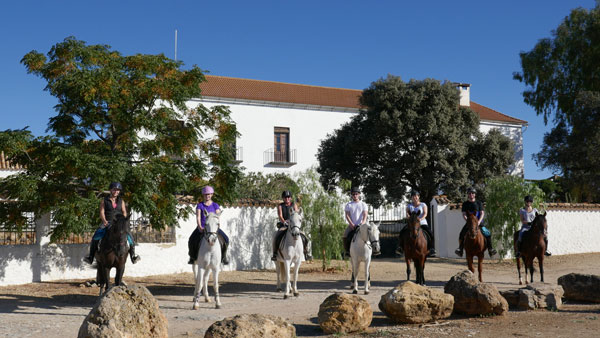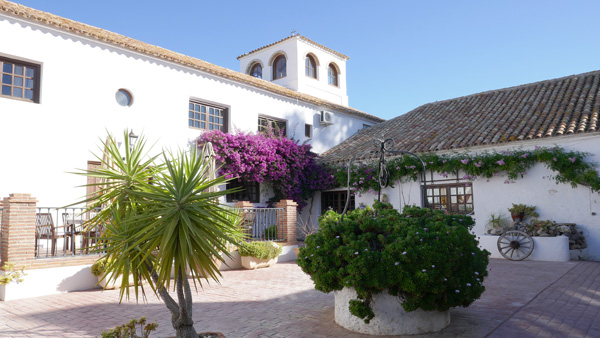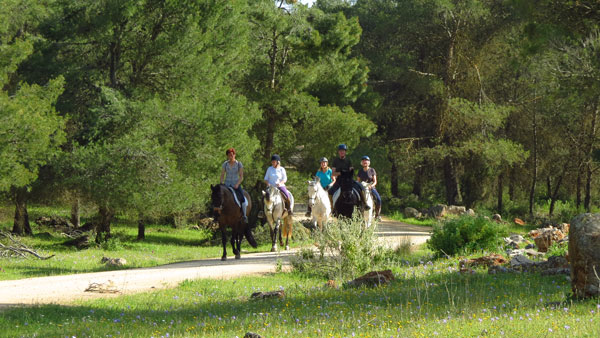 In an area surrounded by beautiful vineyards and olive groves, Christine, Paul and their friendly staff welcome you to their charming farm with open arms. The 200 year old farmhouse has been meticulously renovated over several years, and in the past year has now started receiving guests. There is a warm and personal atmosphere, and the family does everything they can to ensure a wonderful and relaxing riding holiday. The large number of returning guests shows that they have succeeded. Generally, you will ride two to four hours a day; a ride in the beautiful surroundings, and a dressage lesson. Things are flexible, however, and can be customized to your wishes.
The English couple Christine and Paul and their friendly staff welcome you to their charming farm houses and apartments 40 minutes north of Malaga.
Christine grew up with horses and when they decided to invest in a farm in Spain, she brought her Irish sport horses Jasper and Meg with her.
Christine and Paul are passionate about helping animals in distress. Several of their horses are "rescue" horses that have been trained with great patience to become fine riding horses again. Even abandoned dogs find their way here and several guests have taken one of them home.
There is a covered arena with roof measuring 20 x 60 meters.
Accommodation and Food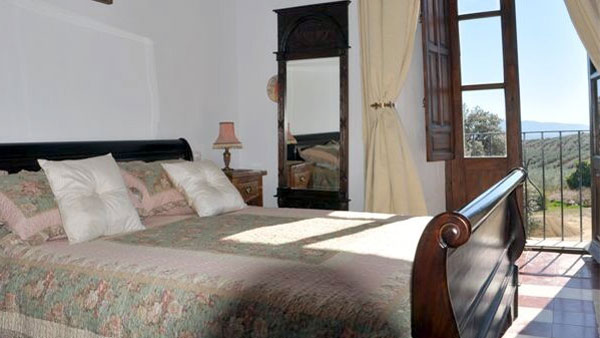 This beautiful farm from the 1800s is surrounded by beautiful olive groves and vineyards and framed by La Comorra Mountain in the north and La Sierra del Torcal in the south. You stay in nice 1-3 room apartments with shower / toilet. The rooms have been sympathetically refurbished in traditional Andalusian style with bamboo ceilings and rustic tiles.
Towels and sheets are provided. There is also a fridge and kettle and free Wi-Fi.
Single rooms can be booked without charge, but it can be in a two-bedroom apartment where you can have your own room but share the common areas.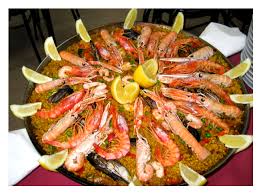 The price includes half board (breakfast and dinner). You can buy a light lunch (ex. sallad, soup, baguette etc) on location for about 5-9 EUR. Breakfast is a continental buffet breakfast. Dinner is 3 courses with coffee. During the hot summer months, you can eat out together in one of the cozy patios and on chillier days, people gather in The Chapel in front of the open fire before dinner is served.
There is a covered swimming pool (solar heated) that makes it possible to swim almost year round (not heated between november-february). During the summer the poolroof is opened. There are several seating areas and pleasant gardens to relax in. There is also a small shop where you can buy drinks, snacks and souvenirs.
Riding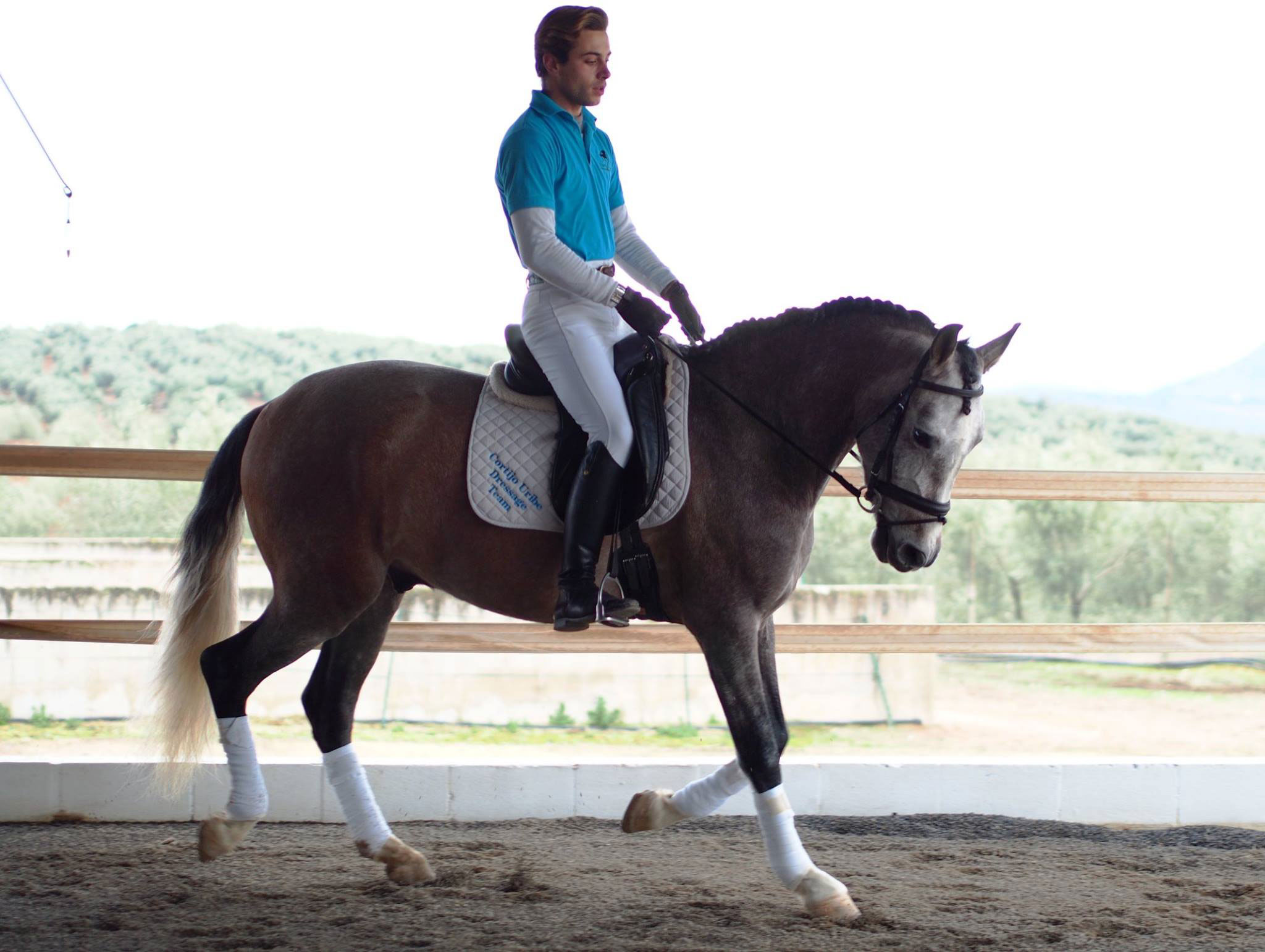 You generally ride about 2-4 hours per day. Depending on when you arrive, you will first go through your stay, what and how much you want to ride. You will also find time for a first lesson to check your riding level. Usually, you will ride in the counryside about 2-3 hours in the morning and have a lesson in the afternoon. The lessons are approximately 1 hour and are appropriate for your riding experience with about 2-5 people / lesson. The educational level of the horses is relatively high. They are suitable for both beginners and medium riders who can do leg yielding, shoulder in and half pass.
The surroundings are perfect for beautiful rides, and there are many wonderful rides to experience. One day a week they normally take the guest on a picnic ride. The lunch is included that day instead of dinner. The same evening they will transport guest out to a restaurant in Antequera (dinner not included).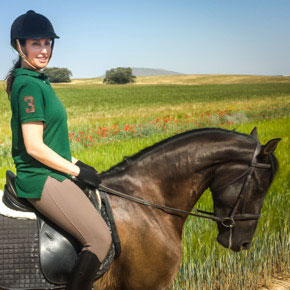 Typical Itinerary
You will be horseback riding through beautiful scenery at a pace that suits your abilities, from 1 to 3 hours. The rides are well thought out and above all, relaxing and great fun. On the return trip to the Cortijo there is plenty of opportunity to canter through the vines & olives. Lesson for an hour in our large sand school arena.
In the hotter months the schedule change: You ride at 8.00am in the cool breeze and return to the Cortijo for breakfast. Summer also gives us many more riding options as the crops are removed from the fields which gives many more long canters to enjoy.
Arrival and departure day: Depending on when you arrive / depart, the riding is distributed as follows:
If you arrive in the morning at about 10.00am on the day of arrival, you will start with a assesment and a review of what and how much you want to ride. You will aslo have another lesson or hack in the afternoon. Then there is no riding on the day of departure. If you arrive in the afternoon before 4pm, you start with an assessment. Then you can also have one ride on the day of departure. If you do not have any ride on the day of arrival, you can have a lesson and/or hack on the day of departure.

During July and August, rides are early morning and late afternoon / evening because of the heat.
Covid-19
Everyone must use the personal transport from the airport to the Cortijo as it will stop the possibility of the virus being picked up elsewhere (the price will be lowered to 60 Euros per booking for both ways).
Car hire and unescorted trips from the Cortijo will not be permitted. On meeting the courier you will be given hand sanitizer and your temperature will be checked. Cases and hand luggage will be sprayed and sanitized before being placed in the vehicle.
You will then be taken to the Cortijo in the sanitized vehicle. If you have been noted to have a temperature on arrival you will be taken to a quarantine apartment at the Cortijo (what a great place to be). Your health will be monitored and appropriate help given. All other guests will start their holiday as normal.
There will be social distancing during your stay and guests will be seated at least 2 metres from other groups during meal times. Guests will also have the option to dine in their apartments should they wish to. As most guests know all rooms are private and safe. Rooms will also be sanitized after every stay. Door handles and light switches will be cleaned as often as possible.
Most of the activities are outside in the fresh air and should not be a problem.
We believe that by taking these measures the Cortijo will be able to keep all guests as safe and healthy as possible.
Horses
You will have more than thirty different horses to choose between. Most of the horses are PRE (Pura Raza Española), but there are also Arab Thoroughbred crosses, Irish Hunters and a number of ponies. The size of the horses varies from 140-162 cm (55-64 inches) at the withers. The horses are trained up to intermediate level, including leg yielding, shoulder in and half pass but a number of the horses are trained to an even higher level.
Most of the horses are 'Rescue Horses', which have, for a variety of reasons, been mistreated or injured and through patient and knowledgeable training have become excellent riding horses.
Golf
Want to combine the riding with golf or maybe you have a partner who does not ride and would rather play golf ? then there is Antequera International Golf Course about 20 minutes from the equestrian center.
Climate
Andalusia has a warm climate all year round and they are lucky to have many warm, sunny days right through winter.
The temperatures are pleasant from April to early November. And in the hottest months of July and August they change the riding schedule to hack in the early morning breeze and the gentle wind of the late afternoon.



Travel Information
Ability description: Trail Ride Level 1-3 >>
Dressage Level 1-4 >>
Included in the price:
Week: 6 nights, 5-6 days riding, half board incl. house wine (2 glasses) at dinner.
Short week: 4 nights, 3-4 days riding, half board incl. house wine (2 glasses) at dinner.
Weekend: 3 nights, 2-3 days riding half board incl. house wine (2 glasses) at dinner.
Not included: Flights, transfers, lunch, drinks other than mentioned.
Travel: Book flight/rental car >> We help you book your flight if you wish.
You fly to Malaga.

Transfer: Book in advance with HorseXplore and pay on spot.
From Malaga airport to equestrian center, about 1 h drive with car.
Price 2020: 60 EUR return /same booking (max 6-8 persons)
Time: Between 8.00 AM and 7.00 PM.

Other times, 7.00 PM - 9.00 PM the price is 100 EUR /car one way. If you arrive after 9.00 PM or depart before 8.00 AM we recommend you to book a hotel near Malaga airport, for example Holiday Inn Express.

Meeting point: At the main glass hall before the exit at Malaga airport. The driver will wear a turquoise t-shirt with the riding centres name. They stand outside the area with the metal barriers as they are not taxi service. Go right ahead toward the internal cafe area., not right and out. If other guests arrive at a similar time you can be asked to wait up to one hour.
Train: It is also possible to go by train from Malaga to Antequera train station, you find train times at www.trainline.eu.
Transfer from the train station to the equestrian center, about 30 minutes by car.
Price: 50 EUR/car/return.

Arrival day: The room is ready for check in at approx. 12.00pm. If the room is ready before 12pm you are more than welcome to have the room earlier. Departure day: Check out at 10.00 am. If the room is not occupied that same day, you can keep your room until departure.
Optional arrival/departure: You can choose another arrival and departure day, just mail us on info@horsexplore.com
Season: All year. Any weekday.

Single room: Can be booked without a supplement if available at the time. It may be in a two-room apartment as you have your own room but share WC/shower.
Currency: EUR
Credit card: Accepted by riding center.
Tipping: Not required.
Wifi: Yes
Electricity jack: EU standard
Group size: Minimum 1 and maximum 15.

Pool: Yes, heated by solar panels March-October.
Feedback from our travellers