Tunisia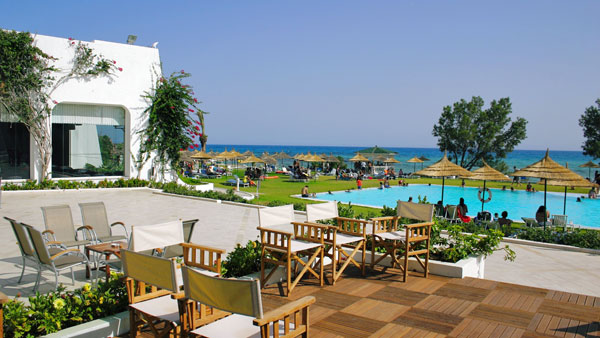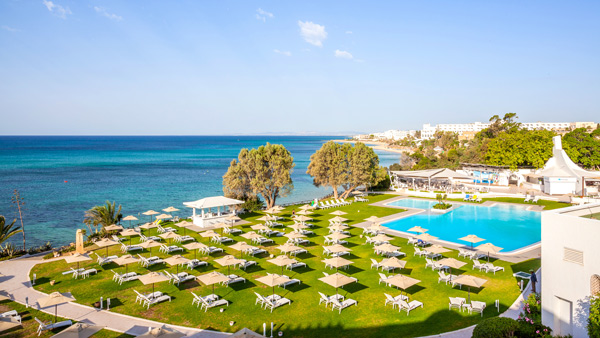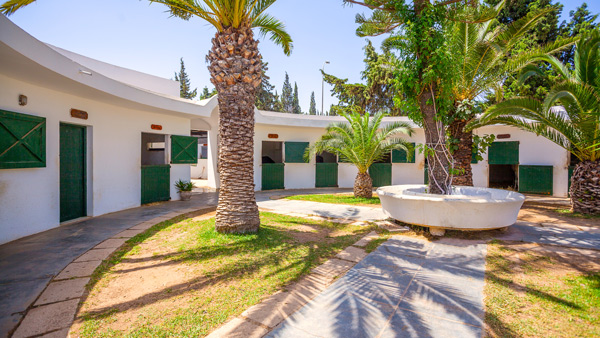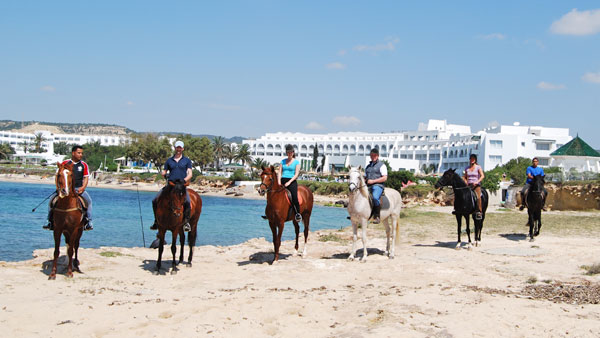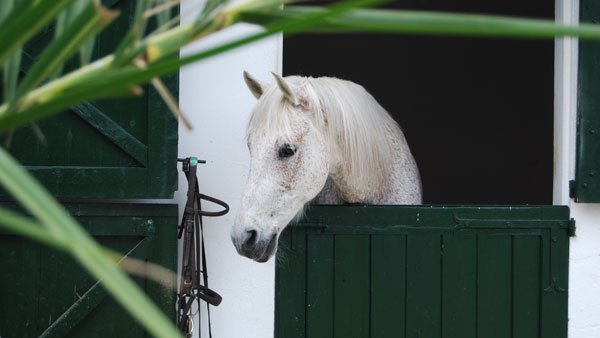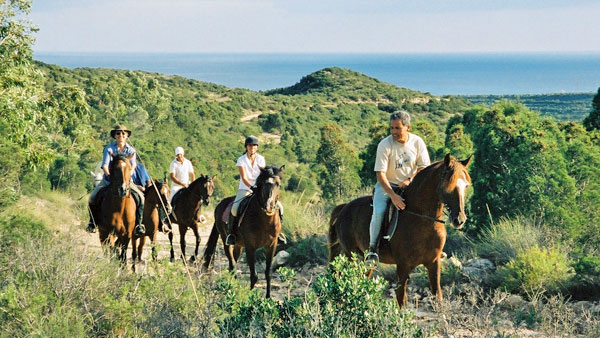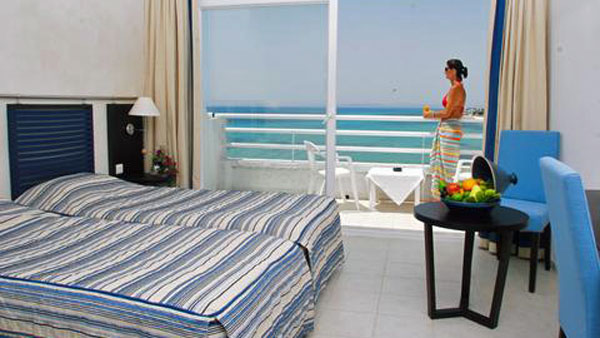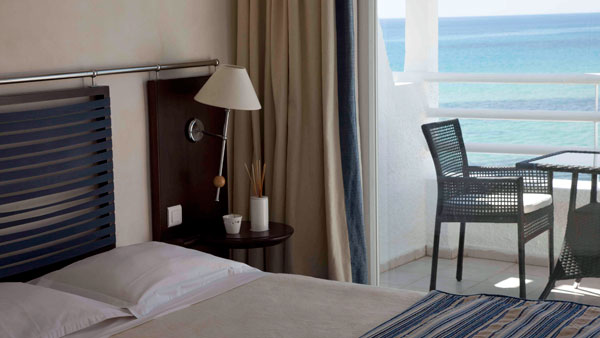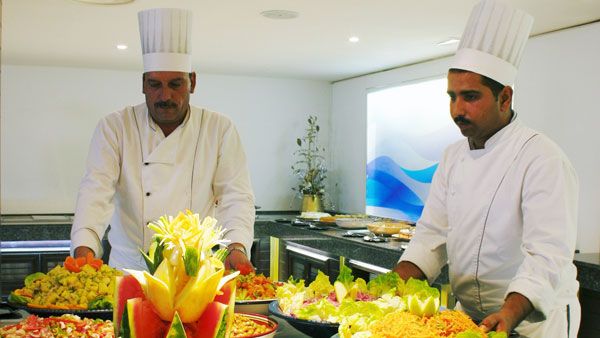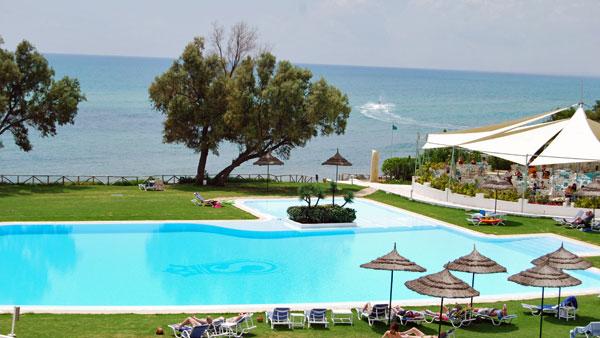 - Hammamet -
In our hotel and equestrian center, you will be very well treated. Everyone speaks English. The hotel is situated right on the seafront with its own beach, great pool, several bars, tennis courts and spa with massage and treatments. You can choose 12 or 18 hours riding per week. Riding on the beach and inland or a mix of dressage, jumping and flat work.

The stable is situated amidst the large garden, nestled among on the 7-acre estate's palm trees and flowers. You will meet team director, Hedi, who has genuine French instructor training. The hotel and equestrian center is family owned and Hedi has long been a family friend. Equestrian care is up to Swedish standards and the horses are calm and in good condition. It is clear that Hedi and his staff put their focus on the horses and train them in a very soft and pleasant manner. They are crosses between the beautiful Arabian Horses and powerful Berber horse (150-160 cm; 59-63 in). There are also two cute pony stallions.
Here you will enjoy nice people, nice horses, tasty good food and sunshine almost every day of the year.
Accommodation and Food
You stay all week at a nice beach hotel. At breakfast you will be offered a delicious buffet.
Dinners consist of different Tunisian specialties (buffet) and there is always something new to try. Everyone, including picky children, usually finds something they like.
But best of all is that there is so much for everyone to do. At the hotel, there are favorites like the beach and the main pool, but the tennis courts, kids club and miniature golf are also popular. There is a spa center with indoor heated swimming pool and the opportunity to order massages and treatments at the hotel. Nearby, there is a really good golf course and the hotel reception will help you to book a tee time. There are also Tunisian markets (Medina), cultural attractions such as Carthage and exciting Tunisian villages to visit.
Safe deposit box: Yes
A/C: Yes
Hair Dryer: Yes
Towels and sheets: Yes
Fridge: Yes
Horses
The biggest influence on the world's all horse breeds has the Arabian, but not without the support of the powerful North African Berber horse, which, in turn, gave rise to the Spanish Horse. Here you will find 18 colts and two geldings. Most are crosses between the Arabian and Berber horse.
The center tries to have strong, lively and brave horses. The horses are approximately 150-160 cm (59-63 in) at the withers. There are also two cute pony stallions along with two b-ponies that looks like mini-andalusians. They stand in the same stall, but when let out into the pasture together, they fight like two playful boys.
You will notice how well-managed the horses are based on the way they react to each other. Although they are stallions, they can be ridden close to each other without getting irritated. All horses are ridden in the English style and with English saddles and bridles.
Tunisia, Hammamet - Riding and Luxury Relaxation
You can choose to ride 12 or 18 hours / week, basic jumping- or dressage lessons or riding out. (During July and August there are a maximum of 12 hours riding / week and not allowed to ride out) All riding levels are welcome but you split up into groups based on your experience.
Price:
18 hours of riding, 320 EUR / person
12 hours of riding, 230 EUR / person
Children
This holiday is perfect for kids whether they are interested in horses or not. Within the hotel area there is a large pool, sandy beach, mini golf course and tennis court. Besides that, there is a kids club that organizes different activities every day (however, parents should remain in the hotel area).
Food is also prepared to suit all children. For children who ride, there are two ponies and children can participate in lessons and rides based on their age and experience.
We recommend that you stay for two weeks to really have time to relax and enjoy it all.
Christmas and New Year

At this nice three star hotel which is located right at the beach, the whole family can enjoy Christmas or New Year. Is it to cold in the sea you can relax at the indoor pool and the big SPA section.
At Christmas Eve and New Years Eve is a gala dinner serverd.
At New Year you are also eating a brunch, listen to a western and eastern orchestra and see a world wide dance show!
Climate
There is sun virtually all year round. In spring and summer the highest daytime temperature is about 22-30 C (71-89 F). During winter the temperatures are about 15-22 C (59 -71 F) and it can be cold in the evenings.


Travel Information
Ability description: Trail ride Level 2-3 >>
Included in the price: 7 nights, half board (breakfast and dinner) excl. beverages. Riding options (price under Book on request)
Not included: Flight, lunch, beverages, local tax approx 3DT/day/adult above 12 years. Pay on spot.
Travel: Book flight/rental car >>
Flight to Tunis, Monastir or Enfidha. We will be happy to book your trip, if you wish.
Transfer: Book in advance with HorseXplore and pay on spot.
From Tunis Airport, about 45 minutes
Price: 1-4 persons, 90 TND / car / one way.
From Monastir Airport, about 1.5 hours
Price: 1-4 persons, 100 TND / car / one way.
From Enfidha Airport, about 45 minutes
Price: 1-4 persons, 80 TND / car / one way.
If you have purchased a seat on a charter flight, you can speak to the charter company to see if they have transfer service to Hammamet and from there you can take a taxi to the hotel (about 10 minutes from Hammamet). It can be cheaper than the transfer costs above if you are traveling by yourself.
Single room: Can be booked with a supplement. For price click on "Book on request" under Dates & prices.
Arrival-/departure day: Check-in : 2pm Check-out : 12pm
Currency: TND
Credit card: Accepted by hotel.
Tipping: Not required but appreciated.
Wifi: Yes
Electricity jack: EU standard, 220 V
Age limit: None
Closest village: 3 km away.
Beach: Yes by the hotel.
Pool: Indoor and outdoor.
Misc.:
Riding equipment to borrow: Helmet, boots.
Saddle bag available: No
Special diet: Inform when booking.