Argentina – Crossing the Andes from Chile to Argentina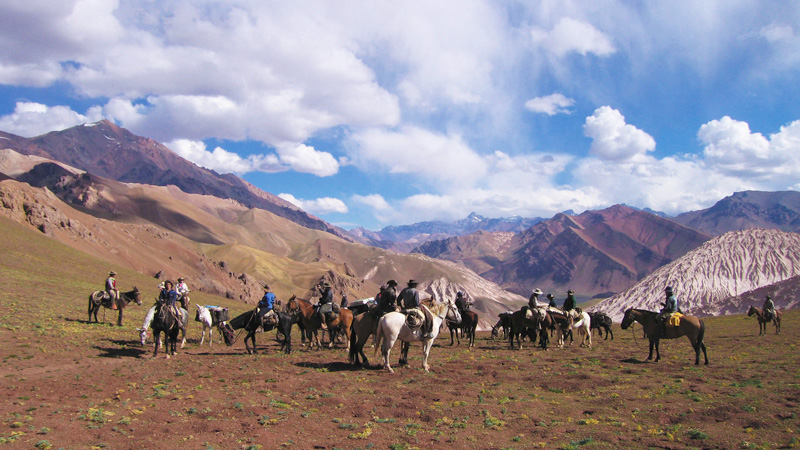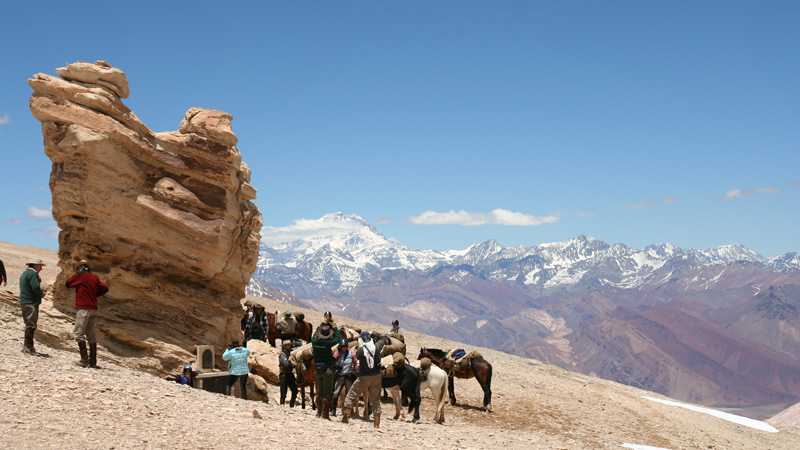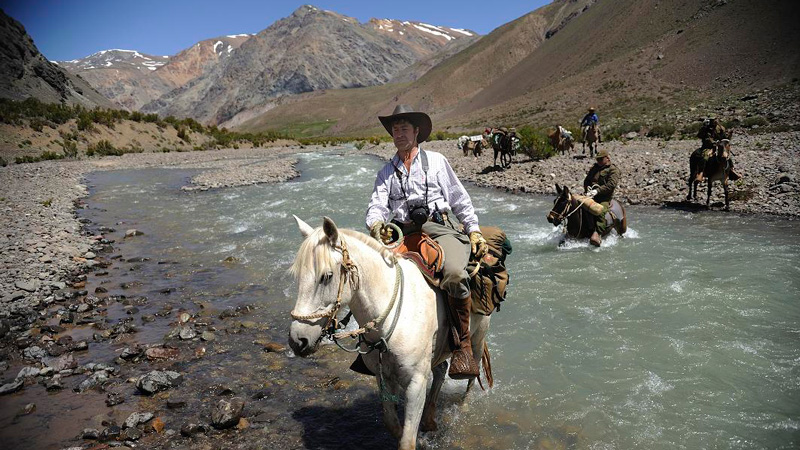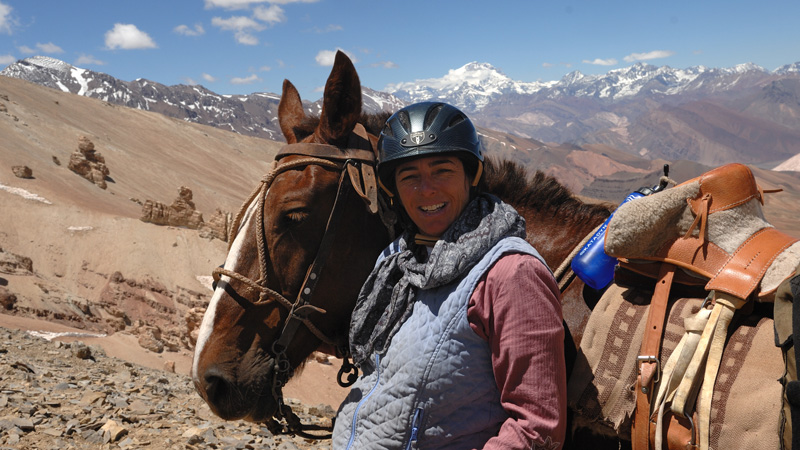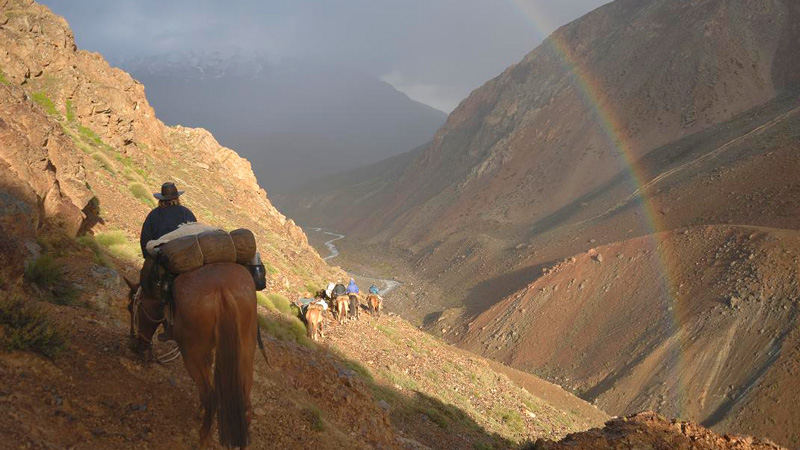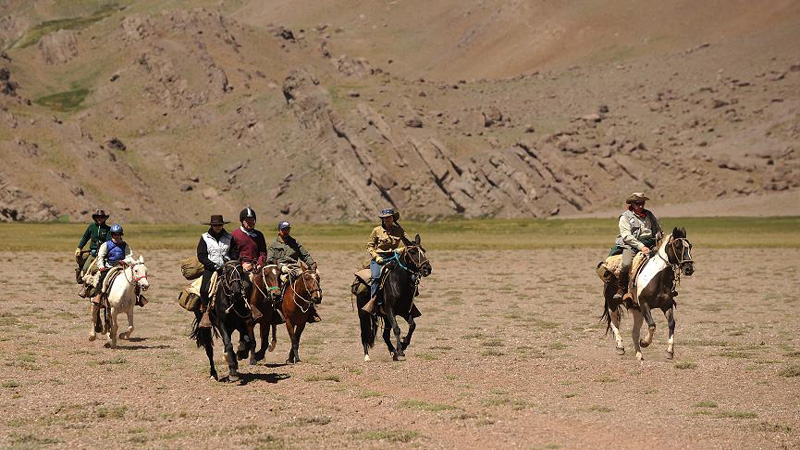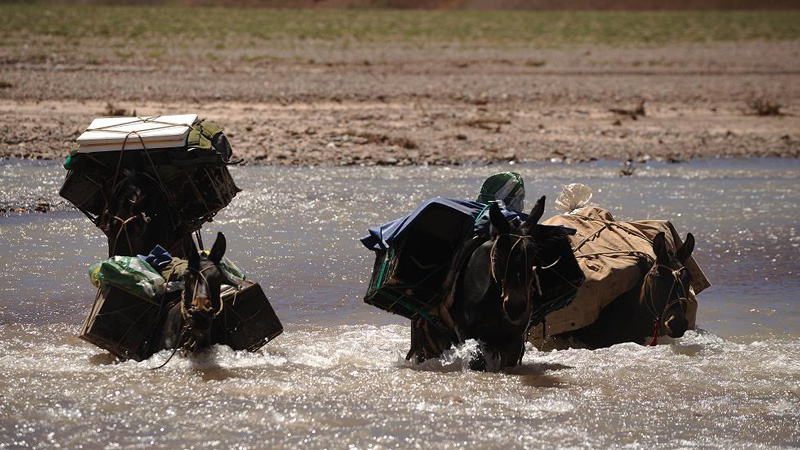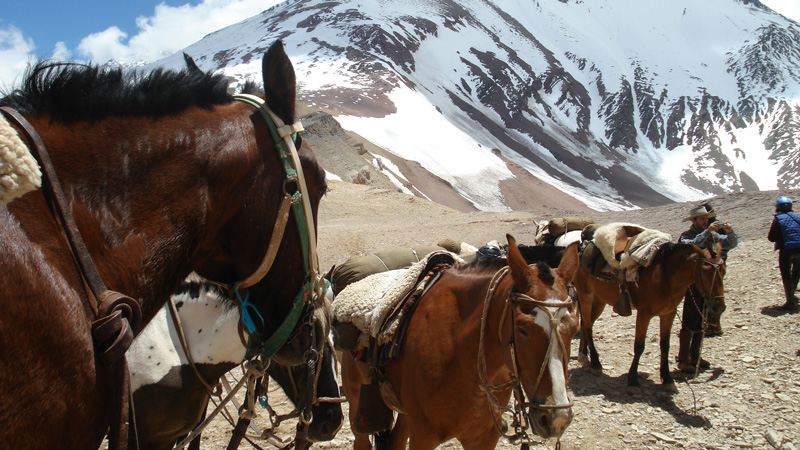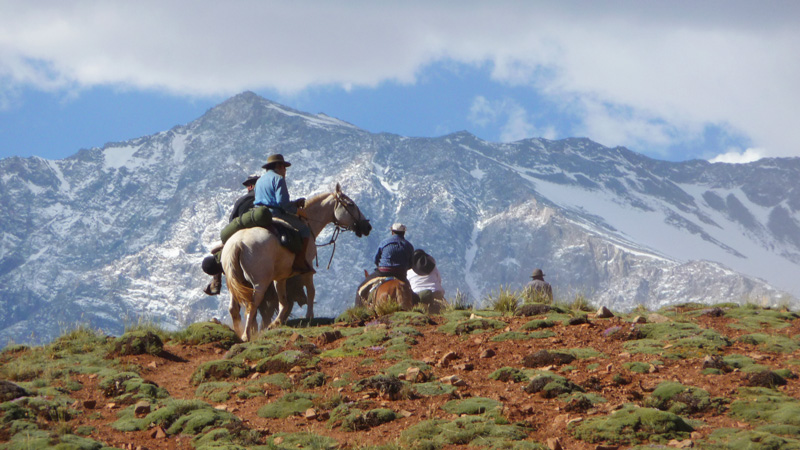 Crossing the Andes by horse following the same route that San Martin and his army used in 1817 when they freed Chile from its colonial rulers is a fantastic experience.
This wilderness is flanked by the highest peaks in the Americas, Aconcagua (6370m; 20,800 ft) and Mercedario (6300 m; 20,600 ft). It is in these uninhabited areas, accessible only by horse, where the Andean Condor lives and where great herds of guanaco (wild llamas) roam free. It is only in these unique locations that you have the opportunity to see them in their natural environment. And when the sun sets, the spectacular stars of the southern hemisphere fill the skies. At your campsite, the campfire brightens up the dark and you can relax with a coffee or tea and reflect on your day and experience the timeless spirit of nature. Once you have reached the other side of the Andes, you will understand what San Martin meant when he said: "…..and to the Army of the Andes remains forever the glory of saying: in 24 days we have done the campaign, we crossed the highest mountains of the globe, we ended tyranny and gave freedom to Chile". Signed by José de San Martín, 22 February, 1817, Santiago de Chile.
This trip suits those looking for a real expedition – a once in a lifetime experience.
Travel Information
Ability description: Trail Ride level 2-3 >>
Included in the price: 6 nights camping, 1 night in a hotel in Los Andes, Chile, 1 night in a hotel in Uspallata Argentina – (double rooms and three-bed rooms). Transfer Santiago de Chile – Los Andes at the pre-arranged time, Los Andes – Los Patos, Barreal-Uspallata – Mendoza. English-speaking guide. All meals and drinks on the ride and as indicated in the daily program in the cities.
Not included: International and domestic flights, travel and medical insurance, gratuities and all others not indicated
Travel: Book flight/rental car >> We help you book your flight if you wish.
Fly to Santiago de Chile.
Transfer: From the airport at 2.00 pm is transfer included and it takes about 1½ hours to drive to the city of Los Andes and your hotel.
On departure you get transfer to Mendoza City Airport, from there you can fly to Buenos Aires or Santiago de Chile, or take bus to Santiago which takes about 6 hours and cost 50 dollar.
No. of riders: Minimum 4 riders, maximum 15. The ride can go ahead with only 2-3 riders with the payment of an additional fee.
Climate: Summers range from highs of 30 C (86 F) to lows of minus 5 C (25 F).
You should keep in mind that the seasons are the opposite to those of the Northern Hemisphere. November to March are the warmest around 30 C (86 F) also with more rain, April – October experience cooler temperatures.
Accommodation
6 nights camping when everyone is encouraged to help to the extent they are able to, 1 night in a hotel in Los Andes, Chile, 1 night in a hotel in Uspallata, Argentina – (double rooms and three-bed rooms)
Bring varm sleepingbag and therm-a-rest. It is also possible to rent sleeping bag for $20 (sleeping mat is also included in the price). We have to know in advance if you like to rent sleeping bag.
Horses
Chilean and Argentinian Criollos 140-160 cm (55-63 in) that are well trained for mountain terrain.
Equipment: South American Recado saddles. They are very comfortable on long rides.
The luggage weight limit per person is 20 kilos on the pack mules. Before we start the ride, we will give you saddlebags where you have extra capacity to pack all the clothing you will carry for the ride. In this ride, we start the trip on one country and end it on another. Therefore, as the rest of your luggage has to be carried on mules, please use a flexible bag and not hard cases.
Approximate Riding time: 6-9 hours / day
The Program
Preliminary Daily Program
Day 1 – Arrival in Santiago de Chile, Chile. Fly to Santiago de Chile. Transfer from the airport is 2.00 pm and it takes about 1½ hours to drive to the city of Los Andes and your hotel. Check-in and then you are free to explore together with your guide and the rest of the group until it is time for dinner.
Day 2 – The ride starts. Transfer from Los Andes to Los Patos. This is the route that San Martin's army took through the Aconcagua and Putaendo Valleys on its way to Santiago. You can see where the Battle of Chacabuco took place on 12 February 1817. On 14 February, San Martin and O'Higgins entered Santiago and declared independence. The Chilean horses and gauchos will be waiting for you in Los Patos. The local authorities will give permission for you to pass the unmanned border crossing. You will ride upstream, along the Rocin River, to Las Tejas and your first camping spot.
Day 3 – You are riding the Pacific Ocean watersheds. You move up the Rocín river canyon. Night at El Ciénego camp.
Day 4 – You head off early in the morning to reach the national border at 3,500 meters above sea level (11,400 ft). You will have to change horses here and say 'good-bye' to your Chilean horses and gauchos and continue your ride with the Argentinean team. You are now close by Mt Aconcagua (6,962 m; 22,800 ft), the highest peak in the Americas and the Western Hemisphere. Overnight at Valle Hermoso. You will soon understand why this is known as the 'Beautiful Valley'.
Day 5 – You will spend a second day in this heavenly place. Today you will ride through the valley to get a closer look at Mt Aconagua. An easy ride at your own pace. You can also go fishing or stay in the camp and relax. Dinner at the camp.
Day 6 – You ride along the Volcán River and through the Los Patos Valley, once the ocean floor and now covered in marine fossils. You will camp at 3,500 meters (11,400 ft) above sea level at Rancho de Lata and prepare for tomorrow's challenge.
Day 7 – Riding (continued): Today you will cross the Espinacito Slope at 4,500 m (14,700 ft) above sea level. This is the highest point of the ride. This is a magical landscape and you can imagine the enormous challenges the army in the Andes had to overcome. Overnight at Peñón Colorado.
Day 8 – After breakfast you will ride to Hornillas. The challenges have almost passed now and you will have an understanding of the real meaning of crossing the Andes. You say good-bye to your horses and finish your adventure. You will drive to Uspallata city by minibus and spend the night at the hotel. Farewell dinner.
Day 9 – Mendoza wines and Airport. This is a real gourmet day: wine production and wine tasting and a superb lunch. You leave Uspallata early and drive to Luján de Cuyo. This area is known worldwide for producing some of Argentina's finest wines. Any visit to Mendoza would not be complete without a visit to the famous Club Tapiz boutique winery. During your visit you will have the opportunity to taste some of their premium wines direct from the oak barrels. Lunch at the winery. Transfer to Mendoza city airport.
New Year

If you want to welcome the New Year with an extremely exciting adventure you should choose this ride. Anything more thrilling than crossing the Andes on a horse back is hard to find. What a perfect way to start the new year.