Greenland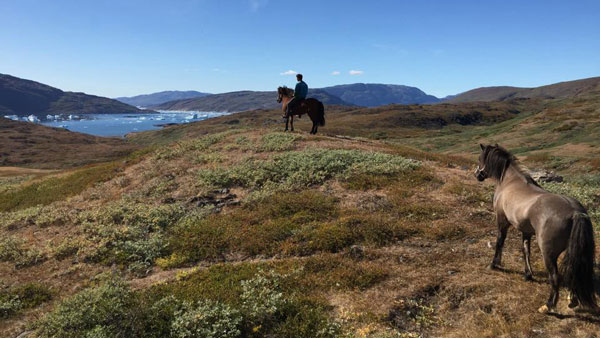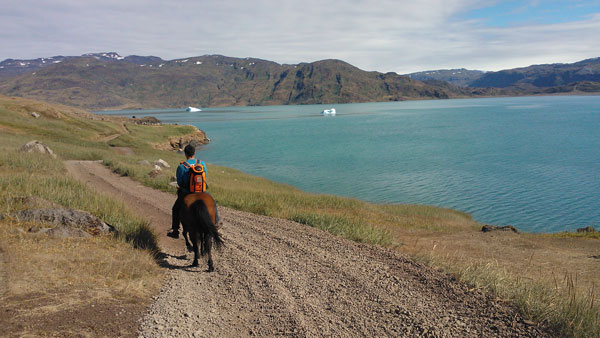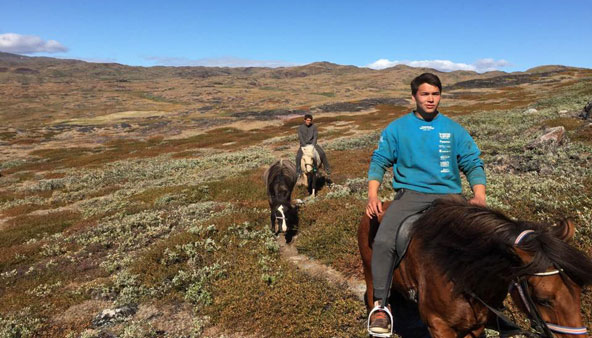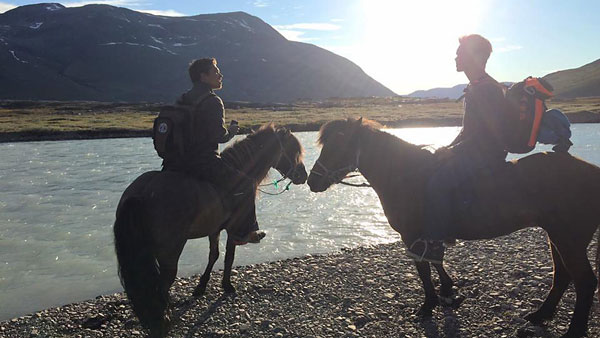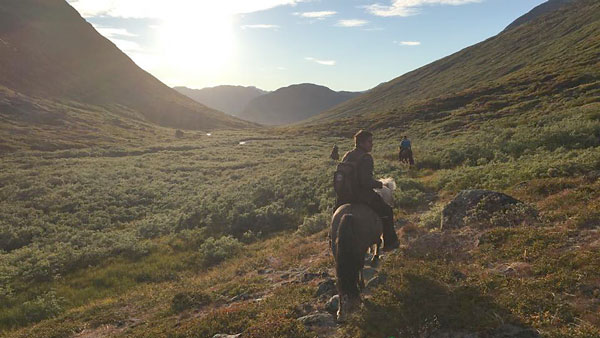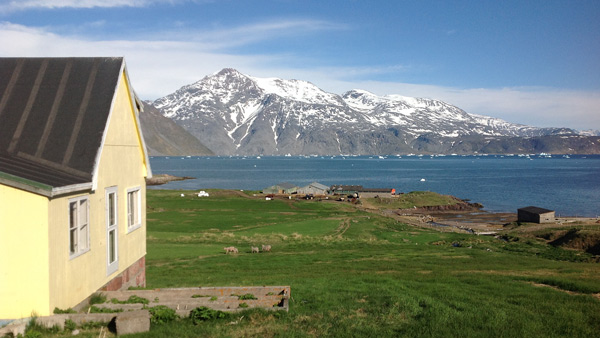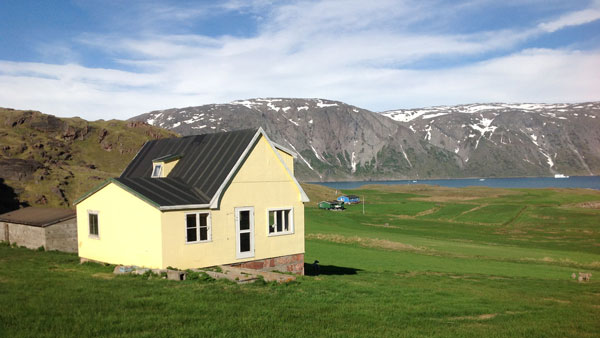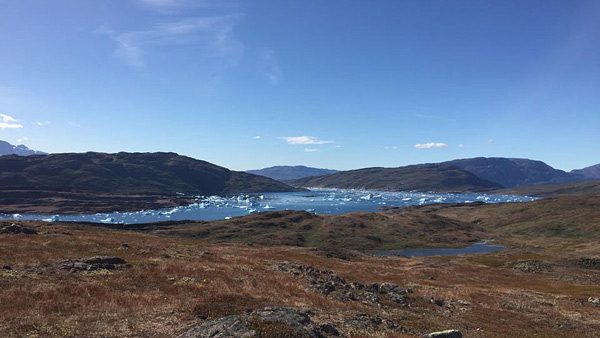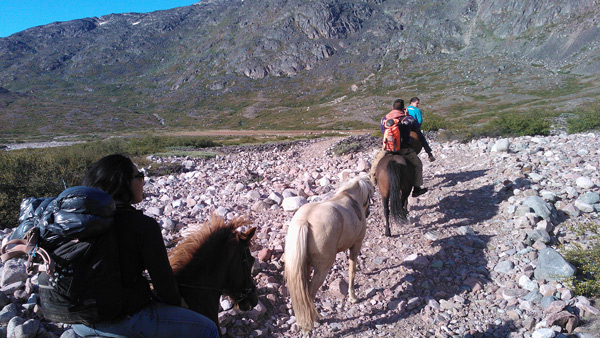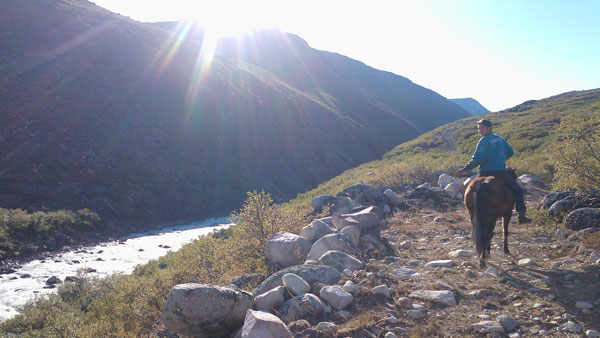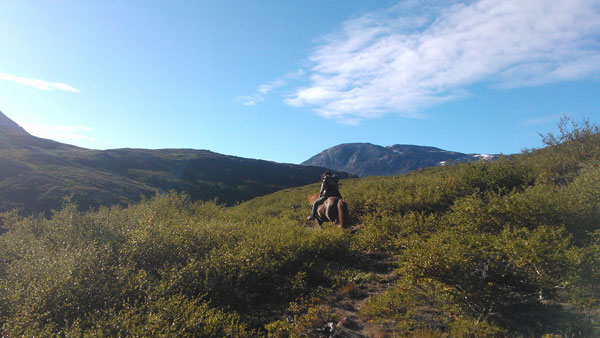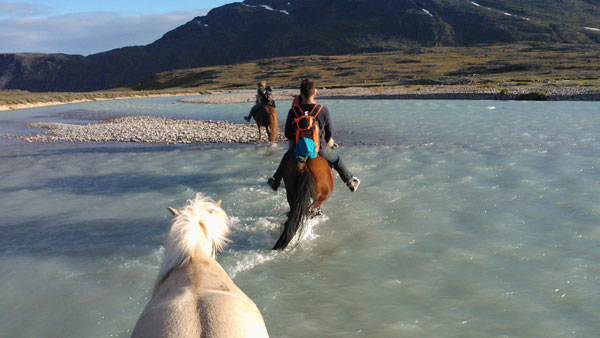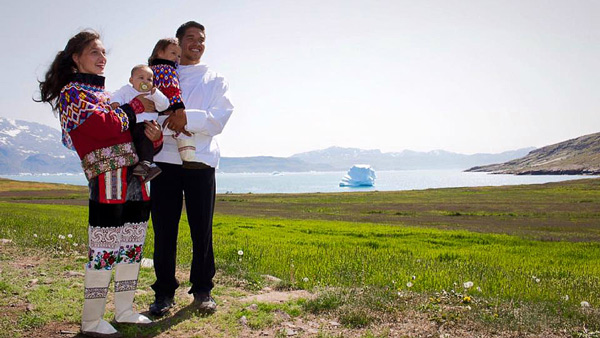 Greenland is not a mass tourism location, but rather somewhere for the discerning traveller who is searching for unique experiences in a magnificent, clean natural environment and an exciting culture.
Greenland is the world's largest island, located where the North Atlantic and the Arctic Oceans meet. Greenland is 85% covered with ice and glaciers, which can be up up to 3 kilometers (2 miles) thick.
Despite covering an area of nearly 2 million square kilometers (772,204 square miles) only about 56,000 people live there. The fishing and hunting of seals, birds, wild reindeer and musk oxen are still the main sources of income.
Your hosts, Piitaq and Naasu, who are third generation sheep farmers with over 500 sheep, will welcome you to their farm in southern Greenland. On this trail ride they would like to show you the most beautiful parts of southern Greenland, with its sheep farms, high mountains and deep valleys, waterfalls, glaciers and beautiful fjords dotted with icebergs.
The farm is located by the sea and there is only one road in and one road out. The farm is located just 10 minutes by boat from Narsarsuaq International Airport.
Be one of the first to experience this majestic landscape from horseback.
Accommodation and Food
Accommodation is in basic guesthouse/hostel. There may be two or more people sharing a room and several rooms share a bathroom together. You will spend five nights in the farm's guesthouse, which has three bedrooms and a dining room / living room / kitchen. You will then spend two nights at Sermilik hostel, with three bedrooms and a common living / dining area. There is no shower available at the Sermilik hostel, but there is running water.
Safe deposit box: No
A/C: No
Hair Dryer: No
Towels and sheets: Yes. Bring sleeping bag for Sermili hostel.
Fridge: One to share.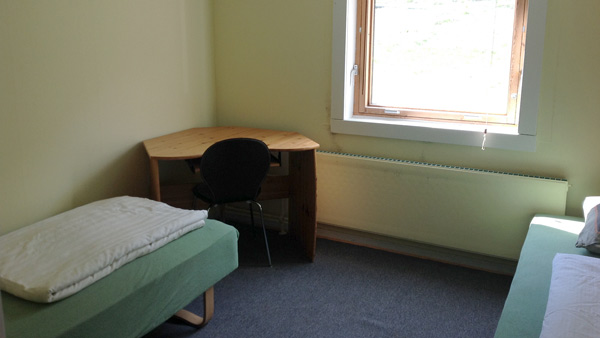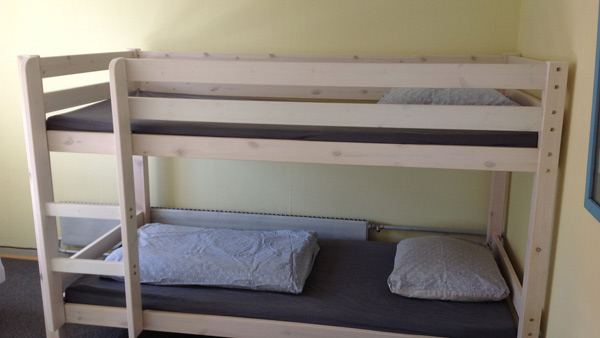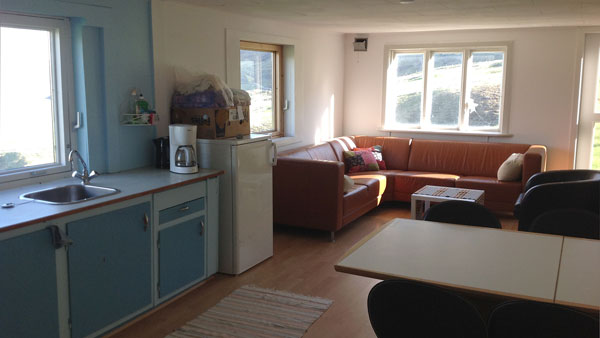 You prepare your own breakfast and lunch box in the farm's guesthouse. For the nights spent in Sermilik hostel, you will help prepare the meals. Dinners are typical Greenland fare with a lot of lamb or fish, some meat from greenlandic cow and muskox. For lunch you will prepare you own packed lunch that can fit in the saddlebag of sandwiches and a water bottle (bring your own water bottle). After use of kitchen the guests will clean up after themselves
Different sorts of greenlandic beer, danish beer and soda will be for sale for 30DKK and a few different bottles of wine aswell for 300DKK per bottle.
There is no special catering for vegetarians or gluten free food, as there are not the supplies available in Greenland.
Horses
Island Horses are perfect for this landscape and climate. You will ride the same horse all week.
Weight limit: 100 kg
The Program
Preliminary program of 7 nights accommodation and 5 days of riding.
Day 1: Arrive at Narsarsuaq International Airport. Boat transfer to the farm. After you have settled into the guesthouse, you will be served dinner at 6.00 pm.
Day 2: You prepare your own breakfast and packed lunch. The ride goes towards the neighbour farm Issormiut and to a view-point on top of a mounatin above Issormiut farm. View to the glacier behind Narsarsuaq Airport. Entire tour takes about 10km. And at arrival back to the farm you also help with taking saddles off.

Day 3: You prepare your own breakfast and packed lunch. You will ride to Qassiarsuk, abot 7km, and there you will stop for lunch and go see the norse ruins and sometimes there is a guide to tell about the vikings and the norse ruins. Lunch break takes about 1-2 hours. The ride continues to Tasiusaq farm and also takes about 7km. At arrival the guides will put electric fences up for the horses to stay the night and while not riding.
Day 4: After breakfast, you ride around the area to a view point. You ride along the beach by icebergs to get close up and see the glacier. Return to the guesthouse.
Dinner and overnight at the guesthouse. Ride about 10km:
Day 5: After breakfast you ride back to the farm where you will be served dinner. Ride about 14 km.
Day 6: Horses' rest day. Guests are invited for a boat trip to the glacier with Piitaq.
Dinner and overnight at the farm.
Day 7: Ride around the farm to yet another beautiful viewpoint. You ride go up the mountain Naajat. From Naajat you have the beautiful view over Sermersuaq (most of the glaciers in the area), the mountain Illerfissalik and also Narsarsuaq. About 30 km: Dinner and overnight at the farm.
Day 8: Breakfast and then guests are transferred by boat transfer to Narsarsuaq then to the airport for their flight home.
Climate


Travel Information
Ability description: Trail Ride Level 3 >>
Included in the price: 7 nights accommodation, 5 days riding, full board including water, coffee / tea making facilities, shuttle service.
Not included: Flights. Wine and beer can be purchased on site.
Travel: Fly to Narsarsuaq.
Transfer: Book in advance with HorseXplore.
One group transfers from/to the airport are included. Transfer times in the afternoon when the last flight has arrived (Air Greenland) and going bak to Narsarsuaq we will sail them early in the morning since some has an early flight. The transport from the airport to the farm will be done by a company called Blue Ice Explorer. All guests have to report their arrival to the Blue Ice counter in the Airport.
Riding: Moderate pace so you can enjoy the beautiful surroundings. Walk and tolt, 4-6 hours / day in varying terrain. Luggage will be taken by car.
Group size: Minimum 2 and maximum 6 riders.
Currency: Danish krone. The equestrian center does not take credit cards.
Single room: Not available.
Currency: Danish crones
Credit card: Not accepted at riding center.
Tipping: Not required but appreciated.
Wifi: No
Electricity jack: EU standard
Group size: 3-8 riders
Age limit: Min. 12 years. Max 60 years
Closest village: 10 minutes by boat to Narsarsuaq and 7 km by car to Qassiarsuk.
Beach: Yes around the riding center.
Pool: No
Misc.:
Riding equipment to borrow: Helmet
Saddle bag available: Yes
Special diet: No Special diet is possible.