Ecuador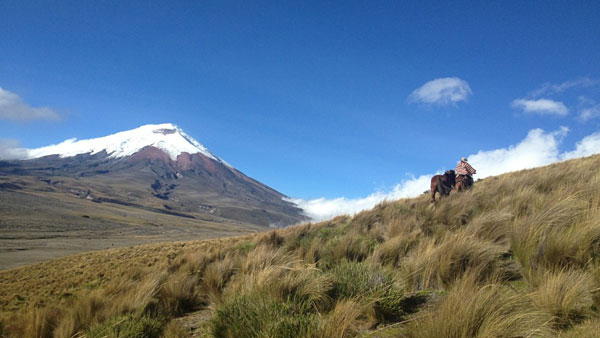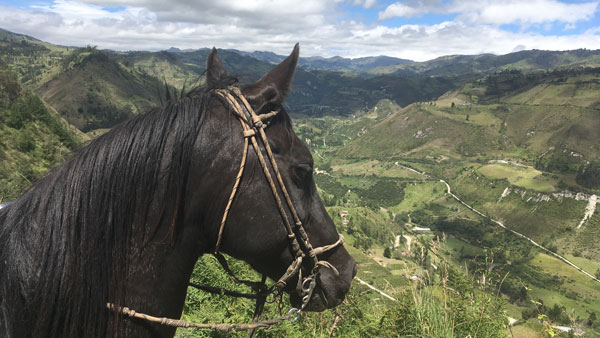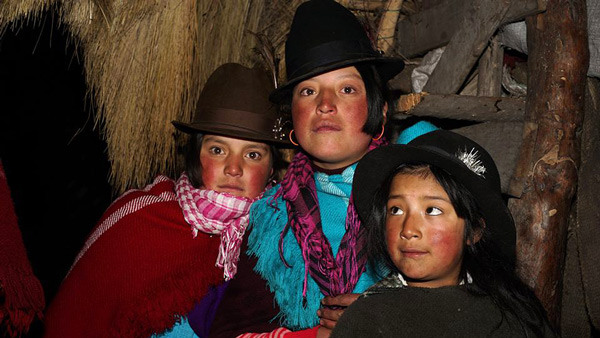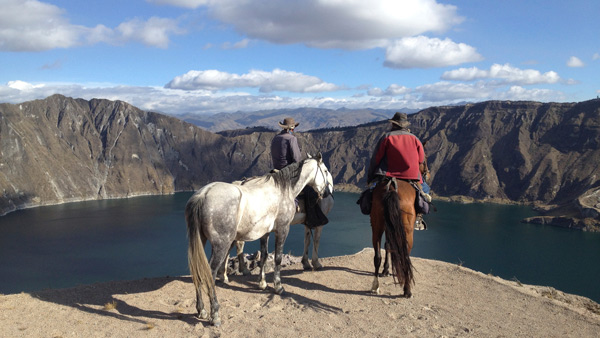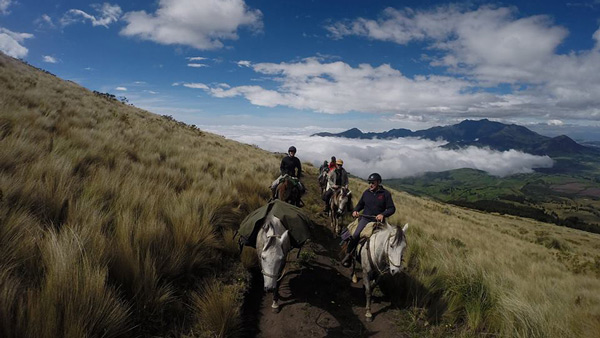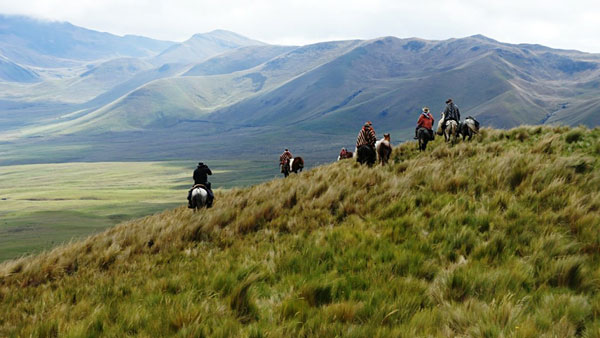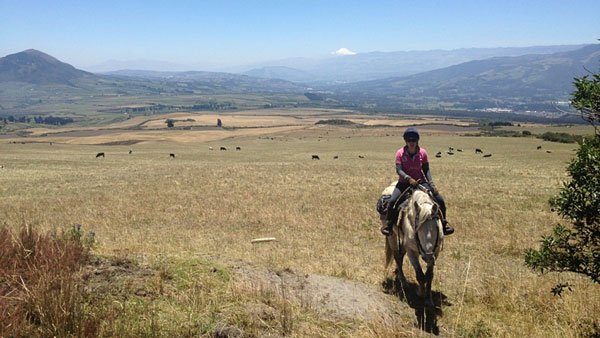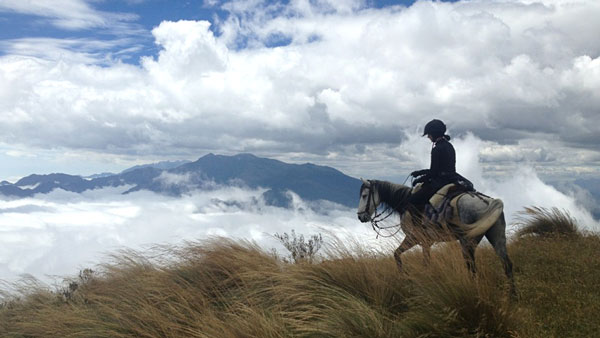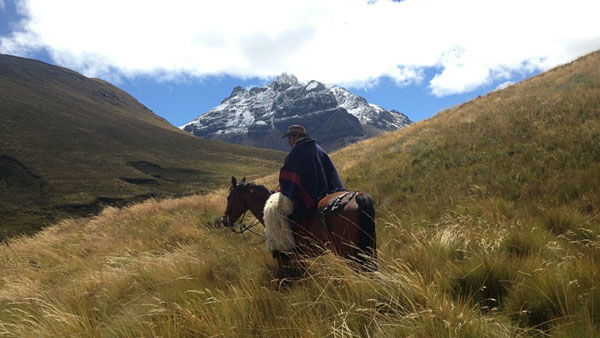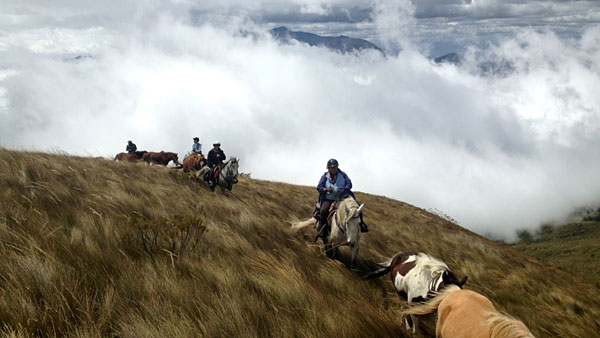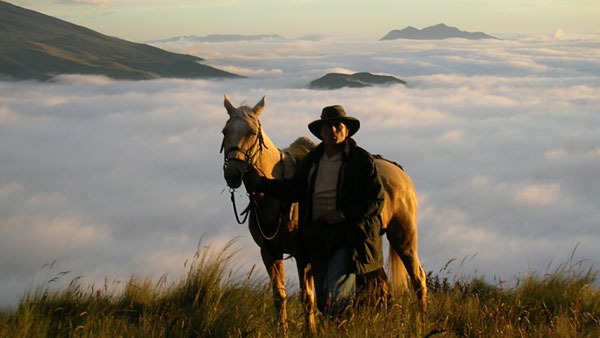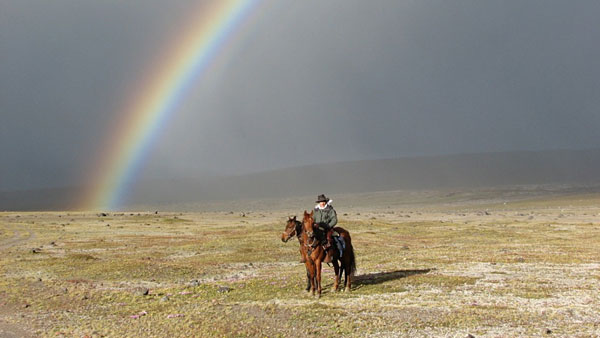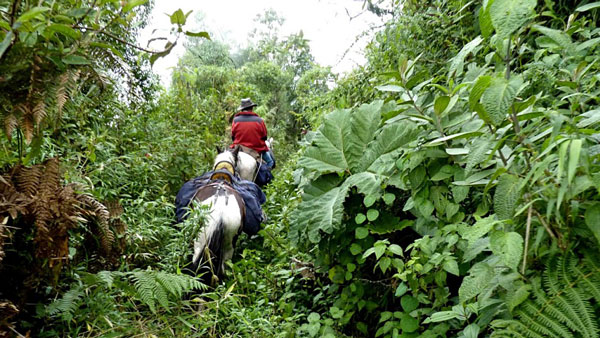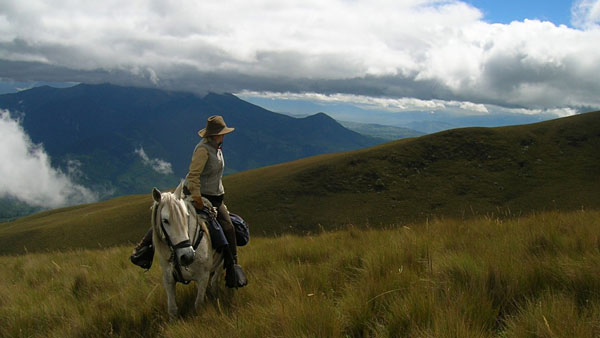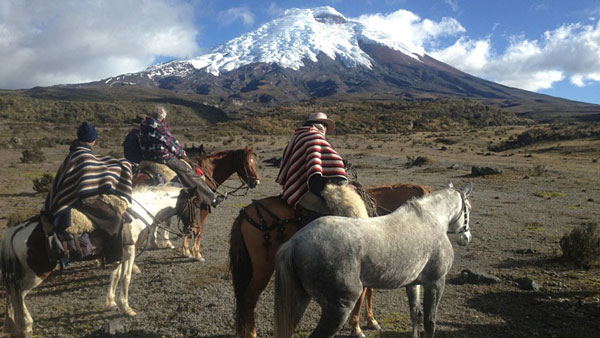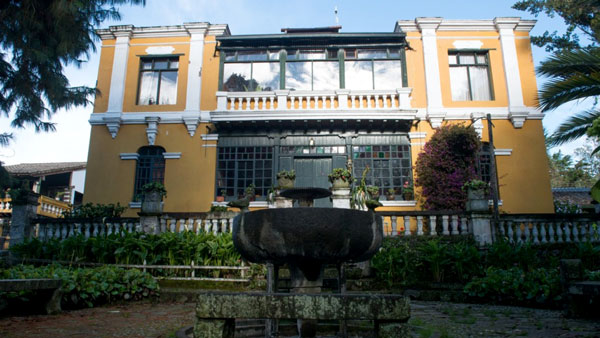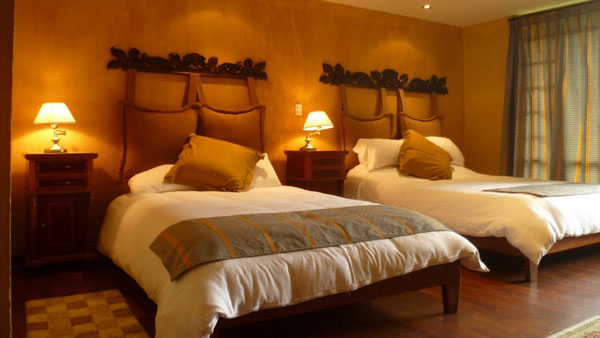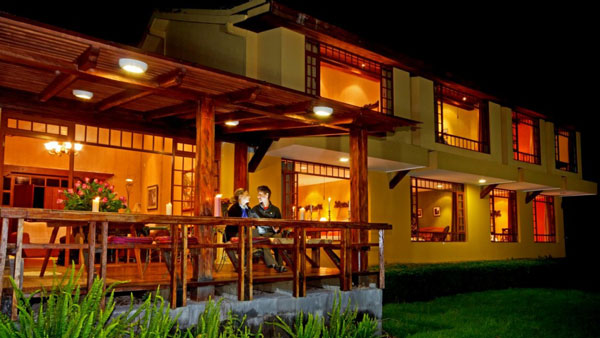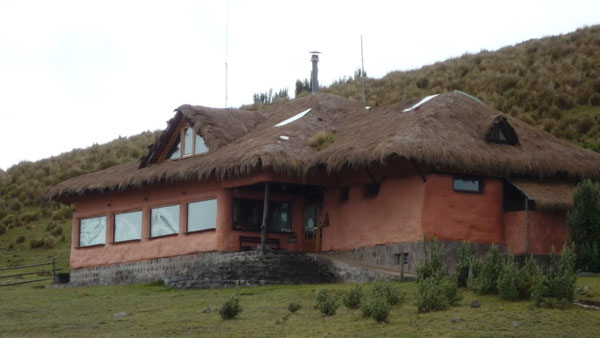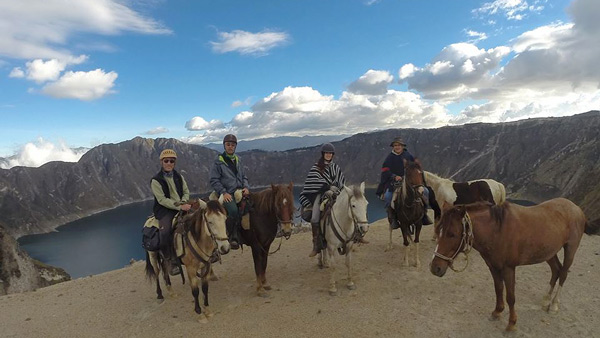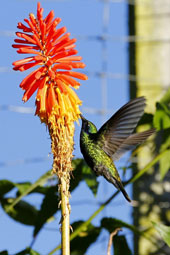 Despite its small size, Ecuador is unique with its fantastic mountains, the Amazon River and its rainforest vegetation, Indian culture and colorful markets. Riding in this country is incredibly exciting. Our hacienda is situated south of Quito in the verdant valley of Machachi. As it is surrounded by eleven volcanoes, this region is often referred to as "The Volcano Avenue".The first day of the trip is designed for the guests to get used to the altitude, to chose your horse and be introduced to the chagras' lifestyle.
Indeed, you will come to appreciate the tradition and customs of the chagras' (cowboys) abilities in the hacienda. In their goatskin chaps and woollen ponchos, they welcome guests to demonstrate their centuries old tradition of herding cattle. The chagras' skill on horseback and knowledge of the Andean paramo are legendary. The Hacienda enjoys a special relationship with the chagras, participating with them in rodeos and festivals and visiting them in their homes each month. They are the inspiration for our journey, framed by ancient volcanoes, highland plateaus, and rivers that flow down the massive Andes towards the Amazon and the Pacific. Your host Gabriel comes from a family steeped in equestrian tradition, and his enthusiasm for riding and horses is at the core of everything they do at the hacienda (ranch).
Experience the beauty of the Ecuadorean Andes on horseback. Each morning brings new experiences and a chance to contemplate the beauty of the mountains and valleys. Our ride incorporates rides by Ruminahui, and Quilindaña volcanoes. And, of course, you will see the majestic highest active volcano Cotopaxi, from many different angles throughout the ride.
One of the unique features of the environment is the endangered habitat of the Ecuadorian cloud forest. These subtropical Montagne Cloud forests used to cloak much of the steep western slopes of the Andes between 1,000 and 3,000 meters, but are now classified as threatened.
Horses
At the hacienda the horses are of utmost importance. Most have been bred here on the farm from mixed Criollo (native South American), English Thoroughbred and Arabian stock, resulting in a near perfect combination of toughness, agility, calm temperament and "mountain sense". Beginners and experienced riders alike have found them easy to ride, willing and good mannered. Here you will be given plenty of opportunity to canter.
They have a range of tack including North American style, English style, Mclellan calvary, Chillean and traditional Ecuadorian "Chagra" style with its intricate leather-work and saddle horn.
Accommodation and Food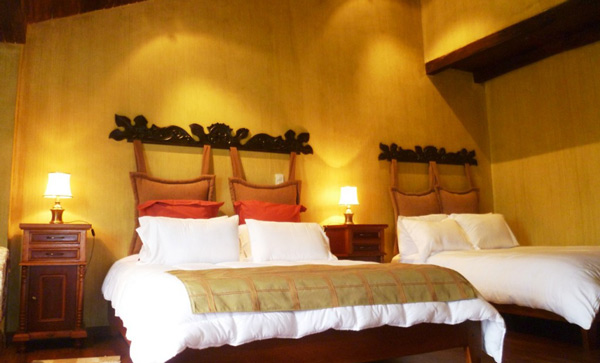 You stay the first and last nights at the eco-friendly hacienda in tastefully decorated large double room with private bathroom. Other nights you stay in different haciendas and hostels, sometimes with a shared bathroom. On the Wild Andes ride there is also 3 nights camping.
It is possible to book a single room. Single supplement will be added if there is no one to share a room with.
Safe deposit box: No
A/C: No
Hair Dryer: Yes
Towels and sheets: Yes
Fridge: No

All meals are included and they serve tasty international and national dishes. Also wine and beer is included.
Climate



Travel Information
Ability description: Quilotoa- and Cotopaxi Vulcano Ride: Trail Ride Level 2-3>> Wild Andes: Trail Ride Level 3

Included:
Quilotoa Vulcano Trail Ride: 8 nights, 7 days riding, bilingual guide (Spanish/English), support vehicle, full board, wine and beer included with dinners.
Cotopaxi Vulcano Trail Ride: 7 nights, 6 days riding, bilingual guide (Spanish/English), support vehicle, full board, wine and beer included with dinners.
Wild Andes: 11 nights, 10 days riding, bilingual guide (Spanish/English), support vehicle, full board, wine and beer included with dinners.

Not included: Flight, transfer, extra drinks, possible tip.
Travel: Book flight/rental car >> We help you book your flight if you wish.
Fly to Quito airport (Mariscal Sucre International).
Transfer: Book in advance with HorseXplore and pay on spot in cash to the driver.
From Quito airport to riding center, about 1 hour.
Price: 96 USD/return for 1-3 persons.
Single room: Can be booked with a supplement. For price click on "Book on request" under Dates & prices.
If you are willing to share room, you will not have to pay a supplement if you are allocated a single room.
If there is no one to share a room with, a single supplement will apply.
Currency: USD
Credit card: Not accepted by riding center.
Tipping: Not required but appreciated, some give about 100 USD.
Wifi: Yes
Electricity jack: US standard
Group size: Minimum 3 riders, max.12 riders. Min. 2 riders with small group fee 125 EUR/person
Age limit: 6 years at Hacienda, 12 years for riding.
Closest village: 2,5 km (1,5 miles)
Beach: 350 km (220 miles)
Pool: Jazuzzi
Misc.:
Riding equipment to borrow: Helmet, boots, chaps
Saddle bag available: Yes
Special diet: Inform when booking.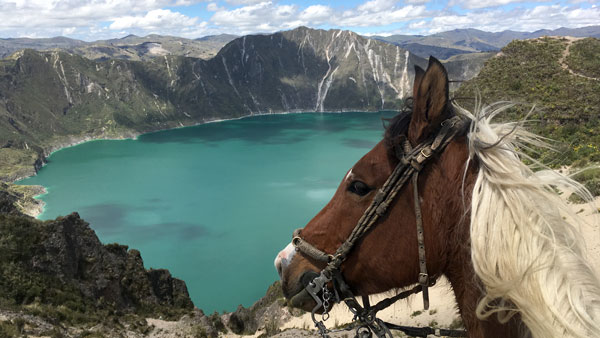 The first part of the ride includes acclimatization at the Hacienda and the cloud forest. At the cloud forest you will enter a completely different environment and see an exciting change in the surrounding vegetation; from a lush native tundra landscape of the high attitude to an impressive sub-tropical vegetation. Here, nestled deep in the mystical ....
Read more »
From
EUR 2,125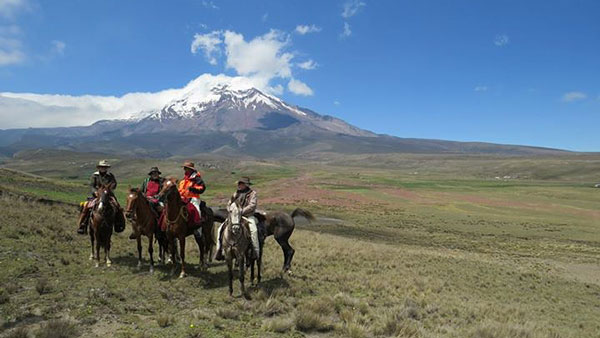 The Ecuadorian Andes run north to south and are comprised of eastern and western chains. The Hacienda is at the western chain. The southwestern Andes are a well known Indian region, isolated communities like, Quilotoa, Sigchos and Guambaine are also found in the middle of the Andes, following the same traditions and ways of life since the Colonial ....
Read more »
From
EUR 2,830