Tanzania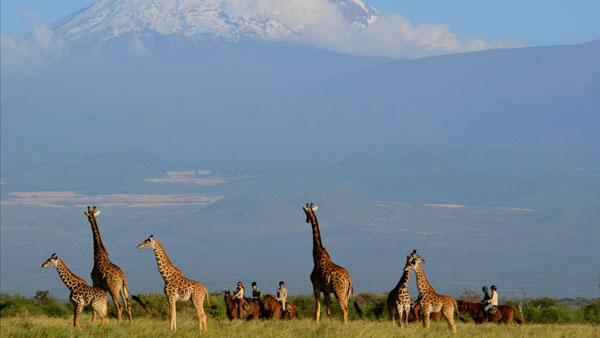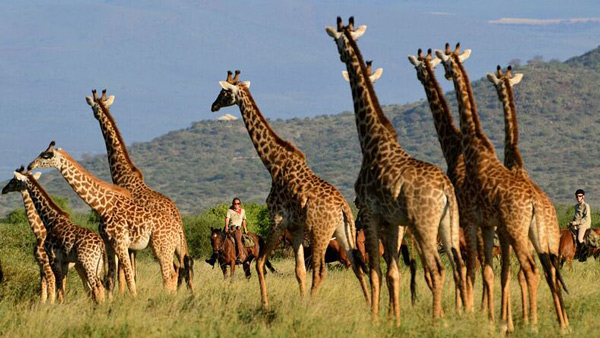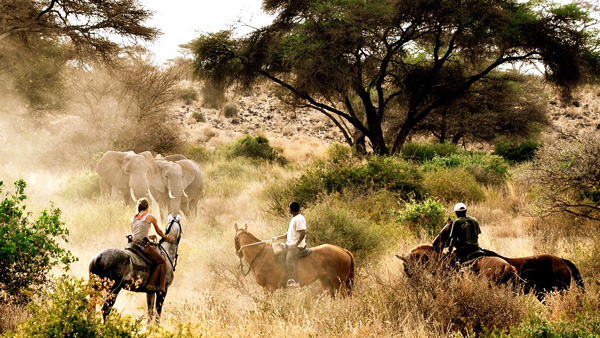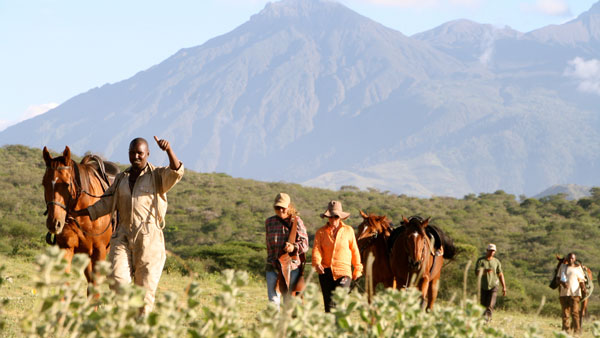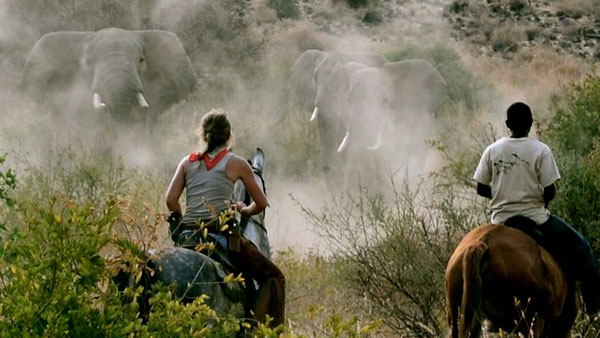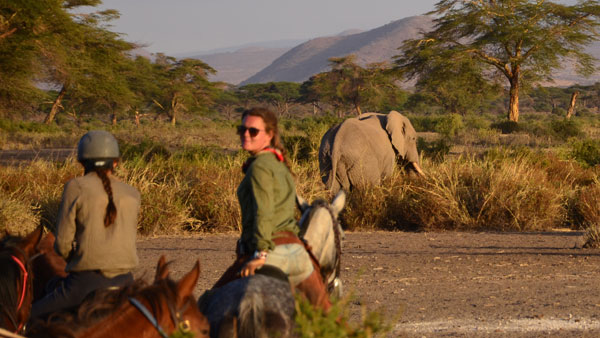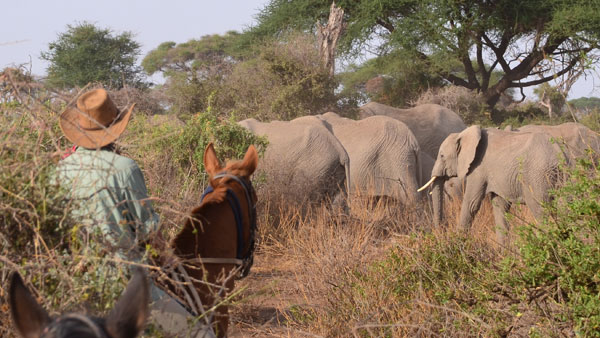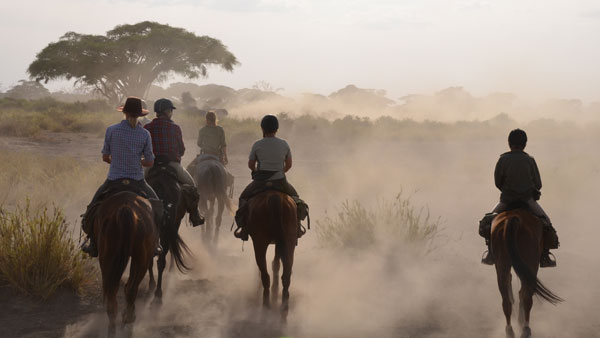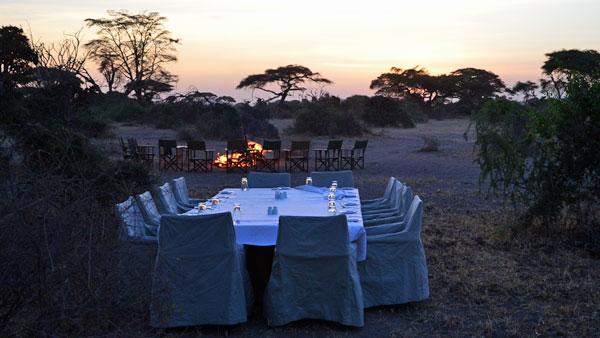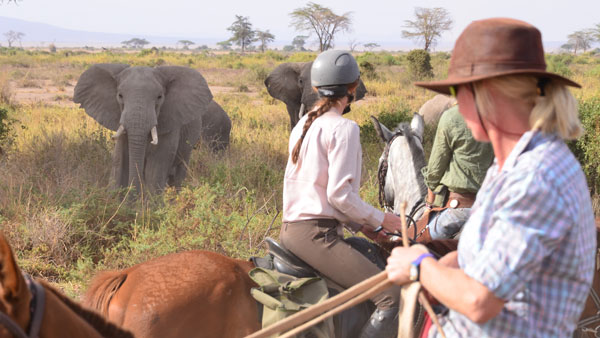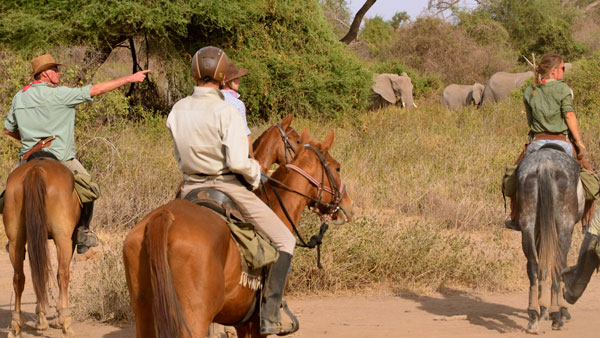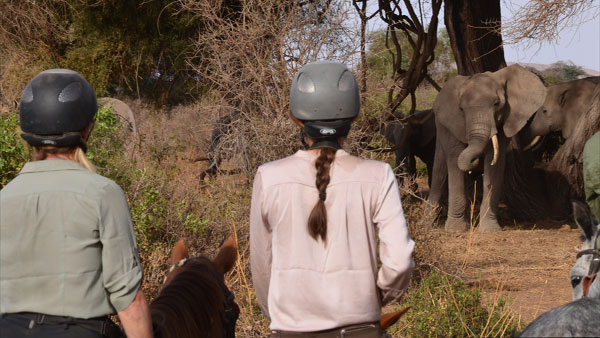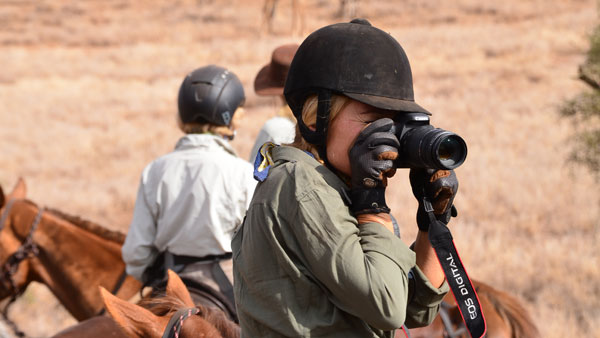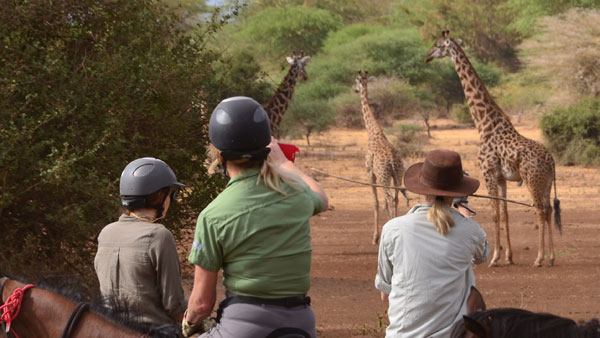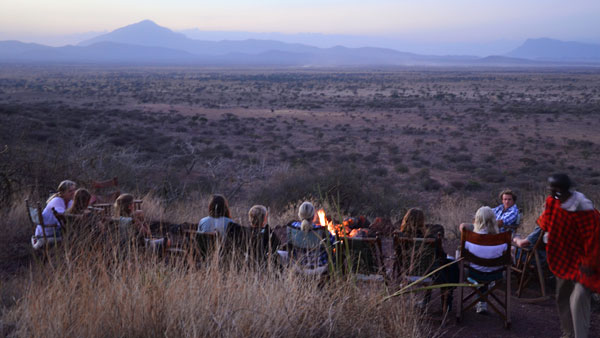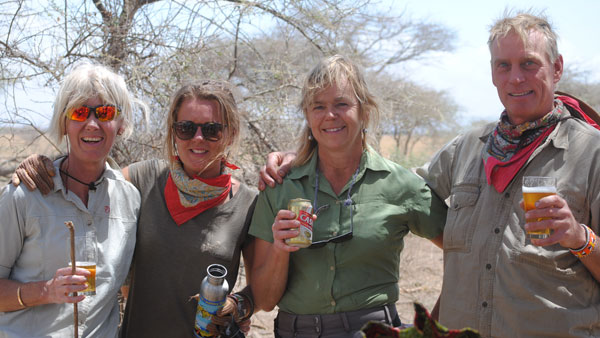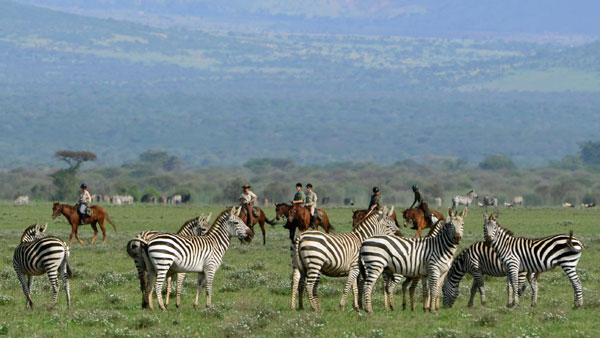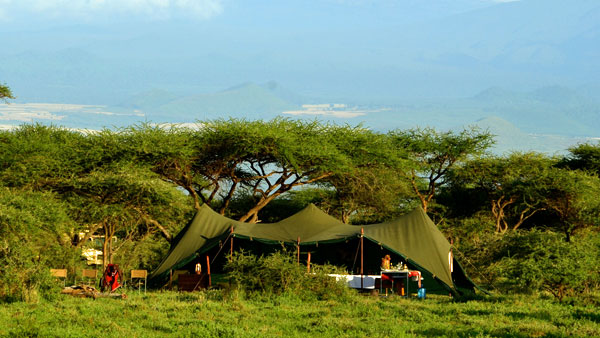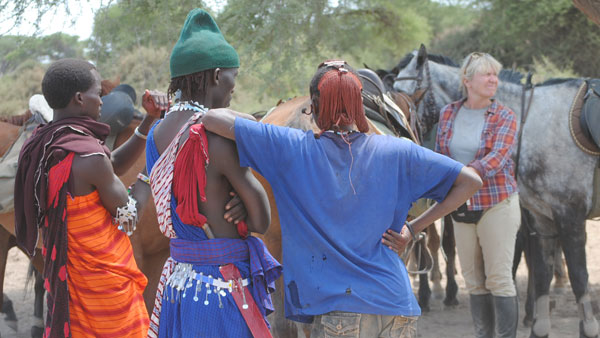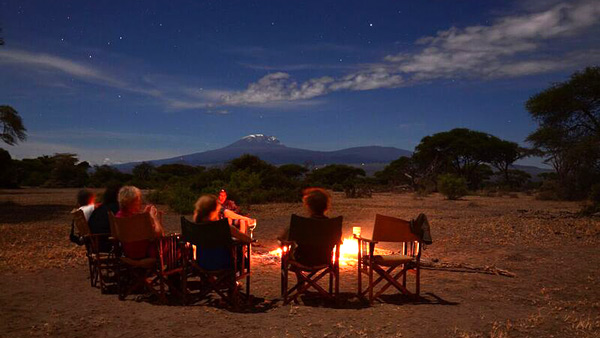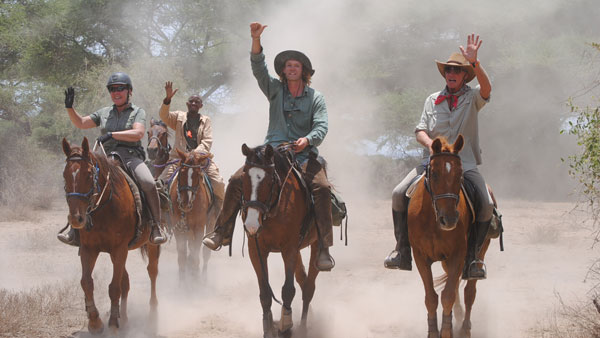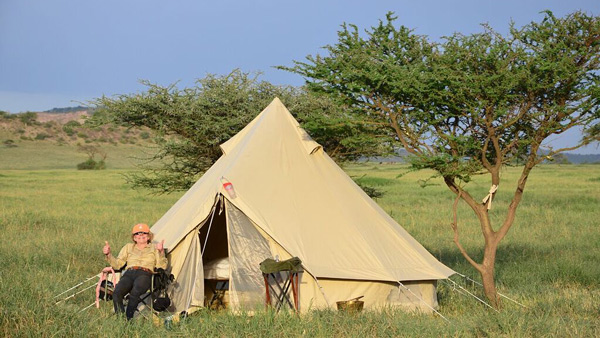 This is the Africa so many dream of. Tanzania has vast savannas covering large parts of, while other parts of the country are covered by lush jungles and high mountains. Home to scores of Africa's unique flora and animals. Tanzania also has a beautiful tropical coastline with beaches and coral reefs, where the island of Zanzibar is a paradise with perfect, pure white beaches and turquoise waters.
The ultimate animal and nature experience is to sit on a horse's back and ride in complete freedom with wild animals. Few experiences are as powerful or can compare to galloping alongside a giraffe (they are very tall and have a remarkable gallop) or getting close to an elephant with a wrinkly baby at her side. Joanna, from Sweden, offers a safari of the highest quality.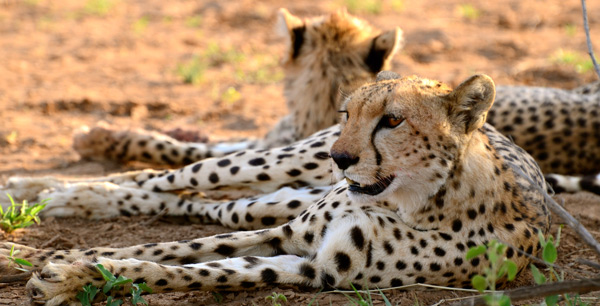 You get the chance to see the "Big Five" other than rhinos (ie, elephants, lions, buffaloes, and leopards). You also have the chance to see hyenas, antelopes, giraffes and zebras. However, you ride through a vast area area so you are not guaranteed of seeing all the animals.
Accommodation and Food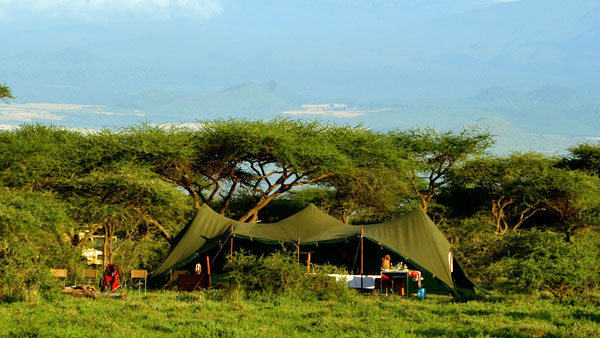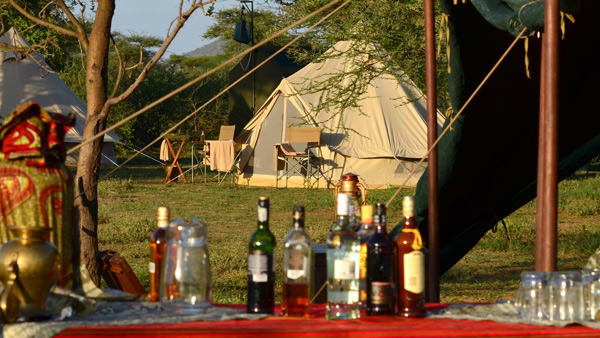 You stay in two different camps and will be served wonderfully delicious food.
Safari Camp: Six nights is spent under custom made mobile camp. The tents are of our own design with on suit bush toilets and hot bucket showers. Full board accommodation and locally sourced beverages, (other requirements can be arranged prior to arrival and will then be charged at cost price).
Permanent camp: The first night is spent at our permanent camp, where we have combined spacious traditional safari tents with our permanent Polo Safari Club. The camp is beautifully located on a wildlife estate with great views of Mt Meru and on a clear day Mt Kilimanjaro. The camp overlooks the polo clubhouse and two polo fields where often zebras and wildebeests are seen grazing. We have ten fully equipped tents, each with its own on suit bathroom, flush toilet and white fluffy towels. There is WIFI in the clubhouse and a swimming pool, gym and spa treatments to be enjoyed. All beverages and delicious home cooked meals are prepared for you at the spectacular clubhouse (a replica of the Sultan of Zanzibar's very own palace).
Safe deposit box: No
A/C: No
Hair Dryer: No
Towels and sheets: Yes
Fridge: No
The food is of a high standard and prepared by trained bush cooks. Breakfast consists of traditional English breakfast served with juice and African fruits. You eat lunch out in the wilderness under the shade of a tree. You will either bring lunch with you in saddlebags or it will be brought to you by car. Dinner consists almost always of three courses and local and international dishes are mixed and are always served with freshly baked bread, fresh salads and lots of herbs.
Program Serengeti Safari Ride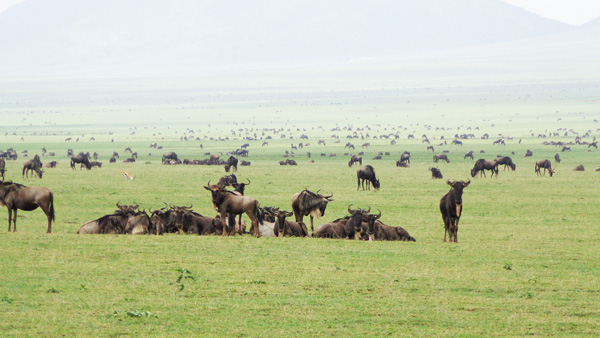 Please be aware of that the ride below is for strong intermediate riders only and that each itinerary is subject to change due to movement of game and whether conditions. The routes are designed for the best possibilities of viewing wildlife and follow suitable terrain for horses. If the itinerary would change prior to the safari, this would only be for the safety and to the benefit of the journey on horseback.
Safari Day 1
Arrive Kilimanjaro International Airport where you will be met and transferred around 30 minutes to the Polo grounds for the first night, a comfortable permanent camp. Meet up with the rest of the group and dinner will take place in the polo clubhouse.

Safari Day 2
An early start to catch a morning charter flight to Ndutu airstrip in the southern Serengeti. After the flight, depending on where you fly in, anything between 2-4 hours drive, depending on routing (you may be flown over the Ngorongoro Crater, Lake Manayara or Tarangire National Park, a wonderful opportunity to see these iconic sites from the air), you will be met by a safari vehicle at Ndutu. A short wait whilst you are checked-in at the National Park registration post, then set off driving through the Ngorongoro Conservation Area and Serengeti National Park, past impressive rocky outcrops known as "kopjes , river courses and across the Serengeti's famous 'short grass plains'. Prime grazing area for migrating wildebeest during the early months of the year, with luck (always dependant on the weather!) the plains may be thick with wildebeest which arrive in their thousands after the rains to make the most of the fresh grass. The plains are also the wildebeests' favoured birthing spot - it is one of nature's miracles that females delay giving birth until the rains and grass arrive in an effort to ensure their newly born young get the best start in life, a chance to build their strength on lush new grass before setting off on the long march north to Kenya's Mara plains. Leave the National Park and NCA and after a drive of about 2 hours in all, eventually arrive at the spot chosen for the first camp in the shade of a lovely flat topped acacia. Meet the team of support staff, settle into your tents and a welcome lunch in the shade of the mess tent. Then, a short siesta, before meeting the horses and their grooms, and time allowing, an evening ride to try them. Return to camp at sun set for hot showers, drinks by the campfire and your first dinner together in the bush, before tomorrow when the adventure really starts!
Safari Day 3
Woken at about 7am with tea or coffee brought to your tent, then breakfast in the mess tent before heading to the horses to mount up at around 8am. Depending on the weather and movement of game, you might ride out for a long morning today returning to camp for lunch and another ride or a game drive in the late afternoon - or you might head out for a full day ride, meeting the back-up team for lunch out in the bush. Either way you should have a good chance of seeing the gathering herds of wildebeest for which the area is famous, as well as giraffe browsing in the acacia scrub, zebra and perhaps predators such as hyena and jackal. Dinner and night in camp.
Safari Day 4
Today might be the first moving day. An early wake up at dawn gives you time to pack up before breakfast, then mount up to set off to a new camp, riding through areas that have rarely been visited on a horse, perhaps passing Maasai herdsmen or their small settlements, where tribesmen live off the land as they have done for centuries. After about 4 hours riding, meet the back-up crew for an al- fresco lunch in the bush and time to rest in the heat of the day, before heading off again, aiming to reach the new camp by tea time. Set up ahead by the back-up, tonight's camp might be spectacularly situated in the middle of the vast open plains, where, at peak migration time, the air will be filled with the braying and mesmerizing grunts of wildebeest. A cup of tea or a cold beer when you arrive in camp, followed by hot showers & dinner, listening to the sounds of the bush.
Safari Day 5- 8
Four more days to explore, riding across the open plains, into grassy valleys dotted with picturesque granite outcrops, swathes of whistling thorn and typically East African flat toped acacia trees. The route and arrangements each day will vary with the weather and movement of game but your guide will aim to ride to at least one more camp so you can discover another new area and you may (weather allowing) also be able to spend a night in a lightweight fly camp, sleeping under mosquito nets. One day there will also be a long game drive with a picnic or BBQ lunch, into the Serengeti National Park itself crossing the short grass plains and looking out for cats such as cheetah, lion and leopard which thrive here, as well as elephant and the flamingo which gather on the area's soda lakes. Dinner, with a chance to chat through the next day's plans, and 4 nights in camp.
Safari Day 9
An early wake-up call for breakfast and a farewell to your horses and support team before heading back through the Serengeti National Park to Ndutu airstrip for your return charter flight to Arusha Airport (about an hour's flight). Lunch in Arusha and time to shop for souvenirs if you wish before your vehicle transfer back to Kilimanjaro International Airport for onward flights.

NOTE - Please note that although this is an example of the itinerary planned it is only an example and day-by-day arrangements, camp locations and routes will be varied by your guide in her absolute discretion according to the weather, game movements or if other local conditions require. This is left to the experience and discretion of your guide.
Program Kilimanjaro Elephant Safari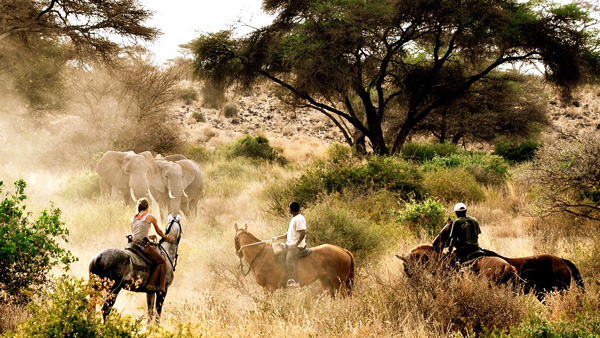 You ride about 5-7 hours per day and during the day you will take short drinks' breaks. You will also have a 3-hour lunch break where you can have a siesta. The terrain varies during the ride and at some spots you will need to dismount and lead your horse, giving the horses backs a short break and a chance to soften your tired riding muscles. Minimum 4 and maximum 10 riders.
This is an example of a program, but it may change due to local circumstances. No week is like another when wild animals are constantly moving around. Some weeks you may see herds of wild animals and other weeks only a few here and there.
Day 1 - Arrive to Kilimanjaro International Airport, here you will be picked up by one of the team and driven for thirty-five minutes to our polo club where the first night is spent. Settle into the new surroundings and meet the other participants on the safari. Sundowners and dinner at the clubhouse where your guide for the safari will hold the briefing.
Day 2 - Wake up calls with tea and coffee, breakfast is served anytime from early hours. After breakfast at around 1100AM, we drive for about twenty minutes to Arusha National park gate. Here the horses will be waiting, ready to be mounted and shortly after we will ride into one of the most beautiful parks in East Africa. Here the vegetation will change dramatically, from open grassland to rainforest. With good chances of seeing elephants, buffaloes, all your plains game, leopards and rare species such as Suni, Red Duiker, the magnificent Hartlaub's turaco and so much more. The feeling is magical as you enter into the big canopy forests. Lunch will be set on route, with time for a small siesta. After lunch the ride continues through leopard country and as we head towards our night stop, we will pass by Margarete Trappe's old house. The legendary lady known and remembered as the Iron lady from the first world war. "If, as children, we were thrilled by Buffalo Bill we should have been still more spellbound by Mrs. Trappe's adventures, the adventures of the fearless woman with her two legendary horses, Comet and Diamond, and her two inseparable Alsatians. Like a phantom she would suddenly appear, like a phantom she would vanish; as intimate with wild beasts as though they were tame." These are some of the tales about Margarete who's old riding paths this horse safari follows through the holy forests of the park. Arrive to camp, based on the foot of Mt Meru in time for showers and sundowners then dinner under the stars.
Day 3 - This morning you will hopefully wake up to the very talkative Colobus monkeys. Breakfast is served and shortly thereafter we mount and directions are taken towards the area where the film Hatari was filmed, starring John Wayne. Thereafter half way into the morning ride we start the climb (on horseback), aiming to reach the "Fig Tree Arch", a massive fig tree arch, big enough to fit five horses underneath the arch. The ride continues until we reach lunch, beautifully located in the rain forest next to a waterfall. We are now on about 2000 meters above sea level. After lunch we start heading back towards camp, passing by another 30-meter high waterfall on route back. After returning to camp, there will be an option to jump into the vehicles and go visit the Momella lakes, hoping to see some hippos and beautiful water birds. Sundowners at the lakes before heading back to camp for showers and dinner.
Day 4 - You wake up with the sun and a big breakfast is served, thereafter it is time to get on your horse. Today we ride out of Arusha National Park. The directions are eastbound heading towards Mount Kilimanjaro and leaving Mount Meru behind us like a shadow. The day's ride is long and amongst Tanzanian farmland and the Massai steppe, its scenic with many cultural interactions as the rides goes along. We make use of the cooler hours in the morning and try to cover as much ground as possible. The lunch is served under a big acacia, sometimes near to a dam where the Massai's water their cattle and we our horses. You will have a good 3-hour's stop for lunch, with time for a siesta to regain some strength. The afternoon enters into wildlife areas again, continues across opened plains, making sure to reach our night stop before the sun hits the horizon.
Day 5- Early wake up with coffee and tea before a bush breakfast is served. The day will be spent tracking the biggest land living mammal, the elephants. The terrain differs from thick scrublands to acacia woodland. Today we will return to camp for lunch and head out for another ride in the afternoon. Before sunset, we return to camp to enjoy another night in this remote and remarkable place on earth.
Day 6 - Early wake up calls followed by an English breakfast. Everyone mounts their companion and the safari starts heading towards the so-called Seven Sisters. After have crossed the seven hills (seven sisters) we ride through Sinya Village and continue towards lunch, served under a shady tree. The terrain varies from opened grassland to beautiful canopy forests. The day offers good chance of seeing plains game such as zebras, giraffes and wildebeests but most important is the presence of the shy antelope, the Gerenuk that we will keep an eye for as we ride along. The night is spent at an astonishing place, hopefully the night is clear and you will get the feeling being watched by four powerful mountains, Mt Meru, Namanga, Longido and the most legendary of all, Mt Kilimanjaro.
Day 7 Wake up with the sun, taking directions for the Kenyan border. This day will be spent tracking the footsteps of the biggest land living mammal, the elephant. Hopefully we have good luck tracking and get the chance to see these giants from the back of a horse. The night will be spent overlooking the pans with its plains game on constant alert for predators. Hopefully this night is clear, as apart from the view of the mountains within this area, the night sky is a mind-blowing site.
Day 8 - The last morning has arisen and the safari has come to its end, enjoy a big breakfast before directions are taken towards civilization, depending on road conditions about 3 hours journey back to the airport. We will arrive
back to the lodge and have a last lunch together. There will be an option for a shower for everyone however for those who fly out late please let us know if you would like to book a dayroom.
Horses
The horses are 4-13 years and between 150-160 cm (59-63 in) at the withers. They are mainly thoroughbreds and all are trained to go on safari rides. The horses are well ridden and lively. The pace is mixed with a lot of long gallops. You ride in beautiful Australian trail ride saddles. But there are also English saddles and a few Western saddles (book in advance) if you prefer. All horses have saddlebags.
Climate
Tanzania is located just south of the equator and has a tropical climate. There are two rainy seasons, one with short rain showers and one with long rainy periods. The long rain is called Masika and runs from mid-March to May. The short rain period is called Mvuli and lasts from November to mid-January. It is slightly cooler during the dry season from May to October.



Travel Information
Ability description: Trail Ride Level 3 >>
Included in the price: Kilimanjaro Elephant Safari: 7 nights, 6 days riding, full board (incl. beverages), transfers.
Serengeti Safari ride: 8 nights, 6-7 days riding, full board (incl. beverages), transfers.

Not included: Flights, visa fee, gratuities to camp team and guides, lunch on arrival day, drinks with lunch on departure day, personal insurance and extras not mentioned.
Travel: Book flight/rental car >>
Fly to Kilimanjaro International Airport.
Transfer: Book in advance with HorseXplore.
When you arrive at Kilimanjaro International Airport you will be picked up at the airport and driven about half an hour to a nice lodge.
On the return trip, you arrive at the airport in the late afternoon / evening so book a flight going home after 3:00pm.
Security: All rides have a guide and a back-up guide. The guide always carries a weapon and has contact with the cars via radio and mobile phone. The guides are qualified and professional guides and have a lot of knowledge of Tanzania's animals and plants. At night there are guards around the tent areas where you sleep.Visa: Travel to Tanzania requires a visa. The visa is also valid for Zanzibar. You can apply for a visa in advance or when you arrive in Tanzania. Visit www.tanemb.se for more information.
Single room: Can be booked with a supplement. For price click on "Book on request" under Dates & prices. If you travel alone you do not have to pay extra for single room.
Currency: TZS
Credit card: Not accepted by riding center.
Tipping: Appreciated, around 25-45 USD/day.
Wifi: First night .
Electricity jack: Adapter is available, electricity in camps run by generator.
Group size: Min. 4. Maximum 10.
Age limit: No
Closest village: You ride thru small local villages on the safari.

Misc.:
Riding equipment to borrow: No
Saddle bag available: Yes
Special diet: Inform when booking.
Water bottle: Bring your own.