Italy, Molise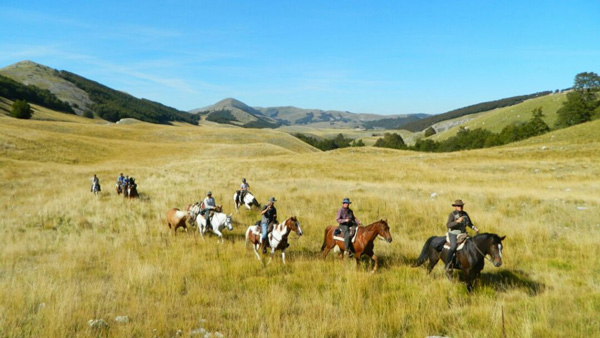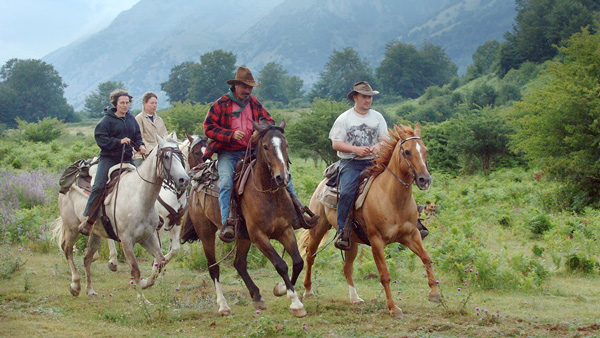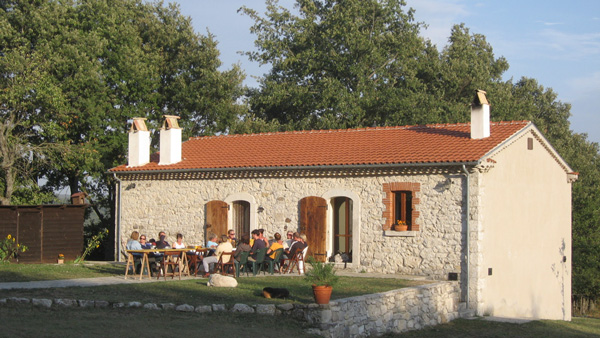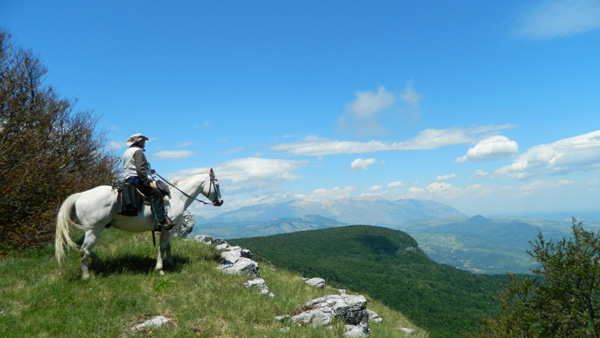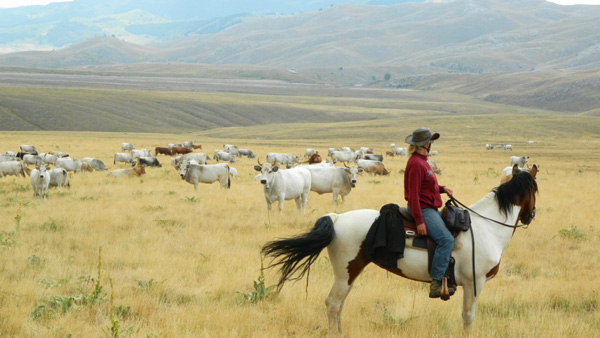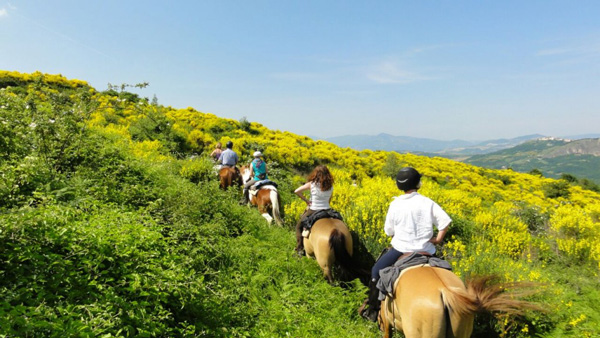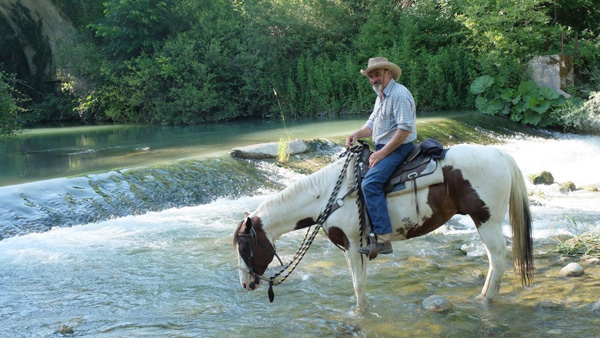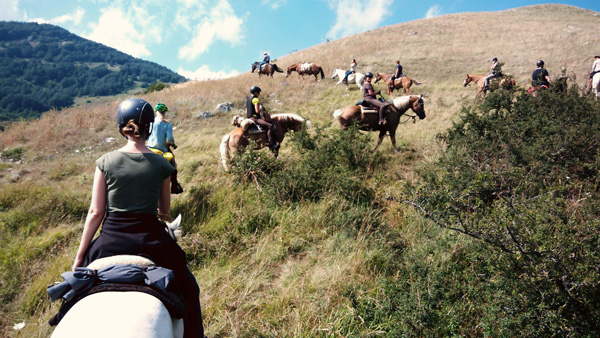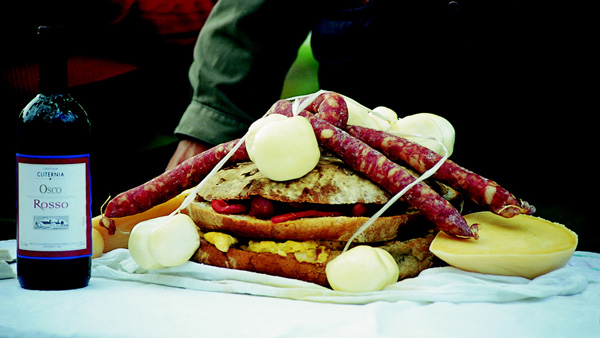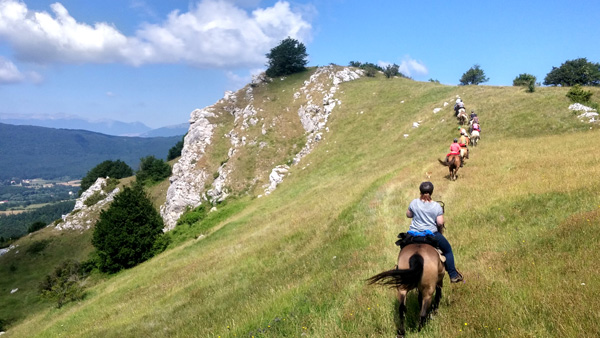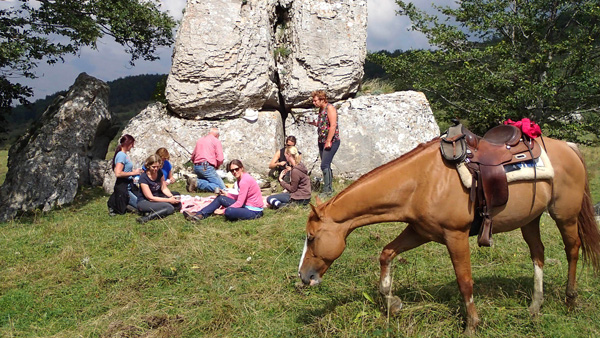 A holiday at this location is ideal for those looking to get away from it all. You will be riding in a very unspoilt area of Italy, away from the hustle and bustle of everyday life. There are several trail riding with varying levels of difficulty, including riding in valleys, fields, hills and mountains on lovely responsive horses, some of whom are homebred. This is a relaxed riding destination and although the terrain does not allow for galloping, able riders can enjoy lovely long canters and can test their ability on steep slopes and rocky trails.
Carmine is an amazing host with responsive horses and his knowledge of this area is second to none. He will show you wildlife and scenery beyond your imagination. He is a member of the FISE (Federation of Italian Equestrian Sports) and vice-president for the region of Molise.
Accommodation and Food
You will stay in a farmhouse renovated sympathetically by Carmine in 2003 which now provides very comfortable accommodation for all guests. The farmhouse, dating from 1885, is almost 3000 feet above sea level and is situated on the edge of a wood and overlooking a beautiful valley. The house is not large but very comfortable. The living room has a large fireplace and is a wonderful place to sit and discuss the day.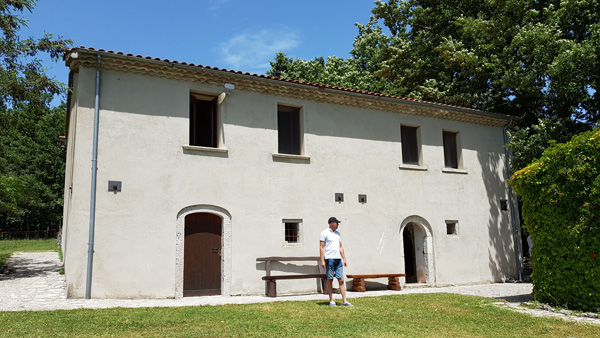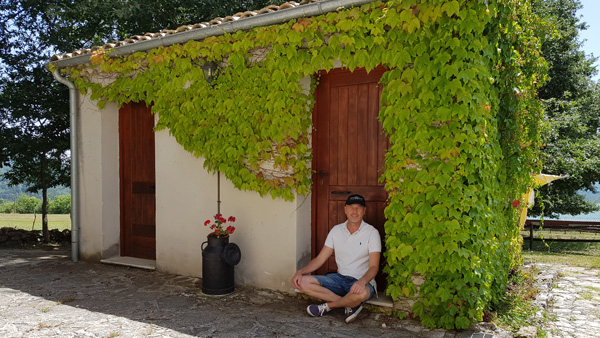 There are three guest rooms both furnished simply and authentically. Two rooms are for two guests and the other comfortably accommodates six guests. There are two bathrooms with all modern conveniences (bathrooms are in a building just across the path). There is a large kitchen in which Carmine cooks the most amazing meals which may be eaten around the large table or out on the terrace.
During the trails you stay in small hotels, simple guesthouses or in the mountain lodge. The latter is very basic (no electricity!) but peaceful and a lovely stop off point during trails. They provide clean sleeping bags and towels for the nights at the mountain lodge and small saddlebags with a water bottle. On the trail rides single rooms are available on some nights for 20 EUR / night. The supplement is payable locally to the riding center. Please note there is no wifi at the farmhouse or most of the hotels. It is not possible to use the computer at the farmhouse.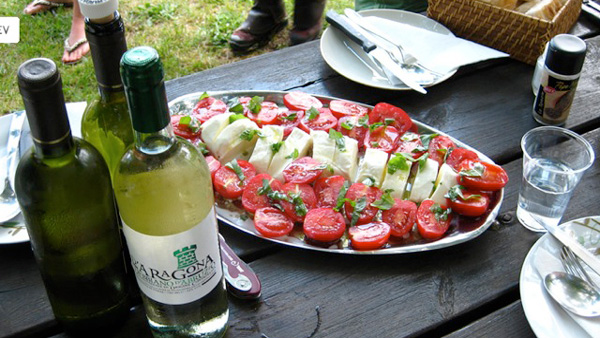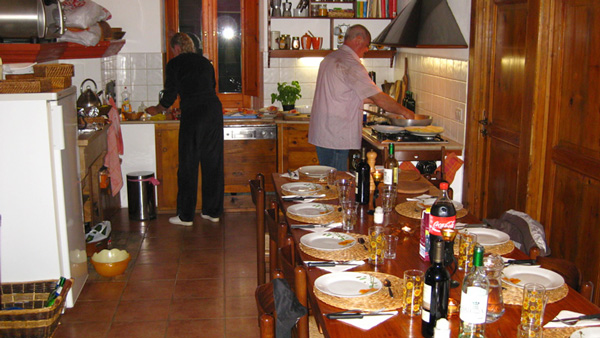 Breakfast is continental and can be eaten on the terrace or in the kitchen. The food here is wonderful with great care being taken to provide local specialities cooked with fresh ingredients. Vegetarians and those with special diets can be catered for with prior notice. Carmine used to own a restaurant and this is apparent from the wonderful recipes he shares with his guests. Expect a lot of delicious pasta, salads, cheese and bread. You will also taste the juiciest, sweetest tomatoes with fresh mozzarella, tasty salami and other delights like tiramisu and fresh peaches. Lunchtime often consists of salami, cheese and bread for a picnic style lunch, accompanied by a glass of crisp white wine. The food tends to be simple but very tasty, with meals comprising of just a few fresh ingredients. Wines and beers are included with lunches and dinners. All other drinks must be paid for unless the hosts arrange a 'fuondo casa' which is like a kitty. A share of this is usually about €25-30 for the trail weeks and covers extra drinks, ice creams etc.
You will never go hungry here!
Horses
The horses are western horses who have a very good life. They live in huge fields and every morning Carmine whistle and then the horses come galloping to get food. Everyone lives together, making the flock happy together.
The breeds are quarter, appaloosa and freiberger crossings. You ride in the western saddle.
Weight limit: 90 kg.
Travel Information
Riding ability: Trail ride level 2-3

Included in the price: 7 nights, riding according to program, full board incl. wine/beer and soft drinks with lunch and dinners.

Not included: Flights, travel insurance and extra drinks

Travel: Fly to Rome or Naples. Guests are recommended to fly into Rome, although Naples can also work. They then take a train or bus to Isernia from where a transfer is included.
By train: Upon arrival into Rome Fiumicino or Ciampino you will travel by bus or train to Roma Termini (Rome's main station). From there you will take the Metro Blue Line in the direction Rebibbia, getting off at the first stop 'Tiburtina'. The journey is around 5 minutes. From Roma Tiburtina you will take the train departing at 17:30, arriving in Isernia at 19:45 (look on the display for destination 'Campobasso' as that is the final destination of this route). On arrival to Isernia at 19:45 there will be a taxi waiting for you to take you to the farmhouse. In case of delay, there is another train from Roma Termini at 18:07 which arrives in Isernia at 20:55. In that case, you will be charged for a taxi, approximately €25 for 1 - 4 people. The journey from Rome to the farmhouse takes at least 4 hours, therefore the latest arrival time into Rome should be 14:00 (Naples - 15:00). Return flights should not be booked before 15:00 from Rome (14.30 from Naples) as you will not make it in time. Please leave plenty of time for this journey to be on the safe side, you can always look around Rome if you are there early and waiting for the train. The Coliseum is just a short walk from the train station. Train time table: TrenItalia>> http://www.trenitalia.com/tcom-en

By bus: Some dates it is also possible to take a bus directly from Rome / Fiumiciono to Isernia. Book the bus that will leave at. 17.00 from Rome-Fiumiciono. For time and price se Flixbus>>
Transfer: Guests should not arrive at the farmhouse before 20.00, please. One transfer is included when guests arrive at 19.45 at Isernia train station or from Flixbus arrival at 20.25. Depart the farmhouse at approximately 08.00-09.00. 25 EUR/person. Individual transfers are not possible.
Single room: On the trail rides single rooms are available on some nights for 20 EUR / night. The supplement is payable locally in cach to the riding center.
Group Size: Minimum 5 riders maximum 10.
Luggage: Pack in a soft bag.
Credit card: No credit cards. Cach only.
Misc: There is no wifi and some accommodations lack electricity. It is long riding days and sometimes it is several hours between breakfast and lunch so it can be good to bring some extra snacks/bars/nuts in a bum bag.
Climate