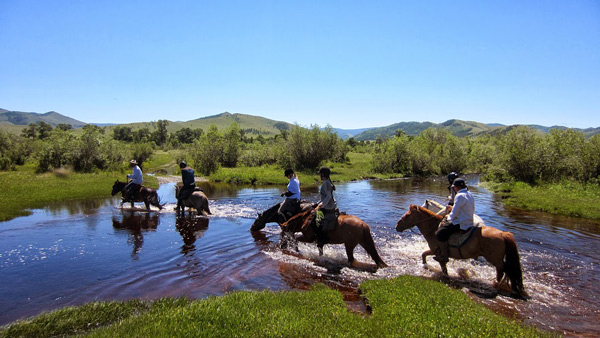 This journey on horseback is a close encounter with Mongolian horsemen and their horses, nomadic people who have thus far survived modern pressure and lifestyles. There is no other nation in the world that so much depends on horses. Mongol horsemanship is famous and strikingly different than anywhere else. The herders keep their horses in a semiwild condition, allowing them to live freely in harem groups. During the harsh winter of subzero temperatures, the horses fend for themselves and protect their foals against predators such as wolves. There are no fences or any stables anywhere. We will ride out on the steppe, which is the summer pastureland of Mongolian nomads. We will ride in two strikingly different areas; first, the treeless steppe and then through the Khan Khentii Strictly Protected Area, which is in the mountain and forest taiga zone.
A transfer guide will meet you at the airport or at your hotel if you arrive at an earlier date.
Accommodation is mostly in tents with sleeping mats, but also comfortable yurts (Mongolian tents with beds). For two nights you will stay in a double rooms with shower / toilet.
Click here for more information>>