Mongolian Trail Ride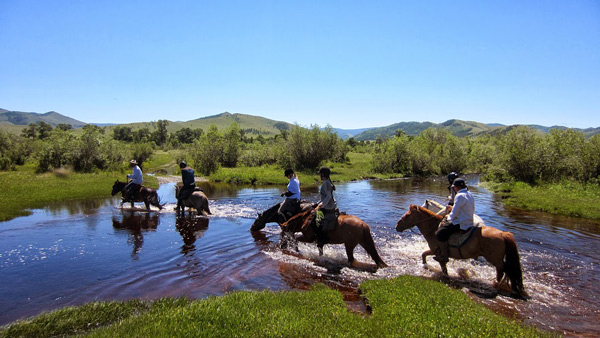 This journey on horseback is a close encounter with Mongolian horsemen and their horses, nomadic people who have thus far survived modern pressure and lifestyles. There is no other nation in the world that so much depends on horses. Mongol horsemanship is famous and strikingly different than anywhere else. The herders keep their horses in a semiwild condition, allowing them to live freely in harem groups. During the harsh winter of subzero temperatures, the horses fend for themselves and protect their foals against predators such as wolves. There are no fences or any stables anywhere. We will ride out on the steppe, which is the summer pastureland of Mongolian nomads. We will ride in two strikingly different areas; first, the treeless steppe and then through the Khan Khentii Strictly Protected Area, which is in the mountain and forest taiga zone.
A transfer guide will meet you at the airport or at your hotel if you arrive at an earlier date.
Accommodation is mostly in tents with sleeping mats, but also comfortable yurts (Mongolian tents with beds). For two nights you will stay in a double rooms with shower / toilet.
Click here for more information>>
The Program
We will start this horse ride without vehicle support, in wild terrain. Our luggage will be loaded onto yak carts; a ger will be carried to serve as our mobile restaurant. The beginning of the ride will be on the steppe and gradually we will ride into the very scenic forest steppe and southern taiga life zones. You will experience mountains, steppes, forests, wooded meadows and camping along the rivers.
Preliminary Program
Day 1, Ulaanbaatar
Arrival in Ulaanbaatar, Mongolia's capital. Transfer to hotel. Information on the ride and a welcome dinner.
Day 2, Ulaanbaatar - steppes
In the morning, you visit Gandan Monastery, if possible at prayer time. After the introduction of democracy in Mongolia, interest for Buddhism resurfaced. The Mongolians follow the Tibetan version of Lamaism with the Dalai Lama as leader. Hundreds of Buddhist monasteries have been rebuilt across the country You. then depart for the steppe. You camp near some nomadic families in a steppe valley.
Day 3-4, Steppe Ride Ride over the treeless steppe.
We will ride across rather hilly terrain with occasional patches of birch forest. Throughout the ride we will have contact with local herdsmen, often relatives and friends of our wranglers. Our support structure is free from vehicles. All our provisions, amping equipment and luggage will be loaded onto yak carts. Even a ger (yurt) will be brought, and we will learn how to set it up. On the last day, forests will suddenly start to appear and we are now riding towards the Khentii wilderness area, which includes the Khan Khentii Strictly Protected Area and Gorkhi Terelj National Park. In Mongolia the Siberian boreal forest meets the Central Asian desert and steppe. All the while we will be riding in this transition zone.
Days 5-6, Sharbulag Valley
The horses will now make it possible to ride through the larch forests, up the slopes of the mountains and to follow ridges that have views of superb scenery, whilst the yak carts will follow the broad river valleys. We will arrive and pitch camp at the Sharbulag Valley. We will spend two nights here and it will allow for some flexibility in the middle of our ride.
Day 7, Tuul River
Cross a pass and ride into the upper part of the Tuul River Valley. We are now near the main ridge of the Khentii Mountains. The horses will help get us up onto the ridges where the panoramic views are extraordinary. It is a partly forested area.
Day 8-9, Jalman Meadows
We will ride towards Jalman Meadows, famous for its wildflowers, and reach our semi-permanent ger camp, which is situated a next to a beautiful wooded meadow on the upper parts of the Tuul River. We will overnight for two nights at Jalman Meadows, making a superb last day ride in the area.
Day 10, Back to Ulaanbaatar
A.m. Return to Ulaanbaatar and check into the hotel. See the capital city on your own. Distances are short. The local guide is standing by to assist finding out where your points of interest are located. Farewell dinner in local restaurant.
Day 11 Transfer to airport
(Subject to change due to local circumstances.)
Minimum number of riders: 2 pers.