Romania, Hargitha Mountains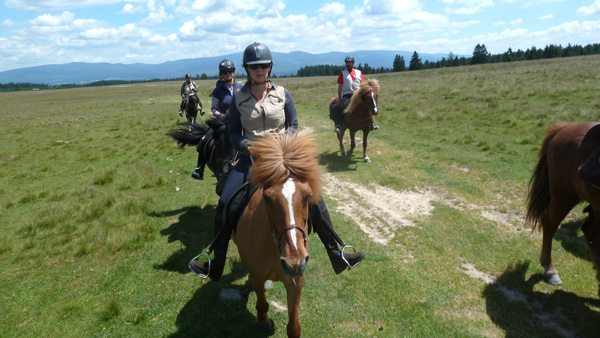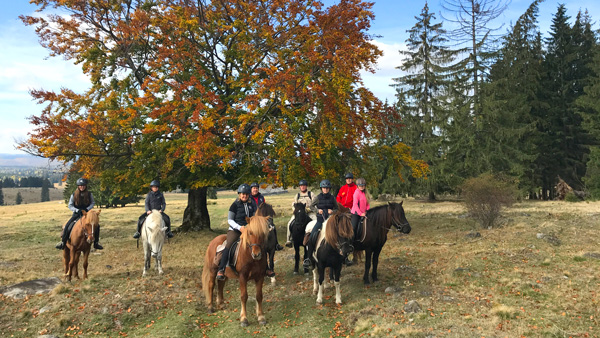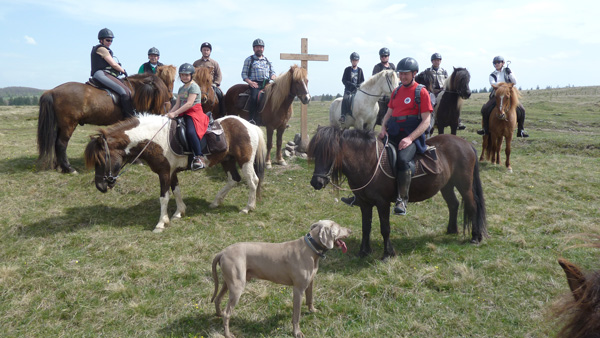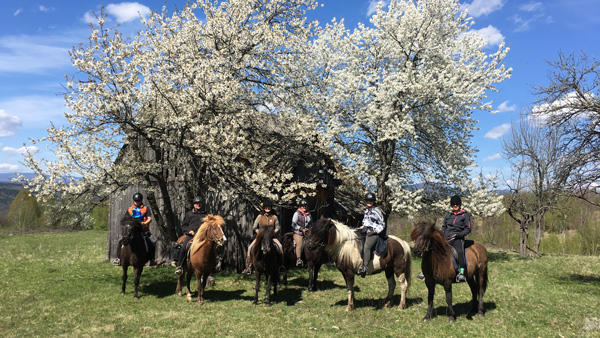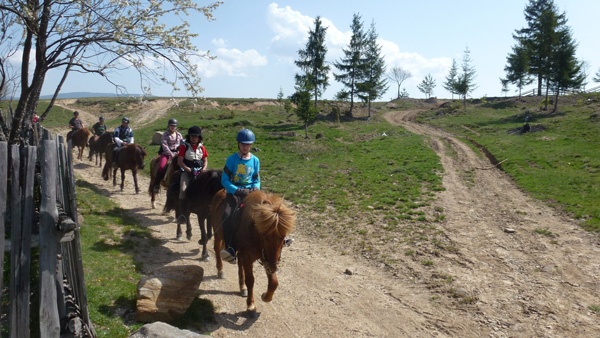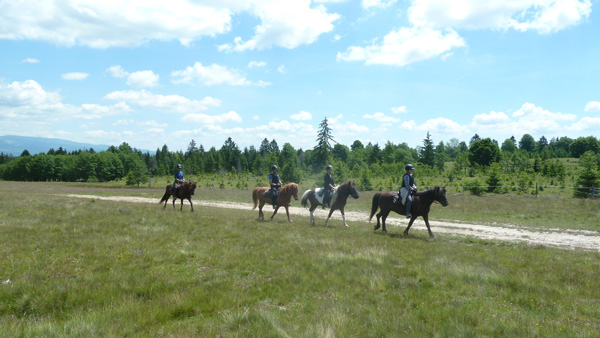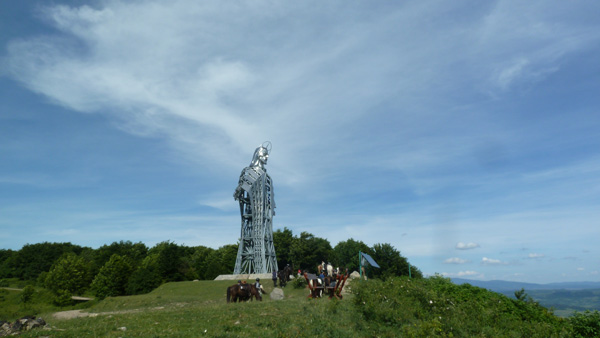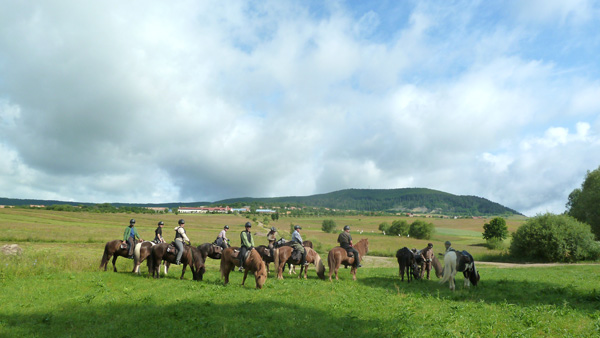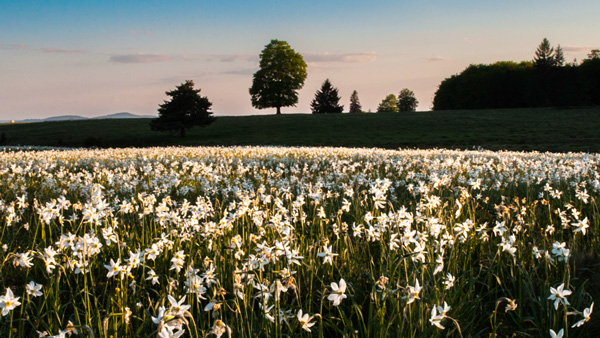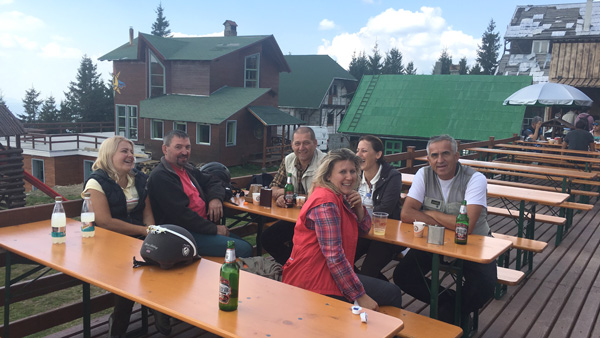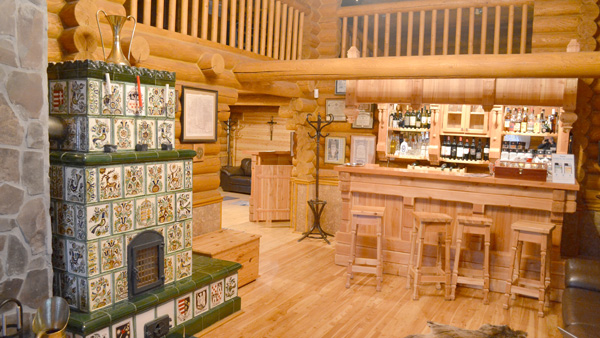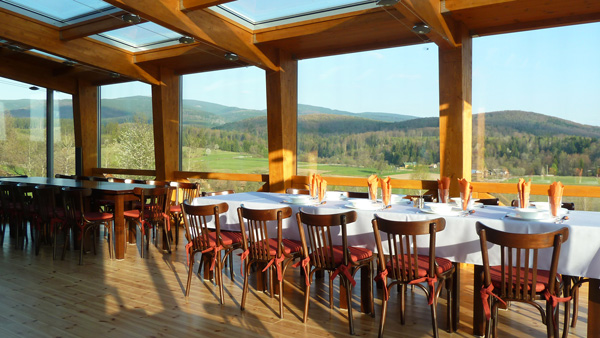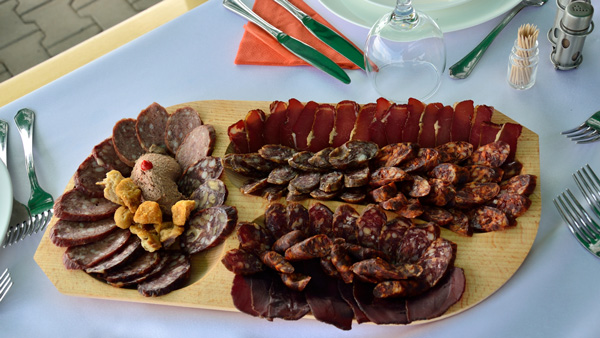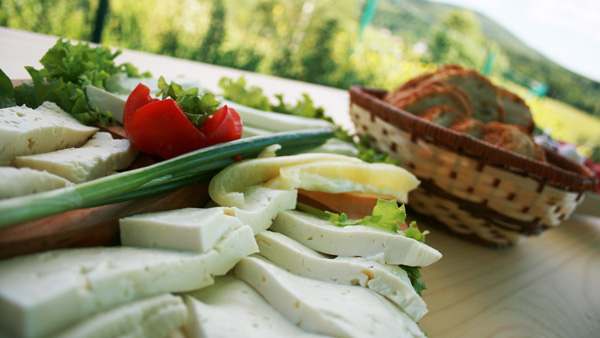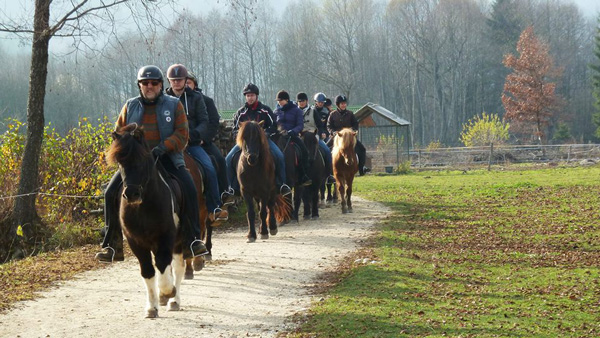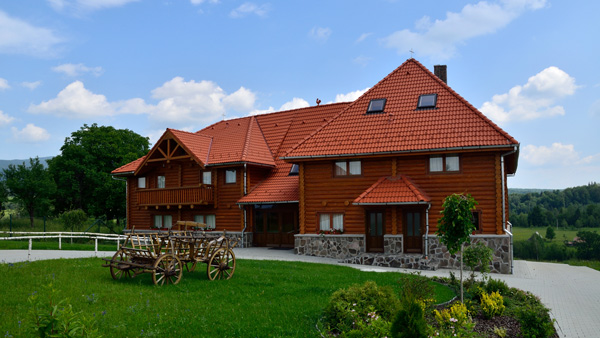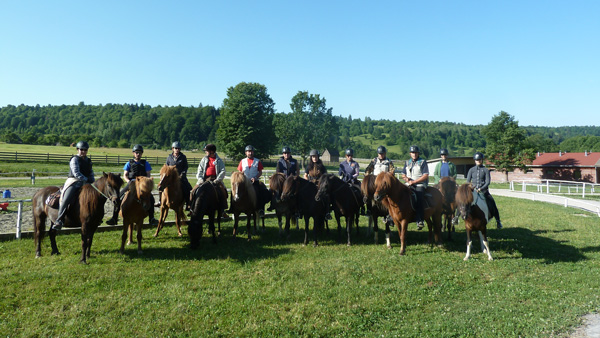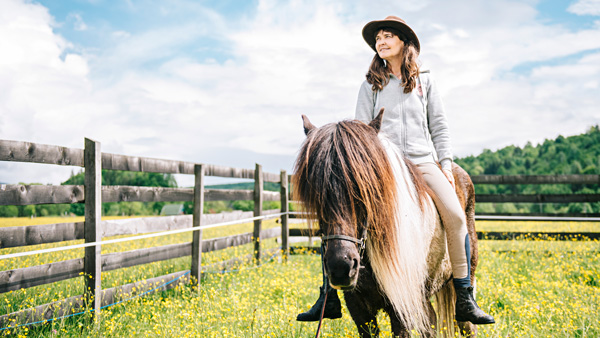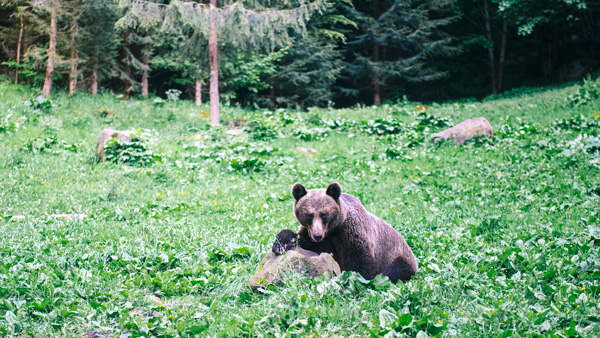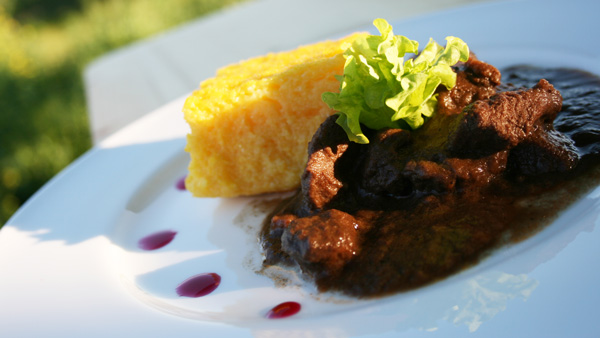 Horseback riding is an integral part of the traditional Carpathian scene and the naturally gentle Icelandic horse provides excellent riding opportunities. The rolling hills of the Harghita Mountains with its fresh streams, rich wildlife and dispersed mountain villages provide a great setting for getting to know the Icelandic breed or for those looking for a relaxing riding week in nature. The Icelandic Horses' gentle, friendly disposition and calm manner make them a delight for anyone to ride, while their unique gaits provide a remarkably smooth way to travel over rugged or snowy terrain, making long hours in the saddle more comfortable.
The tour's base is located outside the small mountain village of Izvoare, amid the forested hills of the Harghita Mountains. The daily riding program is varied, beginning with a tölt lesson for novice Icelandic Horse riders and continuing with 25-40 km daily rides on forest roads, up to great viewpoints, through pastures, dense pine and beech woods and along river valleys. The pace is dictated by the terrain with certain opportunities to tölt, but it is also tailored to the group's riding skills. There are times when you will need to lead your horse due to the rough terrain.
At the end of your day spent exploring the wild beauty of the region, you and your companions will love the convenience of returning to this boutique lodge based in the heart of nature. If you've been horse riding all day or just walking in the surrounding mountains, step into the soothing shower. With a drink from the hunting bar, warm up in front of the fireplace and admire the mountain view.
Accommodation & Food
Your accommodation is a modern and stylish hunting lodge located next to a 400 ha wildlife park, surrounded by the forrested hills of the Harghita Mountains. All the rooms are equipped with private bathroom with towels, hairdryer, hydromassage shower, LCD TV and DVD player and with warm and cozy blankets under which you can warm up after an eventful day in the nature. The lodge has large dining and living hall area with a bar and a fire place and a terrace with wood stoves. At your disposal in the common areas, you can find a large refrigerator with freezer, a multifunction microwave oven, the book corner, in case you forgot to take something to read with you, the tourist corner, with guides, maps and brochures always up to date and a DVD corner with videos about the rich cultural heritage of Transylvania.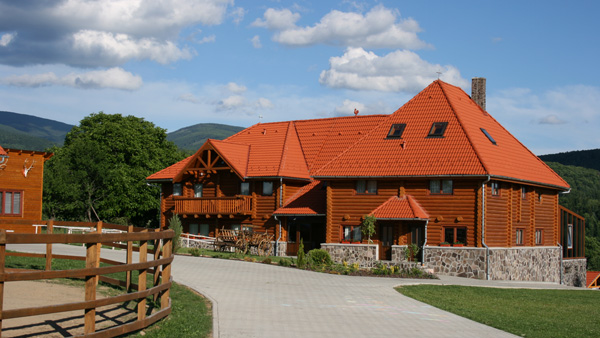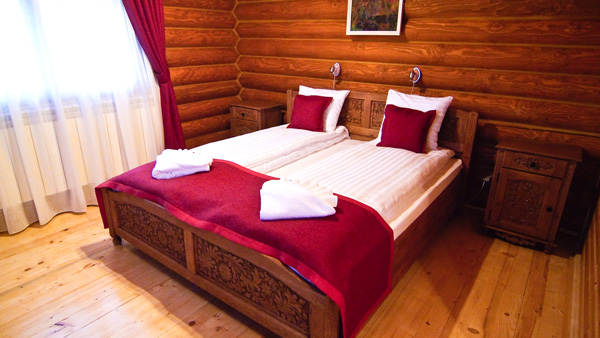 Besides the traditional Transylvanian cuisine, here you can experience locally produced game meat specialties. Vegetarian and gluten-free options may also be offered in case of prior notice. Each day you can enjoy a rich breakfast buffet spread consisting of cold and hot foods, salads, coffee and tea, a picnic in nature or a traditional home-cooked meal out on the trail for lunch and a three-course gourmet dinner in the lodge's large dining hall.
Horses
There are 31 Icelandic horses at the ranch, from which 25 are well trained and tempered trail horses with 135-140 cm heights and age between 10-12 years old. Harnessed with Icelandic saddles and bridles. The paces are at walk, moderate distances in trot (tölt) and short distances in canter. Riders are welcome to help groom and tack-up their horse. Personal belongings are carried in the saddle bag of your horse.

Program Harghita Mountains Riding Week
This 5-day riding programme is available all year round and each season adds its own specifics and beauties to the tour experience. There is often snow on the ground at the end of March or beginning of April, with a few crocuses and snowdrops poking their heads through the bare patches, whilst in May everything is growing so fast you can almost see the grass growing and the leaves bursting forth. This is the time when the forests become alive and you can enjoy the wide variety of bird songs as the breeding season starts. End of May and June are perfect for those looking for the wild flowers blooming. The beautiful Narcissus fields at the end of May are one of the many attractions of the regions. July and August might be the best time for those restricted by the school holidays, but if you can travel between mid September and mid October, then you can experience the raw power of the deer rut, forests dotted with wild edible mushrooms and breathtaking fall foliage. November and December has lower temperatures, but the weather is stable with rare rain or snowfalls. End of December or beginning of January is the time when snow showers and below zero temperatures arrive in the Harghita Mountains and last until end of February. During this period you can experience riding through cold, fresh air underneath snowy pine trees and crisp blue skies. If you bring adequate warm clothing, this tour can be an exhilirating experience and the best way to explore the winter wilderness of the Harghita Mountains.
Sample itinerary
The guide's knowledge of the region and weather allows him to adapt the daily routes depending on local conditions. The following is an illustration of the likely itinerary but local conditions may dictate that the order of the itinerary needs to be changed, always with your best interests in mind.
Sunday - Arrive at your accommodation during the afternoon. Until all the other participants arrive, you can take a 15-minute walk to the horses or take a shower and relax in your room. Once everyone has arrived, you will meet the other participants on the trip and enjoy your welcome dinner. Whilst enjoying the locally cooked meals, you can meet your riding guide and the lodge manager. After dinner you will hear the details of your adventure and you have the opportunity to discuss these and relax with the other participants.

Monday - After a wholesome buffet breakfast the staff will transfer you to the horse ranch where your guide will be waiting for you. As safety is important, first you will have a short riding lesson in order to get aquinted with your horse and with the special gaits of the Icelandic breed before heading into the mountains. Today you will enjoy various highlights of Izvoare like a restored traditional sawmill, the 320 ha wildlife park where you can spot deer and mouflon herds from the saddle of your horse, scenic view of the tranquil lake of the Zetea dam and the former hunting lodge of the Romanian dictator, Nicolae Ceausescu. During the day we will take a picnic lunch break from local produce at a nice local guesthouse. Three-course dinner and overnight in your accommodation. Optionally either today or on Thursday evening you can join a bear watching tour from hide at a surcharge of 20 euro per person payable in cash on site. Distance: 22 km, 5 hours of horse riding
Tuesday - Today you will ride on the Western side of the Harghita Mountains volcanic plateau, through spruce forests and extended pastures, crossing by grazing flocks of sheep and herds of cow during the summertime. You will have plenty of opportunity to freely gallop and tölt on this part of the trail. At a scenic vista of the plateau we will enjoy our picnic lunch and learn the stories of the villages unfolding down in the valley. After lunch break we descend on a narrow and densely forrested path to the valley of the Tarnava Mica Valley and along the prolonged, small village of Subcetate we ride back to the ranch. Three-course dinner and overnight in your accommodation. Distance: 37 km, 6 hours of horse ridingl.
Wednesday - Today is the longest riding day of this one-week programme offering various opportunities for long canters, gallops and tölts. First we ride through the village of Subcetate then climb up on a steep forrest road to the hilltop called Nyulad where extended meadows and pastures await us. After 2 hours of riding we will have a break at the ruins of a medieval chapel where your guide will entertain you with old local legends linked to the place. We continue our ride through the Narcissus Field which may enchant you with its beauty and scent when the narcissus (Narcissus Stellaris) are blooming at the end of May on more than 50 ha land. The next stop is the wooden look-out tower of Dealu village located on the the 1009 m high Orhegy hill. Here we eat our well-deserved picnic lunch and rest for a while, then continue our ride as we head towards another landmark of the region, the 22 m high Sacred Heart of Jesus lookout tower located on the hilltop called Gordon. On the way back first we ride through large meadows, then descend on the valley of the Csencsed stream towards Zetea dam and finally we revisit the wildlife park as we get back to the ranch. Three-course dinner and overnight in your accommodation. Distance: 52 km, 7 hours of horse riding
Thursday- Following the thrilling, long ride of the previous day, today we will ride north from the ranch first through a beech, then through a dense pine forest as we gradually climb on the Izvoare stream's valley. On this part of the trail we can practice and enjoy the comfortable tölt gait of our horse. As we reach the clearing called Szelesberce we will enjoy a short break then continue our ride as we descend to the field of Sicasau. Here we water the horses in the Sicasau stream, then have picnic lunch break on a nearby hilltop and ride back to the ranch through the wildlife park. Three-course dinner and overnight in your accommodation. Optionally you can join a bear watching tour from a hide at dusk.
Distance: 24 km, 5 hours of horse riding
Friday - Today you will experience a tour with significant differences in altitude. On the first part of the trail we follow the route of yesterday, then we ascend along the Rakottyas creek's valley until we reach the hiking trail going through the Harghita Mountains ridge at 1600 m altitude. During this 7 km climb we have several short breaks for rest. After half an hour ride we arrive in Madaras Harghita mountain resort where we will treat ourself with a warm lunch on the terrace of one of the local pensions. On a forrest path, called by the locals as "Hadak utja" or the Road of the Battles, we descend first through dense pine than through deciduous woods to the ranch in Izvoare. We say farewell to our horse and be transferred back to the accommodation where a delicious farewell dinner awaits us. Atfer a week of unforgettable adventures, we can recall all the thrills and experiences at the pleasant sound and light of a campfire. Distance: 28 km, 7 hours of horse riding
Saturday - It's time to say goodbye to your fellow participants and your hosts, before you depart from Izvoare.

Please note: The above itinerary is given for your guidance only and it may be altered on the ground and in accordance with the prevailing conditions by the organising team.
Other activities
This is a perfect holiday for accompanying non-riders, who can book alternative tours and activities whilst the riders are out on the daily rides. Whether they choose to spend their days hiking or snowshoeing, biking, birding, fishing, skiing or joining other guided tours in the area, we have professional staff here to guide them on their Carpathian escapes. If you are fond of wild animals or nature photography you can visit the 320 ha wildlife park right next to your accommodation which is home to different species such as red deer, roe deer, elk, mouflon and wild boar. The park is kept in its natural state. With the exception of minimal fencing and access roads, the natural landscape, flora and fauna are left undisturbed. At
Guided 2-hour walking tour in the Wildlife Park in Izvoare: 7 EUR /pers
Bear watching from hide: 20 EUR/pers
Guided hiking, biking, fishing, snowshoeing, skiing and other outdoor or sightseeing tours pricing is available on request and depends on the number of participants and the specifics of their interest or physical fitness.
Travel Information
Ability description: Trail ride level 2-3
Included in the price: : 6 nights, 5 days riding, full board
Not included: Flight, transfer, beverages
Travel: Fly to Bukarest Otopeni airport (290 km, 4.5 h) or Sibiu airport (175 km, 3.5 h):
Transfer: Book in advance and pay to HorseXplore
Bukarest Otopeni airport, meeting between 11.30 and 4.30 PM. Book a flight that arrive before 4.00PM and depart after 1.00PM.
Price: Return transfer per person 120 EUR.
Sibiu airport, meeting between 11.30 and 5.30 PM. Book a flight that arrive before 5.00 PM and depart after 12.00 PM
Price: Return transfer per person 95 EUR.
Arrival-/departure day: Sunday afternoon, depart Saturday after breakfast
Single room: It is possible to book single room (price for single supplement is available under Dates & Prices). If you are willing to share room, you will not have to pay a supplement if you are allocated a single room.
Group size: Min. 2 and max. 14
Age limit: 14 years old if accompanied by parent/adult.
Season: April-June and September - October.
Currency: Lei (RON). Euro is accepted at many places frequented by tourists. The Riding Centre accept euros.
Credit card: The Riding Centre accept credit cards.
Wifi: Yes
Electricity jack: Standard EU 2 plug
Pool: No
Misc.:
Riding equipment to borrow: Helmet at request. Helmet is mandatory.
Saddle bag available: Yes
Special diet: Inform when booking.
Climate