Jordan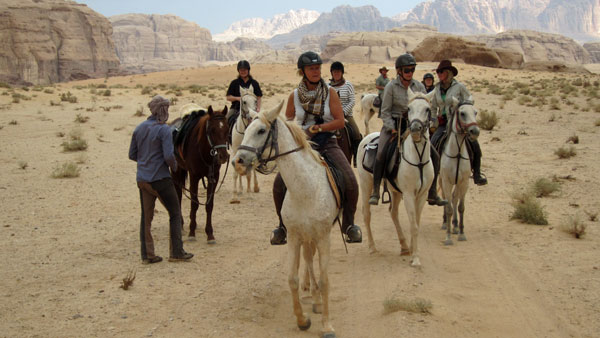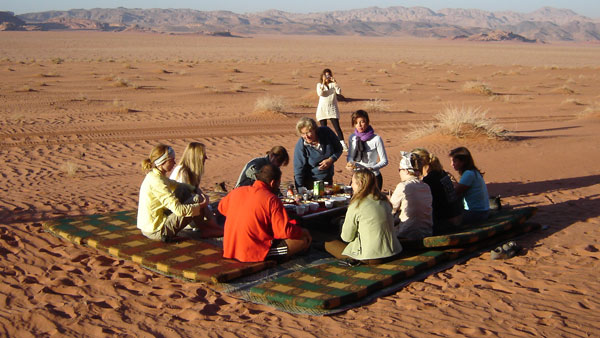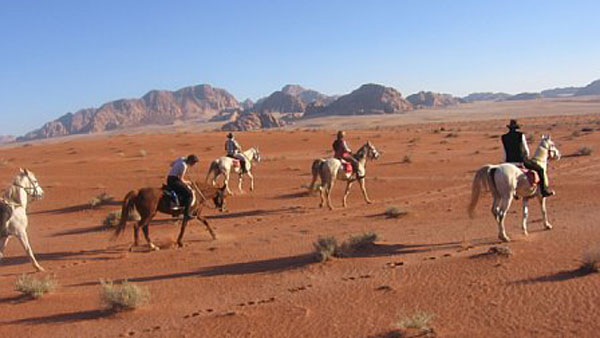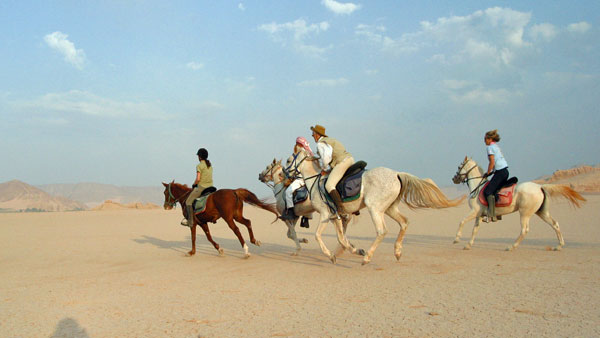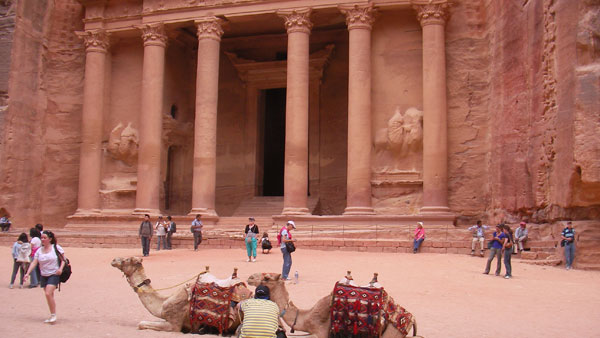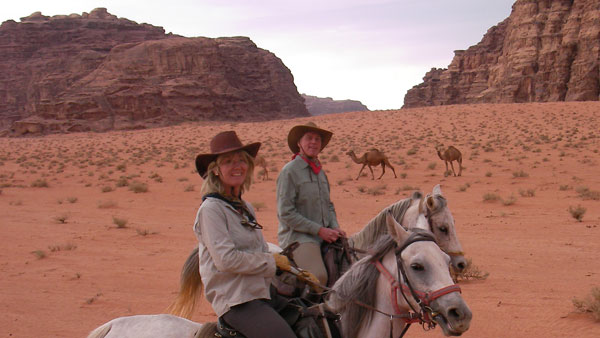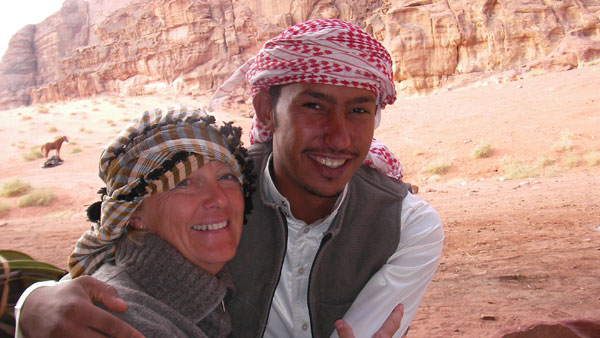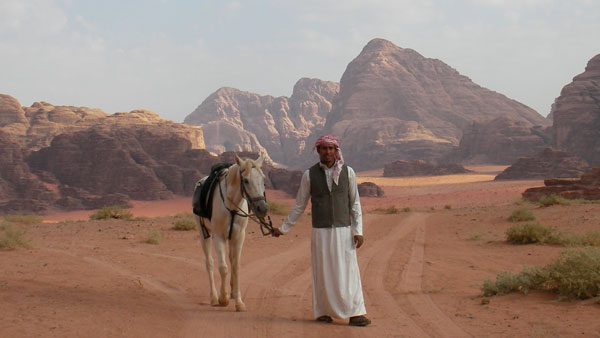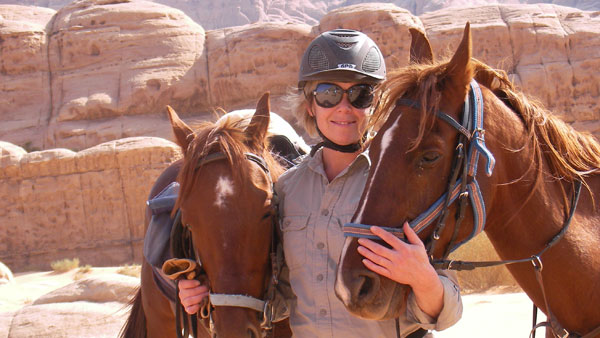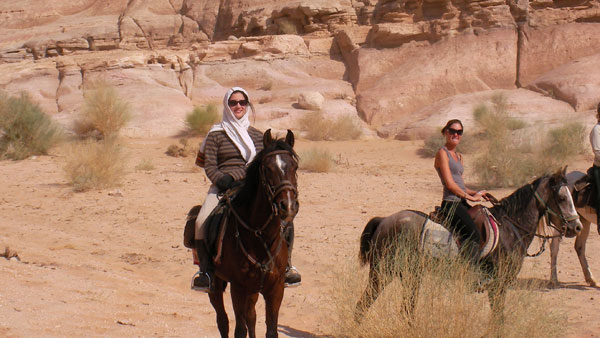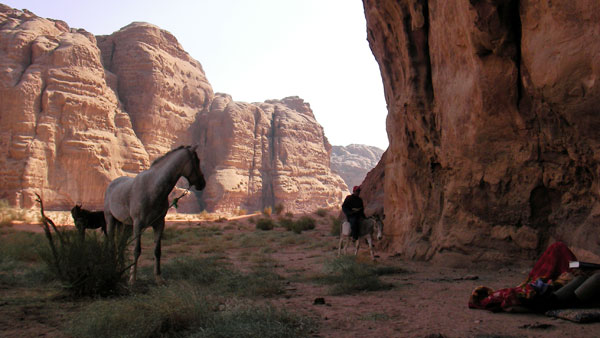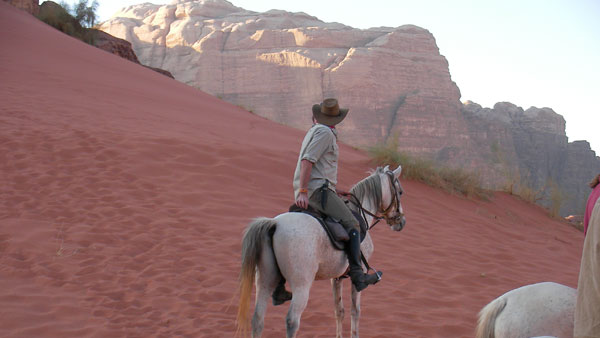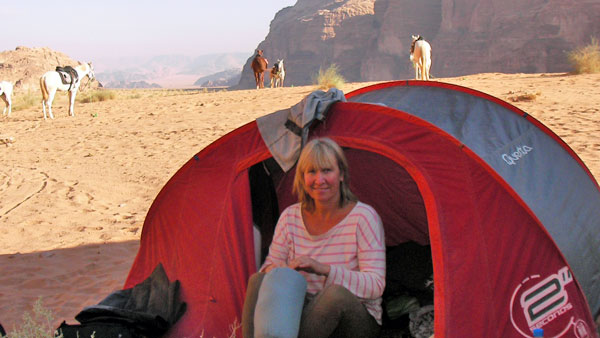 - Petra Wadi Rum Trail Ride -
Are you eager to experience something really different? This adventure has a perfect mix of culture in Petra and exciting riding in the Wadi Rum desert. French woman Emmanuelle has put together a well-planned and enjoyable program. You ride on alert Arabian thoroughbreds. The horses are all owned by Emmanuelle, which is a big advantage and you can be assured that the horses are well cared for and enjoy their time, as well.
You start by exploring the world famous Petra. After an early breakfast, you ride to Petra Nabatean City and cross the famous Khasneh. At this time of the morning, there are no other tourists. It is a unique and unforgettable experience to ride there.
This is a riding tour with historical touch. You reach Petra through a very narrow gorge that protected the city for centuries. Petra is like an open-air museum with amphitheaters, cloisters and cave dwellings. Everything carved into the cliffs is tinged with pink, ocher, chocolate and blue. The landscape is changing all the time. Even the sand has different colors, patterns and shades. Petra is one of the natural wonders of the world and the peace, silence and the fact it makes you feel so small, is unique.
You ride, eat and live together with the Bedouins. The adventure ends at your hotel on the Dead Sea coast. It feels so luxurious to take a long, long shower and a dip in the turquoise sea before it's time to go home.
We can book additional nights if you want to stay longer at the Dead Sea.
Accommodation & Food
In Petra and Amman or Madaba you stay at three-star hotel in a double room with shower / toilet. (You can upgrade to five-star.)
During the ride, two different types of camps are used. A semi-permanent camp that is used primarily during the winter months, with a mess tent and small two-man tents (shelters) with mattresses. Bring your own sleeping bag and pillow. There are tents with chemical toilet and another tent where you can wash off (though sometimes it lacks water so you will have to wash using a bucket of water). In warmer weather, and on the days you are moving, "flying" camps will be set up, where there are no toilets or washing tent. You set up your own tent (= very easy). So it is a true back-to-nature experience.
The food during the ride is normally very good - a mix of local and European style - and plentiful! When camping, you get the chance to experience the Bedouin lifestyle. You eat on a large rug and sit cross-legged on the floor. A typical breakfast is boiled eggs, yogurt, honey, fresh cheese and warm pita bread with sweet tea or coffee.
The lunches during the ride are picnics with dishes such as strong vegetarian stew with salad and warm bread and fresh fruit. Tea and cakes help you make it through the afternoon rides. Dinner often consists of local specialties such as fish in spices, chicken and potatoes, lamb and rice with yogurt.
At the restaurants, you will be served a buffet breakfast and dinner that is either a la Carte or buffet style. There are usually good choices for vegetarians. Bottled water is provided during the ride.
If you would like wine and beer, it is best to buy it in Amman and bring in your luggage.
The Program
You ride about 5-6 hours per day. Approximately 2.5-3.5 hours in the morning, then a three-hour lunch break and then another 2-3 hours in the afternoon. You ride about 25-35 kilomaters (15-18 miles) per day. Every ride starts and ends with about 5 minutes walking with the horses which is good for both the riders' and the horses' stiff muscles.
The pace of this ride is medium-fast, with a lot of walking, a little trotting and some galloping - around two chances in the morning and two in the afternoon. The open desert and the firm sand is perfect for long controlled the gallops.
Riding experience: You should be a safe rider who can relax on a spirited horse in all gaits. The horses are calm and nicely alert.
The terrain: Wadi Rum's large desert area is a fantastically different and beautiful area to ride in. The landscape varies. You will ride through the desert mountains, across vast open desert plains, and also through green farmland. Typically, the surface is hard-packed sand.
Preliminary program:
(Note that the deserts can be very unpredictable, so the guides must be able to change the route depending on weather and local conditions.)
DAY 1: ARRIVAL AMMAN – MADABA Arrival at Amman Queen Alia International Airport, where you will be met and taken to your hotel (***) in Madaba.
DAY 2: MADABA – BEIDHA (LITTLE PETRA) Breakfast at the hotel main restaurant. Your driver will come collect you around 7:30 am to drive you to the archeological site of Beidha to meet with the team and the horses. The drive should last around 3:30 hours, so you have time to get some rest before going on your first ride. Today we ride towards Little Petra, an ancient Nabatean trading center which, with its rock-cut buildings and narrow canyon will give you a first glimpse into what you will discover in Petra. After lunch, ride down to the back entrance of Petra to reach the camping site for the night.
DAY 3: VISIT PETRA Today, wake up early, pack up your stuff and saddle your horses to cross the deserted city of Petra at dawn. Come back out from the Siq, the 1km long canyon marking the entrance to the site and leave your horses in the team's care before heading to your hotel to have a well-deserved breakfast. Around 10:30, go to the Visitors' center to start your visit of Petra with a local English-speaking guide. The rest of the day is free at leisure, to explore Petra or go rest at the hotel. Lunch not included. Overnight Petra hotel. Dinner.
DAY 4: PETRA – HUMAIME After breakfast, you will be driven to Humaime, where you will meet your horses. Today we ride along nice tracks. You will ride east through a long valley to the lunch stop. Upon completion continue riding eastwards towards the sandstone cliffs of Wadi Rum, where you will see the natural rock arch 'Karaze' before reaching camp. Dinner and night is in the camp.
DAY 5: RIDING IN WADI RUM In the morning we ride up to the French fortress, which is well maintained and situated in one of Jordan's most beautiful desert landscapes which is seen by few tourists. We keep going through arid landscapes and large steppes until we arrive at Wadi Um Ishrin: Big valley next to Jabel Um Ishrin with beautiful sand dunes. Contains the Anfisheyh Inscritpions, next to it drawings of animals, humans, and camel caravans. Dinner and night in camp.
DAY 6: RIDING IN WADI RUM Today we ride across the famous Um Ishrin valley, where were shot several scenes of the movie « Lawrence of Arabia ». You will stop to see the Lawrence's House, an ancient Nabataean checkpoint on the caravan route from Saudi Arabia to north that Lawrence lived in for a short time. Dinner and night in camp.
DAY 7: RIDING IN WADI RUM We ride the whole day in Wadi Rum desert, today. Cover your head and arms to avoid the sunburns! Continue riding towards the Disi area, through Al-Barra canyon - a valley between high mountains. Then follows Burdah Arch, one of the best known and the most spectacular sites in Wadi Rum. Dinner and night in camp.
DAY 8: WADI RUM-AQABA We spend our last day on horseback in the heart of the Wadi Rum desert. This morning you ride through the Al Barra Canyon, along the Um Tawaqee Rock and through the Lawrence Canyon until you have reached the Disi Area. Around 15h00, after a nice lunch, you drive to Aqaba, My hotel and enjoy Aqaba red sea, shopping down town in the souk, open until 11 pm.
DAY 9: AQABA-DEAD SEA_MADAB After breakfast, you will be driven to the Dead Sea, the lowest point on earth. You will enjoy a relaxing day at the Dead Sea with time to swim, float and relax. In the afternoon you will be driven to Madaba via Mount Nebo (site only, as the church is closed for renovations). It is from here that Moses was famously shown the promised land. Dinner and overnight in Madaba hotel. Breakfast and dinner included.
Day 10 MADABA - AMMAN AIRPORT. After breakfast transfer (about 30 minutes) to Amman airport for your flight home.
Horses
The horses are mostly Arabians from Jordan, Syria and Iraq, but also some crosses and Anglo Arabs. They are thinly built but unusually strong horses and about 150-160 cm (59-63 in) at the withers. They are moderately lively, pleasant and easy to ride.
The horses live most of the time in the wilderness. It is mostly mares and geldings but also a couple of stallions.
All the horses are owned by Emmanuelle and her company. Emmanuelle's horses are all cared for by European standards. They are ridden in the English style and with English saddles and bridles. The saddles have saddlebags where you can keep cameras and water bottles.
The riders are encouraged to groom and saddle your own horse during the ride.
Christmas and New Year

If you want to leave all the commerce and just enjoy the tranquility of this beautiful and unique desert, this is something for you. Here you can enjoy and reflect on what is important in life.
Climate
There is sun virtually all year round. In spring and summer the highest daytime temperature of 22-35 ° C (71-95 F), in winter about 15-22 C (59 -71 F) when it can be cold in the evenings and down to zero at nights.




Travel Information
Ability description: Level, trail ride 2-3 >>
Included in the price: 9 nights (4 nights ***hotel in double room, 5 nights in tent), full board on the riding days incl water. Return transfer Amman airport.
Not included: Flights, single room (single supplement will be added if there is no one to share the room with), drinks. Dinner first and last night, lunch in Petra and Dead Sea. Visa fee, insurance and extras not mentioned.
Travel: Book flight/rental car >> We help you book your flight if you wish.
Fly to Amman Queen Alia International Airport.

Transfer: Book in advance with HorseXplore.
From Amman Airport to the hotel (3 stars).Tell us your arrival times so we can coordinate the transfer.
Time: Arrival before 23.00 and departure with flight after 07.00.
Price: Included
If you need transfer other times there will be a supplement of 25 JOD/person/one way.
Guides: Your guides speak English. All are trained in first aid and carry first aid kits on the ride. All luggage, tents etc. are transported by 1-3 jeeps to the various campsites. All the staff are local Jordanians and Bedouins.
Single room: It is possible to book a single room in the hotels (price for single supplement is available under Dates & Prices). If there is no one to share a room with, a single supplement will be added.
Group size: Minimum of 1, maximum of 12 riders per group (sometimes there can be two groups in parallel and you meet up in the evenings).
Vaccination: Normally, no special vaccinations are required, but consult your vaccination center and check the current recommendations they have for the area.
Visa: Visas are required and can be bought at the airport in Amman, approx. 40 JOD. Give us your passport no. before departure for visa waiver.