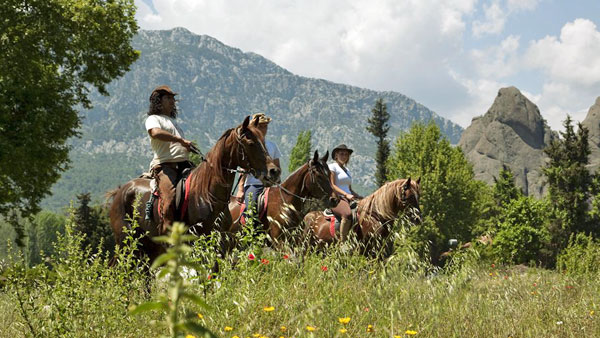 Up high in the Taurus Mountains, life goes on as it always has in the small isolated villages without the pulsating big city beat. It is fascinating to come here to the horse along the small winding roads. You come into close contact with the friendly locals. You stay 4 nights at the elegant ranch and 3 nights in simple accomodation with local families in the small villages in the mountains. As in most Mediterranean countries, there is always a local restaurant where villagers gather. You will get the chance to try lots of Turkish specialties.
The ride goes up to 1000 meters (3,200 ft) above sea level where the views are breathtaking. On one of the days, you will visit nomads and be invited to join them in an exciting lunch. After four days in the mountains, you return to the beautiful ranch and the turquoise sea.
This trail ride gives you unique experiences in the mountains and lovely sun & sea.
Click here for more information>>