Germany, Südharz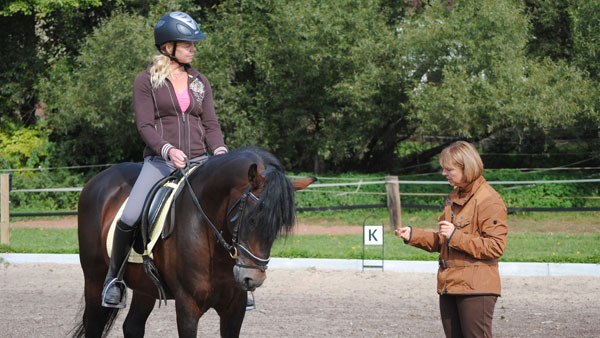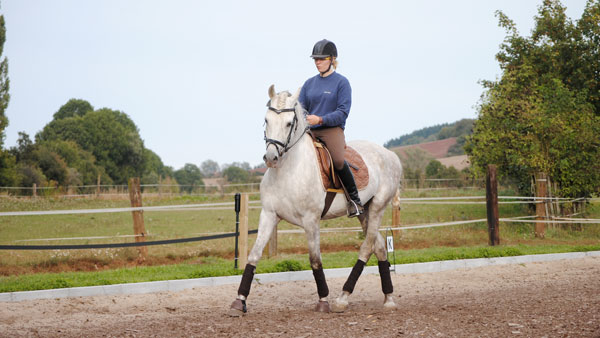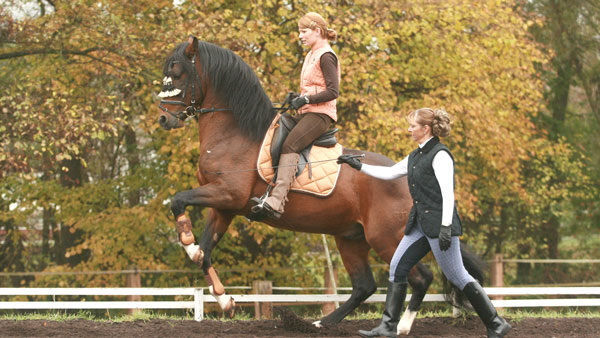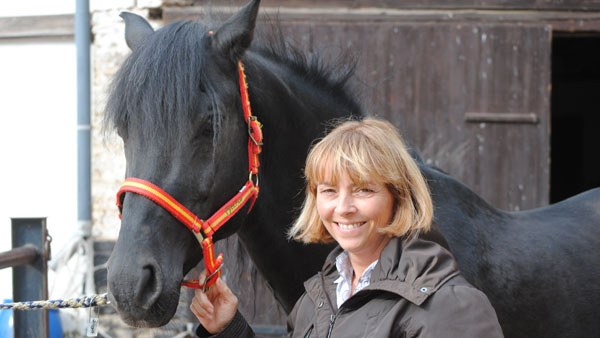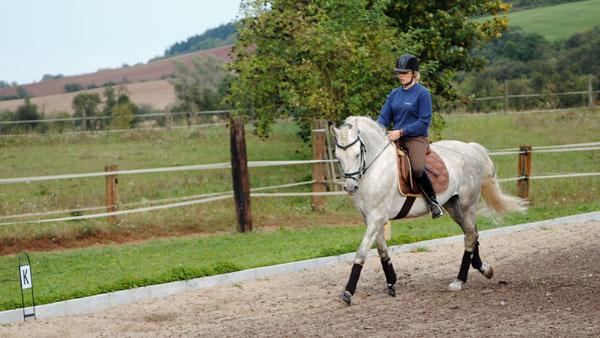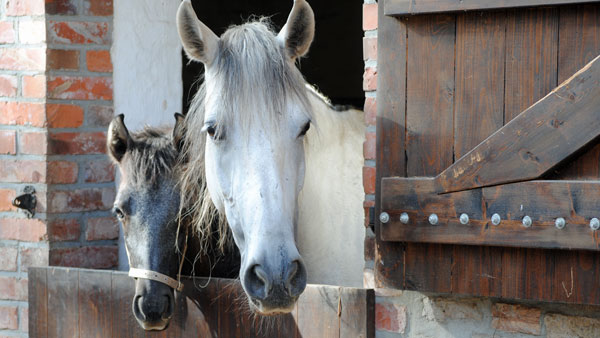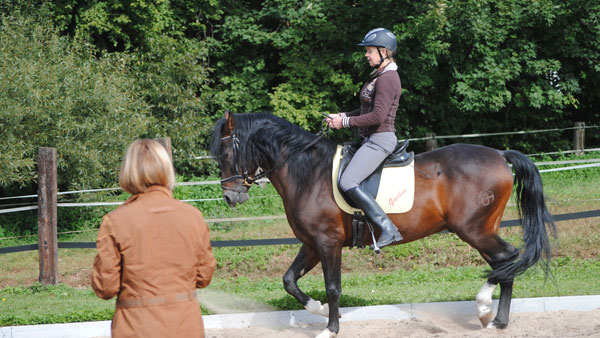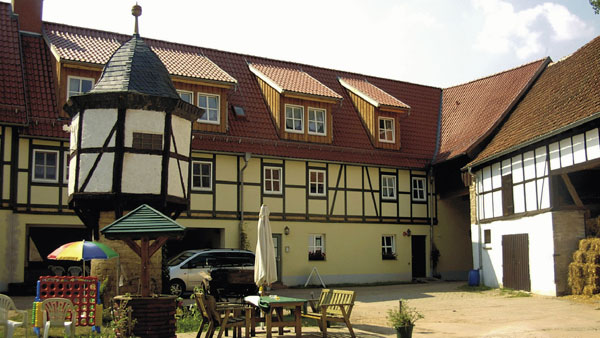 - Classical dressage -
In beautiful Südharz, just over an hour's drive from Leipzig, you have the chance to get excellent private lessons on very well trained horses. Alexandra, who own the equestrian center, is also your instructor. She is a very popular and active instructor and she is also a dressage judge. Like most professionals she knows that the seat is the foundation for really good riding. Depending on your prior experience and preferences, you will train at different stages of collection and lateral movement. If you are an advanced rider, you can obviously get instruction in both piaffe and passage. Alexandra is very calm and gentle in the way she trains horses and riders, which generally delivers a very good result.
Classical dressage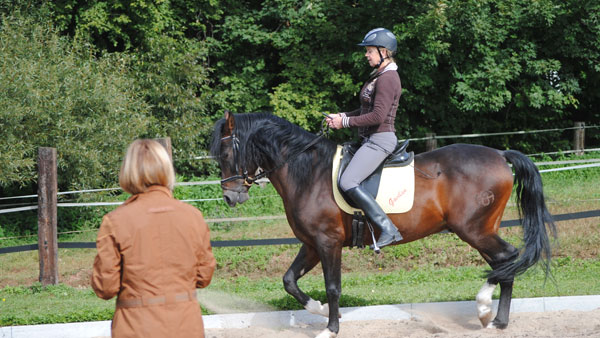 The seat is the main focus of the equestrian center. The center specializes in analyzing and correcting the seat to achieve harmony between horse and rider. Depending on your prior knowledge and preferences, you will practise at different levels of collection, lateral movement, flying changes and spanish walk. The equestrian center has an outdoor arena (20 x 60m / 65 x 197 ft), an indoor arena (20x40m / 65 x 131 ft) and nice areas for rides. If you wish, you can also practice riding sidesaddle.
Your coach, Alexandra, has been a licensed trainer since 1995 and dressage judge since 2003. She specializes in seat analysis and has a very calm and gentle method in training the horses.
In the weekly program you get 8 lessons during the week of 45 minutes each. During a short week it is included 5 lessons of 45 minutes each.
Accommodation and Food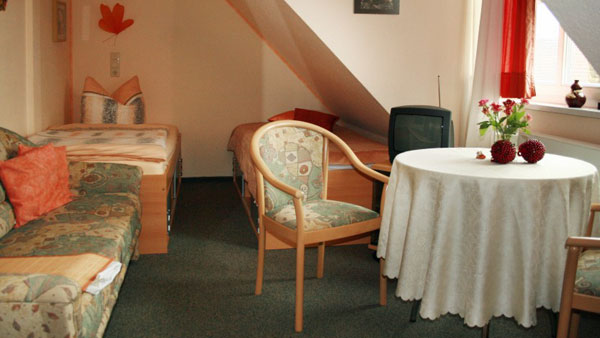 You stay in apartments on the farm. All apartments have a kitchen, bathroom, 1-2 bedrooms, telephone and TV. The stay includes breakfast only. Lunch and dinner you can either choose to cook for yourself or dine in one of the cozy little restaurants that are within 3-6 km from the equestrian center.
Single room: It is possible to book a private one room apartment with an extra supplement. A single supplement will be added if you travel alone and there is noone with whom you could share an apartment.
Safe deposit box: No
A/C: No
Hair Dryer: Upon request.
Towels and sheets: Yes
Fridge: Yes
Horses
A total of 40 horses of which about 15 are used for lessons. The horses are PRE (Pura Raza Espanola), German Warmblood and Andalusians. Both stallions and mares.
Climate



Travel Information
Ability description: Dressage level 2-4 >>
Included in the price: 7 or 4 nights, 8 or 5 lessons. Breakfast

Not included: Flights, meals and beverages, insurance and extras not mentioned.

Travel: Fly to Leipzig and then drive about 1 hour and 15 minutes by car.
Transfers: Transfers are not included. It's possible to take the train to Bennungen but with several changes. From Bennungen you can be picked up with a cost of 5 EUR/way. You can find train schedules on Deutsche Bahn.
Arrival/departure: Arrive during afternoon/evening, check in latest at 8.00pm, departure, check out at 10.00am.

Rental car: It is recommended to rent a car as there is a lot to see and do in the area. The equestrian center is easy to find, as it is motorway almost all the way there.

Single room: Can be booked with a supplement. For price click on "Book on request" under Dates & prices.
Currency: EUR
Credit card: Is not accepted by riding center.
Tipping: Not required but appreciated.
Wifi: Yes, can be added to the apartments for 5 EUR/day.
Electricity jack: EU standard
Group size: 1 person/lesson. Maximum 6 persons total /week.
Age limit: None
Closest village: There are several restaurants within the range of 3 km, next bigger village is 12 km away.
Beach: Lake within 6 km.
Pool: No
Misc.:
Riding equipment to borrow: Helmet
Saddle bag available: No
Special diet: Breakfast can be adjusted.
Feedback from our travellers