Kirgizstan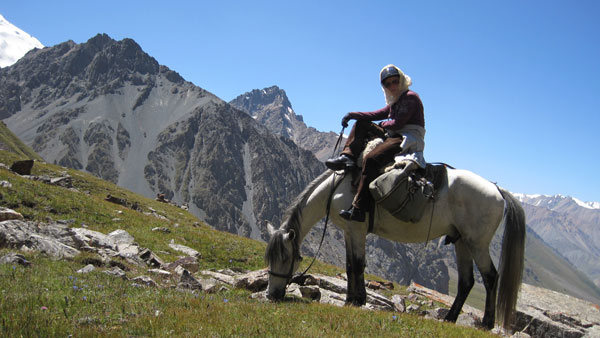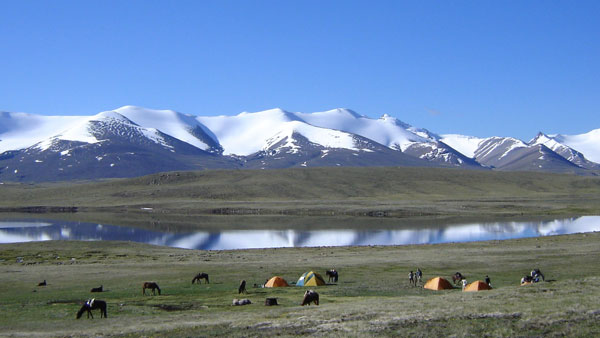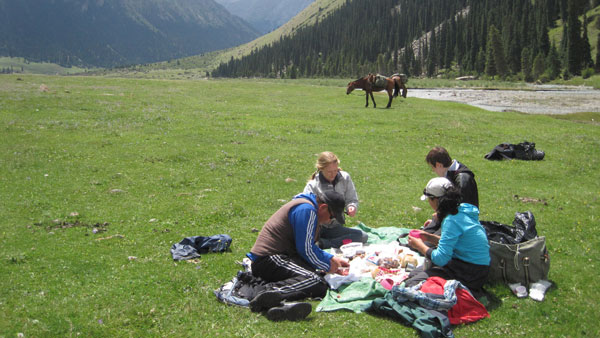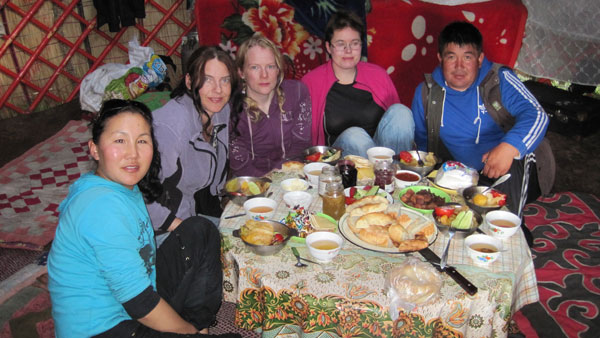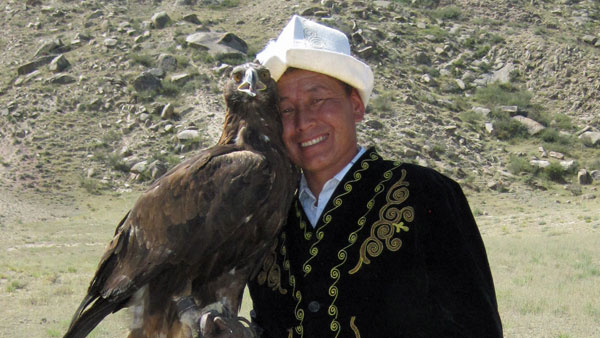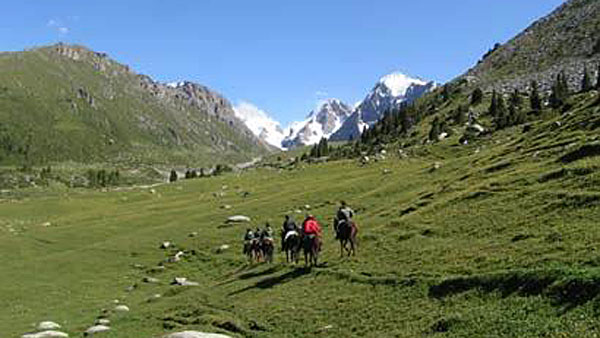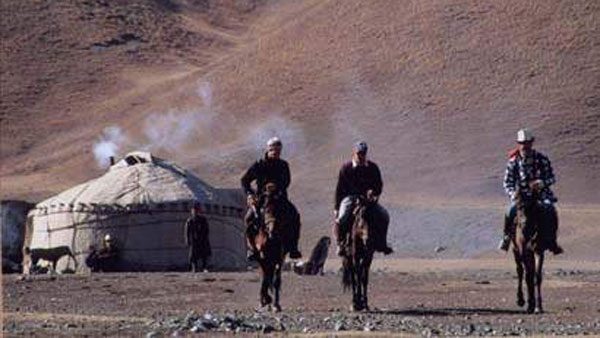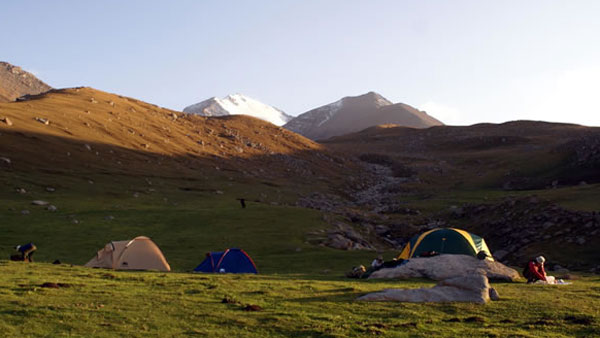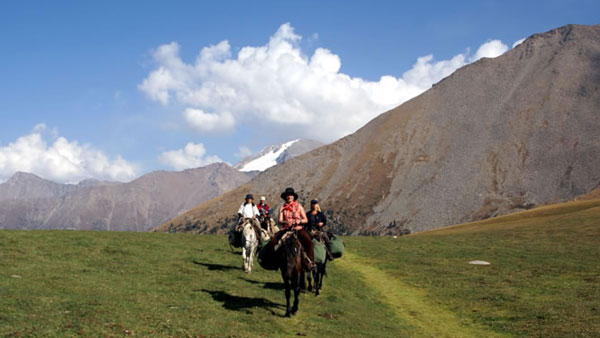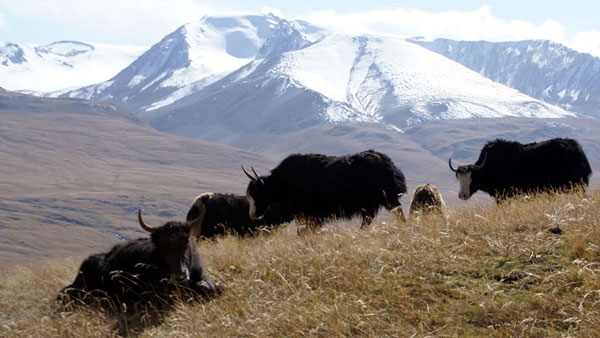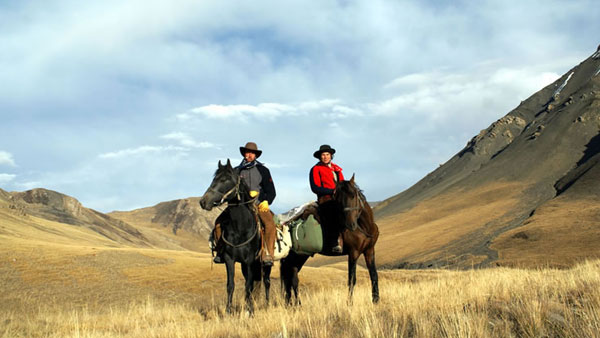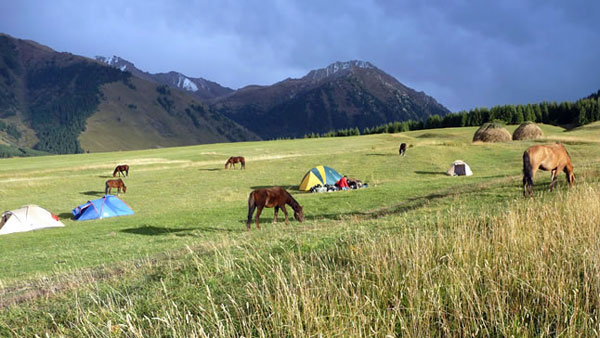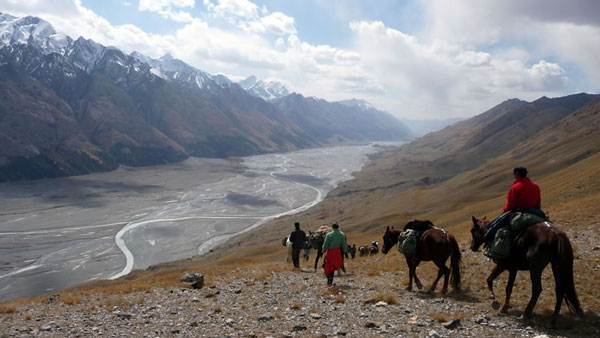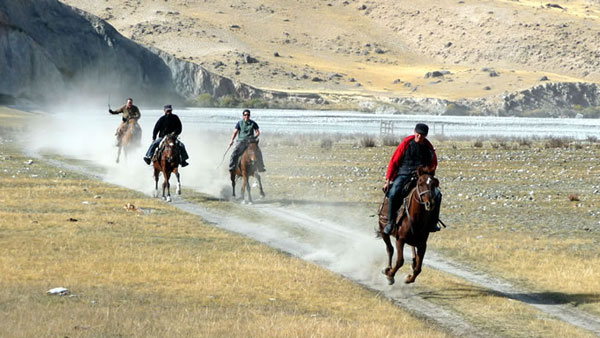 - Along the Silk Road -
Experience the adventure of a lifetime in Central Asia by the Silk Road, Pamir and Tian Shan (Celestial) mountains. Not to forget the magnificent open spaces with high plateaus and lush valleys. Come and enjoy the nomadic lifestyle of the Kyrgyz people and discover this magical land.
Ishen, Gulmira and Rash are descendants of the traditional Kyrgyz shepherds. They take visitors on odysseys through hidden valleys and lush meadows in the Tian-Shan Mountains. Tian-Shan province is their home. They spent their childhood summers on horseback in the traditional way: herding the family cattle to summer pastures surrounded by snow-capped peaks. Now, with very good knowledge of English, they will share their insights into the area and its inhabitants with visitors from all over the world.
Bishkek, capital of Kyrgyzstan, is located in the Chui Valley at an altitude of 750 meters (2,460 ft) above sea level. It's a wonderful place. The people are friendly and open. Bishkek is considered as one of the greenest cities in the world. It is located at the foot of the glacier-clad Ala-Too Mountains and in a region that glitters with famous names - Alexander the Great, Tamerlane and Marco Polo. For many centuries an important branch of the Silk Road passed straight through what is now Bishkek.
You will receive a warm welcome and you soon feel part of a traditional Kyrgyz family. The riding center is located in the village of Barskoon, on the southern shore of Lake Issyk-Kul, which is still relatively undeveloped and unspoilt and offers a magnificent scenery.
The village of Barskoon located on the ancient Silk Road and has about 9000 inhabitants. The locals are friendly and you feel very welcome. Ishen and his family and co-workers specialize in trail rides throughout Kyrgyzstan, where you can see lots of wildlife and meet and stay with nomads.
Contact us if you are interested in dates from late June to mid-September.
Accommodation & Food
On the ride you live in tents, other nights in hotels and guesthouses. The tents are specially selected to fit into this landscape and are compact when they are packed. Almost all equipment is packed into saddlebags and carried by the horses. This is an expedition trip, and you will be very far from the nearest hotel during the ride, so expect a very basic level comfort.
Safe deposit box: Some nights
A/C: Some nights
Hair Dryer: Some nights
Towels and sheets: Provided in the hotels
Fridge: Some rooms at Bishkek
During the ride, all food is prepared by the team. Breakfast and dinner are usually hot dishes, while lunch consists of a picnic.
A typical menu:
Breakfast: hot drinks, bread, fried eggs or meat, cheese, honey, jam, dried fruit
Lunch: a picnic consisting of bread, tea, cheese, meat, fruit, chocolate.
Dinner: hot vegetable soup, meat, pasta, salad, rice, cheese, honey, dried fruit, fruit, chocolate, hot drinks.
If you require special diets, have any allergies or something you cannot tolerate so notify us before departure.
The Program
Day 1. Arrival in Bishkek airport around 4:00 a.m. to 5:00am. You will be met at the airport and driven to Bishkek for an early breakfast (breakfast not included). The transfer from Bishkek to Barskoon takes about 5-6 hours by car. Lunch in Barskoon. After that, you look around the village and take it easy before tomorrow's first ride. Dinner and stay overnight in the house or yurt.
Day 2. From Barskoon you will drive to Barskoon Canyon, about 5-6 km. There you will meet with your four-legged travel companions and try out one that suits you. Then you ride up to the Taldy-Bulak Valley, on through the Taarylga and Chalai Valleys down to the Chong-Jargylchak River. Overnight near the river in tents. Distance: 25-30 km (15-18 miles). 4-6 hours of riding.
Day 3. From Chong-Jargylchak River to Kok-Bulak and Sary-Bulak Valley and then Kichi-Jargylchak River to Kindik Valley. Overnight in this valley. Distance: 25-30 km (15-18 miles). 5-6 hours of riding.
Day 4. From Kindik Valley of Ak-Terek river and up to Chychkan Valley. 30-35 km (18-21 miles). 5-6 hours of riding. Overnight in tents.
Day 5. You ride from Chychkan Bashy to the Ortho-Bulak Valley and over the Juuku River. Then up to the Jyluu-Suus Hot Springs and through the Kyzyl-Sai Valley. You then ride up to the start of the famous Juuku Valley where Ella Maillart, the Swiss writer and photographer, rode during his trip to Kyrgyzstan in the year 1832. 5-6 hours of riding.
Day 6. The ride continues up through the valley to the trail between the Kaschkas-Suu River where you overnight. Meet the shepherds and their flocks. 5-6 hours of riding.
Day 7. From the Kaschkas-Suu Valley up to the It-Tish valley, then to the Chong-Tash Valley along the Juuku River where you will camp. Overnight in tents. 5-6 hours of riding.
Day 8. Today is a long day of riding - from the Chong-Tash Valley up to the Juuku Pass (3633m; 12,000 ft) past two mountain lakes Jashy-Kol. In the afternoon, you ride back from this pass to the upper Chong-Tash Valley again. 7-8 hours.
Day 9. The last day of riding. From the Chong-Tash Valley up to the Dunguromo Pass (3779m; 12,400 ft), then down to the Sary-Moinok Valley where you are met by the car and driven into Barskoon again. Enjoy a hot bath and dinner and overnight in a private home / yurt. 7-8 hours.
Day 10. Transfer from Barskoon to Karakol. On the way to Karakol, visit the Orgochor Village and historical museum and the Jety-Oguz Gorge. Lunch in Karakol. After lunch: a visit to the Prjevalsky Museum, the Muslim mosque, Russian Orthodox Church, Karakol History Museum, etc. Overnight in Karakol Guesthouse.
Day 11. A long drive from Karakol to Bishkek (about 8-9 hours) through the northern part of Lake Issyk-Kul. You stay in Cholpon Ata, and Boom Canyon. Arrival at the hotel in Bishkek (dinner not included).
Day 12. Free day in Bishkek where you can visit the Osh Market, Art Museum, Historical Museum, Open Air Art Gallery, craft and souvenir shops, parks and squares. A guide will come to your hotel in the morning and go through with the group what you wish to do during the day.
Day 13. Transfer to the airport early in the morning (around 4:00am).
(Subject to change due to local circumstances beyond our control, but without the program's change in character.)
Climate
The climate in Kyrgyzstan is classic continental, with warm summers and cold winters. The temperature can vary significantly during a single day - especially with altitude and can change suddenly, especially in the mountains. The varied landscape also provides differing climates. The average summer temperature in Issyk-Kul is +17 ° C to +20 ° C (63 – 68 F) during the day and +5 ° C to +10 ° C (17-34 F) at night.
In Bishkek average temperature is approximately +24.5 ° C (77 F) in July (although it may reach up to 40 ° C/104 F)) and about - 5 ° C (23 F) in January.



Travel Information
Ability description: Level, trail ride 2-3 >>
Included: 2 nights in double room/tent with full board and 8 days riding, transfers .
Not Included: Flight, breakfast day 1, lunch and dinner in Bishkek day 11 and 12.
Travel: Book flight >>
Fly to Bishkek airport in Kyrgyzstan. Aeroflot and Turkish Airlines fly there and arrival is usually about 05.00 am.
Transfer: Book with HorseXplore in advance.
From Bishkek airport to Barskoon 5-6 hours.
Visas: You should check with the nearest Kirgizstan Embassy on visa requirements.
Currency: Kyrgyzstan Som
Credit card: Not acceptet at the riding centre.
Tipping: By choice, normally around 1000 Soms (15-20EUR).
Cash: You can exchange your cash in Bishek city where the rate is the best. You can take out money at the ATM machines in local currency -soms, or in dollars. If you bring cash it is best to bring 50- or 100 bank notes to exchange, smaller notes go for lower rates.

Wifi: Yes, available at Bishkek hotel, most of the time in Barskoon village as well.
Electricity jack: EU standard
Group size: Min. 2 maximum of 8 riders.
Age limit: No
Closest village: The first and last nights you stay in the cities Bishkek and Karakol.
Beach: 5 km from Barkskoon village.
Pool: No
Misc.
Riding equipment to borrow: No. Bring your own helmet (compulsory)
Saddle bag: Yes
Special diet: Yes, inform at booking.
Pack list: Down jacket, warm sleeping bag (-20 degrees), rain gear (waterproof trousers which are easy to take on and off), 2-3 pairs of warm socks, waterproof boots/ shoes, gloves, sunglasses, sun cream with high UV-protection, lip balm with UV-protection, torch, personal medicine, metal water bottle (0,75 L), ground sheet, riding chaps, some kind of water purification (micropure for example).