South Africa and Botswana - African Explorer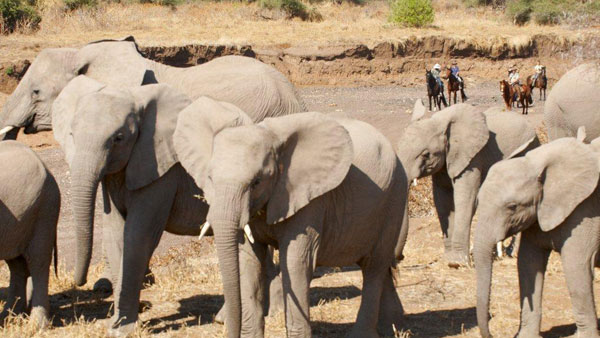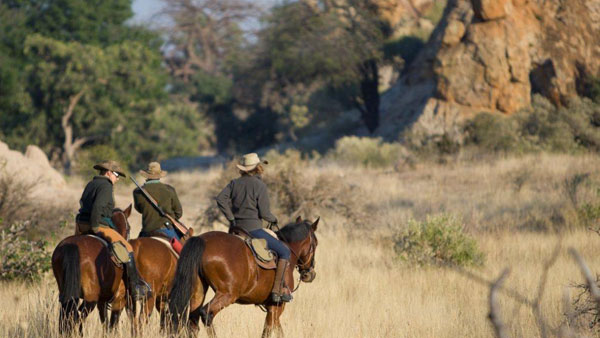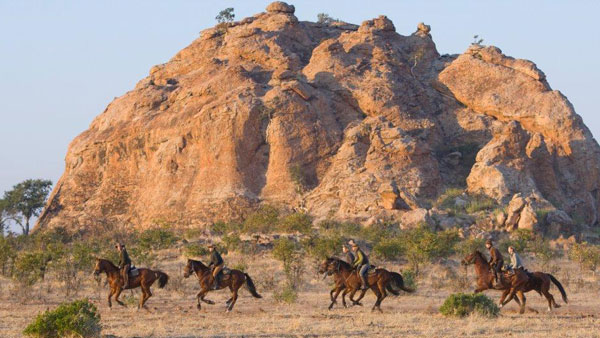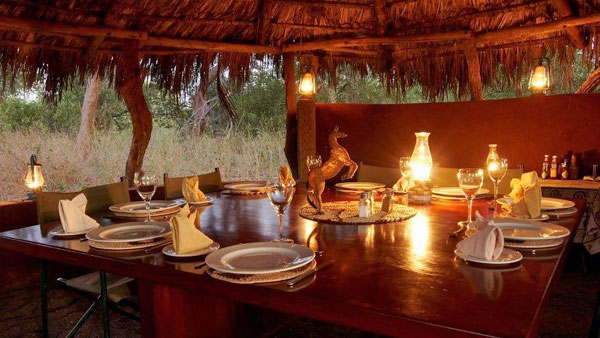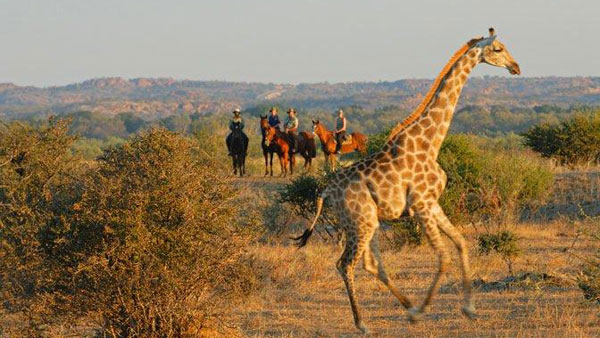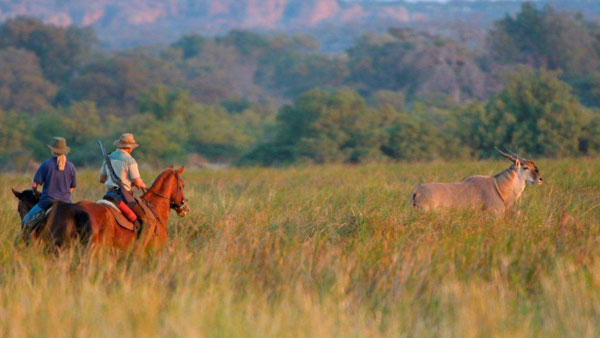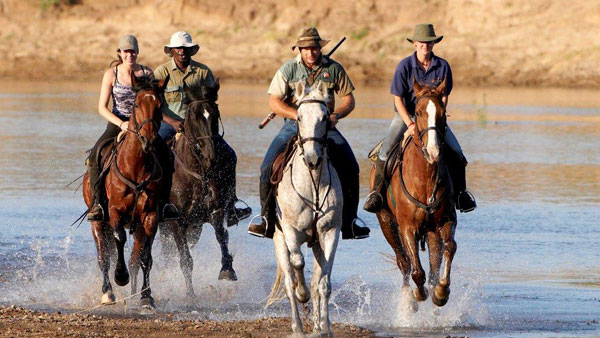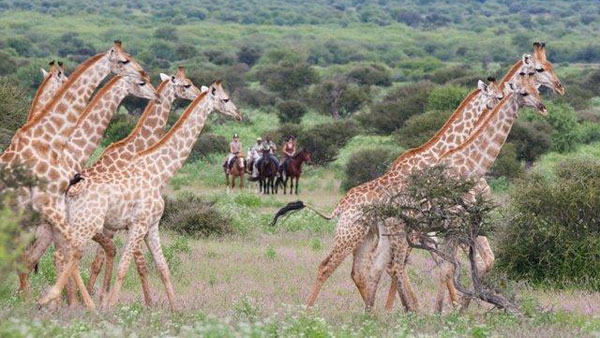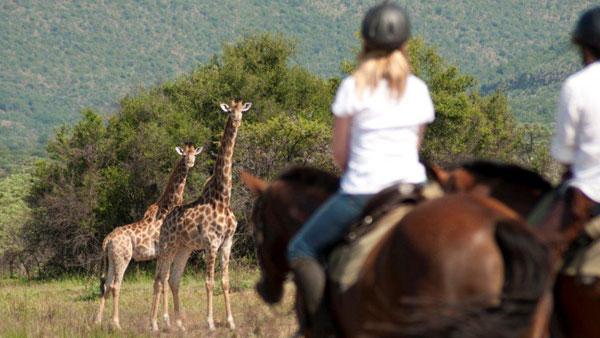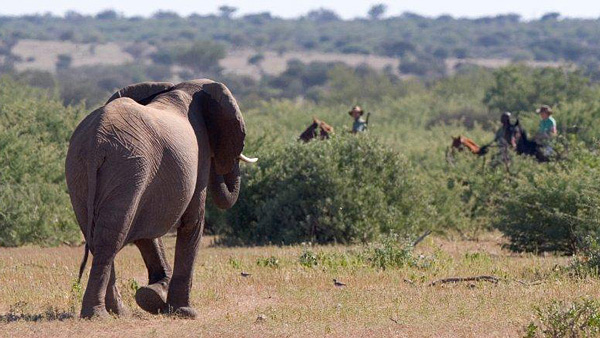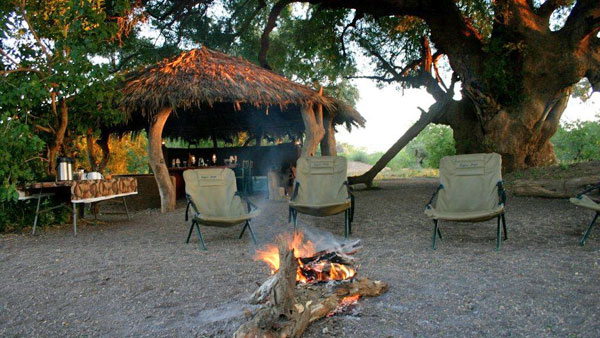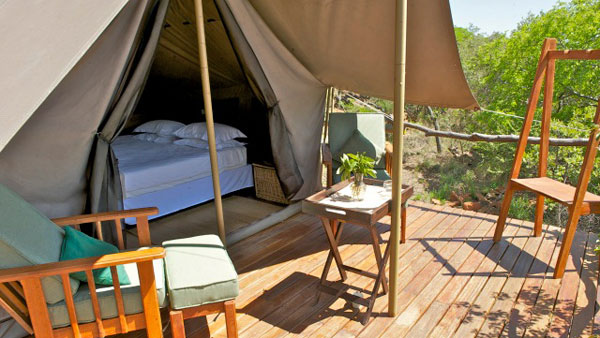 Get the best of two countries. Ideal for experienced riders who want to get as much as possible from their African riding holiday.
This exciting ride combines four nights in a newly built camp in the Waterberg and three nights in the Limpopo Valley in Botswana. First explored Waterberg's fantastic Highlands and then move to Mashatu Game Reserve, Tuli, on new horses.
There is plenty of wildlife. In South Africa in this private game reserve, there is a good chance of seeing wild animals such as giraffe, zebra, impala, red hartebeest, eland and reedbuck as well as many of the smaller mammals such as jackals, baboons, monkeys and warthogs. In Botswana Mashatu that covers 30,000 hectares is home to great herds of elephant, as well as numerous cats, including leopards, lions, cheetah, African wild cat and cerval and a multitude of plains game like zebra, wildebeest and giraffe, as well as over 350 species of birds.
The camp at Waterberg is located high above the Matlapeng Valley in the heart of the forested mountains. Here you have a wonderful panoramic view of the central highlands in the Waterberg Massif.
The classic two-man safari tents are built on wooden decks with private bathrooms behind the tent.
Depending on the season, the Botswana part of the safari can either be a mobile camping safari or a camp nestled in the shadows of Centurion Mashatu trees. The tents are built on teak platforms, with private toilets and hot showers. In the mobile camps there are comfortable beds with sheets and duvets. Facilities include a bucket shower and "bush toilet". Meals are cooked over a campfire.
The food is excellent, the lunch often consists of hearty picnics and dinners are excellent with lots of vegetables and are served with good wine.
Horse Riding
All horses are ridden English style. You ride with light contact with the horse's mouth and when galloping you stand in the stirrups to save the horses' backs. The saddles are custom designed for the trail rides (not Western saddles). In Botswana you use English saddles. You ride 3-7 hours per day.
Travel Information
Ability description: Trail Ride level 3 >> Guests must be experienced riders. They must ride regularly (at least once or twice a week) and be comfortable at posting trot, light seat canter and gallop as well as being able to do small jumps should they have to. They must be able to control a horse independently of the group at all paces. On arrival in Botswana you will be asked to do a independent riding test.
Included in the price: 7 nights, 8 days riding, full board incl. house wine, beer, soda, return transfer to/from Johannesburg airport according to set times.
Not included: Flight to/from Johannesburg (OR Tambo), fine wine, liquor and tips.
Transfers: Transfers are included in the price. Book a flight that land by 9.30am latest. Go to the info desk in the arrivals hall as soon as possible. The driver will be there to meet you and will advise of the expected departure time from ORT. The latest departure time being 10.30am. On the return trip you leave the camp in Botswana at 11:00am and arrive at Johannesburg airport between 3.30 and 6pm. Therefore book a departing flight after 8.30 pm from Johannesburg. On some dates you can fly from Botswana to Johannesburg, about 265 EUR extra /person (min. 2 persons). Contact HorseXplore if you like to flyg back to Johannesburg. Provide us your arrival and departure details in good time. If you need a transfer at other times there will be an additional transfer cost.
Number of riders: A minimum of 2 and a maximum of 8. If only one to four participants you may be upgraded in South Africa to the lodge based Waterberg - Ranch Stay if available.
Age limit: Very experienced children from 12 years, accompanied by an adult.
Wi-fi: Yes there is a limited service in both locations.
Electricity: In each tent in both locations there is a small solar charger that can charge most cell phones with a USB port.
Misc: A Tourism levy of $30 pp payable on entry into Botswana will come into place on June 1, 2017. Please bring dollars to avoid inflated exchange rates and bring the correct amount as there is sometimes a lack of change at borders. Other costs such as souvenir shopping and gratuities in both SA and Botswana can be done in rand.
The Program
This is an example of the weekly program. It may change due to local circumstances. No week is like another with wild animals moving about in the large reserve.
This exciting new ride combines three nights in a camp built high above Matlapeng Valley, one night in a Bellevue Plains lodge and three nights in the Limpopo Valley in Botswana. A great combination where you will explore the central highlands of the Waterberg Massif in South Africa before moving to the big Mashatu Game Reserve, Tuli Blocket, Botswana.
Day 1
Guests are met at ORT airport and transferred to the Camp, your base for the next three days, in time for a late lunch. That afternoon you will be introduced to your safari horse. We will ensure that you are matched to a horse that suits your ability and experience before heading off on your ride. This first introductory ride is a relaxed affair, giving riders the opportunity to settle into their new surroundings. Crossing the plains, enjoy your first close encounter with wildlife on horseback: ostrich, impala, zebra, kudu, eland, giraffe, warthog and jackal are all frequently seen in the open bushveld. A stunning lookout spot for sundower drinks is a welcome moment to take in your first taste of Africa after a long journey. A three course supper is served at the Camp that evening.
Day 2
Today's ride sets off from the high country overlooking a beautiful wilderness area to the east, and heads south, winding along the banks of Sunset Lake with its resident pod of hippos and the odd sly crocodile, before trekking upstream to an adjoining reserve. The lake itself is rich in birdlife, including the impressive Fish Eagles, dainty Dabchicks, elegant Jacanas and a variety of geese. Later, riding through the open savannah, wildebeest and zebra can be encountered. The riding is varied, from canters along sandy tracks to winding through rocky outcrops and densely wooded areas. The ride then crosses the reserve and returns to the Camp in time for lunch. Guests can then relax by the pool, before a shorter afternoon ride. In the evening there is the option of a night sky safari with a local astronomer, Dr Calcott, who will guide you through the amazing constellations (subject to weather conditions and availability). Additional cost R300 pp, Min. 4 pax.

Day 3
Setting off in a westerly direction, this ride tracks past a brown hyena den, skirts past the upper reaches of the Horizon dam before crossing a wide grassy valley. At one point the ride enters into dense woodland, home to shy species such as kudu, bushbuck and Vervet monkeys. Emerging from the woods, the horses have a chance to stretch their legs along open sandy tracks. Finally the ride swings back to the north, through mixed bushveld and fascinating rock formations. Two highlights of this ride are the jumping lanes and the chance for riders to swim their horses bareback in the dam next to the main lodge. For many guests, this is an exhilarating and unforgettable experience. Once dried off and back in the saddle, the ride climb back up to the Camp is particularly intriguing, as it follows a mountain pass cut through boulders and outcrops. After lunch, enjoy a sundowner ride across the plains on the reserve. We are very fortunate to have a large herd zebra. Over the years, the herd has become quite habituated to the horses and it is now possible to ride really close and experience being part of the zebra herd. A wonderful way to watch the foals frollick.
Day 4
Having left Camp Davidson for the final time, this ride heads south to the Game Conservancy which is home to Savannah Lodge. The ride traverses a wide wetland, home to reedbuck and grass owls, before entering dense woodland dotted with wild fig trees and large fruited bushwillows. Here it crosses the watershed and descends through open grasslands with sweeping views to the upper reaches of the Conservancy's main water system. The route passes the favoured habitat of waterbuck and Cape buffalo. The open plains that follow are aptly known as "Little Serengeti"; large herds of blesbuck, eland, wildebeest and kudu are all on view, as are groups of elegant sable, swift red hartebeest and impressive journeys of giraffe and Cape buffalo. After a lunch at the lodge and a rest by the pool, the afternoon ride continues to explore this game rich area, closing with sundowners overlooking the African plains.
Day 5
We depart the lodge early and enjoy an exhilarating ride back to the main Lodge in time to change before departing for Botswana at 09:30 am. We arrive in Botswana in time for a light lunch. Enjoy an introductory ride to check you are suited to your horse, before embarking on your first ride out to our Two Mashatus Camp. This will be your first opportunity to experience the beauty of the Mashatu Game Reserve and view the wildlife on horseback. Mashatu Game Reserve is home to the largest herd of wild free-roaming elephants on private land in Africa, and, although not a guarantee, it is almost assured that there will be great viewing of these incredible creatures. As evening falls at Two Mashatus Camp, relax in the cool of the thatched lounge and dining areas, before enjoying a three-course dinner
Day 6
Sunrise, the dawn chorus and tea or coffee which is brought to your tent, sounds the start of your first day. After breakfast, it's time to mount and depart from the dense woodland that hugs the Limpopo River and head towards the rocky hills that delineate the edges of the great river valley. As the ride traverses the heartland of Mashatu, you will encounter plentiful game: plains game, many giraffe and herds of elephants. You will arrive back at Two Mashatus Camp in time for lunch and a cooling afternoon rest in the shady camp or lazing by the pool. That afternoon the group has the choice of an afternoon ride or a game drive to the south western side of the reserve. This is an area not reached on horseback during the African Explorer safari. It is rich in game with a resident pride of lion. The highlight of the the drive is a sundowner in the ancient landscape of rock formations or the Mmamagwa hills, which vast vistas into the setting sun.
Day 7
Ride out following the movements of wildlife in the area. The tempo of the rides is always varied and depending on the terrain, there are opportunities to enjoy the spirit and fitness of the horses. The afternoon brings a chance to again choose between another ride or a bush walk in the northern area of Mashatu Game Reserve and enjoy the rich birdlife, spot crocodile in the pools and learn about the magnificent trees lining the banks.
Day 8
The last ride in the Limpopo Valley is a great opportunity to take one last picture of elephants and enjoy a long and winding canter through the scattered Mustard bush with your guides. Arriving back at the stables and reception mid-morning, there is plenty of time for a quick shower, before saying farewell to safari companions, new found friends.
Please be aware that due to changes in weather and other unforeseen events the itinerary may be changed at the last minute.