Great Britain - Dartmoor Crossing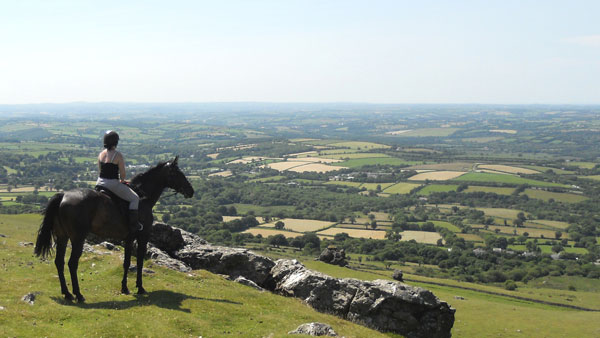 This is a 7 night, 5 day ride around Dartmoor, riding 12 – 19 miles (4-5 hours/day) each day stopping at fabulous moorland Hotels, or B&B's. This is a superb way to explore Dartmoor with its breathtaking rugged scenery, remote beauty spots and very friendly hospitality. You will be guided through some of the most spectacular riding anywhere in the UK, stopping en-route for either a packed lunch or lunch at one of many welcoming moorland pubs.
Each week will include a day out of the saddle to visit a local attraction or a local agricultural and equine show.
Program
Prelimininary day-by-day program
Day 1. Guests arrive and check in at guste house Castle Inn, Lydford where you will meet your hosts in the evening.
Day 2. Guests are collected from the Castle Inn and transferred to the riding centre, where they meet their horse, have a full day trail ride of approx 6 hrs including a lunch stop. After riding, tea and refreshments are provided before the guests are returned to the Castle Inn.
Day 3. Check out of the Castle Inn, Guest are transferred to the riding centre for a full days trail ride of approx 20km across some beautiful rugged landscape, stopping en route for lunch, arriving later at the Two Bridges hotel. Luggage will be sent on ahead each day.
Day 4. Check out of the Two Bridges for a slightly shorter days ride of approx 15km to a farm B&B near Widecombe.
Day 5. This day will either be a non riding day, to visit local attractions depending on the time of year, or a scenic ride of the area.
Day 6. A very beautiful ride across Dartmoor to the small bustling market town of Chagford staying at one of many picturesque Inns within the town. About 4 h ride.
n.b. Day 5 & 6 may be alternated depending on local attractions shows etc.
Day 7. Ride across Dartmoor to riding centre stopping at the picturesque vilage of Belstone en-route. Overnight at the Castle Inn again.
Day 8 Depart
Bed & Breakfast is included each night, lunch and afternoon tea is also included. Each destination will have a restaurant for the guests use for evening meal (not included).