Scotland - Glasgow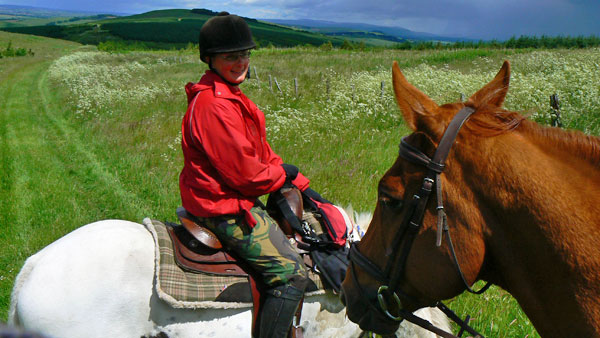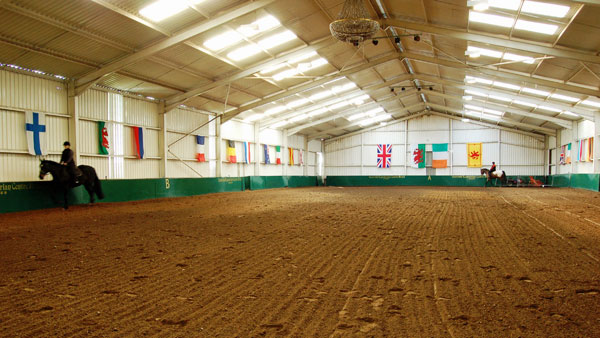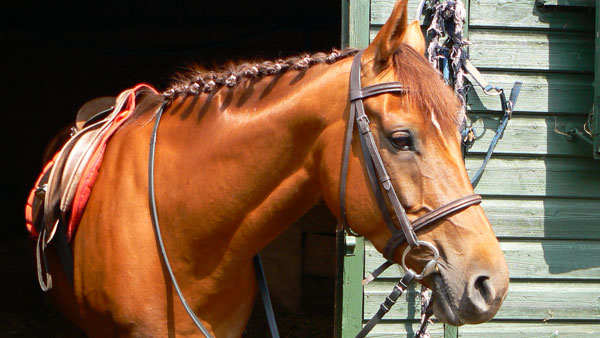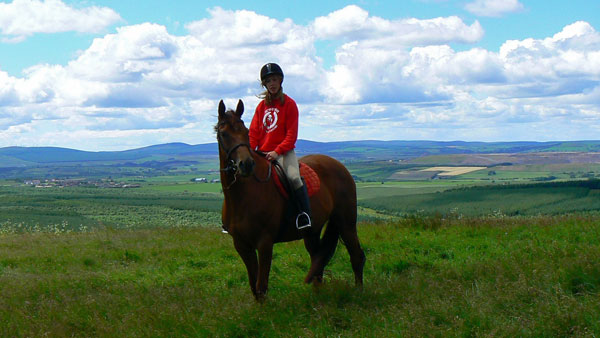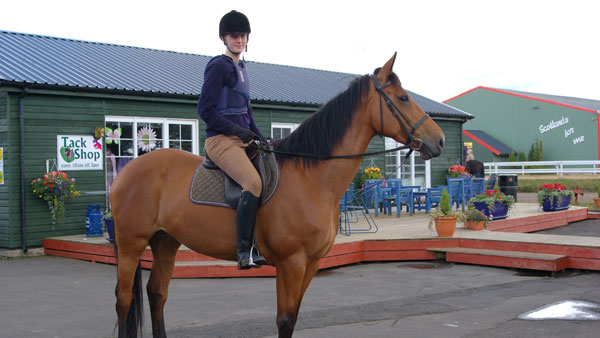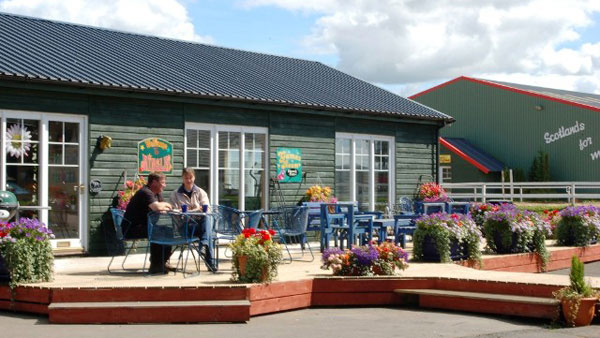 Our Equestrian Centre and B&B is set in the rolling countryside of the Scottish Borders, just a 10 minute stroll from the market town of Lanark. They are a BHS, TRSS multi – function centre providing almost anything you can think of – whatever you want to do with horses, riding holidays and leisure you're sure to find it here.
This horse riding holiday are excellent for everyone from novice to experienced riders. You can go with a friend, in a group, or even by yourself, as there is a tremendous sense of bonding on our horse riding holidays.
After an enjoyable day of riding, you can explore the area in this beautiful part of Scotland. Or relax in the bistro with a delicious pizza or a dish of pasta, etc., before retiring to your comfortable en suite bedroom.
Accommodation and Food
Accommodation is cosy and comfortable in twin or double en suite rooms. Adult meals are table-served in the Bistro dining room. Evenings can be spent in the comfy lounge, or watching whatever is going on. Or you can explore the area. The children eat in a separate restaurant with own menu.
Safe deposit box: No
A/C: No
Hair Dryer: Yes
Towels and sheets: Yes
Fridge: No
Horses
The riding centre has about 50 horses. Many cross breeds with Irish horses of the coarser type. There are also American western horses of the breed apaloosa, highland ponies, Welsh cobs and ponies crossing. The horses are ridden and handled according to Monty Roberts philosophy.
Scotland - Dressage, jumping and hacking
The content of your break will be tailored to suit what you can do, and want to do. Whatever the break, you ride up to four hours each day. Tuition and hacking out are usually intermixed to give a good balanced holiday. Total beginners are welcome.
Castle Trail in Scotland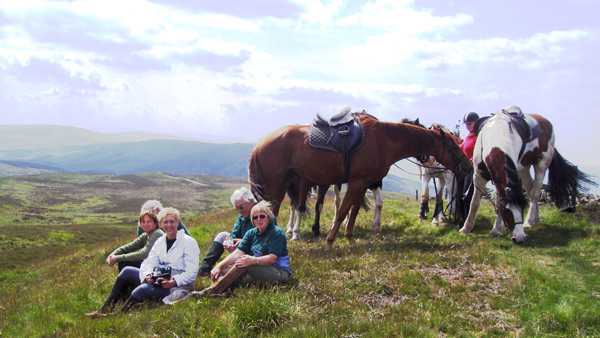 Day 1: Sunday. Arrive Sunday after 2.00 pm. Meet and greet other guests and take a short ride on a horse around our beautiful Centre just to get a feel of the environment. Dinner in our Stables Bistro
Day 2: Monday. You take a full day picnic ride through the World Heritage Site of New Lanark Village and onto the Famous Falls of Clyde, the highest and most spectacular waterfalls in Scotland. You have a picnic lunch here before continuing through the delightful countryside. This day they will give you your horse for the duration of the trip so it allows them to make changes if necessary. After the ride you may like to visit the Health Spa in New Lanark Village. Dinner in the evening and spend the night in the accommodation alongside the horses. They are part of the Equestrian Centre.
Day 3: Tuesday you take the horses to the departure town of Biggar and from there begin your journey down into the Scottish Borders. From there on its hills, tracks, rivers and heather. Arriving at your hotel for sumptuous dinner and overnight.
Day 4: Wednesday You continue the trip through stunning scenery, perhaps catching sight of deer, rabbits, hares, foxes and all species of birds resident. Your guide will be pointing out all the wildlife along the way and of course the many Castles and giving you the history of the area. Overnight in MacDonald Cardrona—and enjoy dinner and the facilities of the Spa.
Day 5: Thursday You continue deeper into the Borders country with this being the most spectacular scenery in all of Scotland. Your guide will take you to all the best vantage points. Overnight and dinner in Philipburn House Hotel. in the town of Selkirk. After dinner you may like to take a stroll into the town. Very historic, scene of many battles between the Scots and English, and thoroughly beautiful and authentic.
Day 6: Friday You will ride through the awesome estate of the Duke of Buccleuch, the biggest landowner in Scotland and today the ride will take you to a vantage point where you will be able to see a 360 degree view of the borders, Scotland and England. Lunch is on the tops. Incredibly beautiful. After lunch you make your way to the truck and minibus and return to the Centre. Tonight you will have a welcome back toast of the traditional Glayva followed by dinner and certificate presentation in the Stables Bistro. Overnight in the delightful complex.
Day 7: Saturday. After breakfast, you will transfer to your airport or train station.
This itinerary is subject to change due to weather and other unforeseen events. Our Hotels may change according to availability.
Daily Riding Hours: 4 – 5
Horses: Appaloosa, cobs
Saddles: English endurance
Group Size: Min.. 4 – max. 8
Food: Well cooked dinner, easy lunch which is brought with the saddle bags.
Climate



Travel Information
Ability description: Dressage level 1-3, Jumping level 1-3, Trail Ride level 2-3 >>
Included in the price: Castle Trail: 6 nights, 5 days riding, full board (excl. drinks). Dressage, jumping & hacking: 6 nights, 5 days riding, half board (breakfast and dinner) excl. drinks.
Not included: Flights, transfers, drinks, personal inscurance and extras not mentioned.
Travel: Book flight/rental car >> We help you book your flight if you wish.
Fly to Edinburgh or Glasgow.
Transfer: Book in advance with HorseXplore and pay direct to the driver.
From Glasgow International airp.
Price: 140 GBP return/car.
From Edinburgh airport
Price: 140 GBP return/car.
Season: All year (in summer also riding camps for children) . Castle Trail 2018: 20-26/5, 17-23/6, 22-28/7, 19-25/8, 16-22/9
Group size: Castle Trail: Minimum 4, maximum 10.
Currency: Pound
Credit card: Yes accepted by riding center.
Wifi: Yes
Electricity jack: Three plug
Age limit: 8-16 years old unaccompanied by parent. Castle Trail, 15 years accompanied by an adult.
Closest village: Lanark, 10 minutes walk away.
Beach: No
Pool: No
Misc.:
Riding equipment to borrow: Helmet
Saddle bag available: Yes
Special diet: Inform when booking.
Feedback from our travellers