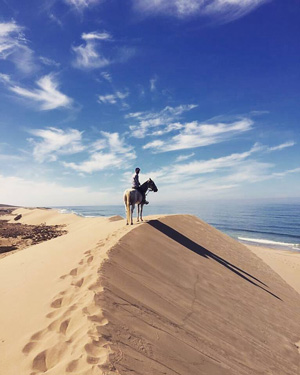 This beautiful Moroccan ranch owned by two French women, Caroline and Caroline (who live in France but visit the ranch at regular intervals). The ranch is situated between the Atlas Mountains and is only 10 minutes from the sea. Morocco has a rich culture and heritage that feels very exotic.

You can choose from:
- A Stationary program - about 4 hours riding per day. Combine with wellness treatments.
- Combination Week. One week combined with lessons or stationary rides at the ranch followed by a three-day trail ride with two nights in guest houses.
- Trails Between Sea, Mountains and desert, Trail Ride Beaches & Palm Groves with change of accomodation each night.
Arabic, Berber, African and European influences have made this country a fascinating place to visit. With both the Atlantic Ocean and the Mediterranean Sea on its shores, and with a rugged mountainous interior, Morocco remained independent country for centuries. Its history, climate and geography seems more closely related to the Mediterranean than to the rest of Africa.
Morocco has snow-capped mountains and sandy deserts, fertile plains and long white beaches. The country has so much to offer visitors with its ancient ruins and modern resorts. Horseback is the perfect way to explore this fascinating country. Mountains, lush valleys, the highlands and the sandy desert with its oases alternate with exciting ancient cities.
Agadir is a popular destination because of its dry warm climate, stunning and varied scenery and fine horses. Riding in Morocco has a long history.
The guide's English is somewhat limited. This is not a problem however (English speakers have ridden the trail ride), but bear in mind that communication can sometimes be limited and can even be quite entertaining! There are English-speaking staff at the ranch and the guides are very friendly and responsible. If you speak a bit of French, it is an advantage.