Ireland, Sligo – Trail Ride by the Sea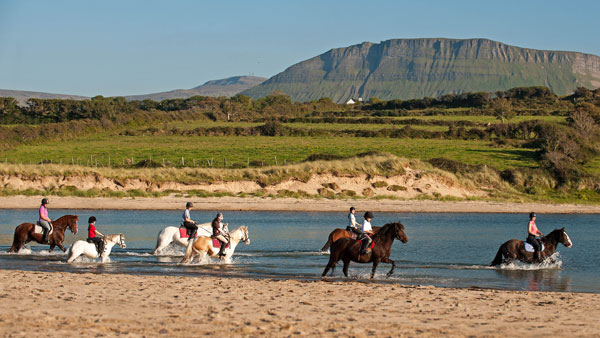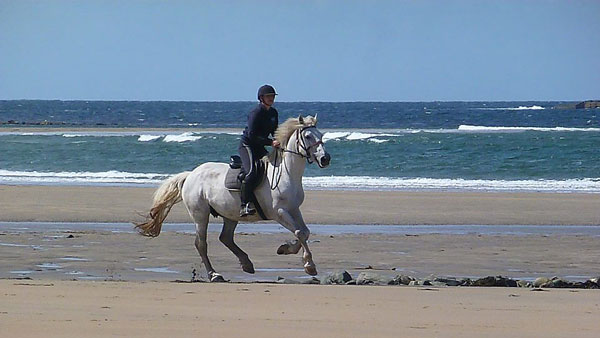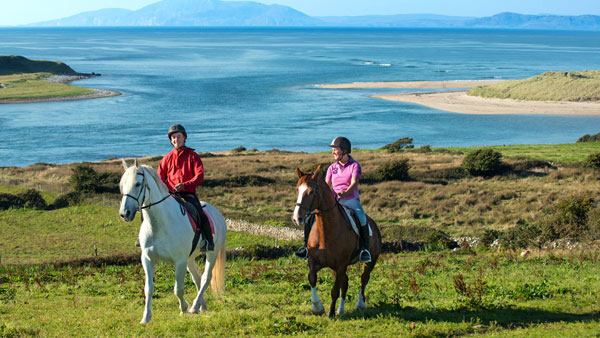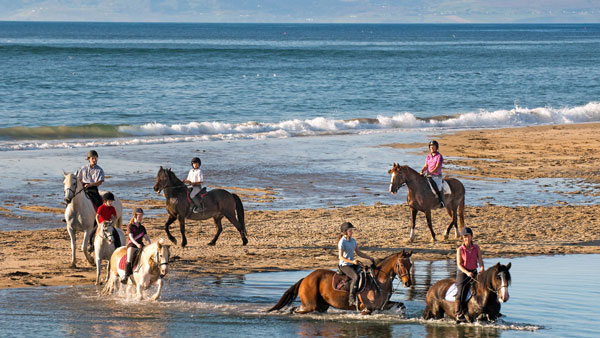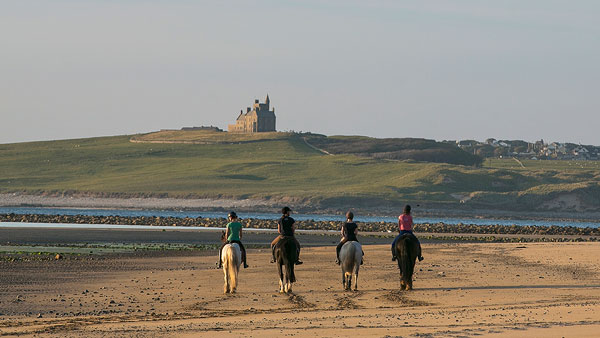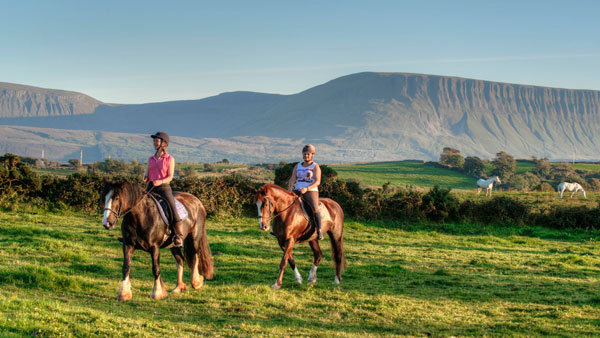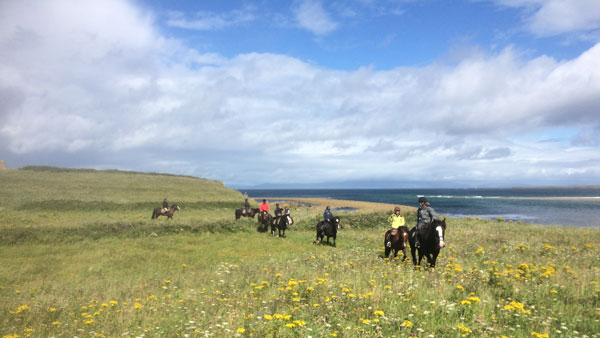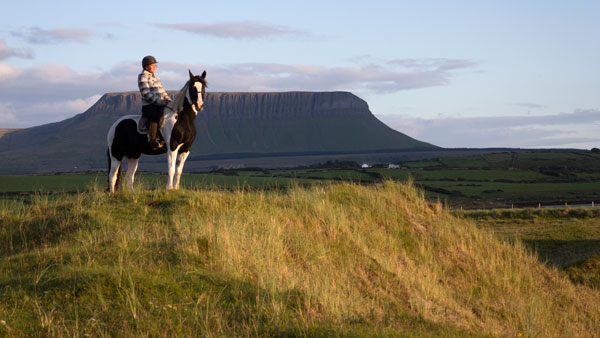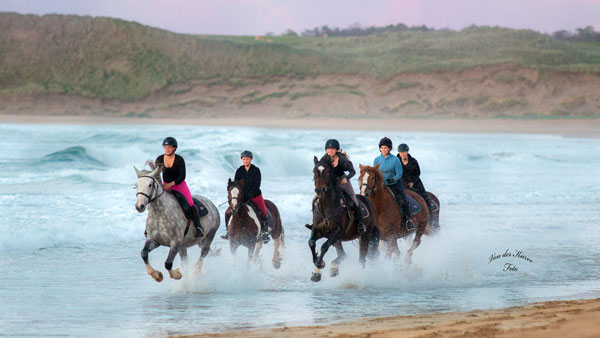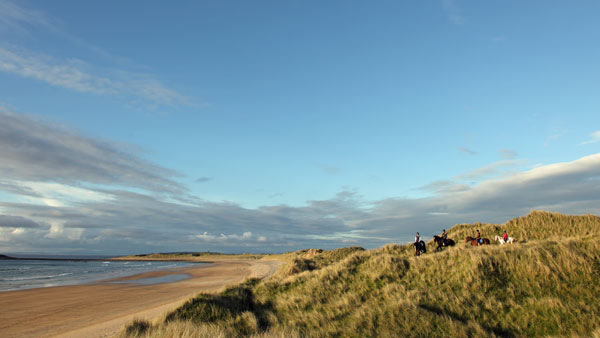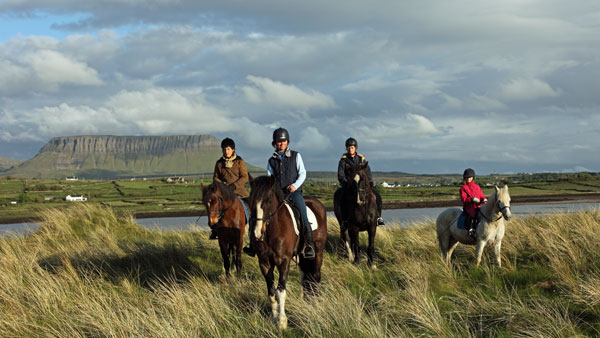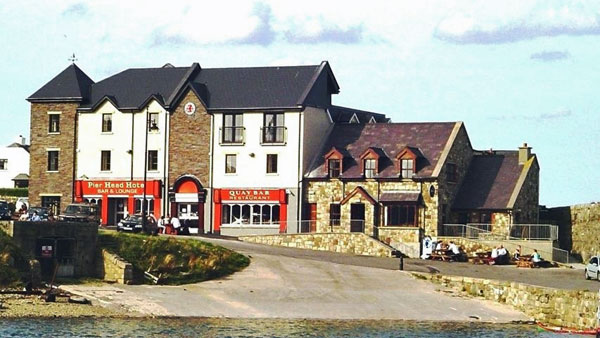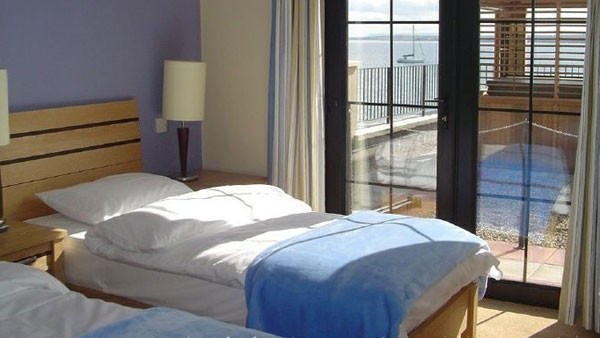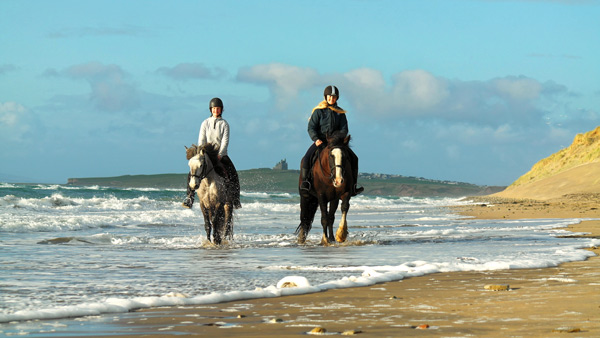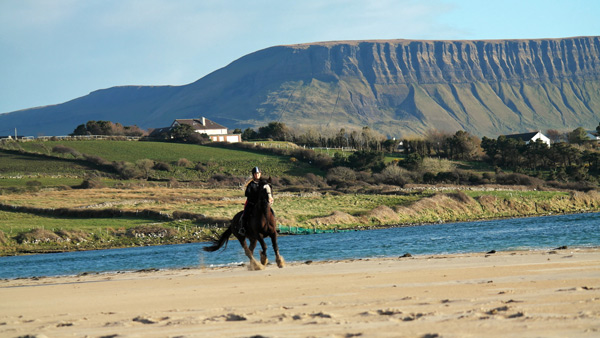 Do you dream of galloping at full speed along the seabed out to an island? Come and realize your dream with Ursula and Raymond whose equestrian center has a fantastic location with a lovely view of the sea and the kilometer-long beach.
At low tide, the surface is perfect for riding and you do not have to worry about holes and bumps. On the way, you will pass sunbathing seals and once out on the island, you can jump stonewalls and take other more natural jumps.
This part of Ireland is wild and beautiful and each day brings new and exciting adventures. You ride between 4-6 hours each day at a good pace. Some days you will have a picnic lunch and other days stop by a cozy pub.
You can choose from between forty horses, Irish warmbloods, thoroughbreds and ponies. All the horses are alert and happy and love to stretch out in a gallop along the long beaches, so it's easy to find a suitable horse.
Accommodation and Food
You will stay in a cozy little hotel about 5 minutes by car from the equestrian center. You will be picked up and dropped off each day. The hotel has a fantastic location with lovely views of the sea. You will stay in double or single rooms with ensuite shower / toilet. Some evenings you will be treated to live music in one of the local pubs. There is a nice spa area and an indoor pool, massages and treatments can be booked on spot.
Safe deposit box: Yes, in reception
A/C: No
Hair Dryer: Yes
Towels and sheets: Yes
Fridge: No
Breakfast is plentiful with bread & butter, cereal, yogurt, juice, tea / coffee.
Lunch is usually pic nic that you carry in saddle bags. Sandwiches or rolls (ham / cheese/ salami abd salad/tomato/ churney/mayonaise)- can be vegan or vegetarian, glutenfree or lactosefree if needed. There's also a piece if fruit (apple/mandarin or orange), a chocolate bar or nuts and raisins. For drink its a bottle of still water. Pub lunch is guaranteed once during the week, sometimes twice depending in how tides fall for the rides and if the pub is open for food that day.
For pub lunch people can order themselves to a maximum amount of €15, typically its burger/ fish and chips, panini and salad, pasta, ciabattas etc.
In the evenings during the week, you can eat both lamb, chicken and a selection of seafood. In the evening there are several pubs to visit if you are willing and able. Full board is included (except dinner first evening) excluding drinks.
Horses
There are about 40-50 horses and ponies. Given Ireland's mild climate you can ride outside all year round. There are no traditional stables, the horses are taken into a barn where you brush and tack them. The horses are Irish Hunting Horses and Irish Cobs. They have a very good temperament.
The Program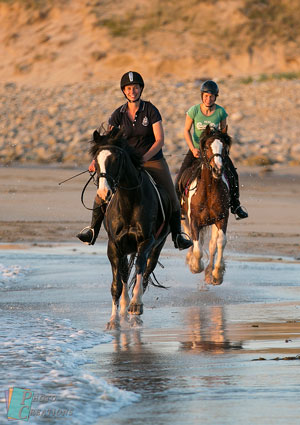 Arrival on Saturday afternoon and transfer to the equestrian center.
On the first day, you will get to try a horse and ride an hour in the paddocks and in the afternoon you will ride along the stunning beaches. From then on, you will take different rides each day.
On one day you can ride along Streedagh Beach with lots of opportunities to gallop. You might also see sunbathing seals.
On another day you can ride The Island Trek, a unique chance for you to explore the un-spoilt, kilometer-long beach on horseback.
When it's low tide you can ride on the seabed out to O'Connor's island. The family lived here until the '60s and all that remains now are the ruins of their old stone houses. The family's sheep and cows still roam freely on the island. Rest here before you ride further and jump the little stonewalls and natural obstacles, if you dare.
Moorland and Mountain Trek: You first ride along the beach and then turn inland towards the mountains with their lakes, historic castles and houses. Some of the routes will be sealed (Walking / trotting), as when in Ireland you cannot ride across someone else's land. This is a full day's ride to the spectacular Gleniff Horseshoe.
For the last day of riding you can choose whether you want to do an all-day ride inland or get one last glorious ride out to the island.
We reserve the right to make any changes to the program due to local circumstances beyond our control.
You ride normally 3-6 hours per day.
You get to ride different horses during the week.

Minimum number of participants is 2, and maximum 10.
Golf
Sligo has an abundance of top-class courses and with the the superb scenery, the excellent value for money, accessibility and the supporting services, it can certainly be argued that County Sligo ought to be on of the world's best destinations for golf enthusiasts. Within a 50 km radius from the riding centre there is 6 golf courses, for example Strandhill Golf Club, The County Sligo Golf Club and Donegal Golf Club.
Climate



Travel Information
Ability description: Level, trail ride 2-3 >>
Included in the price: 6 nights, 5 days riding, full board (excl. drinks).
Not included: Flights, transfers, insurance, dinner first night, drinks and extras not mentioned.
Travel: Book flight/rental car >>
Flight: To Dublin.

Onward journey, by train or bus, cheaper to buy tickets in advance.
Train: From Dublin to Sligo is 200 kilometers (125 miles) and takes about 3.5 hours by train. The train starts from Connolly Street Station. To get train times and prices, visit www.irishrail.ie.
Bus: Direct buses from Dublin Airport or Busaras (store street) to Sligo and it takes approximately 3.5 hours. To get the bus times and fares, visit www.buseireann.ie.
Also possible to continue with bus from Ballyshannon or Sligo all the way to the stables, Sligo-Derry Bus (No. 64 or 480).
Transfer: Book in advance with HorseXplore and pay on spot.
From Sligo train or bus station to the hotel.
Price: ca 30 EUR / car (maximum 4 people) each way. For 5 people or more ca 60 EUR.
Currency: Euro
Credit card: The hotel accept credit card, not the riding center.
Tipping: Not expected.
Wifi: Yes
Electricity jack: 3 pin socket, limited amount of adapters available.

Age limit: 10 years old, there are good ponies available.
Child discount: Up to 15 years old. Check under Dates and prices for the current discount.
Closest village: The hotel is located in Mullaghmore village with restaurants and pubs. For shopping is Sligo 20 km away.
Beach: Yes, 5 minutes walk from hotel.
Pool: Yes, the hotel has a heated indoor pool.
Misc.:
Riding equipment to borrow: Helmets and boots in all sizes, limited number or raincoats, half chaps and rain trousers.
Saddle bag: Yes
Special diet: Yes, inform in booking
Feedback from our travellers