France - Lot Valley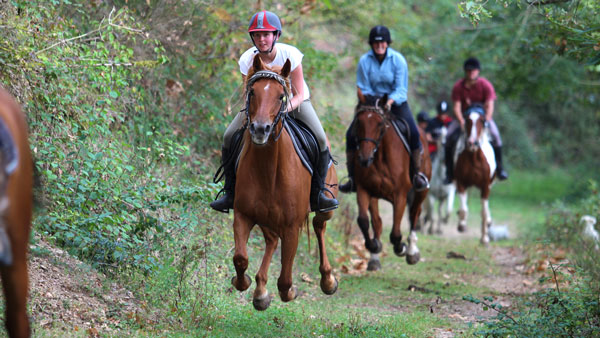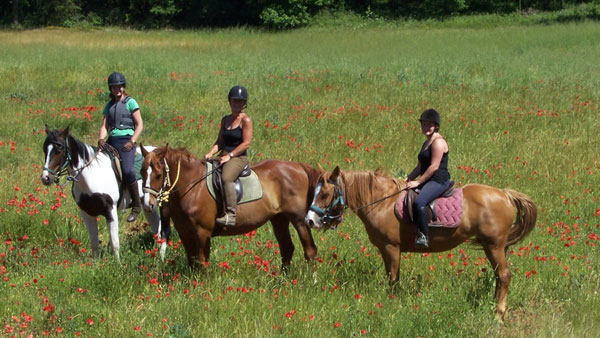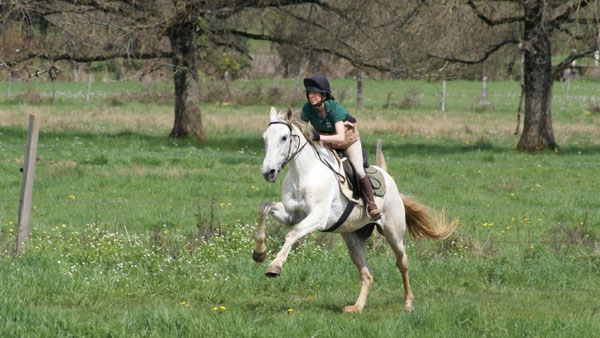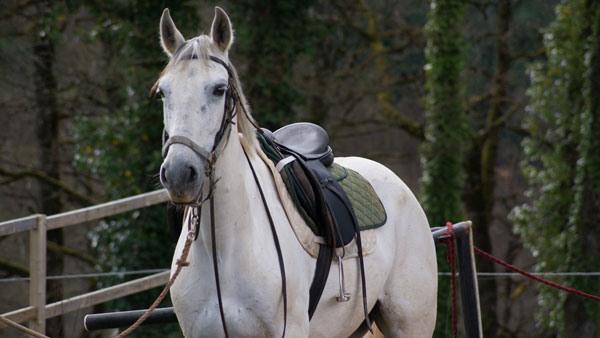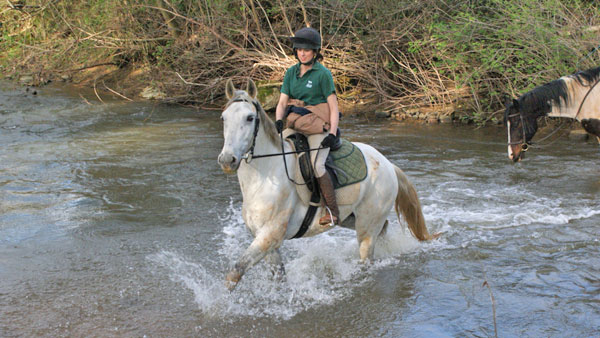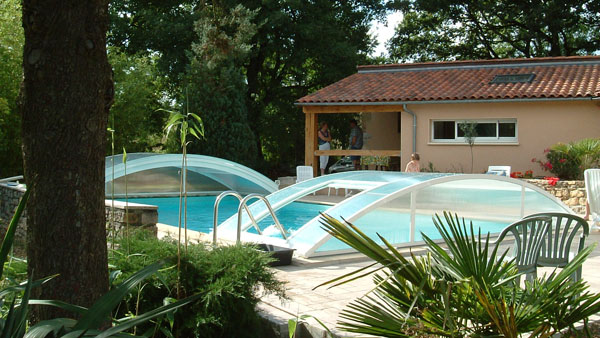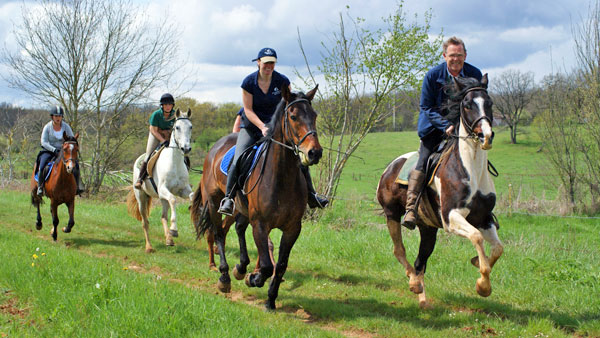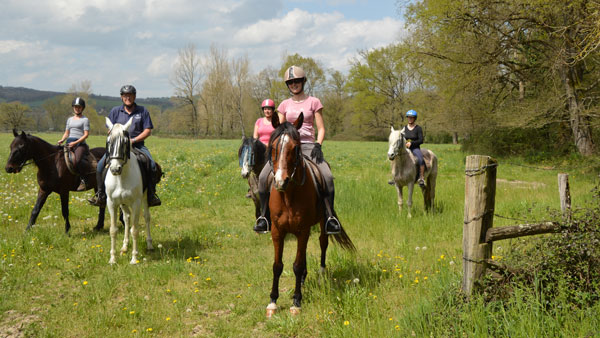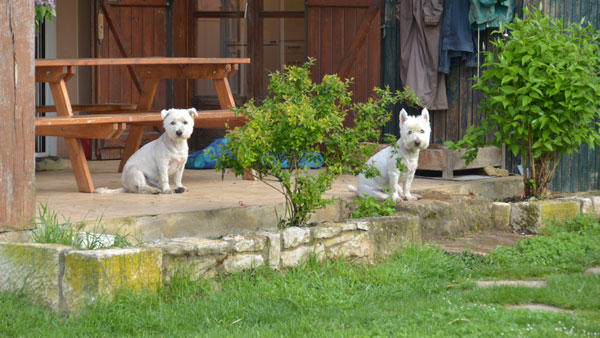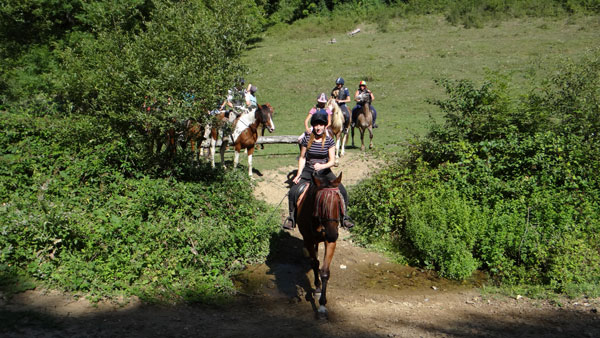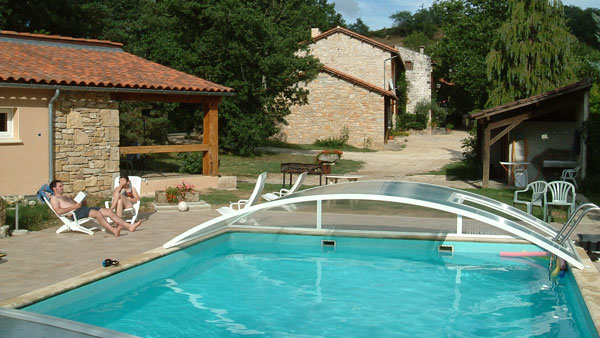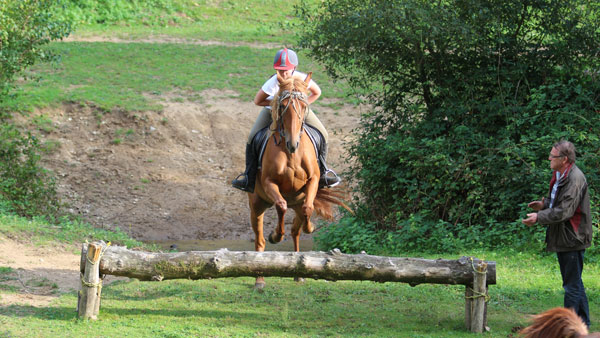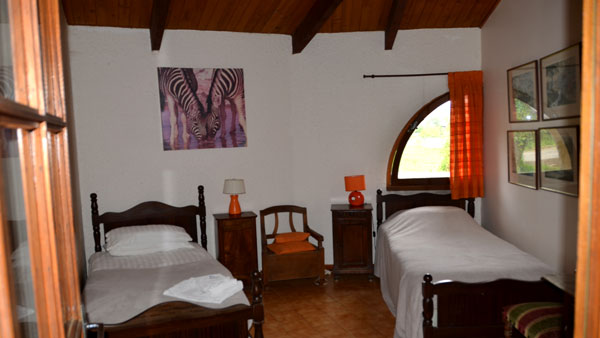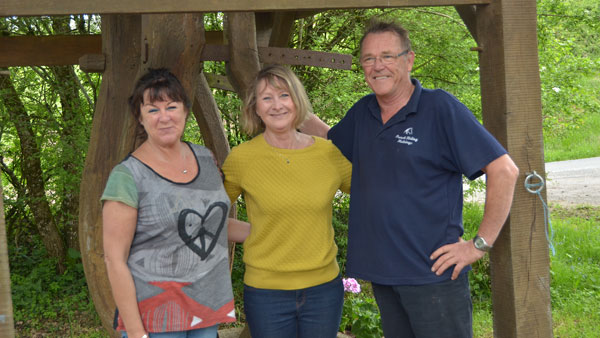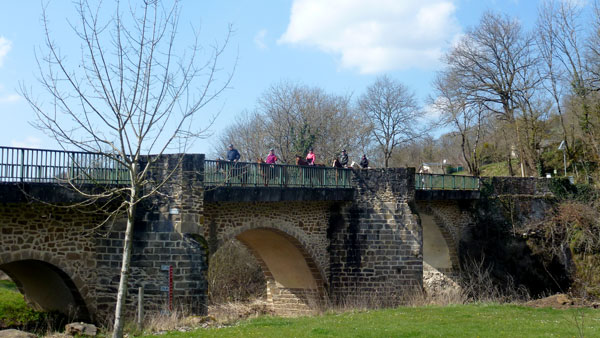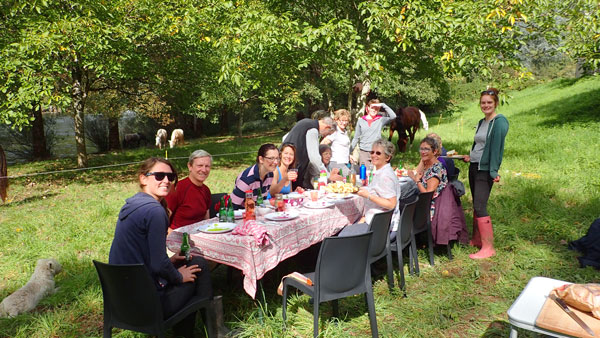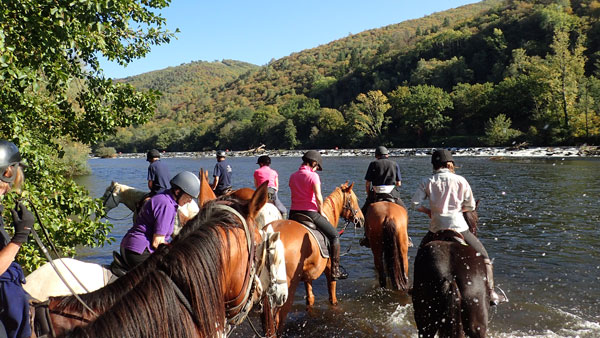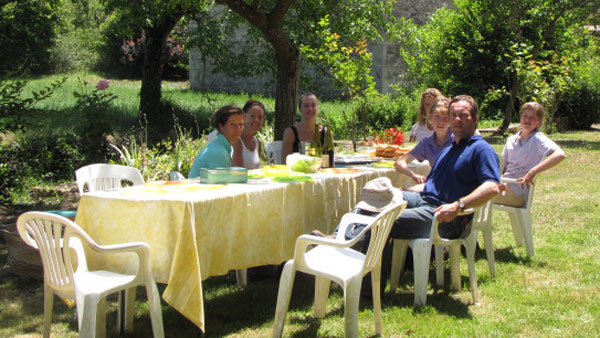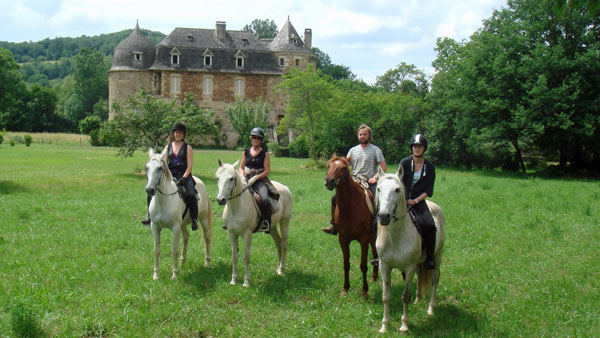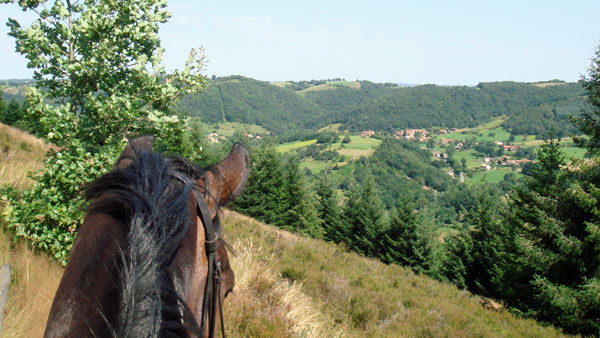 A destination not to be missed. The riding here is fantastic and there are horses for all skill levels and personalities.
Your hosts are Anne and Derek, a British pair that has lived in France for many years. The holiday is comfortable and cozy as your hosts give everything a personal touch. All food and beverages are included, Anne's cuisine is excellent and all the guests are looked after well.
When you come back after a full day's ride you will be offered cold drinks and snacks. A little later served a beautiful four-course dinner with a good wine to end another perfect day.
Accommodation and Food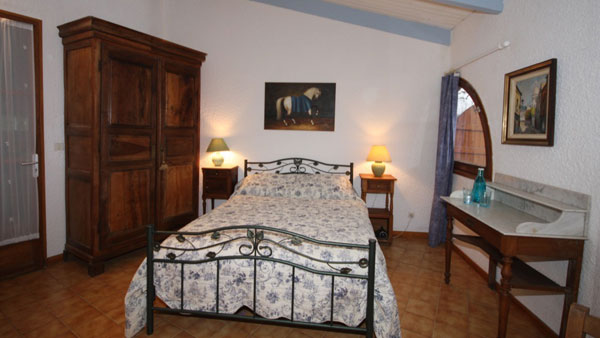 This destination offers a relaxed and friendly environment where guests and hosts socialize. You live in a cozy guesthouse with four double bedrooms with en suite bathrooms. It is simple but fresh and bright. In each room there is hairdryer, towel, sheets, shampoo, soap and toothpaste. There is also a living room and kitchen. Close by is a swimming pool (open March - Oktober, unheatet) surrounded by a nice terrace with sun lounges and patio furniture.
There is wireless Internet and laundry facilities.
Safe deposit box: No
A/C: No
Hair Dryer: Yes
Towels and sheets: Yes
Fridge: Not in rooms.
Shampoo, soap, toothpaste: Yes
All food and beverages are included and the food is of course an important part of the French lifestyle. All tastes and needs are catered for, including vegetarian and vegan diets, to a good standard. Please inform us when booking if you require special diets.
Lunch is often served on the terrace or if you are out riding you will be offered a delicious picnic with local produce and wine. The lunch comes by car, so you can eat comfortably seated at a set table.
When you come back from today's ride you can get a beer or wine in the fridge and just relax before the dinner, a lavish four-course dinner with wine, a perfect end to a lovely day.
For non-riders or if you want a break from the saddle there are activities to choose from, such as mountain biking, fishing, golf, hiking or visiting the beautiful surrounding villages.
Your hosts also own some very cute dogs!
Horses
There are horses to suit all tastes, a total of about 25. They are a mix of Anglo-Arabs, Appaloosa, Spanish horses and various crosses about 150-165 cm (59-65 in). There is also a bunch of ponies.
The horses have a very good life here, as they are out in the pastures all year round. Your host is a true horseman and there is nothing better than to ride a happy horse through this wonderful landscape. They have helmets, chaps and raincoats but we recommend to bring your own.
They normally take 3 saddlebags with them on the rides but client are welcome to bring their own.
France - Belcastel Conques Trail Ride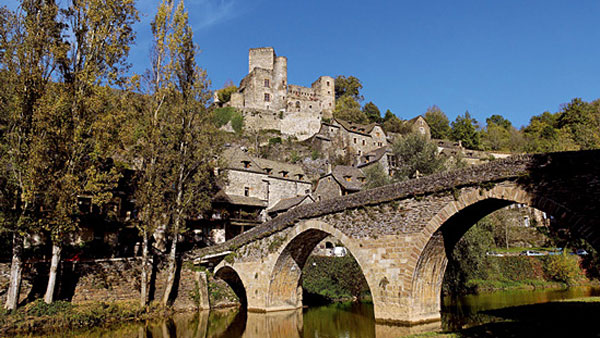 Belcastel Conques Trail Ride goes through some of the most beautiful villages in France, and travels alongside 4 rivers, the Alzou, the Aveyron, the Dourdou and the Lot. The route is a circuit to the east of Asprieres, mainly following Grand Randonnee paths GR62 and 65. GR65 is the famous path of the route of pilgrims to Santiago del Compostella. You will also go through the Marcillac wine region where the grape harvest is in October. Marcillac is a red wine, 90% made from the mansois grape, and no doubt you can discover it's hint of raspberry
Distance around 190 km. 5-6 hours riding/day. There will always be a 2 hour break at lunchtime
In 2018 we are running this trail once, Saturday 17th—24th March.
Saturday Day 1. Guests arrive, and lunch/dinner at the ridingcentre.

Sunday Day 2 Set off from the riding centre to the beautiful Bastide town of Villeneuve, for lunch. The afternoon takes us past the Alzou River through the gorges of the Aveyron, to stay in a rather luxurious Domaine la Broutie with views over the Pont de Vezis valley. The dinner is special, prepared by Pascal who trained as a chef in Paris. Fingers crossed for the chocolate fondant. Barbara and Pascal special-ise in breeding Spanish horses. 34km
Monday Day 3 Down to the Aveyron river through the forest tracks and then along the bank on the Grand Randonnee 62 path to Previnquieres. Continue on the GR62 to Le Luc Haut, a charming 18th century hamlet to stay in a rural auberge, just above Belcastel. 28km.
Tuesday Day 4 Set off through Belcastel, named as one of the most beautiful villages in France, nestling at the bottom of the valley, with a restored castle, old bridge, and streets paved with pebbles. Continue all morning along the Aveyron on the GR62B, and at lunch time start to head north, to Clairvaux though the Marcillac wine country. The paths are challenging and the views are spectacular. La Fregiere is an equestrian centre, our accommodation looks over a small lake with black swans, and there are ducks and peacocks. In October it will also be the time of the local grape harvest. 33km
Wednesday Day 5 Heading north to our third river the Dourdou, and St Cyprien. We find the GR62 again, and finish the day with a special view of the spectacular village of Conques. .The romanesque Abbey Saint Foy, and the Bridge of Pilgrims are on a World Heritage list by UNESCO. We are following the footsteps of thousands of Santiago de Compostela's pilgrims welcomed here since the 11th century. We stay in a charming hotel .. Watch out for the parrot! 36km.
Thursday Day 6 Start off on the GR65, and have the privilege of riding through the stone flagged streets of Conques following the formal Chemin de Saint Jacques de Compostel-le. We then follow the Dourdou river up to Grand-Vabres where the Dourdou meets the Lot, and the Midi Pyrenees meets the Auvergne. We head to the west, at some points following the bank of the River Lot, to Flagnac, to stay in a lovely gite, next to the Chateau. 22km.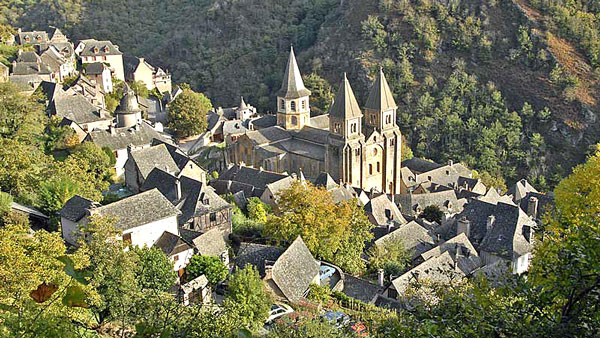 Friday Day 7 Cross the Lot at Port d'Agres, and head to our last picnic, heading south to the riding centre via the paths on JVC ride for those that have done that one! Evening back home at the gite. 21km.
Saturday Departure day Breakfast at the riding centre, and then transfer to airports.
The riding centre will be taking beer and wine for all the meals that they provide, and for after riding and aperitifs/nightcaps. For 4 nights you will be eating dinner in an au-berge/restaurant that will be providing wine with the meal. You may want a little pocket money if you want to have extra wine or drinks from the bar during the meal.
Riding ability - Intermediate - must have done plenty of outdoor hacking. Riding will be on all terrain, and in open countryside.
France - Najac Trail Ride
The Najac trail ride takes you to the south of the Aveyron region bordering with the Tarn. The trail covers 6 days riding and around 180km.

Dates for 2017: Saturday 25th February to 4th March and Saturday 30th September to 7th October
Preliminary program:
Day 1 Guests arrive and lunch/dinner at the riding centre.

Day 2 Set off from the riding centre to the Bastide town of Villeneuve for lunch. The afternoon takes you past the Alzou river through the gorges of the Aveyron to stay in a beautifully restored gite in the hamlet of Gaudies looking over the valley of the Pont de Vezis. About 35km riding.

Day 3 Set off down through the forests, to the beautiful valley of the Aveyron, winding your way south-wards to picnic adjacent to a beautiful farmhouse in Aupin-hac. The afternoon takes you to Les Aleils your home for three nights, in a country gite with the horses next to you in the paddock. The nearest small town in La Fouillade. About 26km riding.

Day 4 Start of crossing La Serene river, and then one of our favourite day rides following the banks of the Viaur river to an idyllic picnic spot, where you can dabble your feet in the river. There are some lovely canters, a few logs and ditches to surprise you, and recover back at the gite with a beer. About 26km riding.

Day 5 Again through the Gorges du Viaur, to the small hamlet of Saint Andre de Najac for lunch in a local restaurant. Weather permitting you can sit outside and people watch the locals! About 25km riding.

Day 6 Heading north to picnic near the Moulin de las Cassanis and then back across the Aveyron to drop the horses at the Cros or the Vialade, and then upto Hotel Bar-rau in Lanuejouls. Hope for the Gratin Dauphinoise, it's the speciality of the chef. About 33km riding.
Day 7 Heading for home via a picnic at Claunhac, and a pretty fast special ride in the afternoon.. The horses know their way back to the riding centre. Celebratory dinner and a well earned rest for the horses. About 27km riding.

Day 8 Departure day Breakfast at the gite, and then transfer to airports.

All costs, for riding, accommodation, breakfast lunch and dinner is included. They will be taking beer and wine on the trail, so there is no need for any pocket money. Your luggage will be transported from place to place by the backup vehicle, which will also meet you at lunchtimes.
Riding ability - Intermediate - must have done plenty of outdoor hacking. Riding will be on all terrain, and in open countryside.
Lot Valley - Stationary program
The terrain is interesting and invites for some excellent canters. On the rides you will experience a beautiful rural landscapes, farms and charming small villages. Wandering through the forests and perhaps down into the river valley.
Some days you ride all day rides with a picnic. The picnic consists of homemade food and is served at a table with some of the region's wine. Sometimes you will stop at a restaurant that serves local dishes. Other days you may ride twice a day to be able to eat in peace "at home" and maybe take a dip after lunch in the pool.
Yes, there are lots of choices, but it is designed for you to get exactly the riding tour you want.
You ride six days and up to 5 hours per day.
There is also a simple cross-country jumping track where you can try your hand at cross-country riding if you wish.
Climate



Travel Information
Abilidy description: Level, trail ride 2-3 >>
Included in the price: 7 nights, 6 days riding, full board incl. wine/beer, coffee/tea.
Not included: Flights, transfers, insurance.
Travel: Book flight/rental car >>
Flight: To Toulouse or Paris.
Train: From Paris to Capdenac. Se train time table at SNCF>>
Transfer: Book in advance with HorseXplore and pay on spot.
From Toulouse airport, transfer time 2 hours.
Price: 180 EUR/car/return for 1-4 persons.
Time: Arrival no later than 8.00 pm. Departure day earliest 7.00 am.
Season: February - December
Currency: Euro
Credit card: No accepted by riding center.
Tipping: By choice but appreciated, normally from 10 EUR/week.
Wifi: Yes, free wifi.
Electricity jack: Standard EU 2-plug.
Group size: Lot Valley, stationary program 1-10 riders. Trail Rides, 4-10 riders.
Age limit: No
Child discount:
Closest village: 10 minutes of walk to small village, city is 10 minutes by car. If you rent a car you can go sightseeing to Pyrusse Le Roc, Rocamador, the caves at Padirac and more interesting places.
Beach: No
Pool: Yes, open between March-October (unheated).
Misc.:
Riding equipment to borrow: Helmets, chaps and raincoats.
Saddle bag available: Yes
Special diet: Possible, inform when booking.