Mongolia - Gobi Steppe Ride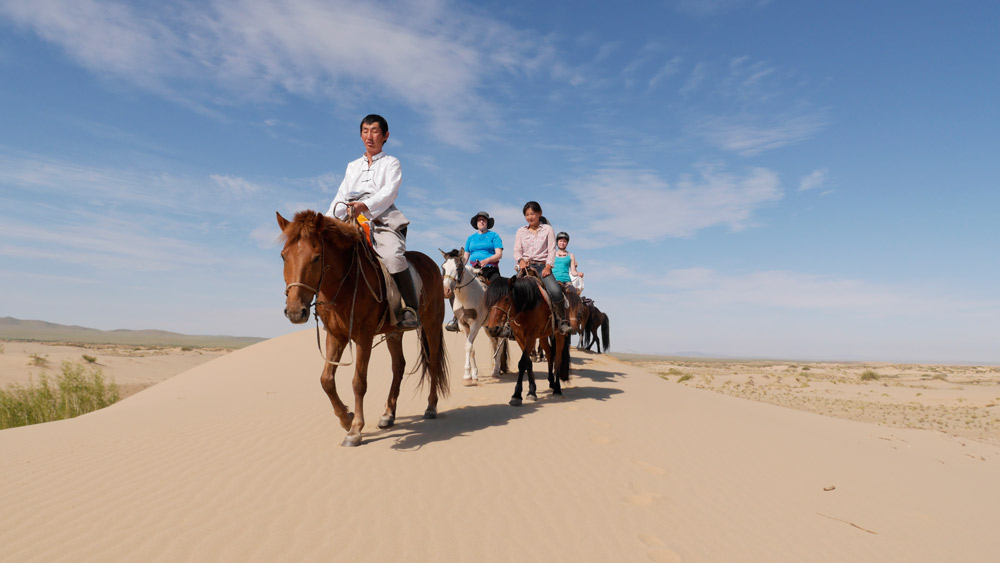 With some of the country's best horse trainers you will explore the Gobi steppe, the largest unexploited steppe in the world. It is fascinating to ride across this almost infinitely large, desolate and treeless steppe. You are followed by camel-drawn carts. Nomads who breed horses come with your on the ride. You will also pass several nomadic families and it is incredibly interesting to see how these people live with their families and their livestock. Besides steppe, you will ride over a 20 km long sand dune, where wolves often hide. In the background, you see the fascinating rock formations that extend several hundred meters into the sky. This ride will be a memory for life.
A transfer guide will meet you at the airport or at your hotel if you arrive at an earlier date.
Accommodation is mostly in tents with sleeping mats, but also comfortable yurts (Mongolian tents with beds). For two nights you will stay in a double rooms with shower / toliet.
Click here for more information>>
The Program
Day 1 Ulaanbaatar
Arrival in Ulaanbaatar, Mongolia's capital city with about 800,000 inhabitants. Transfer to hotel. Information on the ride and a welcome dinner.
Day 2 Ulaanbaatar - To Tseel
After breakfast we will visit the Gandan Monastery, the centerpiece for the revival of Buddhist Lamaism in Mongolia. With luck we will catch the prayer times. Then drive south out of the city and enjoy a picnic lunch on the grasslands. Continue across the steppe to a place in the middle of nowhere called Tseel. Our nomad hosts will meet us at Tseel with their horses and Bactrian camels. The area of Tseel has no or few nomads. We select our riding horses. There will be a briefing and a short trial ride. Overnight in tents here for two nights.
Day 3 To Hoyd Önjuul
Today we will start our ride going west to the mountains of Hoyd Önjuul. In the surrounding area it is usually possible to spot herds of Mongolian Gazelles (Procapra gutturosa) also known as White-tailed Gazelle. With luck we may even see the Black-tailed Goitred Gazelle (Gazella subgutturosa) which is better adapted to arid environment indicating that we are riding in the transition zone of grasslands and desert steppes. In the mountain area we sometimes are able to see Red Deer (Cervus elaphus) which Americans calls Elk or Wapiti. Certainly Wolves (Canis lupus) are around but seldom seen.
Day 4 To Suman
Following breakfast we will break camp and load all gers, equipment and provisions on to the camel carts caravan. We will ride for the full day south to the area Bayan Hills, where high-altitude fauna such as Siberian Ibex (Capra sibirica) and Argali Sheep (Ovis ammon) sometimes is seen. Argali is the largest wild sheep in the world. Pitch camp at Suman. Usually there are many nomadic families in the immediate area, as there is a water source (Hudag means "well" in Mongolian).
Day 5 To Zorgol Hairkhan
Today we will turn east and ride to the rock wall like mountains of Zorgol Hairkhan (Sacred Zorgol) which can be seen in the distance all day. It is a striking feature on the otherwise undulating and flat steppe. Zorgol Hairkhan is mentioned in The Secret History of the Mongols, the oldest surviving Mongolian language literary work, which chronicles the life and genealogy of Genghis Khan. The Khan himself is said to have wintered here while in conflict with a competing leader. There are more nomads and livestock emerging now. We will be able to meet some during the ride. At Zorgol there are also breeding population of Cinereous Vulture (Aegypus monachus), the largest of the Eurasian vultures, its size on par with the Condor of the Americas. The nests are quite low, on rocks and small trees. Our camp will be at the larger massif, called Ikh Zorgol Hairkhan Uul.
Day 6 To Baga Zorgol Hairkhan
We continue riding east, passing the small Gobi lake Hariin Nuur, with chances for spotting some interesting bird species. The lake acts as an "island" for waterfowl flying across this "sea of grass". We cover about 25 km to reach the smaller – but still impressive – Baga (small) Zorgol Hairkhan Mountains. Usually the pastures are excellent here, why we will encounter some nomadic families with their livestock around here. We pitch camp here and scan the ridges of these spectacular rock formations for Siberian Ibex and Lammergeiers. Gobi high altitude fauna such as Argali Sheep are present in the hills and rocks, and, if lucky, may be seen during the day.
Day 7 To Övör Burd
The Gobi steppe in this area is quite variable since we ride through the transition zone of the Gobi, meaning there is true steppe, semi-arid steppe, sand dunes and also giant rock formations. Today we will have an opportunity to pass archaeological grave sites dating back to the Hunnu empire, i.e. from the time before the Christian era. We will ride for 25-30 km east across the populated steppe and for the full day we can see the Zorgol Hairkhan giant rock formations behind us in the distance. They are several hundred meters high, and are the central feature in the middle of the steppe.
Day 8 To Shine Khudag
Today's ride turns north, a shorter distance to Shine Khudag, meaning New Well. Water sources are important in the Gobi grasslands. Our camp is loaded onto the camel caravan each day. Sometimes we will ride alongside the caravan, but often we will stray away from its straight course to explore interesting landscape features or for great views.
Day 9 To Arburd Sands
We ride full day for 25-30 km to Arburd Sands, passing several nomadic herder families along the way. The human inhabitants of this open and vast landscape are perhaps the most interesting, since all families in the area are nomadic herders. The sand dunes of Arburd extend for about 20km. They are a hideout for wolves and often we can see wolf tracks here. It is a Sahara-like landscape in the middle of the Gobi grasslands. Our camel caravan will need to take a route around the sand dunes, while we can cross them on horseback. We stay at Arburd Sands Ger Camp for the night, which is located next to the dunes.
Day 10 Arburd Sands
We will stay at the seasonal fully collapsible summer felted ger camp of Arburd Sands for another night, allowing for an opportunity to ride out and visit some nearby families over the day. Nomads here have large herds of cattle, especially cashmere goats. You may also choose to stay back and just relax at camp and enjoy the scenery.
Day 11 To Ulaanbaatar
The return drive to Ulaanbaatar is about three hours. In the afternoon you may explore the small city center on your own. Distances are short and nearly all points of interest can be reached on foot. Your guide is standing by to assist you in your shopping or sightseeing choices. We will have a dinner together in a local restaurant followed by folk music entertainment. Certainly there will be throat singers. Hotel overnight.
Day 12 Transfer to airport
(Subject to change due to local circumstances.)
Minimum number of riders is 2 people, maximum 12 people.