Australia, New South Wales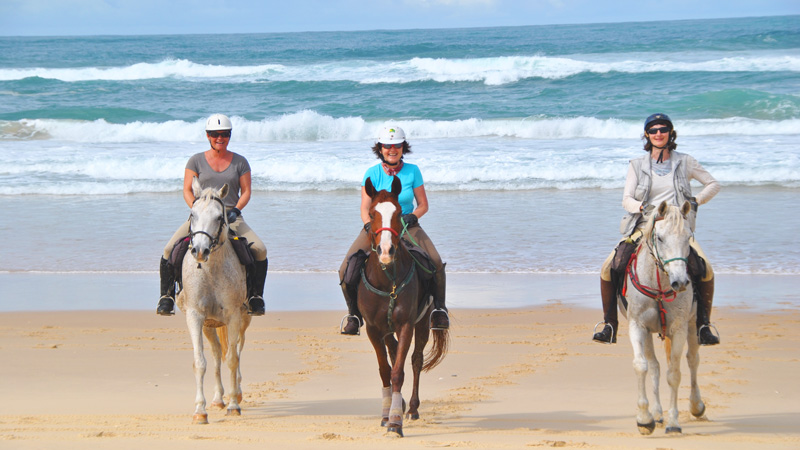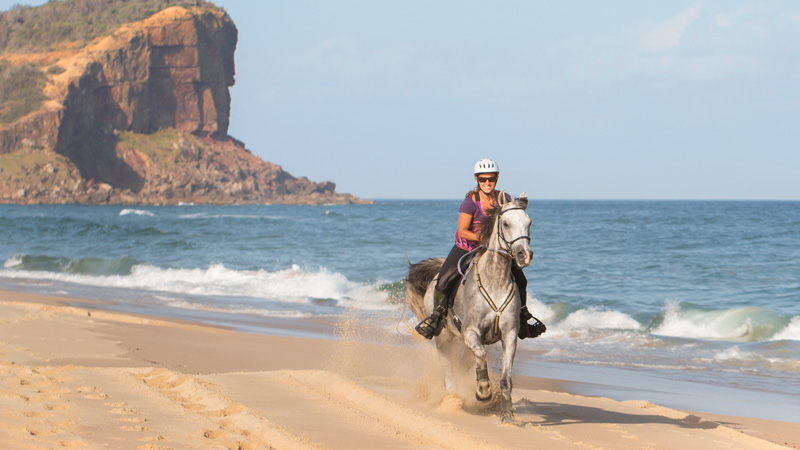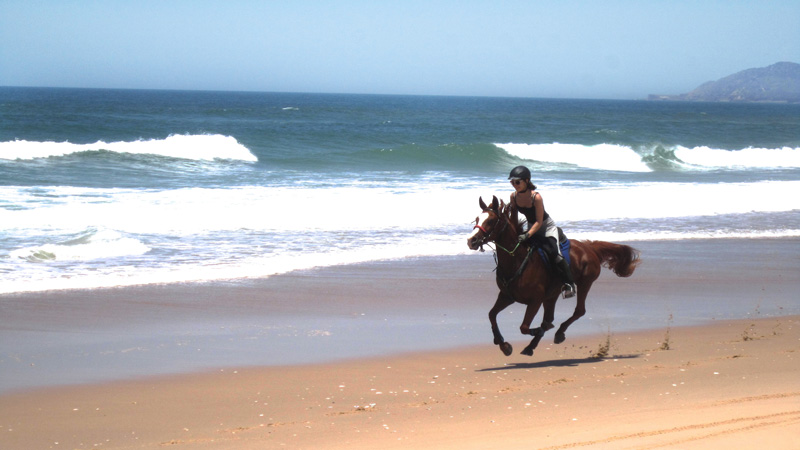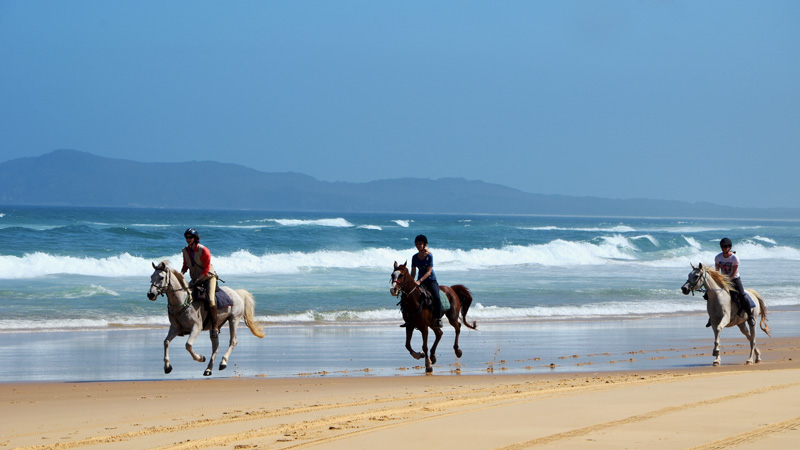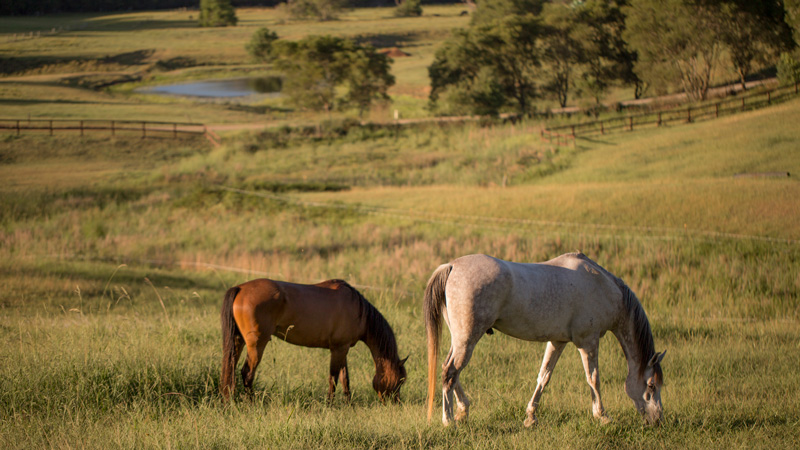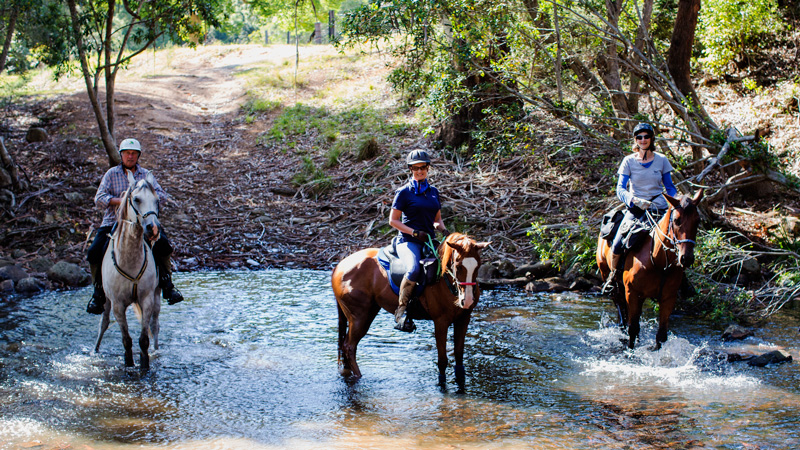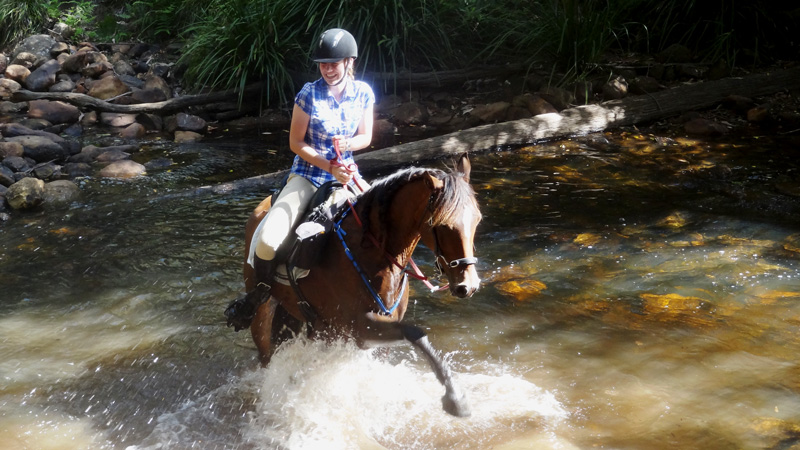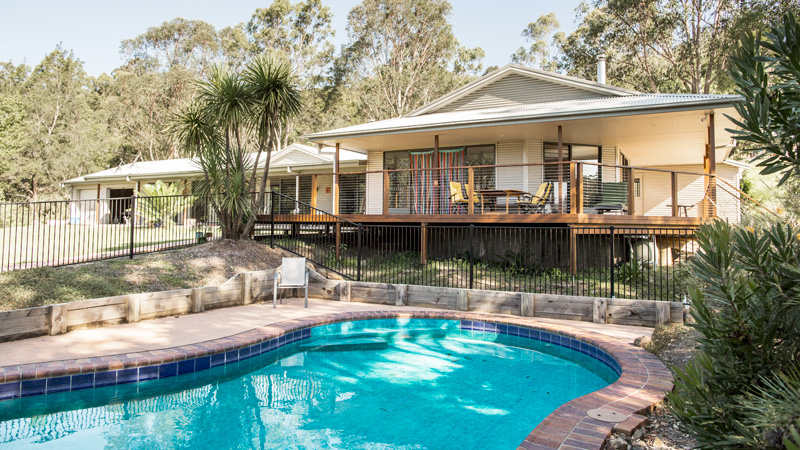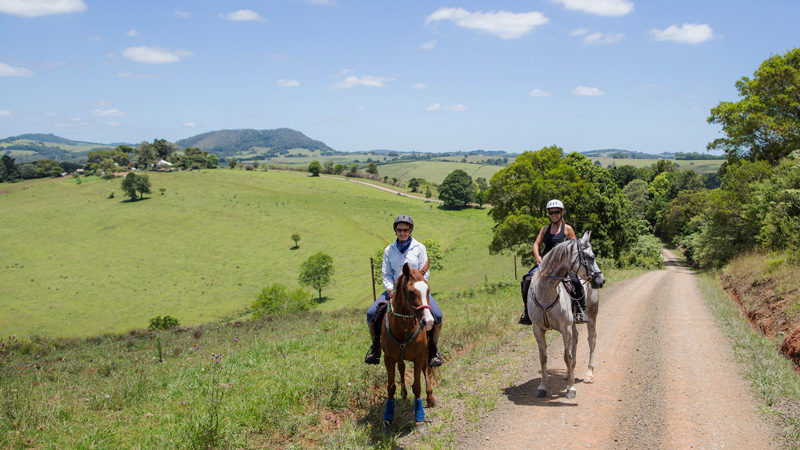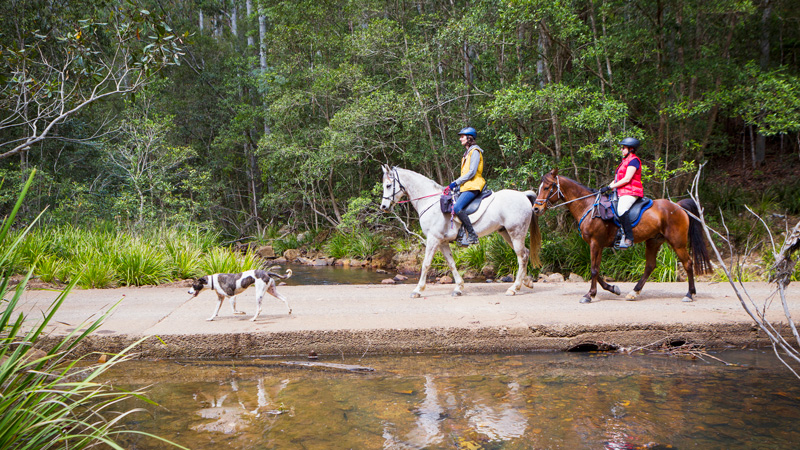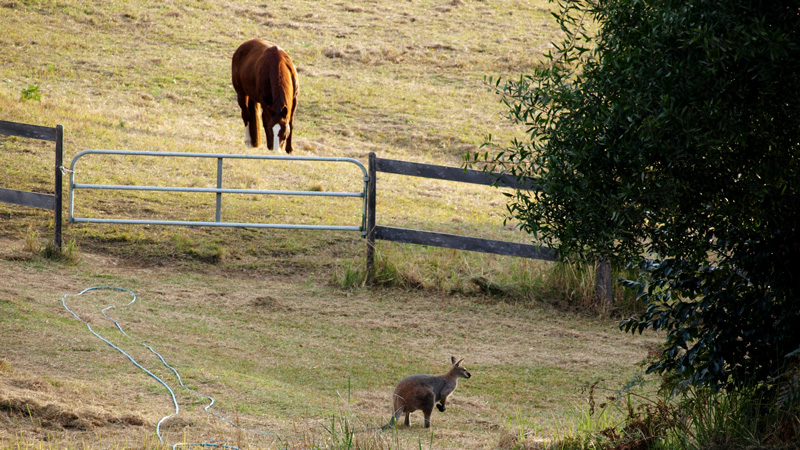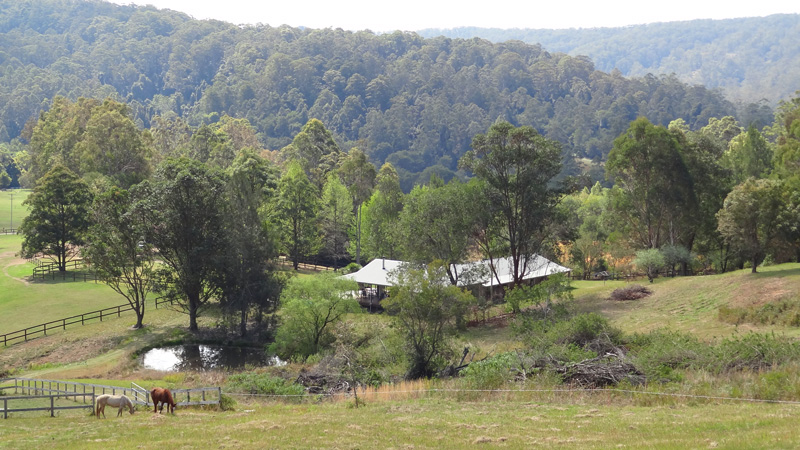 If you are an adventurous rider, you have come to the right place. Kathy, who comes originally from the Netherlands, will welcome you to her beautifully situated boutique ranch in the Lorne Valley on Australia's east coast between Sydney and Brisbane. As part of a small group, you will get to explore the Australian bush and its stunning deserted beaches, all while riding beautifully groomed Arabian purebreds.
On the Country & Beach ride accommodation is based at the ranch, you will spend five days riding out into a variety of terrain with Eucalyptus bushland and rainforest valleys, through undulating farmland, along the historical railway track, visit a winery and taste special local wines and, perhaps best of all, you will have the chance to gallop along kilometres of deserted beach. Back home after a day's ride, you will be greeted by the happy dogs and be served delicious homemade food. After a dip in the pool, you can enjoy a glass of wine. You will sleep well in your comfortable bed. This ride is fast paced and you stay on the horse farm every night.
Accommodation and Food
There are 4 individual guest bedrooms, with 3 situated in the Lodge (a separate guest wing of the main farm house) and 1 in the Cabin which is in a private location on a small hill behind the Lodge.
All guest rooms have comfortable beds, bed linen, bath towels, pool towels (in summer) and bathrooms have hand and shower wash available (bring your own toiletries). Rooms are not serviced during your stay, but please ask if you need anything replaced or cleaned.
Safe deposit box: No
A/C: Yes in cabin and common lounge area, bedrooms in the main house have ceiling fans.
Hair Dryer: Yes
Fridge: Yes in common room.
Riders enjoy meals together in the large lounge & dining area of The Lodge or alfresco on the veranda.
Breakfast: Buffet style continental breakfast with toast, condiments, cereals, yoghurt and fresh fruit. Cooked eggs & bacon, on some mornings on request.
Lunch: Light salad lunches and picnics brought by support vehicle or saddle bag sandwiches
Dinner: 2 course dinners are served at the dining table in the communal area and are home cooked International and Australian dishes. Example meals; Beef Stew, Pasta, Chicken, Fish, Roast Dinner or Barbeques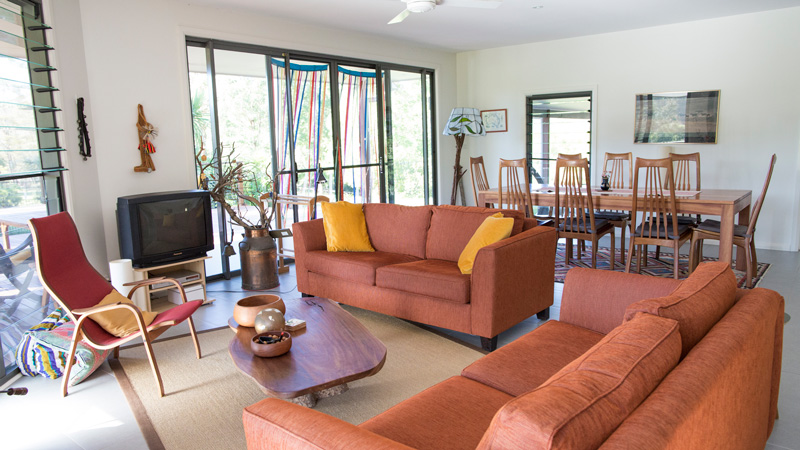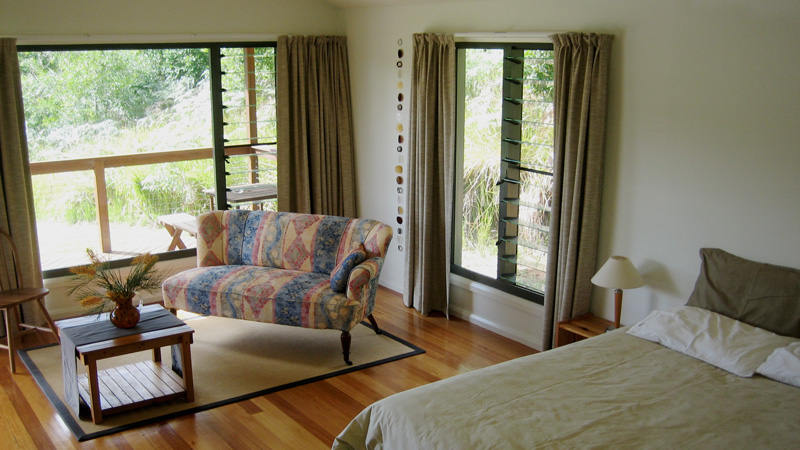 Program Country & Beach
For five days, you will ride through a variety of Australian bush terrain woth Eucalyptus forests and plantations, little pockets of rainforest valleys, undulating farmland, along a historical railway track, visit a winery and taste special local wines and, perhaps best of all, you will have the chance to gallop along kilometres of deserted beach. Back home after the day's ride, you will be greeted by happy dogs and delicious homemade food. After a dip in the pool, you can enjoy a glass of wine. You will sleep well in your comfortable bed. This ride has a moderate to fast pace and is very similar to the Trail Ride except that you stay in the same accommodation (the horse property) every night.
Preliminary day-to-day program for the Country & Beach Ride.
Day 1. Transfer from Port Macquarie airport 5.15 pm - 5.30 pm or at the train station in Kendall at 6.15 pm. You will meet the horses and eat dinner together in the evening when you will run through the week's program.
Day 2. Approx. 3 hours riding. Introductory ride in the hilly terrain of Kerewong State Forest with tall eucalyptus trees, pockets of rainforest and the beautiful quiet bush roads. You will also get to try some easy canters. Stop for lunch under the tall gum trees in the middle of the Australian bush. This is a short ride at an easy pace so that riders get used to the terrain and the horses – as well as the time difference for guests that have travelled a long way. The wildlife that you may encounter during the rides and on the ranch includes wallabies, pademelons, bandicoots, reptiles, goannas and many species of Australian birds including parrots, lyrebirds and black cockatoos. If you're lucky, you will also see a koala, too!
Day 3: Approx 5 hours riding, 30 km (19 miles). Today you will ride to the impressive Comboyne Mountain (670 m / 2,200 ft), which can be seen from the lodge. From here, you get a magnificent panoramic view of the rich eucalyptus forest and the NSW North Coast, the Bago Bluff National Park, the Comboyne Plateau and the beginning of the Great Dividing Range. This is the most exhausting day's ride for the horses with uphill gallops, long ascents and descents and some rough terrain. Horses and riders will enjoy a well-deserved lunch break delivered by a 4WD. After lunch, you will ride home at a more relaxed pace.
Day 4: (5-6 hours riding, 35 km / 22 miles). A long day's ride to the local Bago Vineyards and Maze, a small family-owned winery in the Hastings Valley of NSW, near Port Macquarie. You cross scenic streams (the rare platypus lives here) and you may have to move the cattle that you encounter when you riding through the neighbouring farmland. Following the Longworth Tramway Heritage Trail, you will see the remains of an historic timber railway line that transported timber in the 1920s. You will eat a sandwich lunch (which you will have brought with you in your saddlebags) in the shade of tall eucalypt trees. You continue with adventurous steep descents and stunning long gallops of up to 4 km (3 miles) on beautiful forest trails. When you arrive at the winery, you get to taste the wine from this unique little winery and enjoy a cheese platter under the pergola while looking out over the vineyards and the horses resting under the majestic camphor laurel trees and the native Australian orchids. During October-November the beautiful purple Jacaranda trees are in bloom. You can taste and drink as much as you want because you will be driven back to the riding centre by car and horse transport (45 minutes).
Day 5: (2 hours riding, 15 km / 9 miles) - Fantastic beach riding along the Pacific Ocean. The uninterrupted gallop on a deserted beach is an unforgettable experience. You can look out for dolphins in the waves and maybe have a close encounter with some kangaroos. Lunch at Fisherman's Coop (at own cost). You will be driven to and from the beach by car and horse transport (45 minutes each way).
Day 6: (6 hours riding, 40 km / 25 miles) A round-trip through the forest and over the beautiful rolling green farmland of the Comboyne Plateau. The Comboyne is a volcanic plateau with a unique topography and fertile red soil and the ride takes you past dairy farms and avocado orchards. A panoramic view to the landmark Three Brother Mountain, a place with spiritual significance for the local Biripi Aboriginal people. On a clear day, you can see all the way to the Pacific Ocean. When you come to the Comboyne Plateau, there will be a morning tea stop and grazing for the horses. There will be a further stop for a late picnic lunch during this long day of riding. Several long gallops, both in the morning and in the afternoon, together with a lot of walking to take in the beautiful scenery. In the evening, you enjoy a farewell dinner.
Day 7: Departure after breakfast. Transfer to Kendall Train Station or Port Macquarie Airport or bus station. Optional stop at Port Macquarie Koala Hospital (only included with the departure transfer to Port Macquarie).
The riding days outlined above may take place in a different order and may change subject to circumstances. The guide selects a ride for the day to give riders the best possible experience during that specific week. Specified times and distances are approximate.
Travel Information
Ability desciription: Trail Ride level 2-3 >>
Included in the price: 6 nights accommodation, 5 days riding (according to the program selected), full board incl. non-alcoholic beverages and wine at dinner, transfers to/from Port Macquarie or Kendall train station.
Not included: Flight, 1 meal (lunch or dinner) at the local restaurant, alcoholic beverages (except wine served with dinner).
Travel: Book flight >>
Fly to Sydney, then domestic flight to Port Macquarie (1 h) or train to Kendall (6,5 h).
Drive with rental car from Sydney about 4 hours.
Transfer: Book in advance to HorseXplore.
Transfer is included within the places and times below.
From Port Macquarie airport or bus station.
Time: 5.15 pm - 5:30 pm.
From Kendall Train Station
Time: 6.15 pm.

On the day of departure, you will be dropped off at the airport at 11.00 am or earlier and at Kendall Station at 9.00 am.
Riding: Country & Beach – Stay in one location: 5 days riding including a day at the beach (about 142 km (888 miles) / 22 total hours in the saddle: 3 hours introductory ride; 3 days 4-6 hours / day; on one day a two hour beach ride).

Currency: Australian dollar
Credit card: Not accepted at the riding center.
Tipping: Not expected.
Wifi: Yes
Electricity jack: 240 W, adapter is available but best to bring your own.
Group size: Minimum 2, maximum 4 riders.
Age limit: 18 years old, accompanied by parent 15 years old.
Closest village: Kendall, small village, 20 minutes by car.
Laurieton with shops, ATM, pubs, 30 minutes by car.
Port Macquarie, big city, 50 minutes by car.
Beach: 30-40 minutes by car.
Pool: Yes at the riding center, usual swimming season is late September to mid April.
Misc.
Riding equipment to borrow: Helmets, short chaps, riding boots (limited sizes), long riding oilskin rain coats at colder temperatures (always bring your own thin rain jacket).
Saddle bag: Yes
Special diet: Yes, request in booking
Climate
Feedback from our travellers