Australia, New South Wales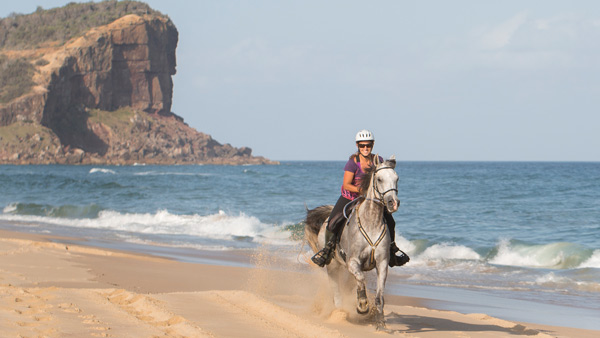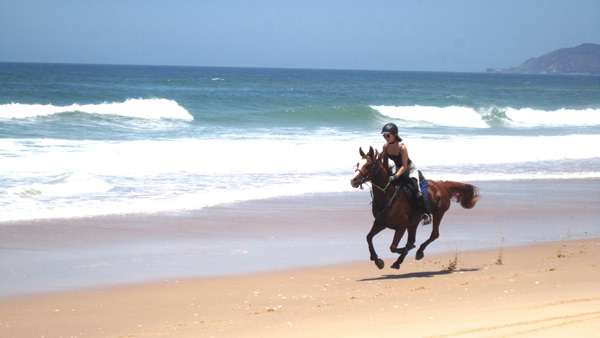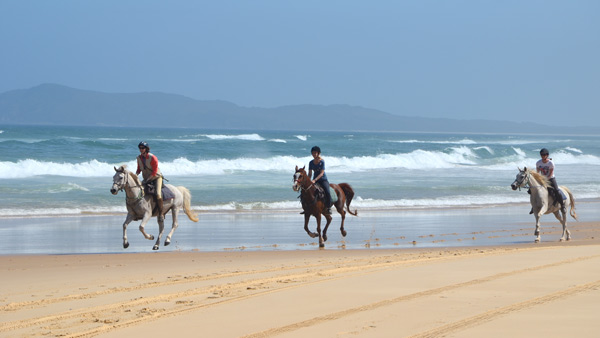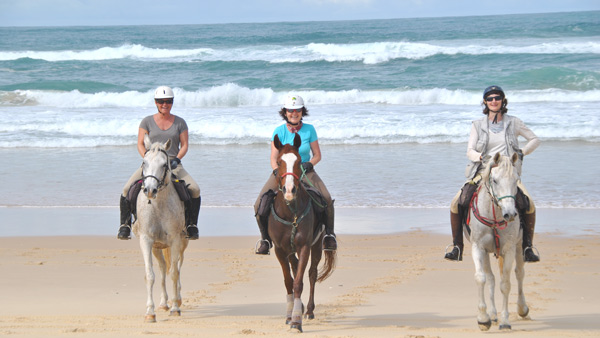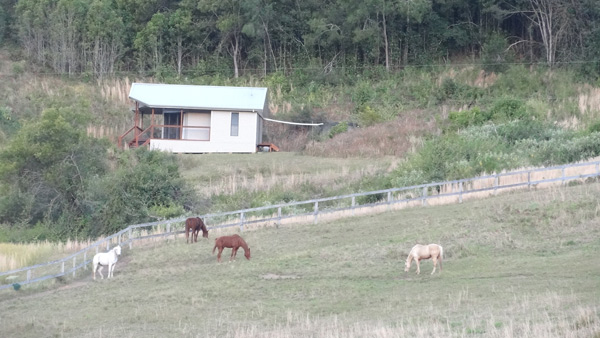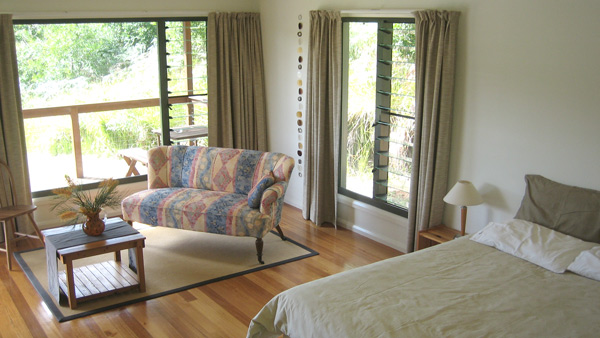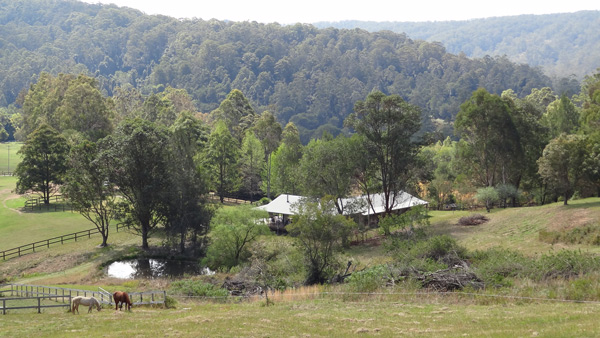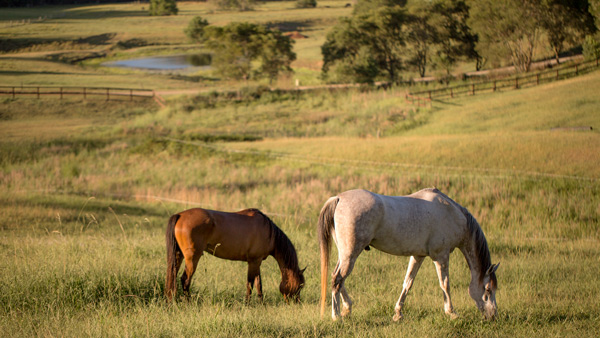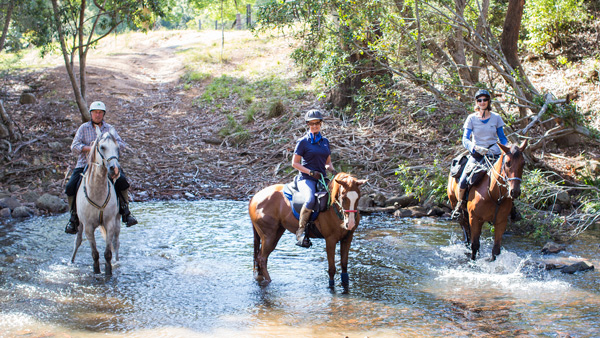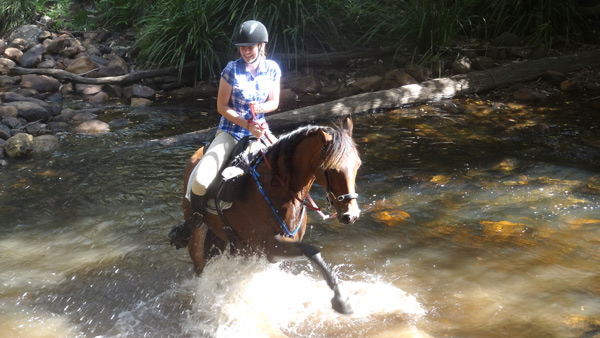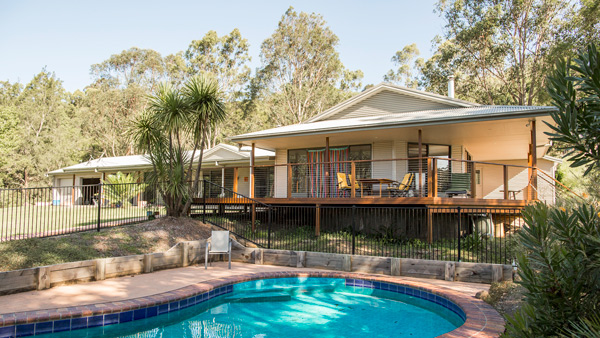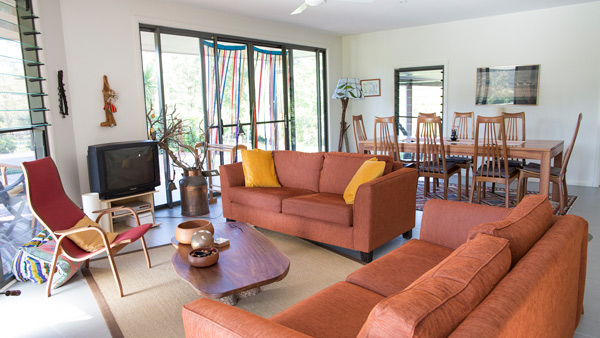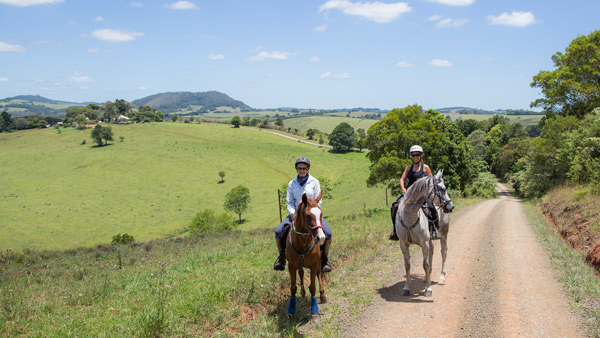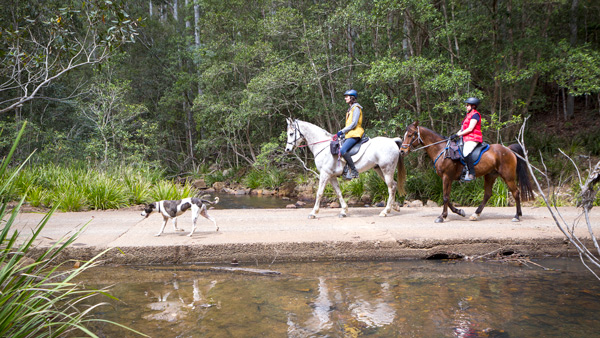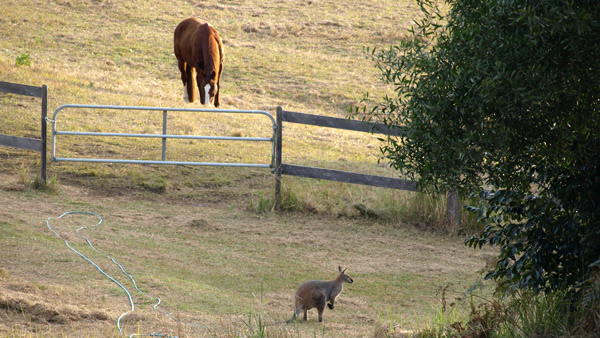 If you are an adventurous rider, you have come to the right place. Kathy, who comes originally from the Netherlands, will welcome you to her beautifully situated boutique ranch in the Lorne Valley on Australia's east coast between Sydney and Brisbane. As part of a small group, you will get to explore the Australian bush and its stunning deserted beaches, all while riding beautifully groomed Arabian purebreds.
On the Country & Beach ride accommodation is based at the ranch, you will spend five days riding out into a variety of terrain with Eucalyptus bushland and rainforest valleys, through undulating farmland, along the historical railway track, visit a winery and taste special local wines and, perhaps best of all, you will have the chance to gallop along kilometres of deserted beach. Back home after a day's ride, you will be greeted by the happy dogs and be served delicious homemade food. After a dip in the pool, you can enjoy a glass of wine. You will sleep well in your comfortable bed. This ride is fast paced and very similar to the Trail Ride (below) except that you stay on the horse farm every night.
If you want to get further away, you can choose the Inland & Coastal Trail Ride, where you stay four nights at the ranch and two nights in cosy Farm-stay Guesthouses or cabins. The ride takes you through remote bushland, along the old tracks to the Comboyne Plateau and ends in the best way - with a gallop along the spectacular beach.
With both rides, you will get personal attention, fun rides that vary, comfortable accommodation and excellent food. What more could you wish for ...
Accommodation and Food
There are 4 individual guest bedrooms, with 3 situated in the Lodge (a separate guest wing of the main farm house) and 1 in the Cabin which is in a private location on a small hill behind the Lodge.
All guest rooms have comfortable beds, bed linen, bath towels, pool towels (in summer) and bathrooms have hand and shower wash available (bring your own toiletries). Rooms are not serviced during your stay, but please ask if you need anything replaced or cleaned.
Safe deposit box: No
A/C: Yes in cabin and common lounge area, bedrooms in the main house have ceiling fans.
Hair Dryer: Yes
Fridge: Yes in common room.
Riders enjoy meals together in the large lounge & dining area of The Lodge or alfresco on the veranda.
The horse riders' accommodation while on the trekking tours, away from the property, offers a high standard of comfortable lodgings in selected B&Bs, country guesthouse or cabins of the NSW Mid North Coast region. Luggage is transferred to the overnight accommodations by support vehicle while you enjoy your riding.
Breakfast: Buffet style continental breakfast with toast, condiments, cereals, yoghurt and fresh fruit. Cooked eggs & bacon, on some mornings on request.
Lunch: Light salad lunches and picnics brought by support vehicle or saddle bag sandwiches
Dinner: 2 course dinners are served at the dining table in the communal area and are home cooked International and Australian dishes. Example meals; Beef Stew, Pasta, Chicken, Fish, Roast Dinner or Barbeques
Travel Information
Ability desciription: Trail Ride level 2-3 >>
Included in the price: 6 nights accommodation, 5 days riding (according to the program selected), full board incl. non-alcoholic beverages and wine at dinner, transfers to/from Port Macquarie or Kendall train station.
Not included: Flight, 1 meal (lunch or dinner) at the local restaurant, alcoholic beverages (except wine served with dinner).
Travel: Book flight >>
Fly to Sydney, then domestic flight to Port Macquarie (1 h) or train to Kendall (6,5 h).
Drive with rental car from Sydney about 4 hours.
Transfer: Book in advance to HorseXplore.
Transfer is included within the places and times below.
From Port Macquarie airport or bus station.
Time: 5.15 pm - 5:30 pm.
From Kendall Train Station
Time: 6.15 pm.

On the day of departure, you will be dropped off at the airport at 11.00 am or earlier and at Kendall Station at 9.00 am.
Riding:
Country & Beach – Stay in one location: 5 days riding including a day at the beach (about 142 km (888 miles) / 22 total hours in the saddle: 3 hours introductory ride; 3 days 4-6 hours / day; on one day a two hour beach ride).
Inland & Coastal Trail Ride: 4 nights accommodation at the riding centre, 2 nights accommodation at different locations; 5 riding days including a day at the beach (about 137 km (85 miles) / 22 total hours in the saddle: 3 hours introductory ride; 3 days 4-6 hours / day; on one day a two hour beach ride).
Currency: Australian dollar
Credit card: Not accepted at the riding center.
Tipping: Not expected.
Wifi: Yes
Electricity jack: 240 W, adapter is available but best to bring your own.
Group size: Minimum 2, maximum 4 riders.
Age limit: 18 years old, accompanied by parent 15 years old.
Closest village: Kendall, small village, 20 minutes by car.
Laurieton with shops, ATM, pubs, 30 minutes by car.
Port Macquarie, big city, 50 minutes by car.
Beach: 30-40 minutes by car.
Pool: Yes at the riding center, usual swimming season is late September to mid April.
Misc.
Riding equipment to borrow: Helmets, short chaps, riding boots (limited sizes), long riding oilskin rain coats at colder temperatures (always bring your own thin rain jacket).
Saddle bag: Yes
Special diet: Yes, request in booking
Climate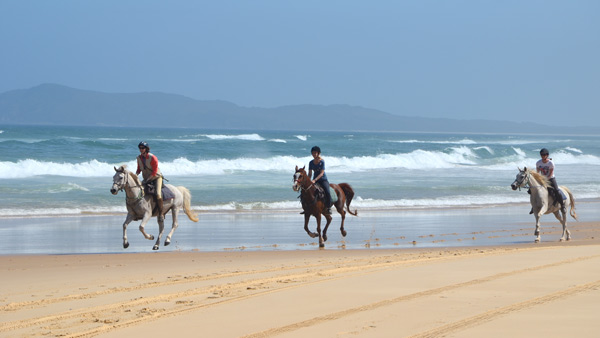 For five days, you will ride through a variety of Australian bush terrain woth Eucalyptus forests and plantations, little pockets of rainforest valleys, undulating farmland, along a historical railway track, visit a winery and taste special local wines and, perhaps best of all, you will have the chance to gallop along kilometres of deserted beach. ....
Read more »
From
EUR 1,375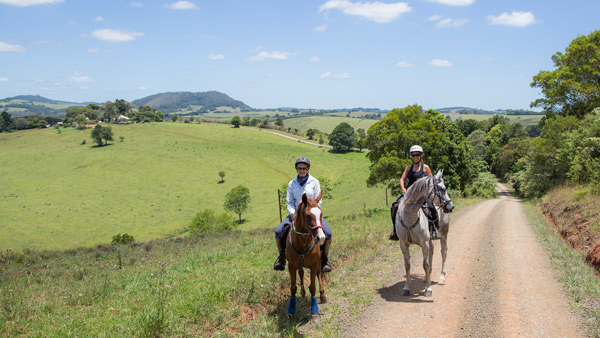 This ride is enjoyed by travellers who like to see, experience and stay in different styles of accommodation. This ride, and the area through which you ride, is similar in character to the Country & Beach Ride and you will ride through some of the same locations, but this ride goes a little further and takes you out of the bush and into some small ....
Read more »
From
EUR 1,565