Greece - Crete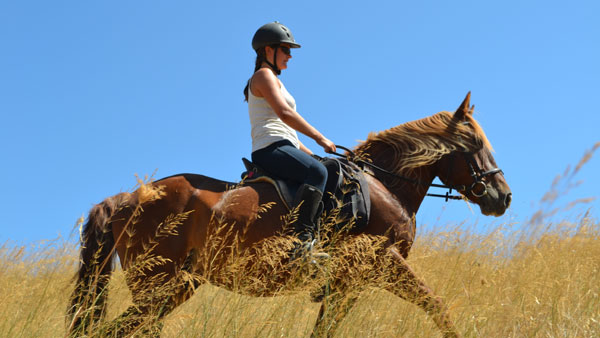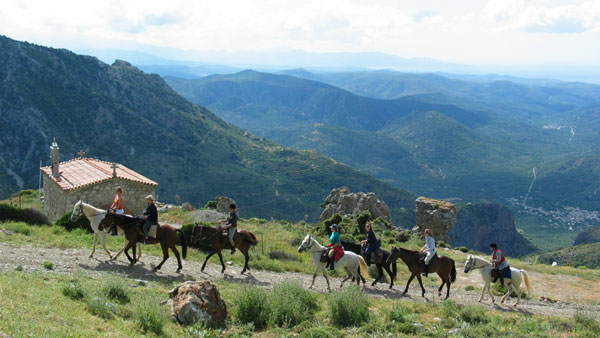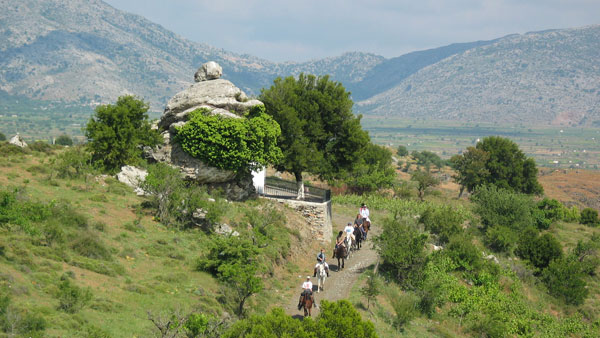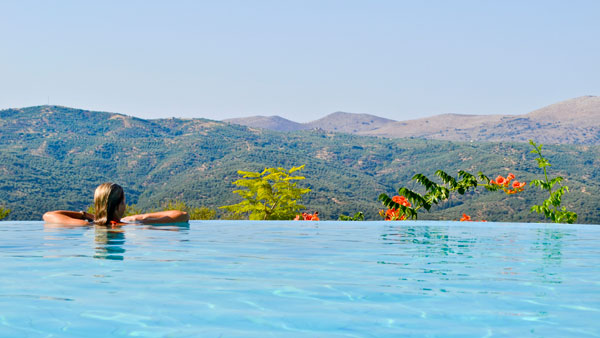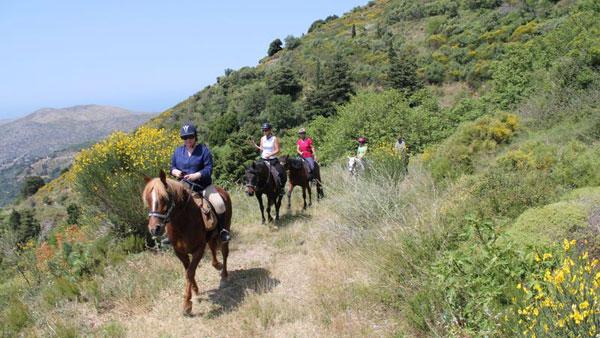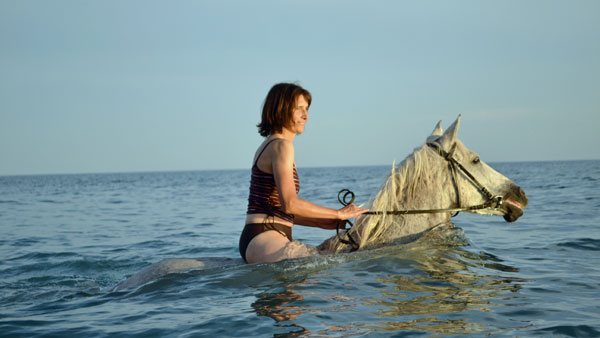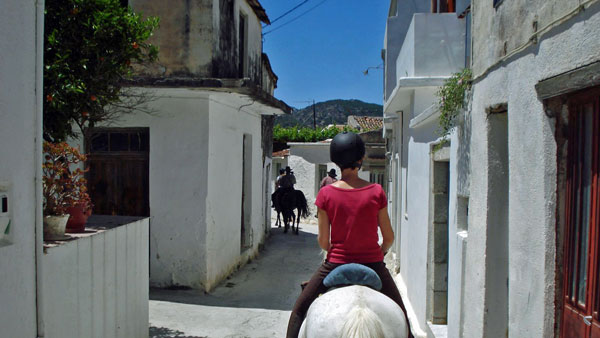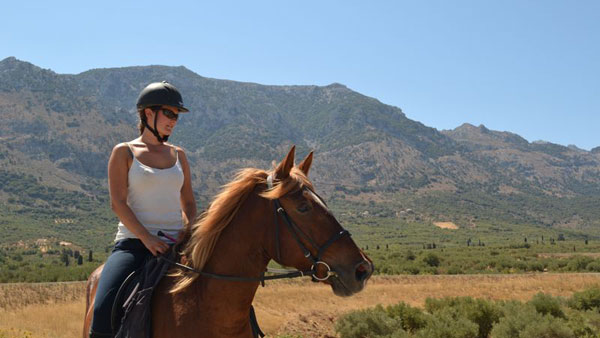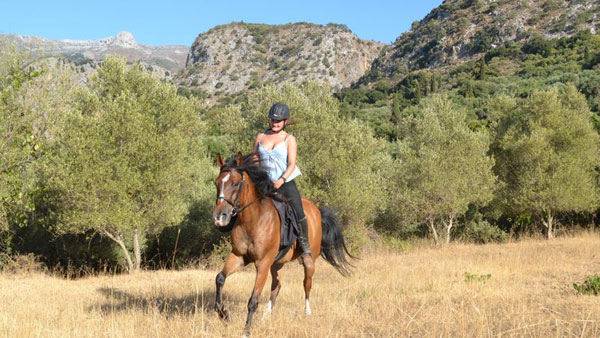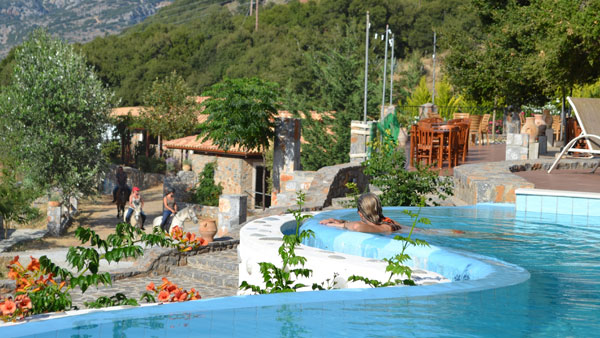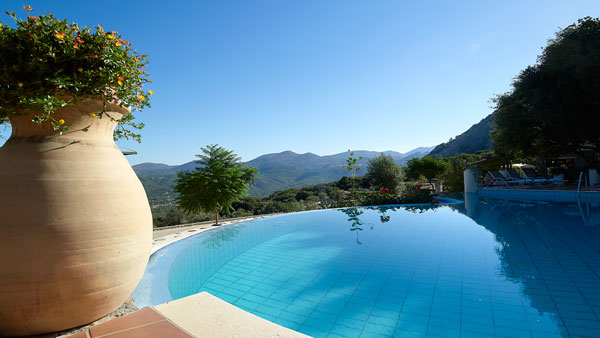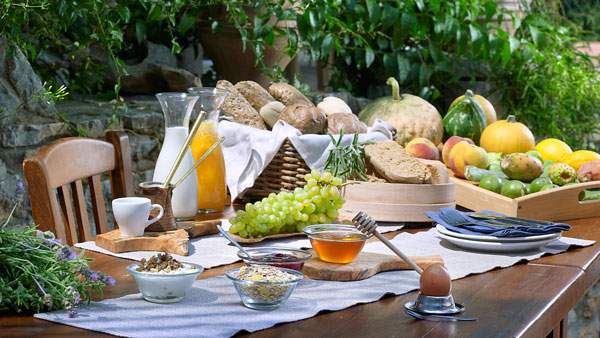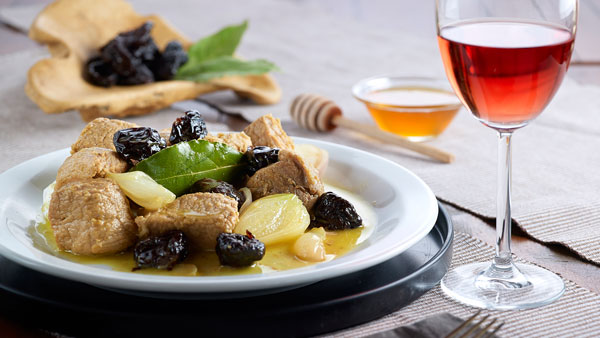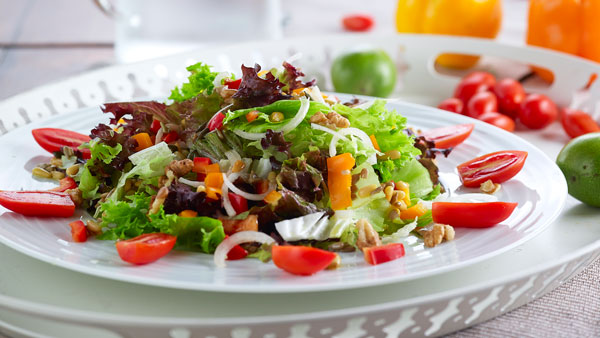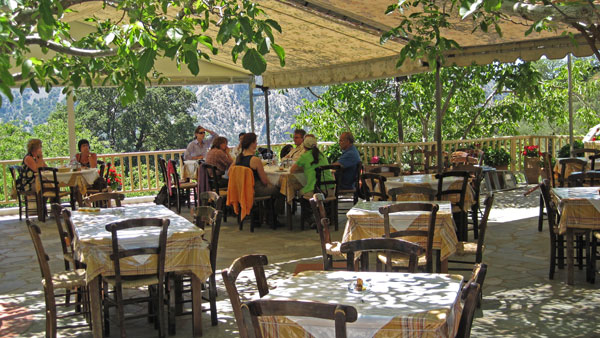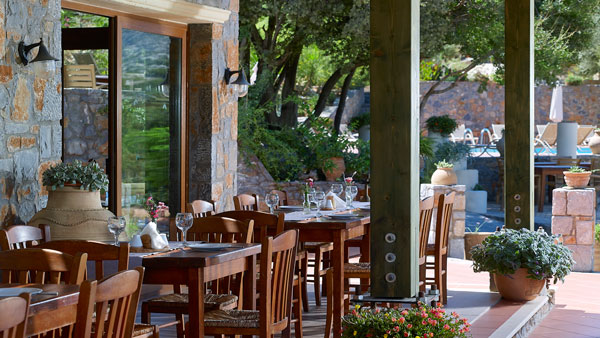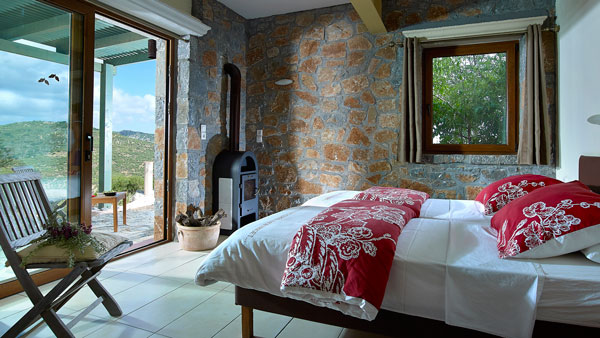 Turquoise sea, tasty good food, charming whitewashed villages and hospitable island living, what more can you ask for?
Sabine from Holland fell in love and together with Manolis built up their own three-star hotel and equestrian center. The horses are Dutch and Greek half-breed and Arabic and English thoroughbreds.
Choose between the different programs below.
Food and Accommodation
Depending on the program you book, you will stay at the equestrian center a different number of nights.
The equestrian center is located in Lagnada Valley by the Apposelemis River that cuts through the valley. Around the equestrian center rise the Dikti Mountains. Many different trees grow in the valley, above all a protected oak species and olive trees. The farm also has a lot of vegetation, including flowering trees and orchids. The farm has a café restaurant and a lovely pool to cool off in.
Both the café and the restaurant have a balcony or terrace where you can look out over the courtyard and the valley below. The restaurant serves wonderful Cretan home cooking dishes with fresh ingredients and local products. For vegetarians the Cretan kitchen offers a wide range of possibilities. If you follow a special diet please inform us with your reservation so they can cater for you.

The rooms are spacious double rooms with shower / toilet and all have wonderful views over the valley. All rooms have a balcony or terrace. There are also family rooms. In all rooms there is a small fridge, water boiler, hairdryer, large flat screen TV with international TV channels, fast and free WIFI connection, Air conditioning, individually controlled central heating and a wood burner for romantic winter evenings. Daily cleaning of the rooms and daily towel changing. Clean bedding twice a week.
Safe deposit box: No
A/C: Yes
Hair Dryer: Yes
Towels and sheets: Yes
Fridge: Yes
The hotel has a large infinity swimming pool with a spacious sun deck. Relax while enjoying the panoramic view. Next to the main swimming pool the hotel has a children's pool. The children's pool is located on a lower level, separately from the main pool. In the afternoon this swimming pool is protected from the sun by large Prinos trees (Kermes Oak). The main swimming pool is 100 square metres large and ranges from 150 cm to 170 cm deep. The children's pool is 10 square metres large and 40 cm deep. Both pools have free sun beds.
Horses
The horses are English thoroughbred, thoroughbred-crosses and warm bloods. They are specially trained for long rides and have great stamina. All the horses are well kept and easy to manage.
All saddles have saddle bags. There are a few helmets to borrow if you do not have your own. On the Trail Ride your luggage is transported by car to the different accomodations.
Climate
Crete has 300 days of sunshine each year and is ideal for horseback riding, even in winter. But it is an island of contrasts so you must expect the same from the weather. In winter there may be snow and in spring and autumn it can rain.



Travel Information
Ability description: Level, trail ride 2-3 for all rides >>
Included in the price: 7 nights, riding according to program, full board (excl. drinks).
Not included: Flights, transfers, desserts, personal insurance, drinks and extras not mentioned.
Travel: Book flight/rental car >>
Fly to Crete, Heraklion or Chania.
Transfer: Book in advance with HorseXplore and pay on spot.
From Heraklion Airport to the equestrian center about 40 minutes.
Price: About 50 EUR /taxi/one way.

Bus: You can also take the bus from Heraklion (Iraklio) to Hersonissos (Chersonisos), and transfer from there which is about 15 km (10 miles) away and aprox 20 EUR/way. The bus runs every half hour and even more often during peak season. Bus schedules are available at www.ktelherlas.gr/en/
From Chania, you can also take the bus to Hersonissos via Rethymnon. Bus schedules are available at www.bus-service-crete-ktel.com/timetable.php.

Season: All year around. If you want to go other dates then presentated below, contact us.
Single room: Can be booked with a supplement. For price click on "Book on request" under Dates & prices. If you are willing to share room, you will not have to pay a supplement if you are allocated a single room.
Group size: The Guided treks always has guaranteed departure. With the exception of the March and November trek, here minimum number of riders is 2 to guarantee departure. Maximum 10 riders.
Currency: EUR
Credit card: The hotel accept credit cards but prefer cach since there is a high commission on the CC payments.
Tipping: Not required but appreciated, around 10% is common.
Wifi: There is free Wi-Fi at the hotel.
Electricity jack: EU standard

Age limit: Going on outside hacks kids must be 12 year old.
Closest village: 2 km away
Beach: 15 km away
Pool: Yes, open all year.
Misc.:
Riding equipment to borrow: Helmet
Saddle bag available: Yes
Special diet: Inform when booking.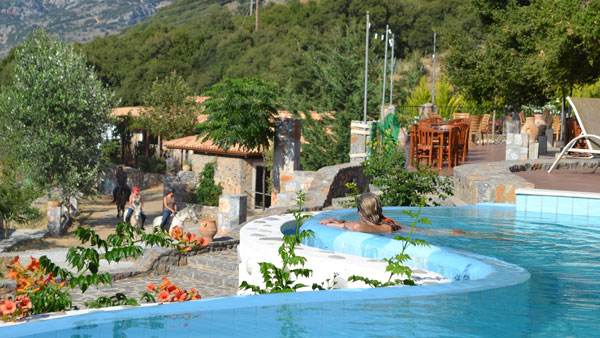 If you are a family or a group where not everyone rides, this program is ideal. Enjoy the Greek life. Sunbathing, swimming, exploring the island and when it cools down in the evening, those who want can venture out on a two-hour ride with a guide through the wonderfully varied Langada landscape. For those who do not ride, there are many activates to ....
Read more »
From
EUR 790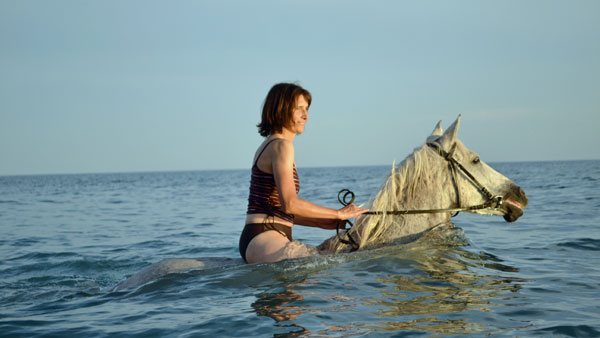 This ride is suitable for experienced riders. This is a real adventure ride through mountain areas, totaling about 160 kilometers. The ride goes from hotel to hotel over the Lassithi Mountain plateau where you get a lovely gallop, then on to the mountains and down to the sea. You will stay overnight by the sea and eat fresh fish and swim with the horses. ....
Read more »
From
EUR 1,130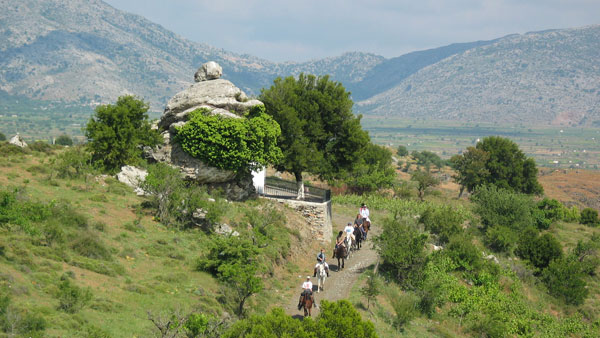 If you want, you can stay at a fine hotel all week. Every day you head off on different rides to different directions. Your rides can include visiting the ancient city of Lyttos with its two churches and a cozy picnic lunch under the olive trees. Another day you can ride to the village of Kera located 800 (2,600 ft) meters above sea level and enjoy ....
Read more »
From
EUR 890