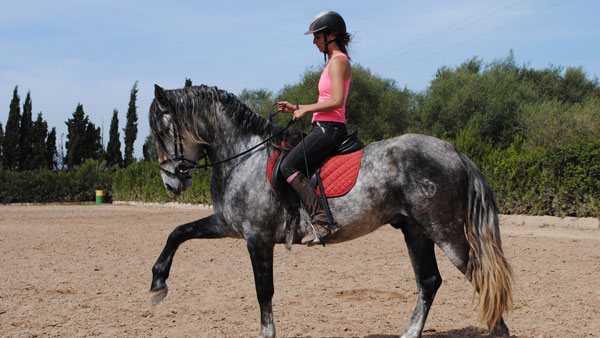 This is your chance to experience dressage and jumping in a beautiful warm setting. Between rides, you can lie by the pool and enjoy the sun, while you watch riders being trained in the paddocks.
Many people are fond of the Andalusian horse, as it is both beautiful and enjoyable to ride.
On this program you will learn to ride with as little aids as possible. The Andalucian's sensitivity and working ability makes it an excellent teacher. Even very experienced riders can develop bad habits. For example, if your seat is slightly askew when you canter, the horse will not canter but rather move sideways. However, by doing it correctly, you immediately get the right response. When successful, you will feel like you are dancing with your horse.
This program begins with a one hour dressage lesson and two hour ride out on Monday and is followed by two dressage lessons per day from Tuesday to Wednesday. On Thursday, you will have a free day to enjoy at the harbour/beach in Portocolom (transfer to/from Portocolom included). On Friday, you will again receive two dressage lessons. Saturday ends with a lesson in the morning and then you have the afternoon free to lounge by the pool, have a massage or even book an extra lesson before the farewell dinner in the evening. The groups are small with normally 4 riders.
The horses are highly trained and you will practice shoulder in, leg yielding, flying changes and, if you're ready, maybe even passage. You will be riding on a stallion or gelding depending on what your coach feels best.
This is both an instructive and a fantastically enjoyable week!
The information on this page is specific to this tour. Click here for more information>>