Group- and VIP-travels 2019
Happiness is to do something you love together with like-minded people. That's why we at HorseXplore think it would be so fun if you come along on one of our group trips.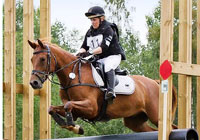 Anna is a professional trainer in eventing and competes herself. She will have eventing courses at our equestrian center in Galway. "Eventing is my passion. To also have access to lots of fine horses and a hundred terrain obstacles.... life couldn't be better. " Take the opportunity to spend a rewarding and fun weekend with her. Anna ....
Read more »