Bulgaria - Riding in Apriltsi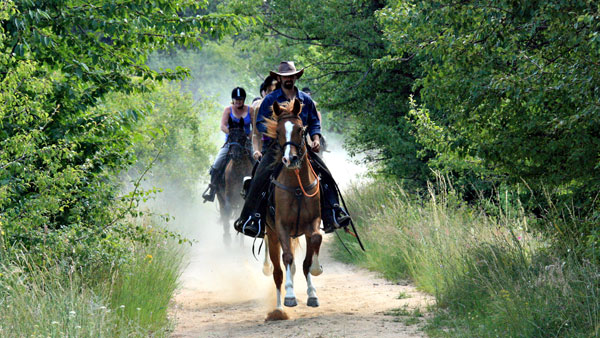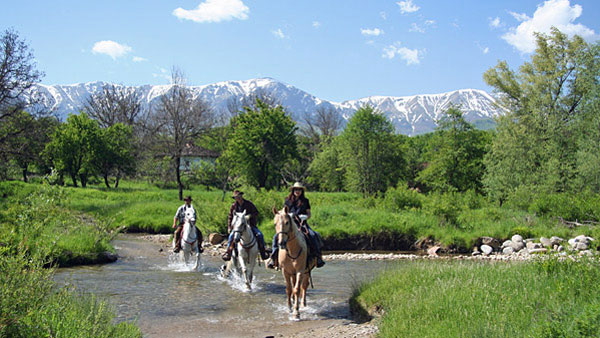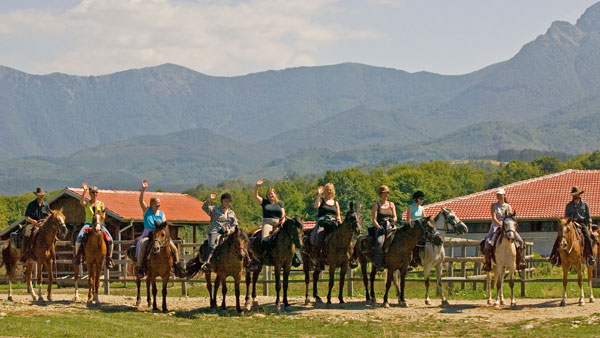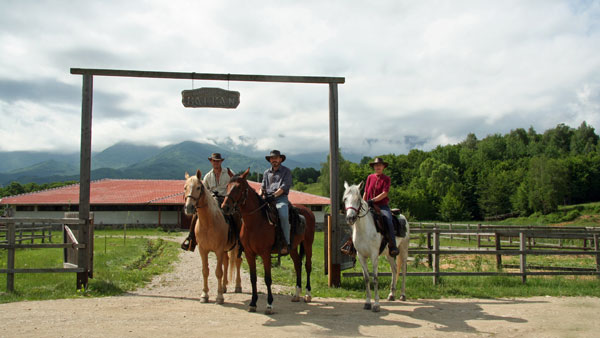 This week of riding offers a variety of riding experiences in a small riding group with the farm as the base. From here, there are many natural trail ride destinations including the Maragidik and Vidima waterfall, a little monastery or the charming mountain villages. There are several stretches suitable for fast-paced riding. You will ride up to 30 kilometers (19 miles) each day (about 4 hours). This is a pleasant and fun filled week with the chance for some fast-paced riding.
Excursions
If you would like to see some more of Bulgaria, you can speak to Reni and Toshko about an excursion. There are several alternatives: The closet large town is called Troyan and is situated about 25 km (15 miles) from Apriltsi. Troyan is a pretty provincial town with lively businesses. There is also a regional museum, handicrafts and several small shops selling ceramics and flowers. About 10 kilometers (6 miles) from Troyan is the Troyan-monastery (C17) which is Bulgaria's largest and the largest attraction in the area.
About 50 kilometers (31 miles) from Apriltsi is the town of Gabravo. The town is situated next to the famous Shipka mountain pass – this is also where the road starts its climb to the magnificent Etara outdoor museum. In the high season, there are workshops here making famous Bulgarian handicrafts: embroidery, woodwork and copper work. There is also the chance to combine a day-trip to Etara with a trip to Velika Tarnovo – once the Capital City of Bulgaria. The city's architecture is unique with the houses climbing the slopes of the Yantra River. High above lie the ruins of the old fortress of Tsarevets.
The Program
The entire area around Apriltsi has many naturally beautiful locations ideally suited for day rides. Simply riding between the small villages that make up Apriltsi is a full day's ride. There are lots of nature paths and tracks to ride on – many of them especially suited for galloping.
Some examples of day trips, include:
18 kilometers (11 miles): A sightseeing ride around Apriltsi with a total length of 12 kilometers (7 miles). Between the small villages, there are beautiful fields on small winding tracks leading through the countryside.
25 kilometers (16 miles): Over the top of Ostrets and Pepril to a small monastery. Lunch at the monastery. Back over the fields and meadows along the river.
26 kilometers (17 miles): A mountain tour to the highest feeding grounds for wildlife on the area. You will ride to an altitude of over 1000 meters (3,200 ft)
20 kilometers (13 miles): Over Vidima to the Praskaloto (80 meters; 260 ft)
This program is for 1-8 riders.

Detta program genomförs med 1-8 ryttare.